• Erica Herman is a socialite, born in Riviera Beach, Florida and holds American nationality.
• She has a Bachelor's degree from the University of Central Florida and was formerly the manager of the Aura Bar & Restaurant.
• She is the girlfriend of Tiger Woods and has been labelled a 'gold digger'.
• She enjoys travelling, exercising, reading, and watching movies.
• Her net worth is over $1 million.
Who is Erica Herman?
Erica Fallon Herman was born in Riviera Beach, Florida USA, on 15 February 1984 – her zodiac sign is Aquarius and she holds American nationality. She's a socialite, who's probably known best for being the girlfriend of Tiger Woods, a famous American professional golf player.
Early life and education
Erica was raised in Riviera Beach alongside her older brother, by their parents about whom nothing is known as they prefer to be left out of media.
She grew up being interested in acting, and was a member of her elementary school's drama club as well as later of her high school's drama club. It was at high school that Erica accepted that she wasn't talented enough to make it into the film industry, and she thus decided to focus on other activities.
She ventured into sports, playing soccer and tennis, and upon matriculating in 2002, Erica enrolled at the University of Central Florida in Orlando from which she graduated with her Bachelor's degree in 2006.
It's believed by some that Erica has also obtained a Master's degree.
Erica's career
Erica hasn't shared many details concerning her career, but it's known that she was once the manager of the Aura Bar & Restaurant located in Orlando. In 2017, she served as the general manager of The Woods Jupiter restaurant, while she stopped working there in February 2018, around a year after she and Tiger Woods announced that they were dating.
Love life and relationships
Before meeting Tiger, Erica was apparently dating Jesse Newton, who's the CEO of Jin & Tonic Hospitality Group. They were together for over a year before splitting ways.
In 2017, Erica and Tiger announced that they were together, while it's believed that the relationship began a couple of months prior to the announcement. Not long after that, people began labeling Erica as a 'gold digger', claiming that she was only with Tiger because of his fortune; even those closest to her began accusing her as well. It's widely believed that Erica had been 'stalking' Tiger for around a decade, hoping she would become his girlfriend.
Tiger has been in several relationships before meeting Erica, while she's said to be very close to his daughter today. In November 2003, he asked the Swedish model Elin Maria Pernilla Nordegren to marry him, and on 5 October 2004 the two exchanged vows in a large ceremony attended by their wide circle of friends and family members.
In 2007, Elin gave birth to their daughter Sam Alexis Woods, and in 2009 to their son Charlie Axel Woods. In 2010, Tiger and Elin divorced, because of his frequent infidelities. He announced that he was in a relationship with the American athlete Lindsey Caroline Vonn on 18 March 2013; they split in May 2015.
As of March 2021, Erica's dating Tiger Woods, she hasn't married and doesn't have children.
Hobbies and other interests
Erica loves to travel, and in over three years that she has been dating Tiger, she has been all around the US keeping him company during his golf tournaments. The two have also vacationed in various European countries, including France, Italy and Greece.
She's a dog-lover and has two pet dogs.
Erica's physically quite active, and occasionally works out together with her 'boyfriend'. She has several training sessions at the gym each week, while she also does yoga and meditates on a daily basis.
She's into reading books, and has read numerous since her teenage years with her favorite genres being romance and comedy.
In her spare time, Erica enjoys watching movies starring her favorite actor and actress Jim Carrey and Kate Winslet, such as "The Eternal Sunshine of the Spotless Mind", "Bruce Almighty" and "Ace Venture: Pet Detective – When Nature Calls".
Age, height and net worth
Erica's age is 37. She has long brown hair and brown eyes, her height is 5ft 5ins (1.65m) and she weighs around 128lbs (58kgs).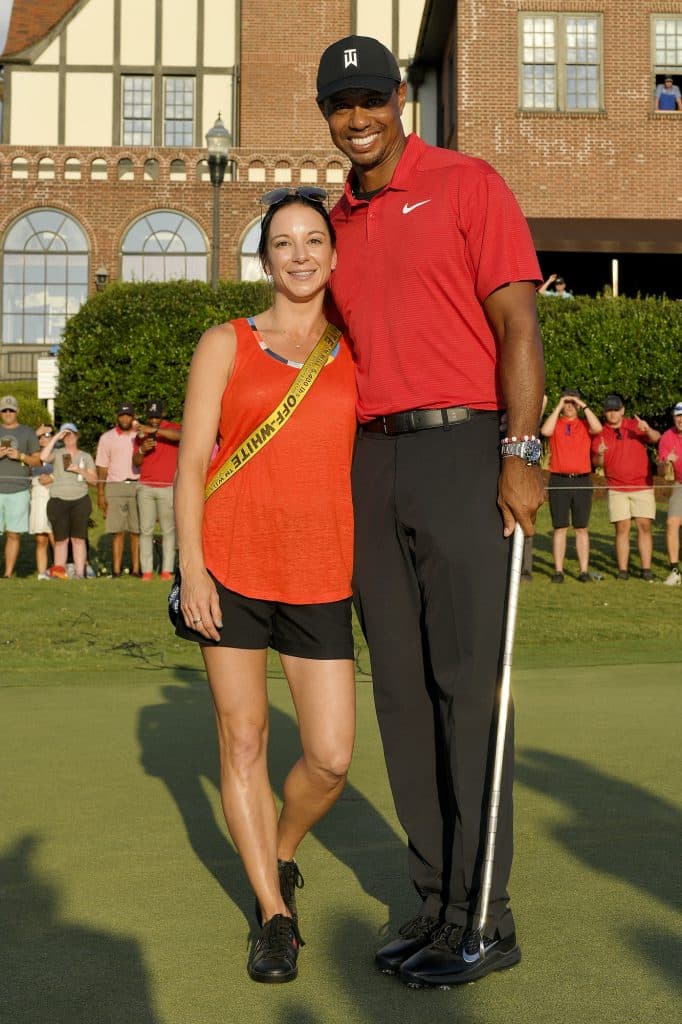 As of March 2021, her net worth has been estimated at over $1 million, while Tiger's net worth is reputedly over $800 million.
Who is Tiger Woods?
Eldrick Tont 'Tiger' Woods was born in Cypress, California USA, on 30 December 1975 – his zodiac sign is Capricorn and he holds American nationality. He's one of the best golf players of all time ranking first (tied) in the Professional Golfers' Association (PGA) Tour victories, and second in major championships. Tiger holds many golf records, and has been inducted into the World Golf Hall of Fame.
He was raised in Orange County, California as an only child, by his father Earl who is a Vietnam War veteran and his mother Kutilda Woods who was a housewife; Tiger has a half-sister and two half-brothers from Earl's first marriage.
He began playing golf when he was two – his father taught him the basics as he was an amateur player himself. Tiger was six when he won the Under Age 10 competition at the Navy Golf Course, and aged eight, he entered the 9-10 boys' category at Junior World Golf Championships, winning it. He went on to win the championship six more times, including four times in a row. Tiger studied at Western High School, and was 15 when he became the youngest US Junior Amateur Champion (a record today held by Jim Liu, who broke it in 2010). Upon matriculating in 1994, he began attending Stanford University on a golf scholarship, but quit after two years to focus on his career as a golfer.
Tiger has been playing golf to this day, and has won 82 PGA Tour events, 15 major championships, and numerous other tournaments. It was reported in 2009 by the American business magazine "Forbes", that Tiger was the first professional athlete to earn over $1 billion, and he was at that point the second richest black person in the US, with only Oprah Winfrey being richer. In 2017, he was ranked the highest paid golf player in the world.
He's also a bit of a writer, having written columns for the magazine "Golf Digest" from 1997 to early 2011. He published his golf instruction book in 2001 entitled "How I Play Golf", which became a bestseller, selling over a million copies.
Tiger also published his memoirs "The 1997 Masters: My Story" in March 2017, while he has announced that he's currently writing a new book entitled "Back".
Tiger was arrested on 29 May 2017 for driving under the influence – the police test showed that he had drugs and alcohol in his blood. After pleading guilty in court, he was put on a one-year probation, ordered to pay $250, and do 50 hours of community service.
Most recently on 23 February 2021, Tiger was driving his car when he crashed,destroying its exterior while it's believed that the car's safety features saved him from being killed on the spot. He has broken bones in both legs; the Los Angeles County Sheriff's Department is currently investigating the incident.