TameKA Cottle:
• Born in College Park, Georgia on July 14, 1975
• Formed the vocal group Xscape in 1992
• Starred in the reality TV show "Tiny and Toya" in 2009
• Launched her solo career in 2014 under her professional name Pretty Hustle
• Married to T.I. and has four children
• Spent time travelling and is a fan of basketball

T.I.:
• Born in Atlanta, Georgia on September 25, 1980
• Released 11 albums, seven of which have ranked in the top five on the US Billboard 200 Chart
• Launched his own recording label Grand Hustle Entertainment
• Has acted in various films, including Ant-Man
• Has a daughter and two sons from previous relationships
• Has been in and out of jail since 1994
Who is Tameka Cottle?
Tameka Dianne 'Tiny' Harris (nee Cottle) was born in College Park, Georgia USA, on 14 July 1975 – her zodiac sign is Cancer and she holds American nationality. She's a singer-songwriter, but who's probably known best for being the wife of Tip 'T. I.' Harris, a famous American rapper, singer-songwriter and actor.
Early life and education
Tameka was raised in College Park alongside her brother Red Pope and sister Michelle Pope, by their African-American father Charles 'Speedy' Pope who died in 2013 aged 76, and their Caucasian mother Dianne Cottle, who is 75 years old as of April 2021. Charles and his brother Joseph Pope formed the vocal group The Tams in 1960.
Tameka attended the Tri-Cities Performing Arts High School, at which she became interested in rapping, and often attended rap parties and supported her friends working on their careers.
She was interested in various other activities, including creative writing and acting, and upon matriculating in 1993, Tameka chose not to enroll at a college but to focus on her career.
Career as a rapper
Her career was officially launched in 1992, when she joined the R&B group Xscape comprising Kandi Burruss, Tamika Scott, Tamera Coggins-Wynn, and LaTocha Scott, but Tamera quit around a year later. The girls sang at the American record producer and rapper Jermaine Dupri Mauldin's birthday party when he decided to sign them to his record label So So Def Recordings.
Xscape turned out to be very successful, and their three albums all became certified platinum by the Recording Industry Association of America (RIAA): their debut album "Hummin' Comin' at 'Cha" was released on 12 October 1993, their second "Off the Hook" came out on 14 July 1995, followed by their third album "Traces of My Lipstick" on 12 May 1998.
For her performance, Tameka shared various awards, including an A-Town Music Award for Best Duo/Group, and two Soul Train Music Awards for Best R&B Album and Best New R&B Artist.
After the release of "Traces of My Lipstick", the girls parted ways.
In 2000, Tameka received a Grammy Award for Best R&B Song, then in 2005 Xscape reunited and released their fourth album – "Unchained". She was also a member of the teenage girl group OMG Girlz, together with her daughter Zonnique. Tamekaalso featured in her husband's music video "Hello", and in June 2009 she starred in her own reality TV show, "Tiny and Toya".
Tameka launched her solo career on 22 July 2014 under her professional name Pretty Hustle, with the release of her single "What The Fuck You Gon Do?" also known as "WTFYGD".
It took the song only a couple of hours to reach #5 on the iTunes R&B/Soul Chart, while it topped it in 24 hours.
Tameka's also credited with helping write the song "Shape of You" for Ed Sheeran.
Love life and relationships
Tameka and T. I. began dating sometime in 2001 at a party organized by a mutual friend, and on 30 July 2010, they exchanged vows in a private ceremony in Miami Beach, Florida, attended by their closest friends and family members.
Their first son, King Harris was born on 25 August 2004, followed by their second son Major Philant Harris on 16 May 2008. The couple's third child and only daughter, Heiress Diana Harris, was born in March 2016, but in December of the same year, Tameka filed for divorce – she and T. I. reconciled by mid-2017.
Tameka was in several relationships before meeting T. I. In 1992, she began dating Zonnie 'Zeboe' Pullins, and she gave birth to their daughter Zonnieque who's today also a rapper; they dated until 1998, Tameka had apparently also been in the short-term relationships with the late rapper Tupac Shaku,r and the American model Blac Chyna, apparently meaning that she's bisexual.
As of April 2021, she's married to T. I. and has four children – some sources claim five.
Problems with the law
On 1 September 2010, Tameka and T. I.'s car was pulled over by a police officer who reported that the smell of burnt marijuana was coming out of the car, while he then found ecstasy in their possession. The two had to pay $10,000 bail to be released from jail.
#NewProfilePic pic.twitter.com/C3f8yyDGic

— Tameka Harris (@TinyMajorMama) April 13, 2019
Most recently, in 2021 T. I. and Taneka have been sued by more than 30 women who claim that the two drugged, kidnapped and raped them.
Hobbies and other interests
Tameka's a huge fan of basketball, and in 2017 became the owner of the Atlanta Heirs team competing in the new league Global Mixed Gender Basketball. Her team played their first game on 23 September 2017 against the New Orleans Gators.
She's a social media star, as her Instagram account's followed by over 6.6 million people, while Tameka has uploaded around 4,200 pictures onto it, many of which have her breasts and buttocks in focus.
She spends most of her spare time at home taking care of her children, as well as grandchildren.
Tameka was once passionate about travelling and has been all around the US visiting nearly every state, while she's also been to Europe on a number of occasions.
She's keen on watching movies late at night – her favorite actor and actress are Leonardo DiCaprio and Rosario Dawson, while a few of her favorite movies are "Titanic", "Catch Me If You Can" and "Seven Pounds".
Age, height and net worth
Tameka's age is 45. She has long brown hair and blue eyes, her height is 4ft 11ins (1.5m, thus her nickname 'Tiny'), and she weighs around 132lbs (60kgs). As of April 2021, her net worth has been estimated at over $3 million while her husband's net worth is reputedly over $50 million.
Who is Tip 'T. I.' Harris?
Clifford Joseph 'T. I.' Harris Jr. was born in Atlanta, Georgia USA, on 25 September 1980 – his zodiac sign is Libra and he holds American nationality.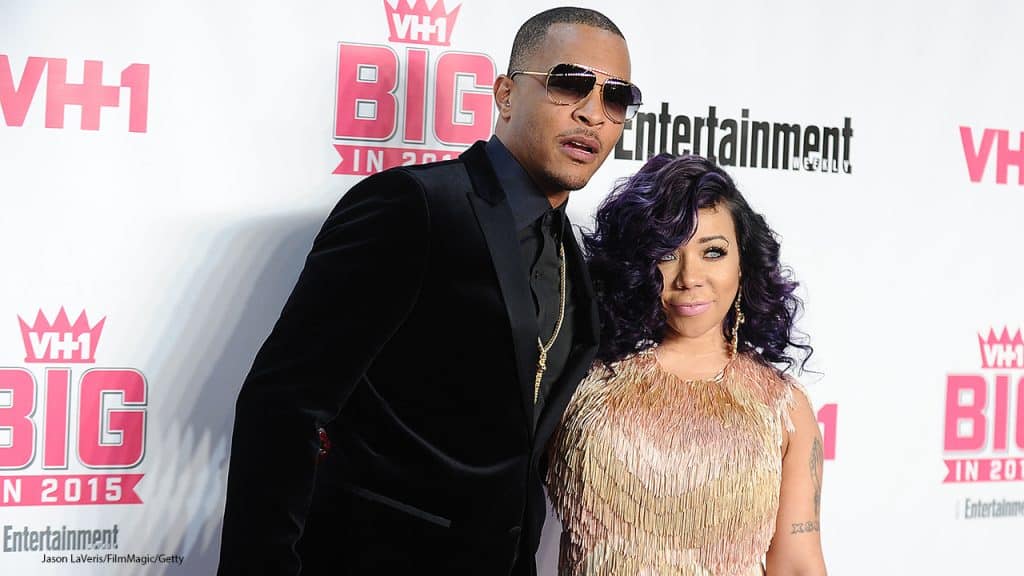 He's released 11 albums, seven of which have ranked in the top five on the US Billboard 200 Chart, and has won three Grammy Awards.
He was raised in Atlanta by his grandparents, as his father Clifford 'Buddy' Harris Sr. worked in New York City and died from the effects of Alzheimer's disease, while his mother Violeta Morgan also lived in New York City. T. I. was eight years old when he started rapping;d he attended Douglass High School but dropped out to pursue a career as a rapper.
He launched his career in 1996 aged 16, when he and the American rapper Big Kuntry King sold mixtapes from their car's trunk. T. I.'s debut album came out in October 2001 entitled "I'm Serious", when he was still signed to Arista Records, while he was dropped after the album failed to attract any attention.
He then launched his own recording label – Grand Hustle Entertainment – and released his second album on 19 August 2003 entitled "Trap Muzik", which became a hit. In November 2004, his third album came out entitled "Urban Legend", while his following album "King", released on 28 March 2006, topped the Billboard 200 Chart, as well as his fifth album "T. I. vs T. I. P." released on 3 July 2007.
T.I. has been making music to this day; his most recent album, "The L. I. B. R. A." was released on 16 October 2020. He has announced that he will release only one or two more albums, and will then retire.
He's also an actor – he played his first lead character in the 2006 comedy movie "ATL".
A couple of his following roles were in the 2007 biographical crime movie "American Gangster", the 2010 crime thriller movie "Takers", and the 2013 crime comedy movie "Identity Thief". A couple of his most -recent roles have been in the 2015 superhero movie "Ant-Man", its 2018 sequel "Ant-Man and the Wasp", and the 2018 series "The Grand Hustle".
T.I. has a daughter, Dayjah Harris from a former relationship with the singer Ms. Niko, while he also has two sons with Lashon Dixon. He has been criticized for having forced his daughter Dayjah to have her hymen checked by a gynecologist every year, to see if she was still a virgin.
T.I. has been in and out of jail since 1994 on various charges, including possession and selling of drugs, possession of weapons, assault, tax evasion, crypto fraud, and sexual abuse.