• Sophie Flay is a TV personality and journalist best known for being the daughter of celebrity chef Bobby Flay
• She holds an American nationality, was raised in New York, and attended the University of Southern California
• She has held internships at various companies, and is currently a community journalist for The Walt Disney Company
• Sophie has appeared in several TV shows alongside her father, and is believed to be either in a relationship with a non-celebrity man or a lesbian
• She is 24 years old, enjoys eating food prepared by her father, supports the Black Lives Matter movement and owns a pet dog
Who is Sophie Flay?
Sophie Flay was born in New York City, USA, on 16 April 1996 – her zodiac sign is Aries, and she holds American nationality. She is a TV personality and a journalist, but probably known best for being the daughter of Bobby Flay, a famous American restaurateur and celebrity chef.
Early life and education
Sophie was raised in New York alongside her half-brother Jonathan, by her father and her mother Kate Connelly, her father's second wife. The two divorced when Sophie was only two, but she got to see both her parents very often. Her father was previously married to Debra Ponzek, then after divorcing Sophie's mother, he married the actress Stephanie March, but divorced her after ten years of marriage on 17 July 2015.
He was then in a relationship with the American actress and singer Helene Yorke from 2016 to 2019.
Sophie attended a local high school, at which she was interested in numerous things, but mostly in journalism. She was physically active as she did gymnastics and practiced tennis, and upon matriculating in 2014, she enrolled at the University of Southern California, from which she graduated with a Bachelor's degree in broadcast journalism in 2018.
Career as a journalist
Sophie launched her career with an internship at BeccaPR, which lasted for three months starting in June 2013. In June 2015, she joined NBC News as a booking intern, also lasting three months. Sophie also did internships at Dash Radio, NBC Sports Group and Warner Bros. Entertainment Group of Companies.
From May 2016 to September 2018, Sophie worked for Spotify as an ad voice track artist, and in March 2018 she joined TVG Network Betfair US as a production assistant, in charge of creating content for several social media networks, assisting with reporting and helping producers. She stayed there for just two months, then in September 2018, Sophie started another internship at ABC7 Digital News which lasted seven months. In March 2019, she joined The Walt Disney Company as their community journalist, the job she has been doing to this day.
Appearances in TV shows
Thanks to her father, Sophie has appeared in six TV shows. In 2011, she was cast alongside Bobby in an episode of the reality TV series "America's Next Great Restaurant", and two years later, she appeared in a single episode of the talk-show "Rachael Ray".
The year 2016 saw her guest star in two episodes of the reality TV show "Brunch at Bobby's", as well as in three episodes of the reality show "Beat Bobby Flay". She has also appeared in six episodes of the show "The Flay List", and a single episode of the news talk-show "Celebrity Page" in 2019.
Love life and relationships
Sophie is very secretive when it comes to her love life, and hasn't mentioned any men she might have been with, however, this has only started the rumors circulating the internet about her relationship status, as well as her sexual orientation.
There are many people who believe that Sophie is in a relationship with a mysterious non-celebrity man, whom she has been keeping away from the media's attention because he is a lot older than her.
The two have allegedly been seen spending time together on several occasions, but no evidence has been provided to support these claims.
There are also those who believe Sophie to be a lesbian, claiming this is why she hasn't spoken about her love life, however, this hasn't been confirmed.
As Sophie hasn't mentioned anyone she might be dating today, she is single as of January 2021, hasn't married and doesn't have children.
Hobbies and other interests
Sophie is interested in food just as her father, and has often eaten with him at various restaurants and food fests. She doesn't seem to have a favorite dish, but prefers to eat the food prepared by her father over all others.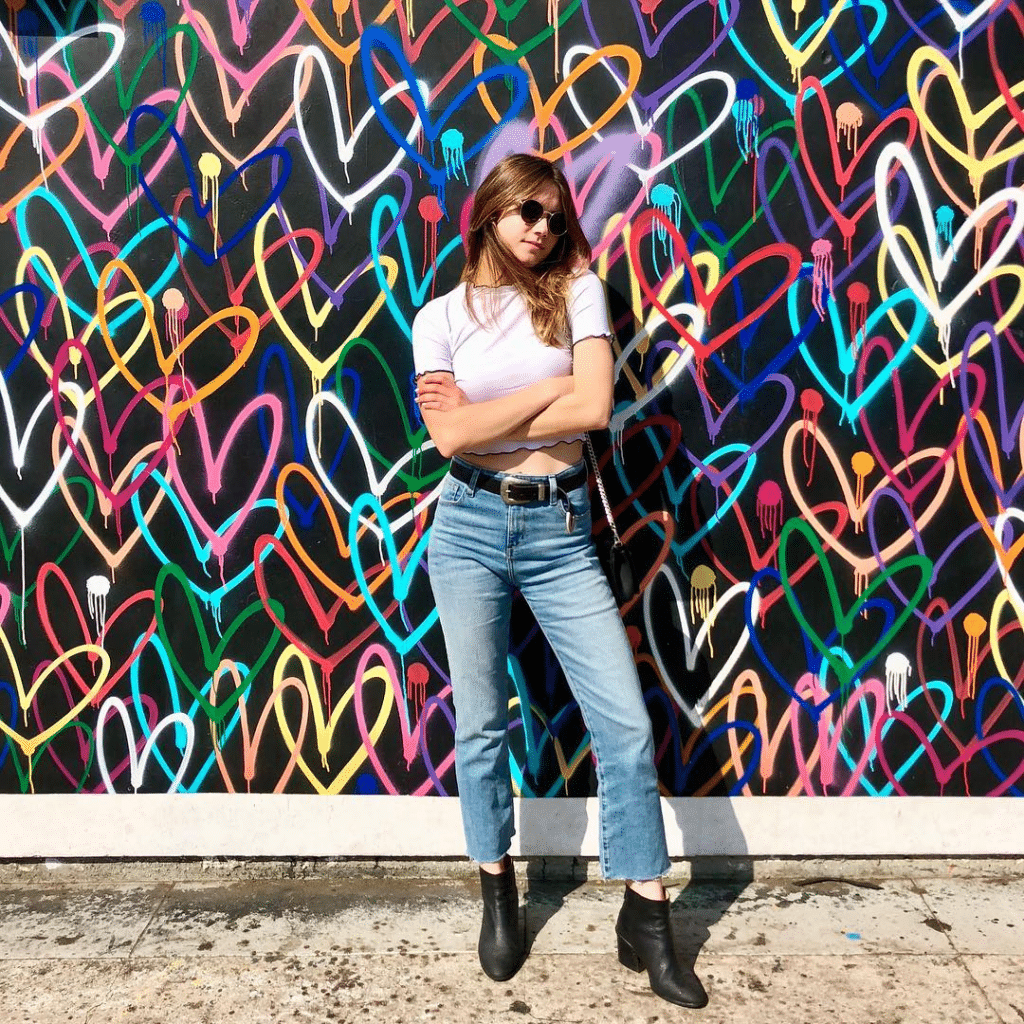 Although not usually interested in politics, Sophie used her and her father's fame to urge people to vote in the 2020 presidential election, however, she hasn't disclosed for whom she voted.
She is a lover of animals and has, a pet dog called Lucy which can be seen featured in some of her Instagram pictures.
She has been supporting the movement Black Lives Matter since it was created.
In her spare time, Sophie likes to watch movies, and her favorite actors are Leonardo DiCaprio, Johnny Depp and Matt Damon, and her favorite movies are "Titanic", "Inception" and the franchise "Pirates of the Caribbean".
Age, height and net worth
Sophie's age is 24. She has long brown hair and brown eyes, her height is 5ft 5ins (1.65m) and she weighs around 130lbs (59kgs).
As of January 2021, her net worth has been estimated at over $100,000, while her father's net worth is reputedly over $30 million.
Who is Bobby Flay?
Robert William 'Bobby' Flay was born in New York City, USA, on 10 December 1964 – his zodiac sign is Sagittarius and he holds American nationality. He is the owner of a couple of restaurants including New York's Bar Americain, Las Vegas' Mesa Grill and Atlantic City's Bobby Flay Steak. He also owns the chain of fast food restaurants Bobby's Burger Palace, which has 19 locations in over ten states.
Bobby was raised on Manhattan's Upper East Side by his father Bill and mother Dorothy Barbara, and was eight years old when he became interested in cooking, and asked his parents for an Easy-Bake Oven as a Christmas present.
His father believed a G. I. Joe toy would be more suitable, so Bobbyreceived both.
Aged 17, Bobby decided to quit high school and started working at the ice cream and cake specialty shop Baskin-Robbins, before he joined Joe Allen Restaurant as a salad chef. Because the owner Joe was impressed by Bobby's skills, he promised to pay for his classes at the French Culinary Institute. Bobby graduated in 1984, and became an executive chef for the first time at the Brighton Grill, however, he realized he wasn't ready for the job and thus quit. He went to work at the restaurant Bud and Jams, and then became the executive chef at Miracle Grill, keeping the job for two years.
In 1991, he became Mesa Grill's executive chef as soon as it was opened – the second Mesa Grill was opened in Las Vegas in 2004, and has now opened in various other locations. On 15 July 2008, Bobby opened his first Bobby's Burger Palace on Long Island, which today counts 19 locations.
Bobby has appeared in various TV shows. He could've been seen featured in three episodes of the series "Great Chefs", while he's hosted 16 cooking shows on the Cooking Channel and Food Network, including "Bobby Flay's Barbecue Addiction", "Worst Cooks in America" and "3 Days to Open with Bobby Flay". He might be known best for having served as an Iron Chef in the series "Iron Chef America".
Bobby has released over ten cookbooks, with some of the most popular among these being "Bobby Flay's Bar American Cookbook: Celebrate America's Great Flavors", "Bobby at Home: Fearless Flavors from My Kitchen" and "Bobby Flay's Grilling For Life".
He is interested in horse racing, and owns several horses which have won at least one Graded Stakes Race. One of Bobby's best horses is More Than Real, which won the 2010 Breeders' Cup Juvenile Fillies Turf.