-• Travis Bacon is the son of popular Hollywood actors Kevin Bacon and Kyra Sedgwick
-• He pursued a degree in Sound Engineering, and initially tried to follow in his parents' footsteps by venturing into the movie industry
-• He switched to a career in music, and is a lead sound engineer and operates his own studio in Brooklyn, New York City
-• He is credited with the composition of the theme song in the movie directed by his mother "Story of a Girl", and has been linked to several heavy metal bands
-• He has an estimated $2 million net worth as of early 2021, and has no public social media activity
Do you know Travis Bacon?
Making a name for yourself apart from being the child of a celebrity can be difficult, especially if your parents are both popular Hollywood actors. Thankfully, Travis Bacon has not only carved out a niche for himself, but has also established his name among the celebrities. So how did he do it?
Travis' Early Life and Background
Travis Bacon was born on 23 June 1989 under the Cancer zodiac sign to parents Kevin Bacon and Kyra Sedgwick in Los Angeles, California USA, and is an American of Caucasian ethnicity. His father, Kevin, is a popular Hollywood actor while his mother, Kyra is a producer and also an actress.
He and his younger sister, Sosie Ruth Bacon, were not brought up in the glamorous lifestyle which typically accompanies celebrity status, but have also followed the family profession of acting.
His Education and Professional Life
Details about where he attended high school are still unconfirmed, but after matriculation, he was enrolled into Evergreen State College in Washington State, and got his BA degree in Sound Engineering. Initially, it seemed that Travis was going to follow in his parents' footsteps by venturing into the movie industry, when he debuted in the 2005 film entitled "Loverboy" playing the role of "Lenny". The movie was about a single woman whose neglect by her family led her to becoming very obsessive over her children. The movie was successful, further exposing young Travis to the spotlight. The young actor hasn't featured in any other movie to date, but has been involved in other career options.
He made the switch to music, and armed with his degree in audio engineering, he began working with the recording company 'The Wild Arctic', as one of their engineers, while also performing at music centres such as 'Club Europa', 'St. Vitus Bar', and 'Union Hall'. He joined the 'Idiot Box', a punk music group, and has been linked to other heavy metal bands including 'White Widows Pact', of which he was their guitar player 'til 2015 before leaving to play for 'Black Anvil', another heavy-metal band. The group initially had three members: Ralph Glicken, Paul Delaney and Gary Bennett, who came together in 2007 to form the group.
Travis currently operates his studio in Brooklyn, New York City named 'Broken Box Recording Company', and also doubles as the lead sound engineer.
He's credited with the composition of the theme song in the movie directed by his mother "Story of a Girl", which featured his father and sister, and was centred on a teenage girl who becomes famous after a private recording of her was released.
Travis Bacon's Parents, Sister and Personal Life
He is the only son of his celebrity parents; during an interview, Travis talked about his brush with death when his father, Kevin, accidentally locked him inside the car with keys when he was still an infant! By the time Kevin remembered, a passerby had already punched a hole through the window and taken the baby out, already gasping for breath, but with some help, he was stabilised.
His father, Kevin Norwood Bacon, was born on 8 July 1958, in Pennsylvania, USA to Edmund Bacon, an architect, and Ruth Hilda, a teacher.
After matriculating from high school, he was awarded a scholarship to enrol at Bucknell University, where he underwent a theatre program for five weeks under the tutelage of 'Glory Van Scott'.
Kevin began his acting career with theatre performances at 17 years of age, while simultaneously studying and working as a waiter in New York. His determination and persistence over the years made him into a globally recognised Hollywood actor, with several box office hits under his belt, such as "Footloose", "The River Wild" "Apollo 13" and "X-Men: First Class". He is accredited with several movies which have displayed his versatility as an actor, and brought him many awards.
He met his future wife, Kyra, on the set of the movie "Lemon Sky" after dating another actress, Tracy Polla, for five years. Kyra Minturn Sedgwick was born on 19 August 1965 in New York City, USA, and is a popular producer, actress and director. Though her father is not Jewish, Kyra claims her mother's Jewish roots, and also partakes in some of the festivals.
The actress is most notable for her role in "The Closer" as Brenda Johnson, and also Madeline Wuntch in the movie "Brooklyn Nine-Nine". Just like her husband, Kyra has a robust career as an actor, appearing in many critically-acclaimed films, before she switched to producing and directing movies.
The actress and Kevin married on 4 September 1988, and have been dubbed one of 'Hollywood longest couples' since their marriage has survived over three decades, and they've continued to be a happy couple. Their union produced Travis and Sosie, who have followed in the footsteps of their parents.
Sosie, named after the director of "Miss Rose White" – Sosie Hublitz, was born on 15 March 1992. According to her, the youngster's parents didn't encourage her to go into acting, but that didn't stop her from becoming the actress she is today. Her mother also attributes Sosie's closeness to the males in their family to her long period of absence in her daughter's life, during the making of her movies.
She has starred in several successful movies and television series, such as "Loverboy", "Off Season", "The Closer" and "13 Reasons Why".
Is Travis in a relationship?
Since Travis became noticed through his career both on-screen and on stage, apparently he hasn't been romantically linked to anyone. As of 2021, there is no information on his current in a relationship or who he has previously dated, if any. He's always been more focused on growing his career.
His awards and recognition
Travis has not yet won any awards or been nominated for his movie feature and music.
His father, however, is a recipient of a Golden Globe and a Primetime Emmy Award, a Screen Actors Guild Award, a star on the 'Hollywood Walk of Fame' to name a few. His mother also has a Hollywood star, a Golden Globe and an Emmy Award among others. His sister was named 'Miss Golden Globe' in 2013, a title which is given to children of celebrities who are tasked with assisting in the smooth running of the festivities around the Golden Globe award. The title had previously been given to Clint Eastwood's daughter, Francesca Eastwood, before she received it.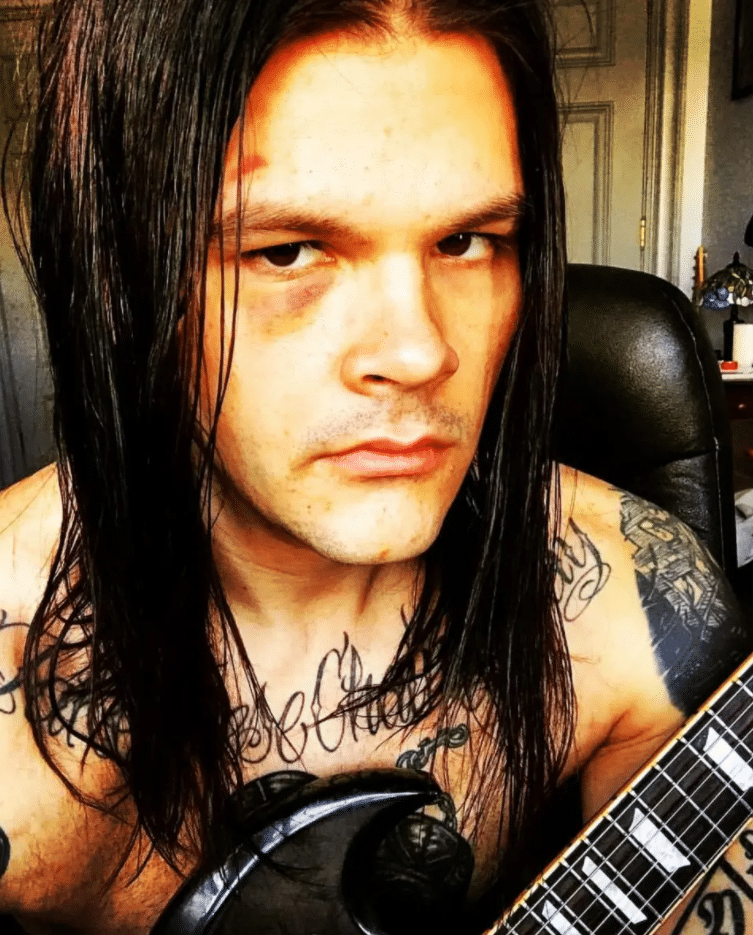 Controversies and Scandals
Travis has kept a clean slate, and not been associated with any scandal surrounding his personal or professional life, even though he is constantly in the public eye and has worked with many individuals and bands.
His Hobbies and Favourites
When he isn't working in his studio or performing with bands, the guitarist goes hiking, works out and does yoga. His favourite colour is white. He enjoys Italian food.
His physical Features
The handsome musician is said to be about 5ft 10ins (1.78m) tall and weighs around 145lbs (65kgs) with black eyes.
His unique fashion style, long black hair and tattoos on his body, make him easily identifiable, with his hard rock and heavy metal style of music.
Travis Bacon's net worth
Though he is still an upcoming artiste, Travis has done quite well for himself with an estimated $2 million net worth, as of early 2021. Much of his income comes from his collaborations with bands and various performances.
Where to find him
Travis doesn't share any of his social activities on the internet, and no social media account has been linked to him. His parents, especially his father, enjoy sharing photos and videos involving his family with his over 1.5 million Instagram followers through his handle @kevinbacon.