• Mary Quinn Lundberg is a 37-year-old businesswoman and charity worker, best known for being the wife of famous Hollywood actor Zach Galifianakis.
• Her net worth is estimated to be over $300,000.
• She is Canadian and White Caucasian with a Bachelor's degree in International Conflict Resolution and a Master's degree in Public Policy.
• She is the co-founder of charity Growing Voices and the educational business platform LOOM.
• Her husband, Zach Galifianakis, is a famous stand-up comedian and writer, well-known for his roles in The Hangover trilogy, Up In The Air, and more.
Who is Quinn Lundberg?
Mary Quinn Lundberg was born in 1983 in Edmonton, Alberta, Canada; the actual date of her birth is unknown. She is a 37-year-old businesswoman and charity worker, but probably best recognized for being the wife of famous Hollywood actor, stand-up comedian and writer Zach Galifianakis.
How rich is she, as of now? Quinn Lundberg Net Worth
As of early 2021, Quinn Lundberg's net worth is over $300,000, acquired through her successful involvement in several endeavors. Moreover, she probably shares the wealth of her famous husband, Zach Galifianakis, whose net worth is estimated at well over $20 million.
Early Life, Parents, Nationality, Ethnicity
Quinn Lundberg spent her early years in her hometown of Edmonton, where she was raised in a middle-class family by her parents; however, there is no information in the media about their names and professions, and it's also unknown whether she has siblings or not. She is the cousin of Charlie Clarke, who is known for being the Mayor of Saskatoon, Saskatchewan in Canada. She holds Canadian and American nationality, and belongs to White Caucasian ethnic group.
Educational Background
Quinn trained in modern dancing and ballet, and even spent some time performing as a professional dancer.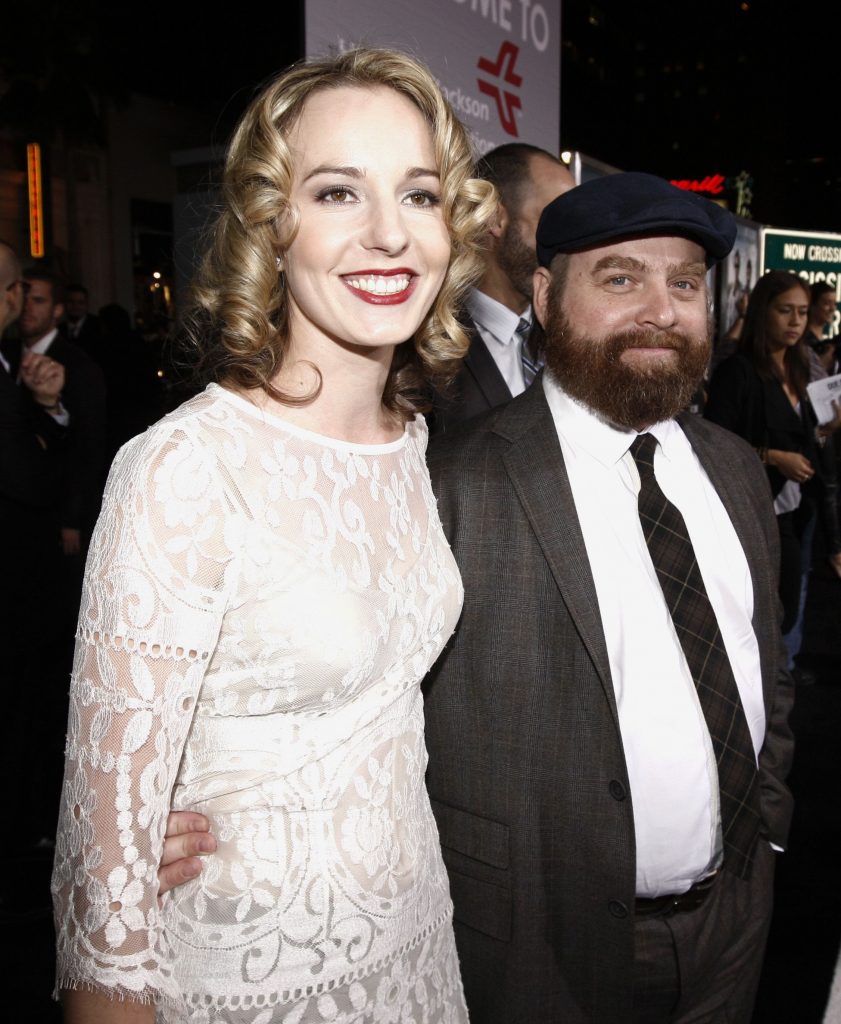 She eventually moved to New York City to pursue her career further, including teaching dancing. Concurrently, she obtained her Bachelor's degree in International Conflict Resolution from the City University of New York (CUNY) Baccalaureate for Unique and Interdisciplinary Studies in 2010. Thereafter, she furthered her education at the University of California, Los Angeles (UCLA)'s Luskin School of Public Affairs, from which she earned her Master's degree in Public Policy in 2014.
Professional Career
After graduating in 2010, Quinn served as a volunteer at UNICEF, traveling around the globe and visiting several backward countries, where she promoted sustainable community development.
Thereafter, she came up with an idea to establish a charitable organization, and in 2013 teamed up with Melissa Leschuck to co-found the charity Growing Voices with headquarters in Los Angeles, California. Their projects include raising awareness against domestic violence in North Carolina, and building a community center in Malawi. Besides that, in January 2016 Quinn co-founded LOOM, an educational business platform, and served there as a Chief Impact Officer until September 2020.
Love Story with Zach Galifianakis
The public isn't aware of how and when Quinn Lundberg met her future husband Zach Galifianakis, but it's common knowledge that they've known each other for sometime.
After dating for a while, the couple exchanged their wedding vows at a private ceremony which took place on 11 August 2012 at the UCB Farm in Vancouver, Canada. Quinn gave birth to their first child, a boy whose name hasn't been revealed yet, on 7 September 2013 – the proud father even missed the premiere of his film "Are You Here" to attend the delivery of his first child. They welcomed their second son they named Rufus Emmanuel Lundberg, on 7 November 2016. The family currently resides on a farm in Sparta, Alleghany County, North Carolina.
Appearance and Vital Statistics
Quinn Lundberg has long blonde dyed hair and dark brown eyes.
She stands at a height of 5ft 7ins (1.70m), while her weight is around 120lbs (55kgs). Information about her vital statistics, bra, dress and shoe sizes isn't available.
Who is her husband? Zach Galifianakis Short Wiki/Bio
Zacharius Knight 'Zach' Galifianakis was born on 1 October 1969 under the zodiac sign of Libra, in Wilkesboro, North Carolina USA. He was raised by his father, Harry Galifianakis, who worked as a heating oil vendor, and his mother, Mary Frances Galifianakis, a community arts center owner. His mother is of Scottish descent, while his paternal grandparents were immigrants from Greece. He has an elder brother, Greg, and a younger sister, Merritt. He went to Wilkes Central High School, and upon matriculation enrolled into North Carolina State University, where he majored in Communications.
Career Beginnings
Zach Galifianakis started his career on television starring in the role of Bobby in the NBC sitcom "Boston Common" (1996-1997), after which he had small roles in such film titles as "Heartbreakers", "Bubble Boy", and "Corky Romano", all in 2001. Later that year, he performed stand-up comedy in an episode of the TV show "Comedy Central Presents", which helped him to create his own VH1 talk show, entitled "Late World With Zach" in 2002. Between 2003 and 2005, he was cast as Davis in the Fox supernatural drama series "Tru Calling". He then went on a stand-up comedy tour alongside Brian Posehn, Patton Oswalt, and Maria Bamford, which was documented in the 2005 film "The Comedians Of Comedy".
It was followed by his self-released stand-up DVD "Zach Galifianakis: Look Who It Isn't" (2005), and his stand-up special "Zach Galifianakis Live At The Purple Onion" (2006).
Rise to Fame and "The Hangover"
In 2006, Zach produced, wrote and starred as Alan Finger in the Comedy Central show "Dog Bites Man", after which he portrayed Kevin Wallis in Sean Penn's 2007 biographical adventure drama film "Into The Wild", and played the lead role of George in the 2008 satirical sci-fi dark comedy film "Visioneers". Zach also appeared in various roles in the Adult Swim comedy sketch series "Tim And Eric Awesome Show, Great Job!" from 2007 to 2010.
He eventually gained worldwide recognition when he landed the role of Alan Garner in Todd Phillips' 2009 hit comedy film "The Hangover", along with Bradley Cooper, Justin Bartha and Ed Helms. His work on the film earned him the MTV Movie Award for Best Comedic Performance; he would later reprise the role in its sequels, "The Hangover Part II" (2011) and "The Hangover Part III" (2013).
Continued Success
Zach's next major role came in 2009, when he played Steve Sewa in the critically acclaimed comedy-drama film "Up In The Air", alongside George Clooney and Vera Farmiga. Thereafter, he landed supporting roles in such film titles as "Operation: Endgame" (2009), and "Dinner For Schmucks" (2010).
Zach then reunited with director Todd Phillips to land the role of Ethan Tremblay in his black comedy road film "Due Date", next to Robert Downey Jr., also in 2010. Between 2009 and 2011, he was cast as Ray Hueston in the HBO comedy series "Bored To Death". In 2011, he provided his voice to Humpty Dumpty in the animated adventure comedy film "Puss In Boots", and played Hobo Joe in the musical comedy film "The Muppets", which he would later reprise in its 2014 sequel, "Muppets Most Wanted".
Further Work
In 2012, Zach produced and starred in the role of Marty Huggins in the political satirical comedy film "The Campaign", opposite Will Ferrell, after which he played Ben Baker in the 2013 comedy-drama film "Are You Here", and featured as Jake in the 2014 black comedy-drama film "Bird Man (Or The Unexpected Virtue Of Ignorance)", which received critical acclaim.
His next significant roles came in 2016, when he portrayed David Ghantt in the comedy film "Masterminds", played Jeff Gaffney in the action comedy film "Keeping Up With The Joneses", and co-created, wrote, and produced the FX comedy-drama series "Baskets", in which he starred as twin brothers Chip and Dale Baskets until the series ended in 2019. It earned him a Primetime Emmy Award nomination for Outstanding Lead Actor in a Comedy Series.
Concurrently, he lent his voice to Joker in the animated superhero comedy film "The Lego Batman Movie" and landed the role of Gerrit in the historical romantic drama film "Tulip Fever", both in 2017. Most recently, he voiced Mr.
Link in the animated adventure comedy film "Missing Link" (2019) and Gratitoad in the Netflix adult animated coming-of-age sitcom "Big Mouth" (2020).
Between Two Ferns with Zach Galifianakis
Since 2008, Zach has been producing and hosting his own online talk show, entitled "Between Two Ferns With Zach Galifianakis", released on the Funny or Die website. Over time, he's interviewed such famous personalities as Conan O'Brien, Bradley Cooper, Justin Bieber, Bruce Wills, Hillary Clinton, and Barack Obama, to name a few. As a producer, Zach won the Primetime Emmy Award for Outstanding Short-Format Live-Action Entertainment Program twice. In addition to the online show, there is a Comedy Central special as well as the Netflix film "Between Two Ferns: The Movie", released in 2019.