• Toby Stephens is an English stage, television and film actor
• He is best known for roles such as Gustav Graves in "Die Another Day", Bill Beaman in "Hunter Killer", and John Robinson in "Lost in Space"
• He was born to renowned actors Sir Robert Stephens and Dame Maggie Smith
• His net worth is estimated at $4 million as of early 2021
• He is married to Anna-Louis Plowman and has three children
Who is Toby Stephens?
Toby Stephens is an English stage, television and film actor, perhaps best known to the world as Gustav Graves in the film "Die Another Day" (2002), then as Bill Beaman in the film "Hunter Killer" (2018), and as John Robinson in the TV series "Lost in Space" (2018-2021), in addition to several other roles he's had so far in his career.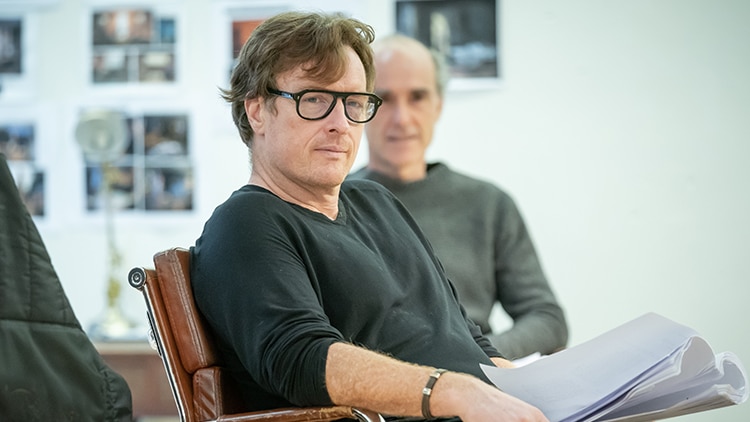 Toby Stephens Wiki: Age, Childhood, and Education
Toby Stephens was born on 21 April 1969, in Fitzrovia, London, England, the son of renowned actors Sir Robert Stephens and Dame Maggie Smith. Toby has an older brother, Christopher Stephens, better known as Chris Larkin, who is also an actor.
He attended Aldro School and Seaford College, and later trained in acting at the London Academy of Music and Dramatic Art (LAMDA).
Career Beginnings
Toby Stephens's career started in 1992 with the role of Othello in the Academy Award-nominated fantasy biopic "Orlando", starring Tilda Swinton, Billy Zane and Quentin Crisp. The same year, he portrayed Oliver in the BAFTA-winning TV romantic war-drama series "The Camomile Lawn", with Felicity Kendal, Claire Bloom and Jennifer Ehle in the lead roles.
Four years later, Toby played Orsino in the romantic comedy-drama film "Twelfth Night", based on the play by William Shakespeare, about a girl who disguises herself as a man, with Helena Bonham Carter, Richard E. Grant and Imogen Stubbs as the main stars.
In 1997 he was the main protagonist Charles Castle in the fantasy mystery drama film "Photographing Fairies", co-starring Emily Woof and Ben Kingsley, and before the decade ended, he was Luke Bradley in the film "Sunset Heights", written and directed by Colm Villa, and co-starring Jim Norton and James Cosmo. Moreover, he starred as Lensky in the film "Onegin", based on the poem by Alexander Pushkin, and co-starring Ralph Fiennes as Lensky and Liv Tyler as Tatyana.
The 2000s
Toby began the new millennium with the role of Jay Gatsby in the television drama movie "The Great Gatsby", co-starring Paul Rudd as Nick Carraway and Mira Sorvino as Daisy Buchanan, based on the novel by F. Scott Fitzgerald.
He was the young Frank Corvin in Clint Eastwood's action adventure thriller film "Space Cowboys", starring Eastwood as old Frank alongside Tommy Lee Jones and Donald Sutherland.
Rise to Prominence
In 2002, Toby starred as Gustav Graves, the main villain in the film "Die Another Day", which follows the adventures of the most famous British Secret Service agent James Bond starring Pierce Brosnan as Bond, who's sent to investigate a connection between a North Korean terrorist and a diamond mogul who funds space weapon development.
Toby featured in several prominent projects during the decade, including the historical biopic "Mangal Pandey" (2002) about a man who rises against British rule in India in 1857, with Aamir Khan and Rani Mukerji in the lead roles. Then he was Tony Armstrong Jones in the BAFTA-nominated biopic comedy-drama movie "The Queen's Sister" (2005), about Princess Margaret and her life following the death of her father George VI.
In 2006 he appeared in the award-winning horror-comedy film "Severance", with Danny Dyer, Laura Harris, and Tim McInnerny in the lead roles, and before the decade ended, Toby portrayed Prince John in the TV series "Robin Hood".
The 2010s
The new decade brought a couple of television lead roles for Toby, one of which was as Detective Inspector Jack Armstrong in the TV comedy crime-mystery series "Vexed", co-starring Ronny Jhutti and Roger Griffiths.
In 2014, Toby was chosen for the role of Captain Flint in the Primetime Emmy Award-winning action-adventure drama series "Black Sails", which tells the story of Captain Flint and his band of pirates twenty years before Robert Louis Stevenson's classic novel Treasure Island. He starred in all 38 episodes of the critically acclaimed series until its end in 2017, which launched him to stardom, alongside Jessica Parker Kennedy and Hannah New.
In 2016, he portrayed Tony Blair in the biopic "The Journey", which starred Timothy Spall, Colm Meaney and John Hurt in the lead roles. The same year, he appeared in the historical action-drama film "13 Hours", which depicts the chaos following an attack on a US compound in Libya.
Season 2. Coming soon. #lostinspace2 pic.twitter.com/gzruIK7kGS

— TOBY STEPHENS🇺🇦 (@TobyStephensInV) November 1, 2019
Then in 2018, he secured another long-running role as John Robinson in the Primetime Emmy Award-nominated family sci-fi drama series "Lost in Space", co-starring Molly Parker and Maxwell Jenkins, about a family who crashes on an alien planet, and tries to survive against all odds and escape. The series ended after three seasons.
Most recently, Toby portrayed Maarten Vermeulen Sickerts in the TV series "History of a Pleasure Seeker", which tells the story of a young man and his adventures during Belle Epoque in France.
Stage and Radio Play Work
In addition to his on-screen work, Toby has made a number of stage appearances. He began in 1992 with the role of Damis in the play "Tartuffe", performed at Playhouse Theatre, then worked with the Royal Shakespeare Company on several plays, including "Coriolanus", "A Midsummer Night's Dream", and "Measure for Measure", all in 1994.
He was Stanley Kowalski in the play "A Streetcar Named Desire" (1996), performed at Theatre Royal Haymarket, and was Nero in the play "Britannicus" in 1998 and 1999.
To speak further of his on-stage roles, Toby played Hamlet in the play of the same name in 2004, while in 2017, he was Terje Rod-Larsen in the play "Oslo". Most recently, he appeared in the play "The Forest" at Hampstead Theatre in 2022.
Toby has numerous audiobook narrations to his name too, and has performed in broadcast radio dramas. He voiced Count Vronsky in "Anna Karenina" (1997) and Macbeth in the play of the same name. He is the narrator of the audiobooks "Heart of Darkness" (2007) and "King Solomon's Mines" (2009), among many others, and is known for his work on James Bond audiobooks, and for voicing Phillip Marlowe in the crime mystery novel series by Raymond Chandler.
Net Worth
According to sources, Toby Stephens's net worth is estimated at $4 million, as of early 2023.
Personal Life, Married, Wife, Children
Toby started dating New Zealand actress Anna-Louis Plowman in 1999; they began living together in the same year, and married on 15 September 2001. The couple has since welcomed three children together, Elijah Alistair, Tallulah Tara and Kura Stephens.
Appearance and Vital Statistics
Toby Stephens has blue eyes and light brown hair. He stands at a height of 5ft 11ins (1.8m), and weighs approximately 172lbs (78kgs). His vital statistics are unknown, though he has a slim figure.