• American actor known for roles in "That Thing You Do" and "La La Land"
• Born in East Bridgewater, Massachusetts, USA, in 1970
• Holds a degree in communications from Syracuse University
• Estimated net worth of $4 million
• Active on social media and supports the Black Lives Matter movement
Who is Tom Everett Scott?
Tom Everett Scott is an American actor, perhaps best recognized for his roles in "That Thing You Do" and "La La Land". Scott was born under the Zodiac sign Virgo on 7 September 1970, in East Bridgewater, Massachusetts, USA, a mix of English Scottish, and German ethnicity. He holds American nationality, and as of 2021 he is 40 years old, and now living in Los Angeles.
Early life, Family and Education
Tom Everett Scott was born to Cindy, an insurance sales representative, and William Joseph Bill, a civil engineer who passed away in 2007. Tom grew up in suburbia with three siblings, which offered a variety of activities such as canoeing and camping.
Even though he was very popular in high school plays, he never really thought of pursuing an acting career. After matriculating, Tom enrolled at Syracuse University to study communications, but eventually drifted to Drama, as it felt like his real vocation. In an interview, he said: "I went down to the theater and saw everything going on – people jumping around being idiots – and I thought, 'This is my home. This is where I should be." In 1992, Tom graduated from university and moved to New York City with his college friends. There he waited tables for some time, and later founded a theater company called "aTheaterco" with his friends.
Career
Scott made his TV debut in 1993 with a minor role in "Law and Order", after which he appeared in TV shows such as "CBS Schoolbreak Special", "Grace Under Fire", and "Inherit the Wind". In 1996 he made his movie debut, starring alongside Tom Hanks and Liv Taylor in the comedy called "That Thing You Do", also directed by Tom Hanks, and which received generally favorable reviews. An interesting detail about casting Scott; he was almost rejected for the role of Guy Patterson due to his resemblance to Tom Hanks, but his wife Rita Wilson convinced Tom to cast a look-alike. After this movie, Scott appeared in many others, such as "An American Werewolf in Paris", "One True Thing", and "Dead Man on Campus".
In 2001 he landed the main role in the legal drama "Philly", but the series was canceled after the first season due to its low ratings. After appearing in several movies including "Boiler Room", "Van Wilder", and "Sexual Life" he landed the role of Eric Wyczenski in the medical drama series "ER". He continued appearing in various sitcoms and other series such as "Will and Grace", "Justice League Unlimited", and Stacked, until in 2006 he was cast as the main character in the medical drama series "Saved". This was followed by roles in TV series such as "Cashmere Mafia", "Sons of Anarchy", and "Batman: The Brave and the Bold". In 2009 he appeared in the crime drama "Southland", produced by Warner Bros Television, in the recurring role of Detective Russell Clarke, one of the main characters in the first season, and made guest appearances in other seasons.
In the same year, he appeared in the science fiction adventure movie "Race to Witch Mountain" alongside Dwayne Johnson; despite gaining mixed reviews, the movie grossed a hefty amount.
Scott continued appearing in differing movies and TV shows, including, "Brave Town", "Enemies Closer", and "Beauty and the Beast". In 2016 he appeared in the popular musical romantic comedy-drama "La La Land", alongside Ryan Gosling and Emma Stone; after gaining positive reviews, the movie won numerous accolades, including, six awards at the 89th Academy Awards with 14 nominations, a record for the most received nominations by a single film.
After this enormous success, Scott appeared in several other movies, such as "Vanished-Left Behind: Next Generation", "The Last Word" and "Danger One".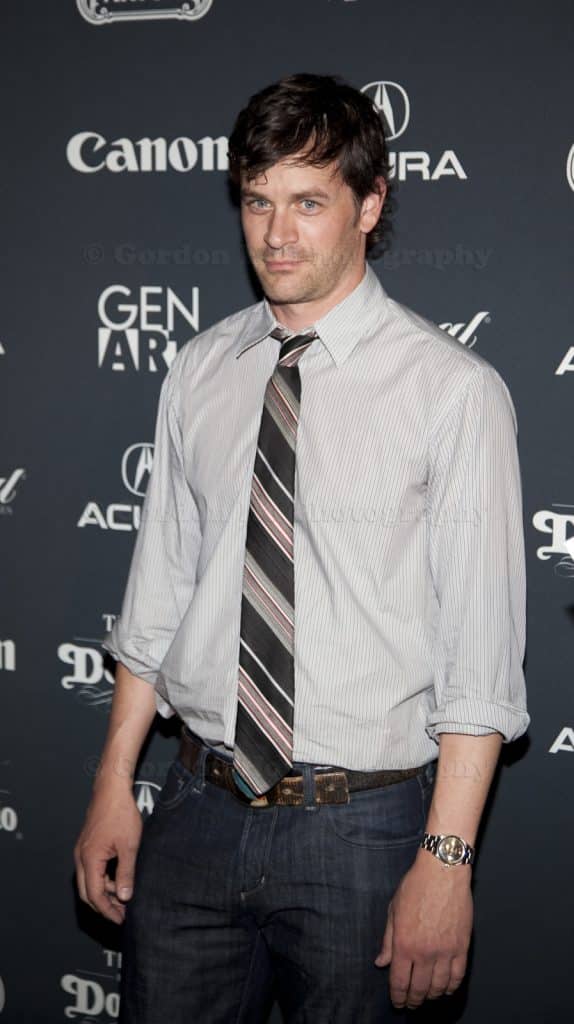 In 2017 he landed the main role in the American sitcom "I'm Sorry", followed by a role in "13 Reasons Why". In 2020 Scot was very active and prolific, appeared in a number of movies and TV shows including, "The Healing Powers of Dude" and "Sister of the Groom". His latest project is "Finding You", the coming-of-age comedy which was released on 29 January 2021.
Personal life
During the college days at Syracuse University, Tom met actress.  Jenny Gallagher , best known for her roles in "River Red" and "Peak Practice"; it seems that her acting career was short-lived, given she never appeared in another TV show or movie. They reportedly dated for years before finally tying the knot on 13 December 1997. Together they've welcomed two children; a daughter Arly born on 6 June 2000, and a boy Finn born on 20 October 2004.
Arly is a singer, and released her first single "Indio Canyon Drive" in September 2020.
What is his net worth?
According to the Celebrity Net Worth, Scott's estimated net worth is around $4 million, earned through his long and prolific career as an actor. Besides starring in various TV shows, his wealth was definitely augmented with his roles in "La La Land", which grossed an impressive $448 million, and "Race to Witch Mountain", which grossed $106 million.
Physical stats and Hobbies
Tom Everett is 6ft 2ins tall (188cm) and weighs around 165lbs (75kgs). His hair is brown, and his eyes are blue.
As a man of many interests, Scott is a known poker player. In 2003 he was a part of the World Poker Tour, the only celebrity who made it to the finale.
He is a great animal lover, having two dogs Bowie and Aero.
Judging from his interviews, Tom seems like a goofy person who likes to make jokes and fool around. Talking about the fame he once said: "Fame looks like a really hairy affair. But if it's part of the job, I'll figure out a way to deal with it."
Tom is active quite active on Instagram, with 40,000 followers. He usually posts photos of himself and his wife, and comments on the ubiquitous political and social situation in the US. He also has a Twitter account which has 24,000 followers. Most of his posts on Twitter are similar to those on Instagram.
He is also a supporter of the Black Live Matter movement, and has participated in many rallies. During the middle of 2020, with the turbulent upheaval in Kentucky resulting in the death of Breanna Taylor, Scott was very vocal about the injustice in the US, simultaneously calling for action and fair treatment from the police department.
Like many celebrities, he believes that everyone should use their right to vote especially given it a hard-earned right; one of his favorite quotes is "The chaos is intended to make Americans feel hopeless. Don't. Organize your thoughts and vote."