• Tracy Dawn Scoggins was born in Galveston, Texas and is an American actress.
• She is best known for her portrayal of Monica Colby in the romantic drama series "Dynasty".
• She has appeared in more than 80 movies and TV series, including "The Renegades", "Babylon 5" and "Lois & Clark: The New Adventures of Superman".
• She was married to John Connelly from 1982 to 1988, and is believed to have remarried.
• Tracy's net worth is estimated to be over $5 million.
Who is Tracy Scoggins?
Tracy Dawn Scoggins was born in Galveston, Texas USA, on 13 November 1953 – her zodiac sign is Scorpio and she holds American nationality. She is an actress who is perhaps still known best for her portrayal of Monica Colby in the romantic drama series "Dynasty", created by Esther Shapiro and Richard Alan Shapiro, and which starred John Forsythe, Linda Evans and Joan Collins. It follows the feud between two oil rich families, the Colbys and the Carringtons. The series aired from 1981 to 1989, and won 24 awards including five Golden Globes, while it was nominated for 67 other awards.
Early life and education
Tracy was raised an only child in Galveston, by her father John Scott Scoggins who was a trial attorney, and her mother Lou Cille Scoggins who was a tennis champion and an attorney.
She grew up being interested in sports, and was just nine when she won her first diving championship. Tracy then focused on swimming and won many races in the following four years. She attended Dickinson High School at which she competed in diving and gymnastics, while she was also a cheerleader. Tracy matriculated aged 16, and enrolled at Southwest Texas State University on an athletic scholarship. She obtained her Bachelor's degree in physical education in 1974, and during her time at the university, she almost secured a spot on the US diving team which was to compete in the Olympics.
Before acting
After graduating, Tracy worked as a physical education teacher before she was signed to the Elite Model Management agency. She was sent to work in New York for a year before she got to tour around Europe, staying in countries such as France, Germany and Italy. She returned to the US and became interested in acting, thus enrolling at the Herbert Berghof Studio followed by the Wynn Hanmann Studio.
Roles in movies
Tracy has been credited with appearing in more than 80 movies and TV series, and we are about to mention some of her most notable performances in this article.
She made her debut film appearance in the 1981 drama "Twirl", but which failed to attract any attention; a couple of her following roles were in the 1982 mystery crime drama "The Renegades", the 1984 action drama "Toy Soldiers" and the 1988 crime drama "In Dangerous Company". Her first notable performance was in the 1992 fantasy horror comedy "Demonic Toys", in which she starred as Judith Gray alongside Bentley Mitchum and Daniel Cerny; the movie follows three people trapped in an abandoned toy warehouse. Tracy starred in the series of action adventure drama movies "Babylon 5", including "Babylon 5: The River of Souls" and "Babylon 5: A Call to Arms" then in 2001, she was invited to play one of the supporting characters in the horror "A Crack in the Floor", written and directed by Sean Stanek and Corbin Timbrook, and which follows a man who has isolated himself from society, while a group of hikers have now disrupted his peace.
Tracy has since appeared in several mediocre movies; a couple of her most recent roles in films have been in the 2008 crime horror comedy "Otis", the 2013 short comedy "Cat Power" and the 2014 romantic mystery drama "Borrowed Moments".
Roles in TV series
Tracy made her debut TV series appearance with her portrayal of Linda Mae Barnes in the 1982 episode "New Deputy in Town" of the action comedy "The Dukes of Hazzard", and the following years saw her guest star in single episodes of various series. such as the drama "The Devil Connection", the action adventure comedy "The Fall Guy", and the comedy "Remington Steele".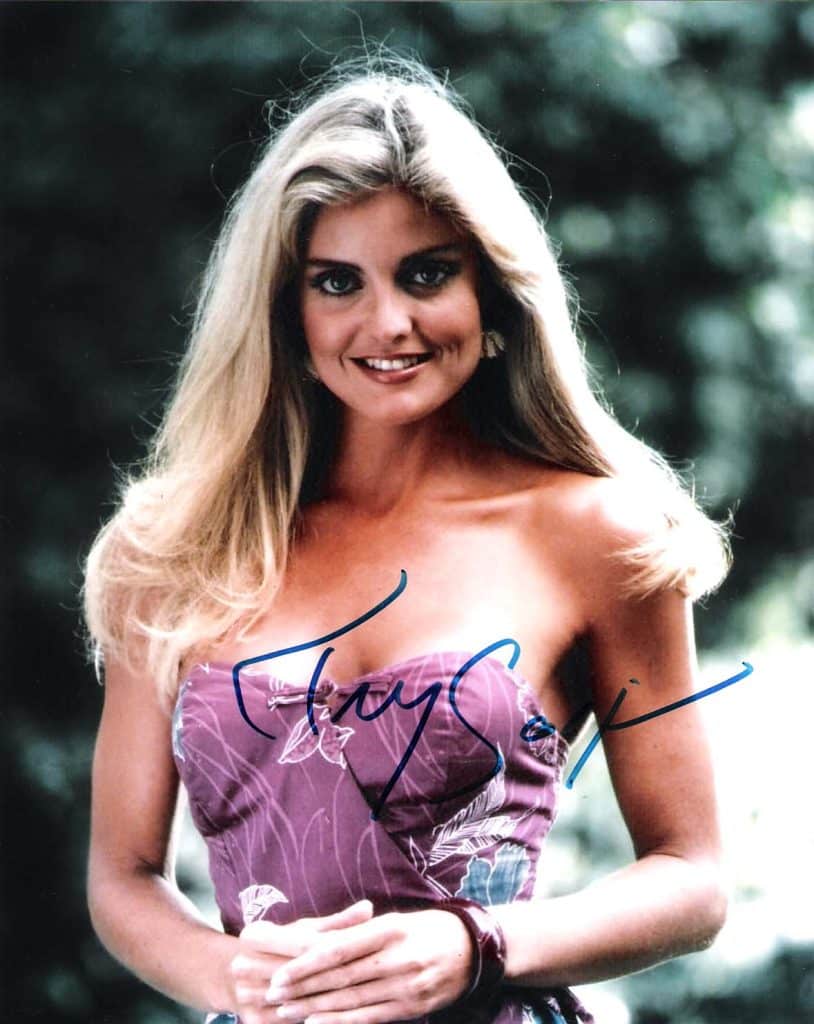 She gained recognition in 1983 with her portrayal of a supporting character in the action crime drama "The Renegades", which starred Patrick Swayze and Randy Brooks, and follows a street gang which has been given two choices: to work undercover for the police or go to jail. The following year saw her star as Irene Gorley in the action crime drama "Hawaiian Heat", but which received little attention and gained mixed reviews. In 1985, Tracy played Monica Colby in the drama "The Colbys" which is a spin-off of the series "Dynasty", and the following years saw her make a guest appearance in an episode of various series, such as the musical drama "The Heights", the family comedy "Doogie Howser, M. D." and the comedy "Danger Theatre".
In 1993, Tracy played Cat Grant in the adventure comedy drama "Lois & Clark: The New Adventures of Superman", which was quite popular winning two awards. while it was nominated for 13 others including five Primetime Emmys. In 1995, Tracy starred as Amanda Carpenter in the western "Lonesome Dove: The Outlaw Years" which won two of the three awards it was nominated for.
She played the supporting character Captain Elizabeth Lochley in the hit 1998 action adventure drama "Babylon 5", and in 2005, Tracy was cast to star as Grace Neville in the mystery horror drama "Dante's Cove". Two of her most recent appearances in TV series have been in the 2008 episode "Road Kill" of the action crime drama "NCIS", and the 2012 episode "Dial M for Mayor" of the crime comedy "Castle".
Although she hasn't appeared in any movies or TV series since 2014, Tracy hasn't retired from acting.
Other credits
She sang the song "Can't Fight It" in the 1983 episode "Target: Marciano" of the series "The Renegades".
Tracy worked as a choreographer on the 1988 short movie "Tough Stuff".
She wrote the 1994 short film "Mind Your Body", and served as the associate producer for the 2006 horror movie "Mr. Hell".
Tracy received special thanks for the 2005 short video "From Rivals to Romance: The Making of Lois and Clark".
She has appeared in many documentaries, including the 1983 film "Circus of the Stars #8", the 1987 movie "Happy 100th Birthday, Hollywood" and the 2005 series "Here! Backlot". Tracy has also made guest appearances in various talk-shows such as "Whatever Happened To?", "Celebrity Ghost Stories" and "From the Mouths of Babes".
Love life and husband
Tracy prefers to keep the details of her love life to herself but it is known that she was a married woman. On 8 July 1982, she exchanged vows with the non-celebrity man John Connelly after several years of dating.
The two decided not to have children so that they could focus on their careers, however, Tracy and John divorced in 1988 for unknown reasons.
Tracy hasn't spoken about any other men she has perhaps been with since her divorce, but many people have claimed to have seen Tracy holding hands with men in the past three decades, however, she hasn't commented on this. There are also those who believe that Tracy has remarried, and is today leading a happy life with her second husband, but this hasn't been confirmed either.
As of February 2021, Tracy seems to be single, was once married and doesn't have children.
Hobbies and other interests
Tracy is a huge fan of rock music. and during the years she spent touring in Europe, she met a couple of girls and they founded a rock 'n' roll group Phantasm. The girls toured around France and recorded a couple of songs.
Happy Birthday to #TracyScoggins November 13,1953 #Babylon5TheLostTales #Crusade #TheCutter #TheColbys #HawaiianHeat pic.twitter.com/arTGdqicaR

— Barbara Vitali (@barbaravitali2) November 13, 2019
She is a huge fan of science fiction movies and books; her favorite author is Neil Gaiman and his books "Coraline", "Norse Mythology" and "American Gods".
Tracy loves to travel, and her career has taken her to every continent except for the Antarctic – her two dream travel destinations are Paris in France and Cairo in Egypt.
In her spare time, she is keen on watching movies starring her favorite actor and actress Harrison Ford and Natalie Portman, such as the franchise "Star Wars", "Raiders of the Lost Ark" and "V for Vendetta". Tracy is also keen on watching TV series, and her favorite is "Friends".
Age, measurements and net worth
Tracy's age is 67. She has long brown hair and yellow-green eyes, her height is 5ft 8ins (1.73m) and she weighs around 135lbs (61kgs).
As of February 2021, her net worth has been estimated at over $5 million.