• Beth Riesgraf is an iconic American actress who is best known for her role as Parker on "Leverage"
• She was born in Belle Plaine, Minnesota on August 24th, 1978
• She has featured in over 30 titles including "My Name Is Earl", "NCIS", "Criminal Minds" and "Alvin and The Chipmunks"
• She has been nominated for the Best Supporting Saturn Award for her appearance in "Leverage"
• She is worth approximately $1.9 million and her ex-partner is actor Jason Lee with a net worth of $20 million.
Beth Riesgraf is an iconic American actress, who made her career breakthrough in 2008, and so is known best to TV audiences as Parker on TNT's "Leverage" crime drama.
Early Life, Age, Education Background
Beth was born Beth Jean Riesgraf under the Virgo sun sign, in Belle Plaine, Minnesota, on 24 August 1978, which makes her 42 years old as of mid-2021. She was born to Elroy Othmar and her mother, Janet Ann Riesgraf, and is of British, Danish and German ancestry. Beth is the last born in the family of six girls, namely Mary Pat, Carrie Marie, Sarah Verena, Laure Phyllis, and Julie Florence.
As a child she liked playing softball and tennis, and would frequently attend dancing classes, where she showed great prowess in break-dancing. Beth's parents had horses which she enjoyed riding.
Her family moved to Las Vegas, Nevada when she was 13 years old., where Riesgraf went to Cimarron-Memorial High School, and matriculated in 1996. While in high school she was popular among her fellow schoolmates, who voted her as "Most Admired Senior", elected her student president, and she was selected as the Prom Queen. Beth grew up with an insatiable desire to pursue photography, and was active in her school's photography club, where she learned how to complement her great looks with fashionable dressing.
She loved traveling and experiencing different cultures, which fueled her passion for photography. Beth was looking forward to becoming a famous model, and her beauty and hardwork soon attracted businesses and companies that wanted to hire her to appear in their adverts and commercials, through live gigs and billboards.
Career Beginning, Rise to Stardom, Awards, and Nominations
Riesgraf's fate took a complete turn when she found demand for her to appear in films and TV shows rising, after she had featured in commercials for some time. She made her debut on screen in 2000, appearing in "The Summer of My Deflowering" film as Megan. Two years later she appeared as Krissy in the "Scorcher" film, and featured in several TV shows including "Spin City"(2001) and season 4 of "Undressed."
Beth portrayed Natalie in 2005's famous series "My Name Is Earl," in which she was cast with some of the most successful actresses and actors in the entertainment industry, including Jason Lee, who became her boyfriend later on. The year 2007 saw Beth selected to appear in "Alvin and The Chipmunks" family comedy series, directed by Tim Hill.
Riesgraf's acting prowess saw her cast to feature in the Paul Bernard-produced drama series "Leverage" in 2008, about a five-member gang of hackers and thieves who act like modern day Robin Hood, and steal from the powerful and rich who exploit others. Beth has also made contributions to movies and TV series such as 2011's  "NCIS," "Criminal Minds" (2012, 2013, 2017), "The Mentalist" of 2013, 2014's "Killer Woman" and "Perceptions," "Intruders," (2015) and many more, now numbering over 30 titles.
She has bagged several notable awards, and has been nominated for the Best Supporting of the Saturn Award for her appearance in "Leverage" in 2011-2013.
In her music career, Beth featured in the "Catch" rock video that belongs to the "Death Cab for Culture" band.
She is active on several social media platforms, such as Instagram, Facebook and Twitter, where she posts about her work and personal experiences.
Personal Life
Beth hasn't married – she was previously in a relationship with actor Jason Lee from 2001 until 2007. Jason Michael Lee was born on 25 April 1970, and is a multi-talented personality, who doubles up as a professional comedian, skateboarder, photographer as well as actor.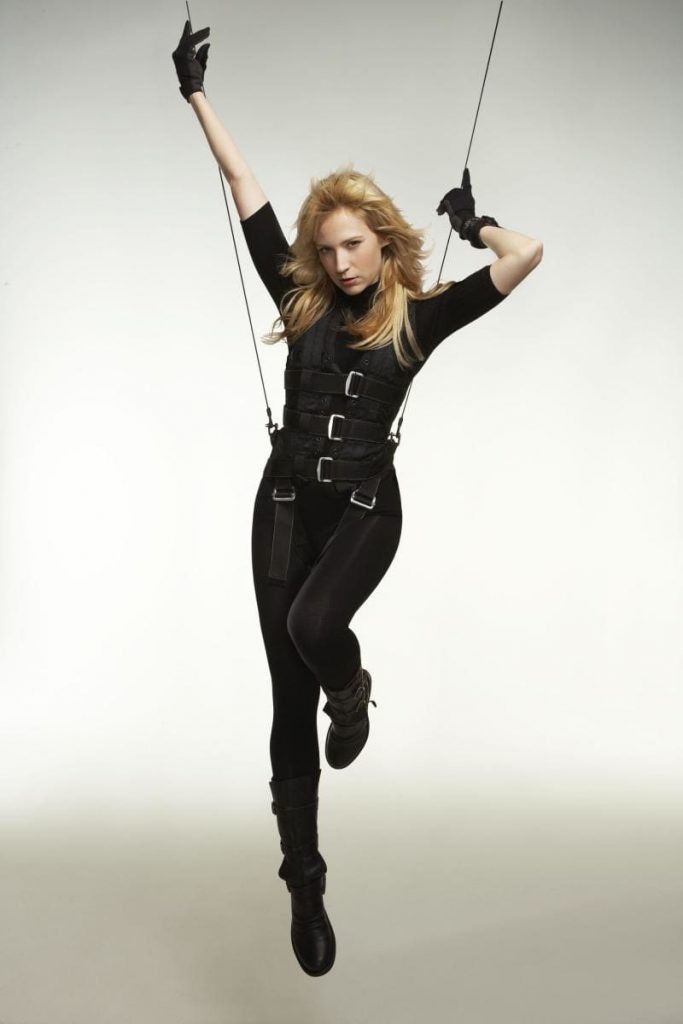 The couple met while shooting the film "My Name Is Earl" and were engaged for six years before they parted ways due to irreconcilable differences. Jason had recently divorced his wife, Carmen Llywelyn (2001), the same year he had started dating Beth. The duo welcomed a son together, Pilot I. Riesgraf-Lee on 28 September 2003. Beth revealed that just like her, her son Pilot Inspektor loves being outdoors, and that they like to try out new restaurants and hotels together.
After breaking up with Jason, Beth started seeing Caren Alkac, whom she married in 2008. In the meantime, the famed actress had an affair with Alan Smyth, an Irish actor, whom she started dating in 2009 before moving in together, in her home situated in Los Feliz.
In his 2015's Life Newsletter, Alan revealed that he met with Beth for the first time when they were acting in "Leverage." However, the couple, divorced in 2017 after photos of Beth with another man leaked onto social media handles – later on identified as J. Fletcher. After her separation from Alan, Beth began dating Fletcher, and constantly posted pictures of themselves together, once captioning a photo 'I Love you in #NY' in December 2017. Unfortunately, things didn't work out between them, and they broke up in 2019.
Weight and Body Measurements
Beth has very fair skin tone, is 5ft 7ins (1.70m) tall, weighs about 125lbs (57kgs), and her vital statistics are 32-25-30, bra size 32A. She has long blonde hair and hazel eyes.
Net Worth
Beth has earned both fame and fortune from her successful career in showbiz and is worth approximately $1.9 million according to several credible sources. Beth lives a lavish lifestyle as seen in her social media handles, is believed to own expensive houses and luxury cars such as the Maserati Ghibli 2018. She likes spending time with her son.
Who Is Jason Lee? The Father of Beth's Son, Lee
Jason Michael Lee was born under the Taurus zodiac sign in Huntington Beach, California, and is known for his contributions to "The Incredibles" (2004), "Alvin and The Chipmunks" (2007) among many more.
He is the co-owner and the co-founder (alongside Chris Pastras) of Stereo Skateboards, the firm that manufactures skateboards as well as sponsoring team riders.
Lee has bagged several awards for his performance in "My Name Is Earl." He has also been nominated for awards such as Screen Actor Guild Award – Outstanding Performance by Male Actor (2006) and several others. He has earned a net worth of close to $20 million from his career as an actor, comedian, and through co-owning a skateboard manufacturing company.