• Amy Yasbeck is an American actress born in Blue Ash, Ohio in 1962
• She is best known for her performance in the 1994 action comedy movie "The Mask"
• She has had roles in over 60 movies and TV series and is still active in the film industry
• She was married to the late American actor Johnathan Southworth Ritter and they have a child together
• Her estimated net worth is over $16 million as of December 2022
Who is Amy Yasbeck?
American actress Amy Marie Yasbeck was born in Blue Ash, Ohio USA, on 12 September 1962, meaning that her zodiac sign's Virgo. She's had roles in more than 60 movies and TV series, and is perhaps still best known for playing the supporting character Peggy Brandt in the 1994 action crime comedy movie "The Mask", which Chuck Russell directed, and which starred Peter Riegert, Cameron Diaz and Jim Carrey. It follows bank clerk Stanley Ipkiss who's found a mysterious mask which can turn him into a manic superhero; the movie won six of its 28 award nominations, including an Oscar nomination for Best Effects, Visual Effects.
Amy hasn't been active in the film industry since 2016, but hasn't officially retired.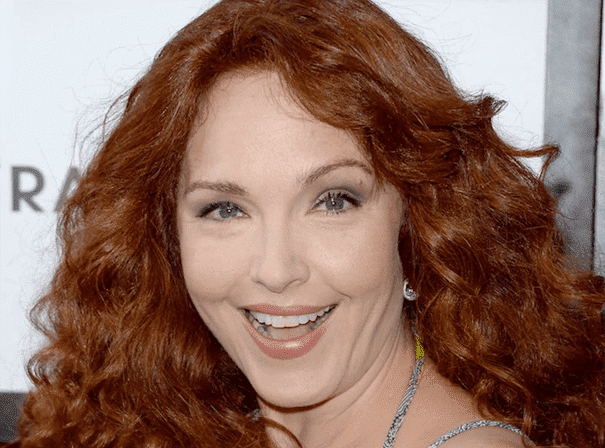 Education and early life
Amy was raised in Blue Ash alongside her brothers Jay and Rex, by their father of Lebanese descent John Anthony Yasbeck, who was a grocery store owner and butcher, and mother of Irish descent Dorothy Louise Mary (nee Murphy) who was a housewife.
Amy studied at Summit Country Day School prior to progressing to Ursuline Academy, both of which were Catholic schools. It was when she was 16 years old that she fell in love with acting and began appearing in school plays, and upon matriculating in 1981, she enrolled at University of Detroit, wanting to study theatre, but her parents both died in 1983 – Dorothy from emphysema and John from a heart attack – and Amy then quit college and moved to New York City in pursuit of an acting career.
Roles in movies
Amy's debut film role was her playing of Sonia Petrova in the 1985 adventure "Rockhopper", and a couple of her following roles were in the 1987 fantasy horror comedy "House II: The Second Story", the 1988 fantasy comedy "Splash, Too", and the 1989 crime mystery "Trenchcoat in Paradise".
In 1990, she played Elizabeth Stuckey in the romantic comedy "Pretty Woman", which Garry Marshall directed, and which starred Jason Alexander, Julia Roberts and Richard Gere. It follows a businessman who's hired a prostitute to act as his escort during several social events, and the movie won eight of its 20 award nominations, including an Oscar nomination for Best Actress in a Leading Role (Julia Roberts).
The '90s then saw Amy appear in several critically acclaimed movies, including the 1991 biographical crime action "Dillinger", the 1995 romantic comedy "Home for the Holidays", and the 1998 romantic comedy "Denial".
Amy had only two film roles in the 2000s: she portrayed Sally Harper in the musical drama "House Blend", then voiced multiple characters in the 2004 animated comedy "Untitled Phil Hendrie Project".
In 2012, she portrayed the lead character Meg in the comedy "Little Women, Big Cars", directed by Melanie Mayron, and which also starred Julie Warner and Kristy Swanson. The movie follows the lives of four soccer moms – Amy reprised her role in the 2012 sequel "Little Women, Big Cars 2".
Her most recent film role has been playing Sylvia in the 2012 comedy "The 4 to 9ers".
Roles in TV series
Amy's debut TV series appearance was her playing of Mary Elizabeth McCaul in the 1987 episode "A Death in the Family" of the hit romantic drama "Dallas", and the same year saw her appear in an episode of both the adventure comedy "Spies" and the horror thriller "Werewolf", as well as in 31 episodes of the long-running soap opera "Days of Our Lives".
In 1987 and 1988, she played Diana in the popular action crime adventure "Magnum, P. I.", created by Glen A. Larson and Donald P. Bellisario, and which starred Roger E. Mosley, John Hillerman and Tom Selleck – it follows the life of a private investigator from Hawaii, the series aired from 1980 to 1988 and won 12 of its 34 award nominations.
What marked the '90s for Amy was her playing of Casey Chapel Davenport in 74 episodes (1994-1997) of the comedy "Wings", which David Angell and Peter Casey directed, and which starred Crystal Bernard, Steven Weber and Tim Daly. It follows brothers Joe and Brian Hackett as they're running an airline in New England, the series aired from 1990 to 1997, and won two of its 11 award nominations.
Amy appeared in an episode of a couple of series in the 2000s, including the romantic comedy "Life on a Stick", the family fantasy comedy "That's So Raven", and the comedy "Worst Week".
She's since appeared in only a couple of series – her three most recent roles have been in the 2013 episode "Larry's Wife" of the romantic comedy "Modern Family", the 2015 episode "Gramps DeMamp Is Dead" of the comedy "Workaholics", and the 2016 episode "Do Not Disturb" of the romantic mystery "Pretty Little Liars".
Other credits
Amy was featured in the 1996 documentary movie "Vampires: Thirst for the Truth", a 2003 episode of the documentary series "Biography" and the 2003 TV special "The 29th Annual People's Choice Awards".
Some of her recent talk-show appearances have been in "Good Day L. A.", "Lifestyle Magazine", and "Superstar".
Love life and husband
Amy met the late American actor Johnathan Southworth 'John' Ritter during a read-through of the 1990 black comedy movie "Problem Child", and they also starred alongside in the 1991 sequel "Problem Child 2". In 1991, Amy and John appeared together in an episode of the comedy series "The Cosby Show".
She gave birth to their child in 1998, they married on 18 September 1999, but the marriage ended on 11 September 2003, when John died after having fallen into a coma.
Amy hasn't spoken of other people whom she's dated, while it's widely known that she was John's second wife – his first was American actress Nancy Karen Morgan, whom he married on 16 October 1977, but divorced on 1 September 1996; they had three children together.
Amy seems to be unattached as of December 2022, was once married to the late American actor Johnathan Southworth Ritter, and they have a child together.
Interesting facts and hobbies
Amy filed a lawsuit against Providence Saint Joseph Medical Center following her husband's death, claiming that their misdiagnosis led to his death; the doctors initially thought that he was having a heart attack, while he actually had a heart defect. Although the medical center, as well as several doctors settled out of court, the jury still decided in favor of the doctors on 14 March 2008.
She's posted more than 400 pictures and videos onto her Instagram account, and is today followed by over 12,000 people on the social media network.
Amy's career's taken her all over the world, and her two favorite cities are Melbourne, Australia and Paris, France.
She's a philanthropist, and has worked mostly with charities that aim to help the elderly.
Her favorite actresses are Angelina Jolie and Meryl Streep, and some of her favorite films include "A Mighty Heart", "By the Sea" and "Salt".
Height, eyes and wealth
Amy's age is 60. She has green eyes and long red hair, is 5ft 5ins (1.66m) tall and weighs about 130lbs (58kgs).
Amy's net worth's been estimated at over $16 million, as of December 2022.