• Chino Moreno is an American musician and songwriter, best known as the frontman of alternative metal band Deftones.
• He was born in 1973 in Sacramento, California and attended McClatchy High School.
• Deftones were signed to Maverick Records in 1995 and released their debut album, "Adrenaline".
• Chino has also founded several other musical projects, including Team Sleep, Crosses, Palms and Saudade.
• He is married to Risa Mora-Moreno and has five children.
Who is Chino Moreno?
American musician Chino Moreno was born as Camillo Wong Moreno in Sacramento, California USA, on 20 June 1973, meaning that his zodiac sign's Gemini. He's probably best known for being the lead vocalist and songwriter of the alternative metal band Deftones, although he's also the frontman of bands Palms, Crosses, and Team Sleep.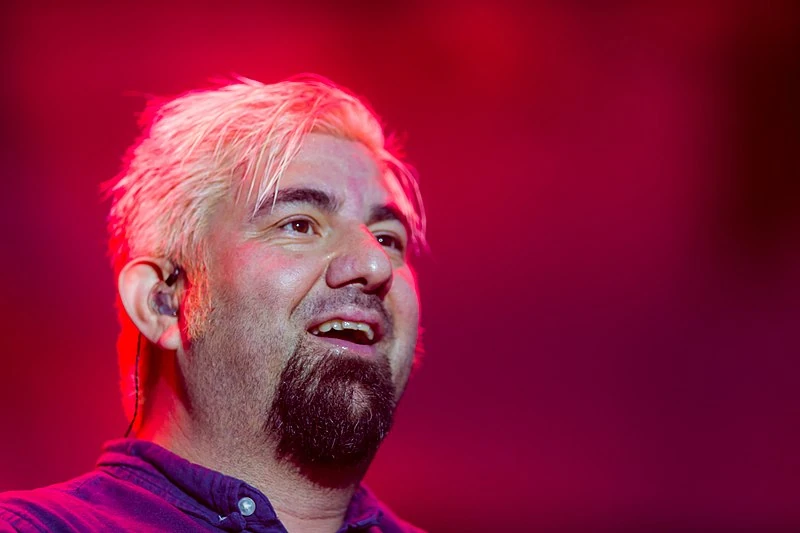 Education and early life
Chino and his four siblings were raised in the Oak Park borough of Sacramento by their Mexican father Camilo Diaz Moreno, Sr. and Mexican-Chinese mother Deborah A. Wong; he was nicknamed 'Chino' when he was a young boy, short from 'Chinito' which means 'little Chinese boy'.
Chino studied at McClatchy High School, and it was during his four years there that he fell in love with metal music. He met American musicians Stephen Carpenter and Abe Cunningham while attending the school, and they went on to found Deftones in 1988, when Chino was 15 years old.
Chino matriculated in 1991, and before he and his friends became famous, he worked in the shipping department of Tower Records to financially support himself.
Career as a musician
It took Chino and his friends around two years following the founding of their band to start performing in clubs around California; a representative of Maverick Records saw them perform in Los Angeles, and they were thus signed to the record label.
Their debut album "Adrenaline" was produced by Terry Date and released on 3 October 1995; although not an instant success, Deftones' constant touring helped them build a fanbase, and the album then sold over 220,000 copies. Their second album "Around the Fur" followed on 28 October 1997, and its singles "Be Quiet and Drive (Far Away)" and "My Own Summer (Shove It)" became hits.
Their third album "White Pony" came out on 20 June 2000, and it's believed to be their best album to date. It was around the time of the album's release that American musician Frank Delgado became a member of Deftones, and their singles "Digital Bath" and "Change (In the House of Flies)" also became hits; their single "Elite" won them a 2001 Grammy for Best Metal Performance.
Chino suffered a throat injury in 2001, caused by his screaming in songs, and he had to miss more than five shows; their bassist Chi Cheng took over the 'screaming duties'.
Their fourth album "Deftones" came out on 20 May 2003, and was followed by their compilation album "B-Sides & Rarities" in 2005. Their fifth album "Saturday Night Wrist" was released on 31 October 2006, but there was a clash between the members of the band during its making, and Chino nearly left the Deftones.
Their bassist Chi was injured in a car accident in 2008, and remained in a minimally conscious state until his death in 2013. American musician Sergio Vega took his place in 2009, and the band's sixth album "Diamond Eyes" was released on 4 May 2010; their seventh album "Koi No Yokan" followed on 12 November 2012, and their eighth, "Gore" on 8 April 2016.
Most recently, on 25 September 2020, the Deftones released their ninth album "Ohms".
Other bands
While Chino and his friends were working on their third album "White Pony", Chino founded the experimental alternative rock 'n' roll band Team Sleep, and they released their eponymous album in May 2005.
His second side project was Crosses, a band which he co-founded with Chuck Doom and Shaun Lopez in March 2011; their extended play (EP) "Crosses" was released on 2 August 2011, and was followed by "EP 2" on 24 January 2012.
Chino founded Palms in April 2012, together with Bryant Clifford Meyer, Aaron Harris and Jeff Caxide, and their eponymous debut album came out on 25 June 2013.
Deftones' Chino Moreno forms new group Saudade with members of Bad Brains and Cro-Mags https://t.co/1LviBAQWHT pic.twitter.com/kOXcajZU19

— NME (@NME) April 28, 2016
Chino founded the supergroup Saudade in April 2016, together with Chuck Doom, John Medeski, Mackie Jayson and Dr. Know; their first single was released on 28 April 2016, without attracting a lot of attention.
Chino's also collaborated with many famous musician and bands, and can be heard singing on some of their songs; a couple of these musicians and bands are Norma Jean, Dead Poetic and Thirty Seconds to Mars.
Love life and wife
Chino's married twice, but usually avoids talking about his love life in public. His first wife was non-celebrity American Celeste Schroeder; they married in 1997, divorced in 2006, after Chino and Celeste had two children together.
He married his second wife Risa Mora-Moreno in 2012, and she's given birth to their three children: Christian, Lola and Jakob -; Chino and Risa are keeping them away from media, wanting them to be able to lead normal lives.
Chino hasn't spoken about other women whom he's dated, he's married to his second wife Risa Mora-Moreno as of December 2022, and they have three children together; he also has two children with his first wife Celeste Schroeder.
Interesting facts and hobbies
Chino has posted close to 750 pictures and videos onto his Instagram account, but he's today followed by only about 5,000 people on the social media network; most of his content features him performing.
He's revealed that some of his biggest influences are Prince, Steven Patrick Morrisey of The Smiths and Paul D Hudson of the Bad Brains; Chino's also a fan of bands The Human League and Depeche Mode.
His career's taken him all around the world, and Chino's revealed that travelling's become one of his favorite hobbies, and that he's more used to touring than staying at one place.
He's an animal lover, with his favorites being tigers, elephants and leopards.
Chino likes to watch movies, and his favorite actors are Marlon Brando and Will Smith, with some of his favorite films being "Don Juan DeMarco", "The Missouri Breaks" and "The Godfather".
Height, eyes and wealth
Chino's age is 49. His eyes are brown and he has black hair, he's 5ft 9ins (1.75m) tall and weighs about 170lbs (78kgs).
Chino's net worth's been estimated at over $7 million, as of December 2022.