• Canadian social media star, bodybuilder, fitness trainer, and Instagram influencer
• Known for her successful modeling career
• Gained recognition in the bodybuilding community through collaboration with various brands
• Self-titled YouTube channel with over 300,000 subscribers and 30 million views
• Estimated net worth of around $500,000
• Enjoys outdoor activities, gaming, and has a pet dog named Little Loki
Who is Natasha Aughey?
Natasha Aughey is a social media star, a bodybuilder, fitness trainer, and Instagram influencer, who rose to fame by posting interesting fitness and gym-related content on social media. She is additionally known for her successful modeling career. She was born under the Zodiac sign Pisces on 18 March 1993, in Ottawa, Ontario, Canada, so holds Canadian nationality, and as of 2021, she is 28 years old.
Early life and Family
Not much is known about her parents and their professions, but she has a sister named Michaela. Natasha became interested in fitness and gym during her high school days, prompting her to focus more seriously.
When it comes to her education, she attended an unknown high school in Ottawa, from which she matriculated in 2011, then obtained a CanFitPro Certified Level 1 Trainer.
Career
Natasha kicked-off her career unintentionally in high school, when she began visiting the gym on a regular basis. After spending a couple of years, her physique changed, but she still wasn't seeing the results she had wanted, as she was losing weight and not developing curves. This prompted her to seek the advice of the fitness trainers and bodybuilders, who suggested weightlifting.
After following a well-defined workout regime, her body significantly developed, and Natasha quickly earned the title "Canadian Beast", as some media outlets named her. At her friends' suggestion, she created an Instagram account in 2012, often posting photos of her workouts and achieved progress. Not long afterwards, various fitness and supplement brands started reaching out to Natasha, as she slowly gained recognition in the bodybuilding community. In 2013, she entered the OPA Ottawa Championship and came in sixth place. In her second competition in 2014, she won the competition in her class.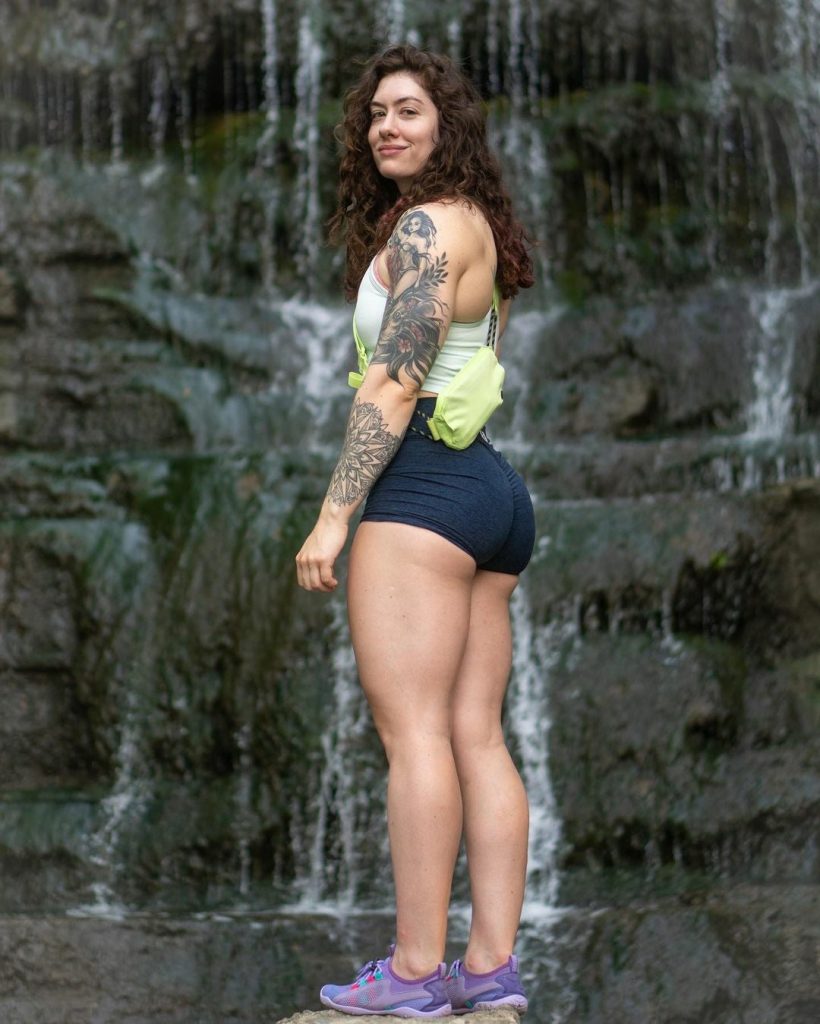 The following year she competed again, landing in third place in the Figure Category, but she reportedly wasn't satisfied with her results and hence decided not to compete again.
However, over the following years she continued with the regime, pushing her boundaries and motivating other people. She collaborated with various brands, including Celestial Bodie, Enhanced Human Performance Labs (EHP), and Black Stone labs. At the moment, she is sponsored by Hexxee Socks, Redcon1 Canada, and Hybrid Performance Method Gym.
YouTube Career
Motivated by her success with bodybuilding and fitness, in 2015, she launched the self-titled YouTube channel.
Similar to her other social media accounts, she uses YouTube to showcase her workout regimes, plus share advice and tips on how to achieve her body physique. Some of her first videos are entitled "Natasha Aughey (Glute/Ham Workout)" and Natasha Aughey "(Arm Workout)". Recently, she began diversifying her content, adding video blogs such as "Coffee &Hike" and "Wild Camping – Canoeing, Campfire, Cooking, S'mores".
Natasha's most popular video is entitled "Leg Day," which as of mid-2021 counts over seven million views; her channel has over 300,000 subscribers with over 30 million views. In the description for the channel, she elaborated that the main reason for creating the account was simply to motivate others, and to share her experience and tips with people who are interested in fitness and bodybuilding.
Her workout regime
As a prolific bodybuilder and fitness trainer, Natasha has a very defined and strict weekly routine. On Mondays, she usually focuses on her back, then glutes and hamstrings. On Thursday, Natasha works on her chest and biceps, followed up by shoulders and triceps. Her Friday and Saturday routine consists of quadriceps, and rear deltoid shoulder focus, while on Sundays, she rests. Even though she doesn't follow any specific diet, she likes to prepare well-balanced meals which are nutritious and healthy. In an interview, Natasha said:" I like to make healthy recipes that I find using my 'phone, but what I eat the most is likely my chicken and rice dish. I still have lots of recipes I have not made yet, and of course I have a few for my cheat days that are yummy."
Her favorite dishes include sushi, doughnuts, and burgers.
Personal life
Given that Natasha is a very shy and secretive person who likes to keep her private matters away from the public eye, not much is known about her romantic interests, so there's no concrete information about her dating history.
Even though she's never made any claims or discussed her sexuality, some fans took the lack of information about her personal life and male company as a potential sign that she might be lesbian. Additionally, some rumors circulated about her alleged abuse of steroids. Those accusations, as well, have never been proven.
Over the years, Natasha has amassed quite a following on Instagram; her account currently has 1.3 million followers. She has a Twitch account, which at the moment counts over 5,000 followers. Since launching her career, she has acquired a loyal fans base which perceives Natasha as an inspiration and body goal.
Would you like to know her net worth?
Natasha's estimated net worth is around $500,000, acquired through her career as a bodybuilder and social media star. She generally earns by promoting various fitness products and gear. According to Social Blade, which is a website that tracks social media statistics, Natasha makes around $7,000 monthly, and so around $85,000 a year on YouTube.
Physical stats and Hobbies
Natasha is 5ft 6ins (165cm) tall, weighs around 136lbs (61kgs), with vital statistics of 36-25-38. Her natural hair is black, while her eyes are black as well. Also, she has numerous tattoos.
In her free time, she likes to watch Anime, and besides lifting weights, she likes to divulge in various outdoor activities, such as hiking, camping and running. Interestingly, she is also a gamer – Natasha plays Nintendo, Pokemon, and Clash of Clans.
Natasha has a dog named Little Loki.
In addition to her impressive physique, she is very humorous and goofy, best seen in her video blogs such as "Pumpkin Carving" and "Crocs n' socks for leg day".