• Sarah Ashley Toups, known professionally as Sarati, is an American actress, social media star, dancer, and model.
• She is signed to Entertainment Lab and Daniel Hoff Agency.
• She is best known for her portrayal of Suzanne in the 2018 music video "Eminem Feat. Ed Sheeran: River", which was nominated for an MTV Video Music Award for Best Cinematography.
• Sarati is married to Jesse Callahan, an American brand builder, model, and influencer.
• As of May 2021, she has an estimated net worth of over $600,000.
Sarati Wiki Bio
Sarah Ashley Toups, better known by her professional name Sarati, was born in College Station, Texas USA, on 17 November 1995 – her zodiac sign is Scorpio and she holds American nationality. She's an actress, social media star, dancer, and a model, who's probably known best for her portrayal of Suzanne in the 2018 music video "Eminem Feat. Ed Sheeran: River" directed by Emil Nava, and which only featured Sarati and the two musicians. The video was nominated for an MTV Video Music Award for Best Cinematography, and helped Sarati gain recognition as both an actress and a dancer.
She's today signed to two agencies: Entertainment Lab and Daniel Hoff Agency.
She makes me look so tall 😂 @HeidiSomers pic.twitter.com/suEAP4pJZM

— SARATI (@saratiofficial) January 15, 2021
Early life and education
Sarati was raised in Los Angeles by her mother who's a dance teacher, and her father who prefers to be left out of media and as she hasn't spoken of having any siblings, she's believed to be an only child.
She became interested in acting while attending a high school in her hometown, and after two years, Sarati decided to move to Los Angeles in California and there enrolled at a high school of the performing arts. During her time there, she was mostly focused on working on her dancing and acting skills, and upon matriculating in 2014, she chose not to pursue a college degree but to focus on her acting career, and to find a job to financially support herself.
Roles in movies
Sarati made her debut film appearance in 2015 when cast to play one of the lead characters, Sarah Teller in the action horror drama "Toxin: 700 Days Left on Earth", written by three people, directed by Shawn Welling, and which also starred Isabella Blake-Thomas and Lee Majors.
It follows Sarah and her dog Ranger who are the only human and dog left alive after a virus kills the majority of humanity and turns the others into mutants.
In 2015 as well, Sarati starred in both the short fantasy "The Mechanic" and the short comedy "Seasoning", then in 2016 she played the main character Charlotte in the short horror "Hunter". The year 2017 saw her appear as Angela in the short comedy "Hollywood Breakup", while the following year saw her play Girlfriend in the short drama "Alexandre Christie: LA in Love". In 2020, Sarati was cast to play the main character Carly in the horror thriller "Killer Camera Monsters", written and directed by Ryan McBay, and which also starred Lauren Compton and Steve Filice. It follows a struggling photographer who has just bought a new camera which can see supernatural beings. The film received poor reviews.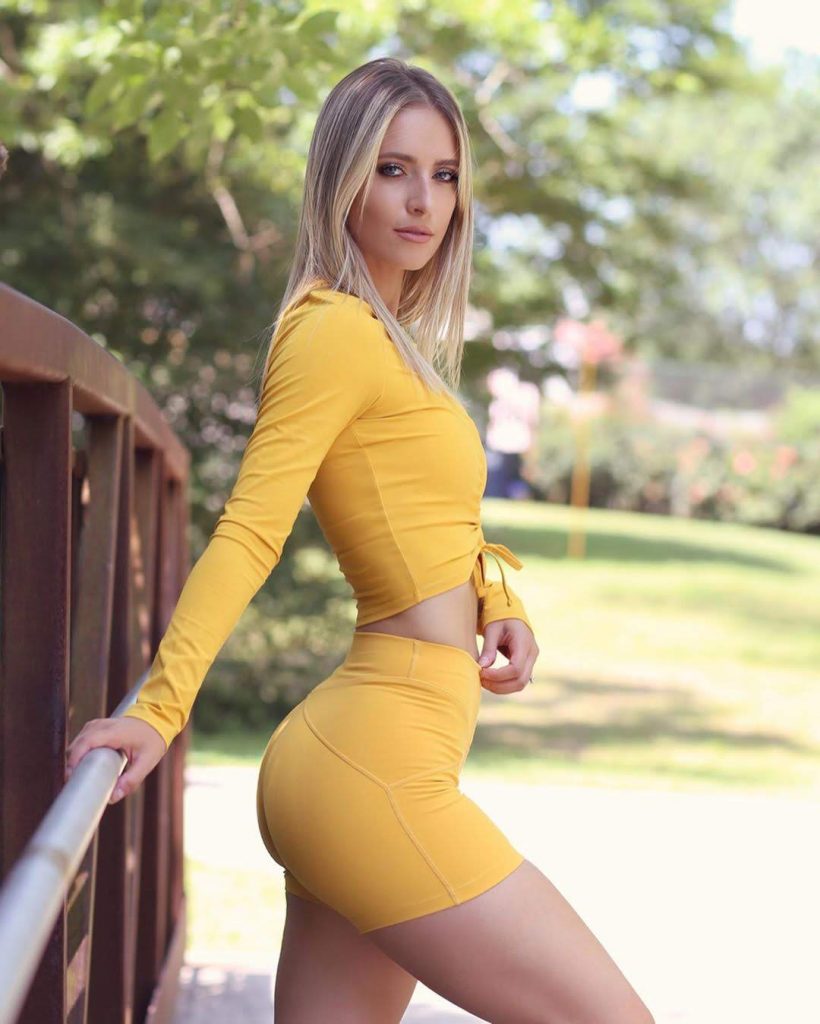 Most recently, in 2020 Sarati portrayed Woman on Telephone in the short drama "Lachesism", she has just recently finished shooting for the upcoming action thriller "Symmetry", while it has recently been announced that she'll be portraying Sarah in the upcoming short comedy "Relationship Counseling".
Roles in TV series
Sarati made her debut TV series appearance in 2017 with her portrayal of Supermodel 2 in the episode "Over My Head" of the comedy "Small Shots", and in the same year she played Miss Perfect in the episode "Perfect" of the crime science fiction drama "Stitchers".
Sarati was then cast to make a guest appearance as Hot Surfer Girl in the episode "Birdwatching" of the action crime comedy "Lethal Weapon", created by Matthew Miller, and which starred Damon Wayans, Keesha Sharp and Kevin Rahm.
It aired from 2016 to 2019, and follows the lives of two cops, a newbie and a veteran, who are struggling to control their anger; the series won one of the nine awards for which it was nominated.
Sarati's only three other roles in TV series have been her portrayal of Blonde Girl in the 2018 episodes "Sexual Healing" and "SubEx" of the comedy "All Wrong", the 2020 episode "What Wood You Wear?" of the comedy "Dave", and later that year the episode "Fire Choir" of the comedy "Tacoma FD".
Other credits
In 2012, Sarati was featured in the short music video "This Beat", and in 2015 she appeared in the reality show "Every Single Step". The year 2016 saw her star in the romantic reality show "Love at First Kiss", and in 2018 Sarati hosted the reality show "Bare Fitness", in which she tried to encourage women to exercise as this would improve their sex life.
Also in 2018 she made a guest appearance in an episode of the talk-show "Melody Trice Special Events", and in 2019 she appeared in 31 episodes of the family comedy game-show "Deal or No Deal".
Sarati's famous for her Instagram account which is followed by over 400,000 people, while she's uploaded over 300 pictures, most of which have her breasts and buttocks in focus. She launched her Twitter account in March 2010, today followed by more than 13,000 people, while she tends to tweet at least once a month. Sarati's Facebook page is followed by over 7,000 people.
She's a TikTok star too, having amassed close to 10 million followers while she's gathered close to 300 million likes of all her videos combined, which most often feature her fit body, while she also occasionally gives her fans advice regarding dieting and working out.
Sarati launched her YouTube channel on 28 January 2013, and it's today subscribed to by over 16,000 people, while she has garnered almost 300,000 views of all her videos combined; these depict her everyday life, and her most popular video "10 MINUTE AB WORKOUT | SARATI" has been watched more than 64,000 times since 1 April 2020.
Video with Eminem
On 9 February 2018, a video featuring Sarati and the famous American rapper Eminem was uploaded onto the website World Star Hip Hop.
It shows Sarati who's in a hotel room when Eminem enters and says 'Whoa, selfie?' thinking that she's taking a picture while she's actually recording. Some believe that the two were romantically linked, while others claim that this was staged to promote Eminem and Ed Sheeran's song "River".
Love life and boyfriend
Sarati's more or less secretive when it comes to her love life; it's known that she's today married to Jesse Callahan, an American brand builder, model and an influencer, who's followed by close to 12,000 people on Instagram.
The two apparently met in 2016, and although they haven't disclosed how, it's widely believed that they were introduced by a mutual friend at a gym. Sarati and Jesse could've been seen walking hand in hand in the streets of Los Angeles, as well as eating together at fancy restaurants.
On 13 August 2019, they exchanged vows in a private ceremony attended by their closest friends and family members. They don't have children, but have revealed that they're planning to start a family, and that they already have names for their babies.
As of May 2021, Sarati's married to Jesse Callahan but doesn't yet have children.
Hobbies and other interests
Sarati loves to trave,l and her modelling and acting career has taken her to various US states, while her dream travel destination is Hawaii; she's been there once, and has uploaded numerous pictures taken during the trip onto her Instagram account.
Sarati's passionate about working out, and has five to six training sessions at the gym each week, while she sometimes works out every day.
She's keen on playing table tennis, as well as poker.
Sarati's a dog-lover, and has a pet dog which can be seen featured in some of her Instagram pictures.
Summer's her favorite season as she enjoys swimming in the ocean, sun tanning at the beach and playing beach volleyball.
Sarati has her own favorite actors and actresses, some of whom are Robert Downey Jr., Leonardo DiCaprio and Emma Watson, and a couple of her favorite movies are "Avengers: Endgame", "Titanic" and the franchise "Harry Potter".
Age, measurements and net worth
Sarati's age is 25. She has long blonde hair and blue eyes, her height is 5ft 6ins (1.68m) and she weighs around 128lbs (58kgs).
As of May 2021, her net worth has been estimated at over $600,000.