• Julian Richard Morley Sands is a British actor born on 4 January 1958 in Otley, West Riding of Yorkshire, England.
• He has a Bachelor's degree from Central School of Speech and Drama in London, England and has more than 150 credits to his name.
• He has voiced characters in several animated series, such as "Biker Mice from Mars", "Adventures from the Book of Virtues" and "The Real Adventures of Johnny Quest".
• He is married to journalist Evgenia Citkowitz, with whom he has two daughters, and he is a philanthropist and animal lover.
• His net worth is estimated at over $3 million.
Who is Julian Sands?
Julian Richard Morley Sands was born in Otley, West Riding of Yorkshire, England, on 4 January 1958 – his zodiac sign is Capricorn, and he holds British nationality. He's an actor with more than 150 credits to his name, perhaps still known best for his portrayal of George Emerson in the 1985 romantic drama movie "A Room with a View". Directed by James Ivory, it starred Maggie Smith, Helena Bonham Carter and Denholm Elliott, and follows Lucy and George who have met in Florence in Italy, and have fallen in love. The movie won 28 awards, including three Oscars, while it was nominated for 22 other awards.
Early life and education
Julian was raised alongside his four brothers in Otley, solely by their mother Brenda, as their father cut ties with the family after he divorced Julian's mother. In 1998, Julian's youngest brother Quentin was named Britain's Sexiest Man by the magazine "She".
Julian became interested in acting while attending a local high school, as he was encouraged by his drama teacher to take part in theatre plays. He was also into sports during his time there, and played soccer for his school's team. Julian matriculated in 1976, and then enrolled at Central School of Speech and Drama in London, England, from which he graduated with a Bachelor's degree in 1980.
Roles in TV series
Julian made his debut TV series appearance in 1982, with his portrayal of Groom in the episode "Soft Targets" of the comedy drama "Play for Today", but has since mostly been focused on appearing in movies – his only other roles in TV series in the '80s were in the 1983 drama mini-series "A Married Man", and in 1984 the family fantasy "The Box of Delights", and the drama mini-series "The Sun Also Rises".
In 1995, Julian voiced Sir Lancelot in the popular animated action adventure "Biker Mice from Mars", created by Pamela Hickey and Dennys McCoy, and which starred Dorian Harewood, Rob Paulsen and Ian Ziering.
It follows three alien mice who are professional motorcycle riders, and have come to Earth from Mars, because their planet is being mined by the Plutarkians. The remaining of the '90s saw Julian guest in an episode of several series, such as the animated family fantasy "Adventures from the Book of Virtues" (voice role), the animated action adventure "The Real Adventures of Johnny Quest" (voice role), and the romantic drama "Strangers".
Between 2000 and 2002, he voiced Mayor Valmont in 26 episodes of the animated action adventure "Jackie Chan Adventures", created by John Rogers and Duane Capizzi, and which starred Jackie Chan, James Sie and Stacie Chan. It follows Jackie Chan and his family, as they're fighting a criminal organization in possession of magical talismans, which are capable of releasing evil forces. A couple of Julian's other notable performances in the 2000s were in the short animated action "Ozzy & Drix" (voice role), the biographical adventure mini-series "Napoleon", and the romantic drama "The L Word".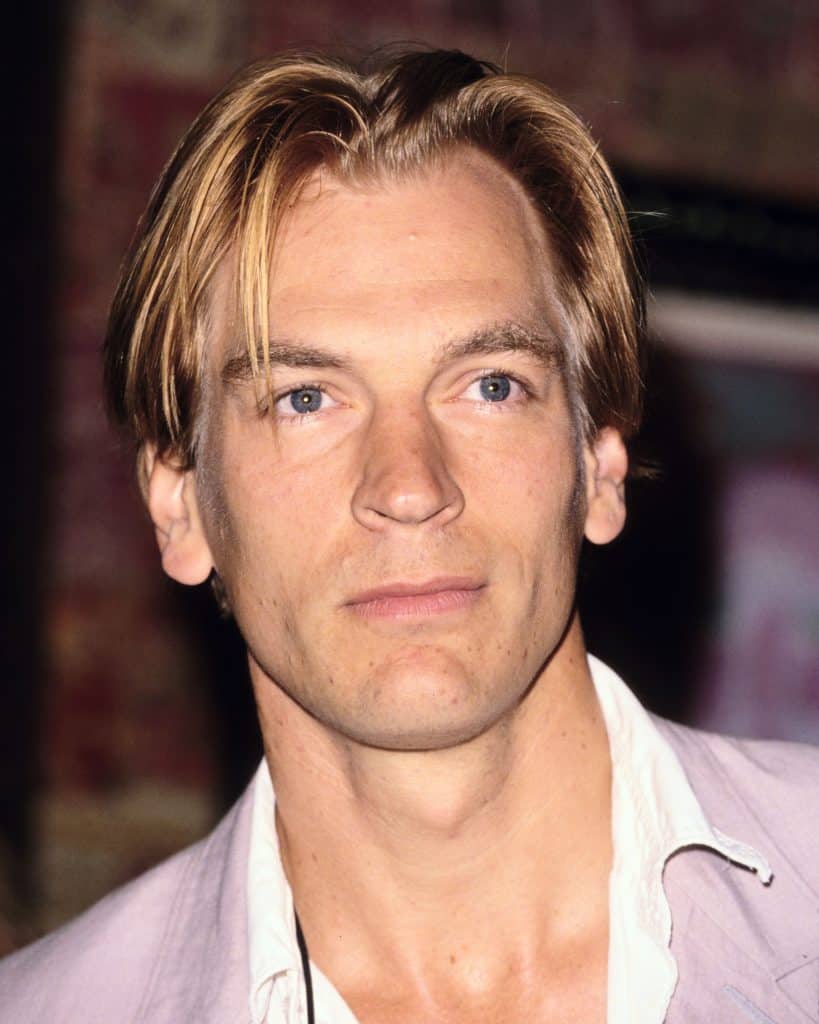 In 2014, he was cast to play William Jagger in the action adventure drama "Crossbones", created by Neil Cross and James V. Hart, and which starred John Malkovich, Richard Coyle and Claire Foy. It follows the life of the legendary pirate Blackbeard, who lived in the golden age of piracy.
Three of Julian's most recent roles in TV series have been in two episodes of the biographical historical drama "Medici" in 2018, and in 2019 four episodes of the thriller mini-series "What/If", and the episode "A Nasty Piece of Work" of the fantasy horror drama "Into the Dark".
Roles in movies
Julian made his debut film appearance in 1983, with his portrayal of Climbing Sailor in the war comedy drama "Privates on Parade", and he gained recognition in 1984 when he played Jon Swain in the hit biographical historical drama "The Killing Fields".
Directed by Roland Joffe, it starred Sam Waterston, John Malkovich and Haing S. Ngor, and follows a journalist who has found himself in Cambodia during Pol Pot's cleansing campaign, which killed more than two million people; the movie won 31 award, including three Oscars, while it was nominated for 22 other awards.
By the end of the '80s, Julian had appeared in several other critically acclaimed movies, such as the 1986 fantasy horror drama "Gothic", the 1988 romantic adventure comedy "Vibes", and the 1988 romantic war drama "Wherever You Are…"
In 1991, he portrayed Yves Cloquet, in the hit drama "Naked Lunch", which starred Peter Weller and Judy Davis, and follows an exterminator who has become addicted to the substance which kills bugs, and has killed his wife by accident; the movie won 13 of the 31 awards for which it was nominated.
In 1993, he starred in the romantic mystery drama "Boxing Helena", and in 1995, Julian starred alongside Nicolas Cage in the romantic drama "Leaving Las Vegas", which won 33 awards, including an Oscar, while it was nominated for 29 other awards. A couple of his other notable performances in the '90s were in the 1997 romantic drama "One Night Stand", the 1998 horror "The Phantom of the Opera", and the 1999 drama "The Loss of Sexual Innocence".
Perhaps what's believed to be the Julian's most notable role in the 2000s was his portrayal of Greco Montgomery in the crime thriller "Ocean's Thirteen", directed by Steven Soderbergh, and which starred George Clooney, Brad Pitt and Matt Damon, amongst others (Al Pacino, Casey Affleck, etc.) It follows a group of people who are planning to rob a casino owned by Willy Bank, and the movie won one of the six awards for which it was nominated.
Some of Julian's other notable performances in the 2000s were in the 2008 action adventure drama "Stargate: The Ark of Truth", the action crime drama "Blood and Bone", and the action fantasy adventure "Beyond Sherwood Forest" both in 2009.
In 2011, we saw him appear in the hit mystery crime drama "The Girl with the Dragon Tattoo", directed by David Fincher, and which starred Daniel Craig, Rooney Mara and Christopher Plummer. It follows the journalist Mikael Blomkvist and the computer hacker Lisbeth Salander, who are searching for a woman who has been missing for four decades; the film won 28 awards, including an Oscar for Best Film Editing, while it was nominated for 91 other awards.
Three of Julian's most recent roles in movies have been in the 2019 romantic drama "The Garden of Evening Mists", and in 2020 the drama "Yeh Ballet", and the animated family drama "Bobbleheads: The Movie" (voice role); he's currently shooting for five upcoming movies, including the horror "The Piper", and the mystery thriller drama "The Maestro".
Julian Sands is Satan's son in WARLOCK, released on this day in 1989! #warlock #steveminer #ruemorguecalendar #dayinhorror

Posted by Rue Morgue on Monday, January 11, 2021
Other credits
In 1979, Julian worked as an assistant director on the short musical film "Broken English: Three Songs by Marianne Faithfull".
He sang the song "Boys and Girls Come Out to Play" in the 1992 romantic horror drama "Tale of a Vampire".
Julian received special thanks for the 1991 crime comedy film "The Linguini Incident", the 2010 romantic comedy movie "Greenberg", and the 2017 episode "The Rejected Sequel" of the animated adventure comedy series "Ah! My Goddess: Bad Goddess The Anime Video Comic".
He has made a guest appearance in a number of talk-shows, such as "Autograph, "The Late Late Show with Craig Ferguson" and "Sunday Brunch".
Awards and nominations
In 2012, Julian won an International Film Festival for Peace, Inspiration and Equality Special Jury Award, for his performance in the short fantasy comedy movie "The Maiden and the Princess".
He was also nominated for a 1991 Fangoria Chainsaw Award for Best Actor, for his performance in the fantasy action horror movie "Warlock".
Wife and children
In 1984, Julian exchanged vows with the British journalist and author Sarah Harvey, after the two had been in a relationship for over a decade. They married in a private ceremony, attended by their closest friends and family members, and on 20 September 1985, Sarah gave birth to their son Henry Morley Sands, however, she and Julian divorced in 1987.
In 1990, he married the journalist Evgenia Citkowitz, who's perhaps known best for being the daughter of the British author Lady Caroline Maureen Hamilton-Temple-Blackwood; the two were introduced by the famous actor John Malkovich. On 14 August 1996, Evgenia gave birth to their daughter Natalya, while their second daughter Imogen followed on 31 December 1999.
Julian hasn't mentioned any other women whom he has perhaps been with, and as of August 2021, he's married to his second wife Evgenia Citkowitz, and has three children.
Hobbies and other interests
Julian loves to run, and since his teenage years, he has been going for a run nearly every day, stating in some of his interviews that he runs solely in his favorite Nike and Brooks shoes.
He loves to travel, and his career has taken him all around Europe and the US, as well as to various other countries across the globe. Julian enjoys being in India, mostly because of Bollywood, as he believes that they are more focused on people and production values, rather than on hardware.
Julian's a philanthropist, who has been donating money to various charity organizations since the launch of his acting career, and as he's a huge animal lover, this includes to animal shelters.
He has his own favorite actors and actresses, some of whom are Tom Hanks, the late Marlon Brando and Meryl Streep, and a couple of his favorite movies are "Forrest Gump", "Sleepless in Seattle" and the trilogy "The Godfather".
Age, height and net worth
Julian's age is 63. He has short brown hair and brown eyes, his height is 5ft 11ins (1.8m) and he weighs around 167lbs (76kgs).
As of August 2021, Julian's net worth has been estimated at over $3 million.