• Seann William Scott was born in Cottage Grove, Minnesota USA in 1976 and is an actor, film producer and comedian.
• He is best known for his role as Steve Stifler in the 1999 comedy movie "American Pie".
• He has been credited with appearing in more than 50 movies and TV series, such as "Ice Age: The Meltdown", "Role Models", "Super Troopers 2" and "Lethal Weapon".
• He is married to Olivia Korenberg and has an estimated net worth of over $21 Million.
• He has multiple tattoos, enjoys traveling and is physically active.
Who is Seann William Scott?
Seann William Scott was born in Cottage Grove, Minnesota USA, on 3 October 1976 – his zodiac sign is Libra and he holds American nationality. He's an actor, film producer and a comedian, who's probably still known best for his portrayal of Steve Stifler, one of the lead characters in the 1999 comedy movie "American Pie", written by Adam Herz, directed by Paul Weitz and Chris Weitz, and which also starred Jason Biggs, Chris Klein and Thomas Ian Nicholas. It follows four teenage boys who have decided to lose their virginity before prom night – the movie won nine of the 23 awards for which it was nominated.
Seann reprised his role in the movie's sequels "American Pie 2" in 2001 and "American Wedding" in 2003.
Early life and education
Seann was raised in Cottage Grove alongside his six older siblings, by their father William Frank Scott who died in 2007, and their mother Patricia Anne Simons who's a housewife.
He became interested in acting while attending Park High School, as he appeared in various school plays, while Sean was also into sports, and played for the school's basketball and football teams. Upon matriculating in 1994, he enrolled at the University of Wisconsin before moving to Glendale Community College, and in 1996 made his debut TV series appearance with his portrayal of Moondoggie in the episode "Beach Party" of the comedy "Unhappily Ever After". The same year saw him make an appearance in the short video "1996 Sunny Delight Commercial with Seann William Scott".
Following the launch of his career as an actor, Seann chose to drop out of college, and moved to Los Angeles in California.
Roles in movies
Seann has been credited with appearing in more than 50 movies and TV series, and we're about to mention more of his notable performances.
The year 1997 saw him appear in the drama "Born Into Exile" and the music video "Aerosmith: Hole in My Soul". In 2000, he portrayed Billy Hitchcock, one of the lead characters in the critically acclaimed horror thriller "Final Destination", written and directed by James Wong and which starred Devon Sawa, Ali Larter and Kerr Smith. It follows Alex Browning who has just had a vision of the plane he's about to board crashing, which after he's kicked off the plane for trying to warn people, indeed crashes. The movie won three of the eight awards for which it was nominated.
A couple of his following roles in popular movies were in the 2002 action crime comedy "Stark Raving Mad", the 2003 comedy "Old School", and later that year the action fantasy comedy "Bulletproof Monk".
In 2006, Seann voiced Crash in the critically acclaimed animated adventure comedy "Ice Age: The Meltdown", written by Peter Gaulke and Gerry Swallow, directed by Carlos Saldanha, and which starred Ray Romano, John Leuizamo and Denis Leary. It follows Sid, Manny and Diego who are travelling in search of higher ground as they've learnt that the ice age is about to end. The movie won eight of the 24 awards for which it was nominated. Seann has reprised his role as Crash in all other movies in the "Ice Age" franchise.
In 2008, he portrayed the lead character Wheeler in the comedy "Role Models", directed by David Wain, and which also starred Paul Rudd and Elizabeth Banks. It follows two men who have enrolled in a Big Brother program, and the movie won one of the four awards for which it was nominated.
The following years saw Seann appear in various critically acclaimed movies, such as the 2010 action crime comedy "Cop Out", the 2011 sports comedy drama "Goon", and the 2014 comedy "Just Before I Go".
Three of his most recent movie roles have been in the 2018 mystery crime drama "Super Troopers 2", the 2018 crime horror thriller "Bloodline", and the 2019 drama "Already Gone".
Roles in TV series
Seann has mostly been focused on appearing in movies, and only has a couple of TV series credits.
In 1998, he portrayed Preston in the episode "Something About a Double Standard" in the comedy series "Something So Right", while his following role came in 2013 with his portrayal of Country Mac in the episode "Mac Day" of the critically acclaimed comedy "It's Always Sunny in Philadelphia", created by Glenn Howerton and Rob McElhenney, who are also starring in it alongside Charlie Day.
New faces, new partnerships… different styles. 👊 Catch all the action September 25 at 9/8c on @FOXTV. #LethalWeapon pic.twitter.com/E8XiUuiBAT

— Lethal Weapon (@LethalWeaponFOX) September 15, 2018
It follows five friends who are running an Irish pub in Philadelphia, and the series has been airing since 2005, winning four of the 29 awards for which it has been nominated, including three Primetime Emmy nominations.
In 2018 and 2019, Seann played the supporting character Wesley Cole in the action crime comedy "Lethal Weapon", created by Matthew Miller, and which starred Damon Wayans, Keesha Sharp and Kevin Rahm. It follows a veteran detective who's struggling with stress, who's now been teamed up with a mentally unbalanced police officer; the series won one of the nine awards for which it was nominated.
Seann's only other TV series role has been his portrayal of Father Joe in the 2021 comedy "This Country", in which he's starring alongside Chelsea Holmes and Sam Straley.
Other credits
Seann sang the song "I Wanna Rock" in the 2000 movie "Road Trip", and in 2004 he received special thanks for the documentary film "American Pie Revealed".
In 2000, Seann voiced Jack Mower in the video game "Nox", and in 2006 and 2010, he voiced Crash in the video games "Ice Age 2: The Meltdown" and "Ice Age: Continental Drift – Arctic Games", respectively.
He has three producing credits: the 2009 sports comedy "Balls Out: Gary the Tennis Coach", the 2012 comedy "American Reunion", and the 2017 sports comedy "Goon: Last of the Enforcers".
Seann has been featured in various documentaries, such as the 2008 short film "Pick Up the Pace: Making 'Mr. Woodcock'", the 2009 series "Le Grand Journal de Canal+" and the 2010 film "Cop Out: Maximum Comedy Mode".
He has made a guest appearance in numerous talk-shows – some of his most recent appearances have been in "Celebrity Page" in 2018, "The Talk" and "Conan" both in 2019.
Awards and nominations
Seann has won five of the 13 awards for which he has been nominated. In 2000, he won a Young Hollywood Award for Best Ensemble Cast for "American Pie" (shared with colleagues), and was then awarded two Teen Choice Awards in 2002 and 2004, for Film – Choice Sleazebag for "American Pie 2" and Choice Movie Sleazebag for "American Wedding", respectively. He also won two MTV Movie +TV Awards in 2002 and 2004, for Best Kiss for "American Pie 2", and Best Dance Sequence for "American Wedding", respectively.
Some of the other awards Seann has been nominated for include two MTV Movie + TV, three Teen Choice, and a Behind the Voice Actors Award.
Love life and relationships
Seann has described himself as a 'private guy', but many details related to his love life are still known.
In 2002, he began dating American actress and model Jaime King, but they split around half a year later. In 2003, Seann was in a relationship with the popular American actress and model January Jones – the two were together for close to a year.
In 2005, he began dating Deanna Miller, known best for being a former Victoria's Secret model, and that relationship lasted for three years, with rumors circulating the internet that the two were planning to marry. They could've been seen attending most of Seann's red carpet events together.
In 2011, he began dating the American fashion model and designer Lindsay Frimodt and they became engaged in March 2012, however, they split in 2013 but remained close friends.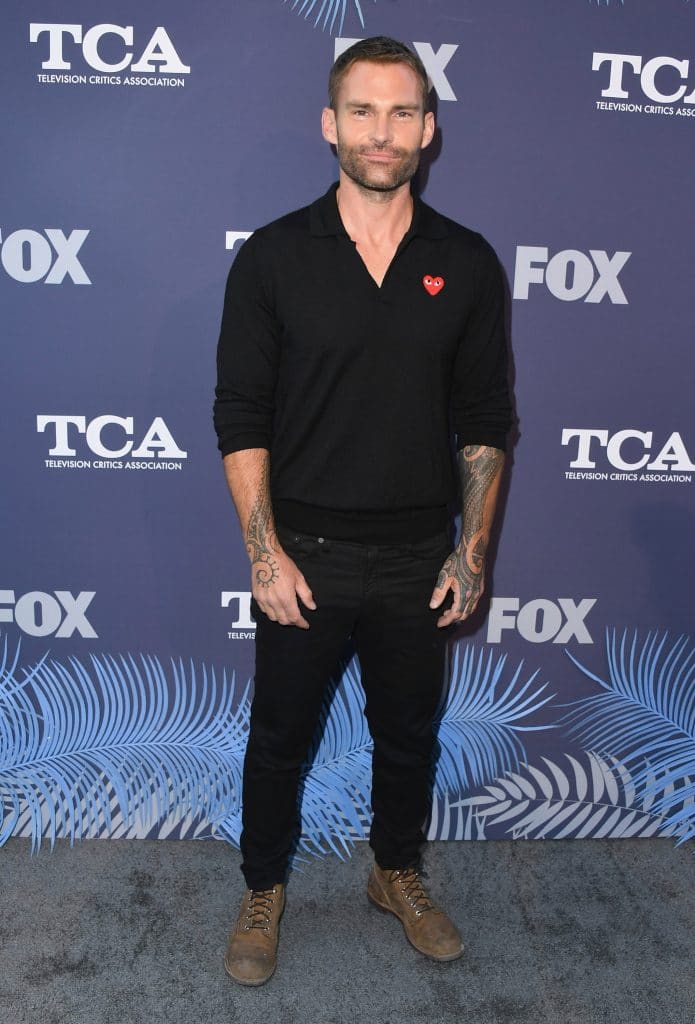 Most recently in September 2019, Seann married Olivia Korenberg, who's an American interior designer, and the two seem to have since been leading a happy life together. They don't have children, but have adopted a dog called Dude.
Hobbies and interesting facts
In 1989 while trying to get to an audition for a role in the action crime adventure series "Baywatch", Seann was robbed by a street gang who took the one dollar he had, his shirt and his shoes.
Seann usually signs his autographs 'God Bless, Sean William Scott'.
He has worked various other jobs, including being a 'Churro' guy at a zoo, while he also worked at a Home Depot.
Seann's an avid traveler, and has been all around the world for both work and pleasure, while he occasionally takes some time off to travel. He's gone backpacking around Europe multiple times.
He's physically very active, and some of the activities he enjoys taking part in include kayaking, mountain biking and rock climbing.
Two of his best friends are Ashton Kutcher and Jessica Simpson.
Seann has his own favorite actors and actresses, some of whom are Russell Crowe, Al Pacino and Meryl Streep, and a couple of his favorite movies include "The Gladiator", "Scarface" and "The Bridges of Madison County".
Age, tattoos and net worth
Seann's age is 44. He has short brown hair and brown eyes, his height is 5ft 11ins (1.8m) and he weighs around 172lbs (78kgs). He has multiple tattoos including a Polynesian design on his left hand, a tribal tattoo on both of his forearms and another on his lower back.
As of April 2021, his net worth has been estimated at over $21 million.