• Barbara Eden is an American actress and singer, born in 1931
• She is best known for her role as the lead character Jeannie in the series "I Dream of Jeannie"
• She has voiced Jeannie in the series "Master Dearest, from the Diaries of Jeannie" since 2020
• She has written a memoir, "Jeannie Out of the Bottle" and a children's book, "Barbara and the Djinn"
• Her net worth is estimated at over $10 million
Who is Barbara Eden?
American actress and singer Barbara Eden was born Barbara Jean Morehead in Tucson, Arizona USA, on 23 August 1931, meaning that her zodiac sign's Virgo. There's no info on why she adopted Eden as her stage name, but she's used it in more than 90 movies and TV series, perhaps still best known for her playing of the lead characters Jeannie, Jeannie II and Jeannie's Mother in the critically acclaimed family fantasy comedy series "I Dream of Jeannie", created by Sidney Sheldon, and which also starred Larry Hagman and Billy Daily. It follows an American astronaut who's found a female genie in a bottle, the series aired from 1965 to 1970, and won three of its seven award nominations.
Despite her old age, Barbara's still today active in the film industry, and has since 2020 been voicing Jeannie in the comedy series "Master Dearest, from the Diaries of Jeannie".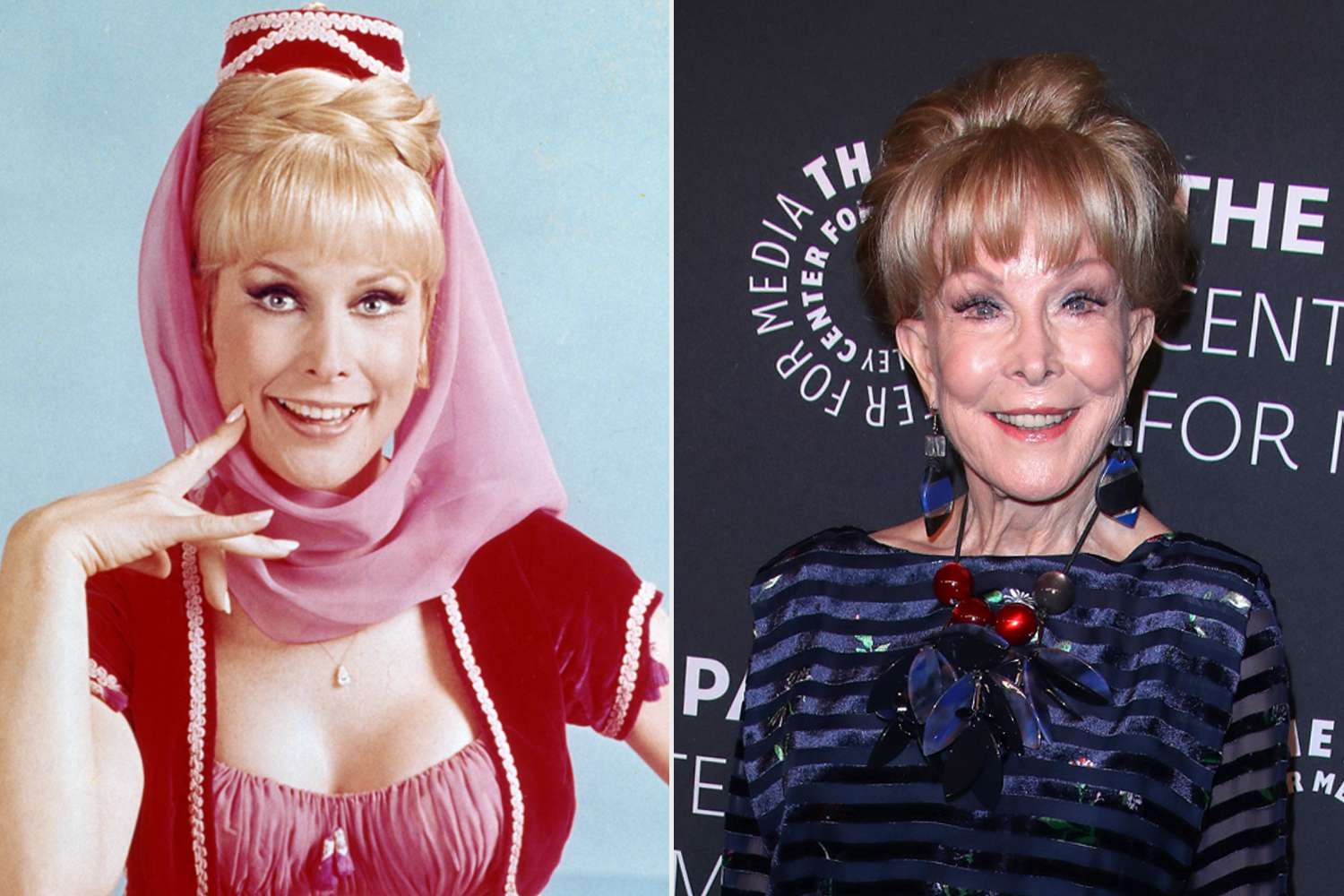 Education and early life
Barbara was raised in Tucson as an only child, by her father Hubert Henry Morehead and mother Alice Mary (nee Franklin); Barbara's a descendant of American polymath Benjamin Franklin. Her parents divorced when she was three, and she thus moved with her mother to San Francisco, California, where Alice married American telephone lineman Harrison Connor Huffman, and gave birth to their daughter.
The Great Depression took its toll on the family, and Barbara grew up rather poor; she and her half-sister were mostly entertained by their mother, who'd often sing to them. Looking up to Alice, Barbara became interested in singing, and performed solos with the church choir; she joined her first band in her teenage years, and they often sang at night clubs for $10. Aged 16, Barbara joined the American labor union Actor's Equity Association, and went on to attend both the San Francisco Conservatory of Music and the Elizabeth School of Theatre.
In 1949, she matriculated from Abraham Lincoln High School, and then spent a year attending the City College of San Francisco; Barbara went on to work as a model for the following a couple of years, and was in 1951 crowned Miss Francisco.
Roles in movies
Barbara's debut film appearance was in the 1956 adventure "Back from Eternity", and she could then have been seen playing supporting characters in the romantic drama "Bailout at 43,000", the romantic comedy "Will Success Spoil Rock Hunter", and the drama "The Wayward Girl", all released in 1957.
She gained recognition in 1960, when cast to play Roslyn Pierce, one of the lead characters in the western "Flaming Star", directed by Don Siegel, and which also starred Elvis Presley and Steve Forrest; it follows Pacer who's trying to stop the war between two cultures in West Texas. Some of Barbara's most notable performances in the '60s were perhaps in the 1962 biographical adventure "The Wonderful World of the Brothers Grimm", the 1964 sports comedy "Ride the Wild Surf", and the 1965 musical "Kismet".
What marked the '70s for her was perhaps her playing of the lead character Ann Collins in the 1974 science fiction horror "The Strange Within", directed by Lee Philips, and which also starred George Grizzard and Joyce Van Patten; it follows a pregnant woman who's steadily realizing that her strange behavior is controlled by her baby. Barbara could then have been seen appearing in the 1976 comedy "How to Break Up a Happy Divorce", the 1977 crime mystery "Stonestreet: Who Killed the Centerfold Model?", and the 1978 comedy "Harper Valley P. T. A."
She had only a couple of film roles in the '80s, with some of the most popular amongst these having been the 1985 family fantasy comedy "I Dream of Jeannie… Fifteen Years Later", the 1988 comedy "The Secret Life of Kathy McCormick", and the 1989 comedy "Your Mother Wears Combat Boots".
Her most notable performance in the '90s was probably her playing of Jeannie in the 1996 comedy "A Very Brady Sequel", directed by Arlene Sanford, and which also starred Shelley Long, Gary Cole and Tim Matheson. It follows a man who's come to the home of Carol Brady, claiming to be her long lost first husband – the movie was nominated for two awards.
Barbara's since appeared in only four movies: the romantic comedies "Loco Love" and "Carolina" in 2003, another romantic comedy "Always and Forever" in 2009,  and the 2019 family drama "My Adventures with Santa".
Roles in TV series
Barbara's debut TV series appearance was her playing of Toni DeWitt in the 1956 episode "Decision" of the drama "West Point", and she could then have been seen appearing in an episode of the family comedy "I Love Lucy", the drama "The Millionaire", and the crime action "Highway Patrol".
Between 1957 and 1959, Barbara played Loco Jones in 52 episodes of the romantic comedy "How to Marry a Millionaire", starring alongside Merry Anders and Lori Nelson; the series follows Loco and Greta who've moved to a big city in search of wealthy men to marry.
The '60s saw her make a guest appearance in an episode of more than 10 series, such as the action crime adventure "Burke's Law", the drama "Slattery's People", and the adventure crime comedy "The Rogues", but her role in "I Dream of Jeannie" really marked the decade for her.
The '70s saw Barbara appear in only a single TV series: the 1975 episode "Flight from Fuji" of the family science fiction "NBC Special Treat".
In 1981 and 1982, she starred as Stella and Della Johnson in all the 30 episodes of the comedy "Harper Valley P. T. A.", created by Sherwood Schwartz and Lloyd J. Schwartz, and which also starred Fannie Flagg and Jenn Thompson; the series was based on the eponymous 1978 movie mentioned above. The decade saw Barbara appear in only one other TV series: she portrayed Barbara McCray Gibbons in six episodes of the 1989 comedy "A Brand New Life".
She's since had roles in only a couple of TV series, with her most recent having been in 2007 in the episode "George Is Maid to Be Ruth-Less" of the comedy "George Lopez" and the episode "Truth and Consequences" of the romantic war drama "Army Wives", and the 2016 episode "The Crystal Queen/The Glob" of the animated family adventure "Shimmer and Shine".
Other credits
Barbara co-produced the 1988 comedy movie "The Secret Life of Kathy McCormick".
She designed the charity bear for the 2014 short documentary film "Operation Bobbi Bear".
Barbara's made a guest appearance in more than 100 talk-shows, most recently in "Celebrity Page", "Pioneers of Television" and "History of the Sitcom".
Awards and nominations
Barbara's won two of her eight award nominations: a 1972 Bravo Otto Germany Award for Best Female TV Star, and a 2003 TV Land Award for Favorite Dual-Role Character, for her performance in "I Dream of Jeannie".
She was presented with her own star on the Hollywood Walk of Fame in 1988, and was nominated for two Golden Globe Awards in 1967 and 1970, both for "I Dream of Jeannie".
Love life and husbands
Barbara's married thrice. Her first husband was American actor, producer and director Michael Ansara, who appeared in 199 movies and TV series and is perhaps still remembered best for his playing of Abu Sofyan in the 1976 biographical historical movie "The Message". Barbara and Michael married on 17 January 1958, and she gave birth to their son Matthew Ansara on 29 August 1965; Matthew was an actor – he died from a drug overdose on 25 June 2001, aged 35.
Barbara and Michael divorced on 25 May 1974, and he passed away on 31 July 2013, aged 91.
She married her second husband, American salesman and vice president of marketing and advertising at Daily News Charles Donald Fegert, on 3 September 1977; they divorced in 1983.
Since 5 January 1991, Barbara's been married to her third husband, Jon Eicholtz, an American architect; in June 2021, Barbara revealed that both she and Jon had recovered from the coronavirus.
Interesting facts and hobbies
Barbara's passionate about writing, and published her memoir "Jeannie Out of the Bottle" on 5 April 2011; it peaked at #14 on The New York Times Best-Seller List. She published her children's book, "Barbara and the Djinn" in 2021.
She was presented with an honorary Doctor of Laws degree by the University of West Los Angeles' School of Law in 1990.
Her mother died from lung cancer on 14 November 1986, aged 71.
On 18 July 2003, Barbara was inducted into the California Broadcasting Hall of Fame.
One of her closest friends, as well as her manager is American publicist and producer Gene Schwam.
She's a huge lover of animals, and Barbara's Labradoodle dog Djinn-Djinn can be seen featured in her Instagram pictures; she's followed by more than 100,000 people on the network, and has uploaded nearly 200 pictures and videos.
Her favorite actors are Jack Nicholson and Amitabh Bachchan, while some of her favorite movies include "Blood and Wine", "The Pledge", and "Anger Management".
Height, eyes and wealth
Barbara's age is 91. Her eyes are blue and her hair is blonde, she's 5ft 4ins (1.62m) tall and weighs about 110lbs (51kgs).
Barbara's net worth's been estimated at more than $10 million, as of December 2022.