• Chad Everett Gilbert is a musician, singer and record producer, who rose to fame as the frontman of the rock band entitled "New Found Glory".
• He formed the band with four other members in 1998, and released several successful albums.
• He had a turbulent love life, having been married multiple times, and was accused of domestic violence by his ex-wife.
• He has an estimated net worth of $4million and is currently expecting his first child with wife Lisa Cimorelli.
• Lisa is a member of the singing group "Cimorelli", and is an active YouTuber with over 200,000 followers.
Who is Chad Gilbert?
Chad Everett Gilbert is a musician, singer and record producer, who rose to fame as the frontman of the rock band entitled "New Found Glory". He additionally came into public focus for his marriage to Paramore's singer Haley Williams.
Early life and Family
Chad was born under the Zodiac sign Pisces on 9 March 1981, in Coral Springs, Florida, USA. He holds American nationality, and as of 2021, he's 40 years old, and is currently residing in Nashville.
There is not much information about Chad's childhood and background, mainly because he's never spoken in public about his early life. The names of his parents remain unknown, however, he mentioned in an interview that his father passed away a while back, and that he had trouble coping with his premature death.
Additionally, he disclosed that when growing-up, he had loved to listen to old rock music, as well as country music. When it comes to his education, he attended J.P Travella High School, then having no academic ambitions, Chad made the decision to focus on pursuing a career in the entertainment business.
Career
Chad launched his career at the age of 14 in 1995, when he was invited to join the hardcore punk band entitled "Shai Hulud". Following the band's signing to Revelation Records, the vocalist Damien Moyal left the band, and recommended young Chad step into his place. The band, which consisted of the four other members Matt Fox, Dave Silber, Jason Lederman and Oliver Chapoy, rose to fame after their EP entitled "A Profound Hatred of a Man" became very popular. In 1997 the band released the full-length album "Heart Once Nourished with Hope and Compassion", and then spent some time touring the US.
In 1998, Chad co-founded the rock band "New Found Glory", with his friends Jordan Pundik Ian Grusha and Steve Klein. In 1999, two "Shai Hulud" members, including Chad, decided to leave the band, and Chad quickly assumed a new role in the "New Found Glory" band as lead guitarist, composer and backing vocalist. In 1999 the band released their first album, "Nothing Gold Can Stay", followed by the release of a second, self-titled album. The song "Hit or Miss" garnered positive reviews, and peaked at number 15 on the Alternative Songs chart. Two years later, they released their third album entitled "Sticks and Stones", with the hit song "My Friends Over You", rising as one of the popular mainstream bands.
From that point, the band triumphed after they released the music video for the track "All Downhill from Here" off their new album entitled "Catalyst", landing a nomination for the MTV Music Video Awards in the category of Breakthrough Video of the Year.
In 2006 they released the album entitled "Coming Home", led by the single "It's Not Your Fault", receiving critical acclaim. Compared to others, this album was a change of style, transitioning from pop-punk to mid-tempo rock, adhering to the alternative rock style. In 2008, the band formed a side-project, the parodical hardcore band  "International Superheroes of Hardcore", featuring all members of "New Found Glory". They released two albums and an EP; their debut was a self-titled album followed by "Takin' it Ova", and the EP entitled "HPxHC".
In 2009, "New Found Glory" continued making new music, this time reconnecting with their energetic roots, and subsequently releasing their sixth album entitled "Not Without a Fight". The following year, Chad announced that he would release some solo tracks and material under the name "What's Eating Gilbert", referencing the novel by Peter Hedges, "What's Eating Gilbert Grape".
Even though he had his hands full working with "New Found Glory", he released several EP's, including "Cheap Shots" and "Come on Let's Go".
Having toured across North America and Europe, the band returned to the Studio in 2011 to produce their seventh album, "Radio Surgery". Before releasing their next album entitled "Resurrection", Steve Klein left the band following charges of inappropriate contact with a minor. While the PR managers fought to detach the other members and the image of the band from Steve's illicit conduct, the rest of the band gathered for a new album, which came in 2017 entitled "Makes Me Sick". Their latest album was released in October 2020, "Forever +Ever x Infinity", which features 15 songs, including their lead single "The Greatest of All Time".
Personal life
Chad has had quite a turbulent love life, having married on several occasions. In 2007 Chad married Sherri DuPree, a member of the rock band "Eisley". However, following the ceremony, the relationship between the two headed south, and they divorced later the same year.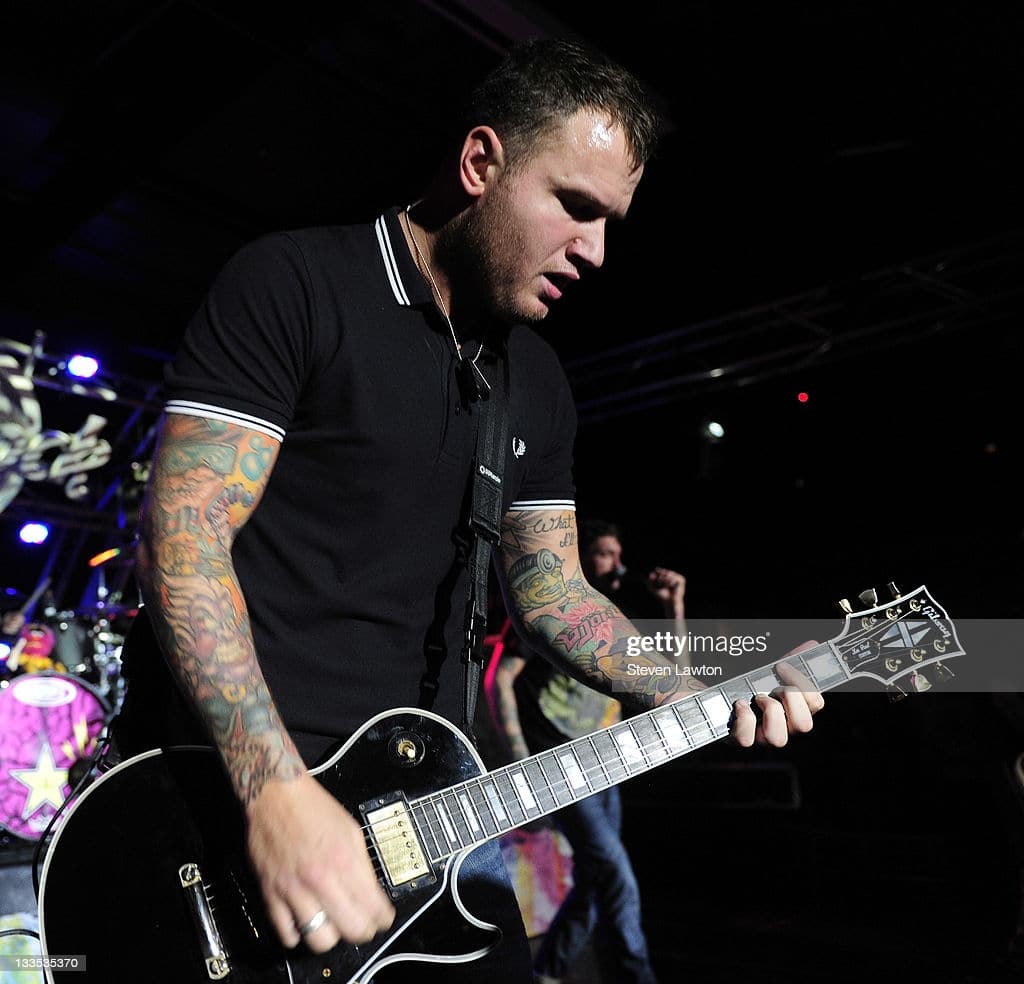 In 2008 Chad began his relationship with Hayley Williams, the lead vocalist and keyboardist of the pop/rock band "Paramore". After being together for six years, Hayley announced that Chad had proposed to her on Christmas, and in February 2016, they tied the knot in a private ceremony. However, this marriage wasn't meant for the long run either, and they divorced in September 2017. After the divorce, some rumors circulated alleging his abusive and violent behavior; according to Hayley, they began their affair while he was still married to his first wife. She also disclosed that she had been 18 at the time, and "needed this relationship to work so badly". While talking to The Guardian, she said:" I was in a very unhealthy relationship, and I just kept thinking: 'I can fix it this time. I just knew that when I was headed into marriage that not only was I making a terrible decision for me, but I was also making a terrible decision for my partner."
Reportedly, Hayley suffered from panic attacks during the divorce process and after it,  and entered rehab after the divorce was finalized. Later, she was diagnosed with PTSD and depression. While Hayley has been very open about her marital experience with Chad, he's never shared any information or confirmed these rumors.
Even though the allegations about his personality and tendency to abuse, cheat and emotionally manipulate were never proved, some fans shared their concern after he disclosed his relationship with Lisa Cimorelli in 2019. The couple married on 3 October 2020, and in January 2021, they announced via Instagram that they were expecting their first child, due in July.
Health Issues
In 2010 Chad began experiencing issues with his thyroid gland, disclosing that he might have cancer.
Thank you @terrorhardcore for believing in me! Love and miss you guys! Happy 10 Years to KOTF! https://t.co/ste7LlG3jx

— Chad Gilbert (@XChadballX) November 25, 2020
Following the doctor's diagnosis, he underwent surgery and soon after announced that the surgery had gone successfully without any trace of cancer.
Would you like to know his net worth?
As of 2021, his estimated net worth is around $4million, which he's earned through his two-decade-long career as a musician, songwriter and record producer.
Physical stats and Hobbies
Chad is 6ft 2ins tall (188cm) and weighs around 190lbs (86kgs). He has dark brown hair and dark brown eyes.
In his free time, he likes to watch sports, ranging from NBA to WWE wrestling.
Chad is also an action figure collector who takes pride in his acquired collection.
He's very active on his social media accounts – his Instagram has over 100,000 followers, while his Twitter counts almost 150,000 fans. He usually posts updates on the tours and the band's progress with their new albums and singles.
Who is Lisa Cimorelli?
Lisa Cimorelli is a member of the singing group "Cimorelli", which she founded with her five siblings: Christina, Katherine, Lisa, Amy and Lauren. The group rose to fame on YouTube, posting various covers, which eventually caught the attention of the label Island Records. The group has released three studio albums, entitled "Up at Night", "Alive" and "Sad Girls Club" and eight EPs. Over the years, they achieved a lot of success and positive reviews, mainly aimed at their a cappella arrangements, harmonization, and unique covers. The band has also been nominated several times for Teen Choice Awards, including the Teen Choice Award for Choice Web Star in 2013.
In 2015 they departed from Island Records, and continued making music as independent artists. In 2018, Lisa and Lauren announced their solo projects, followed by the release of Lisa's single entitled "Goodbye". During the same year, she starred in the movie entitled "Hope Springs Eternal". Continuing on with her solo projects, Lisa has released several other tracks, including "I Don't Deserve It", "Goodbye", and "Italy". The group recently launched their web series entitled "Guess Who's Singing"; each episode features a song sung by one sister, but with a twist – her voice will be altered to sound higher or lower, while the rest of group provides five hints, additionally sharing the inspirations behind the song choices.
Besides being a group member, Lisa is also an active YouTuber, with over 200,000 followers. She usually posts covers and original songs with video blogs.