• Lucy Kate Jackson was born in Birmingham, Alabama USA on October 29, 1948.
• She is a retired actress and producer who was best known for her lead role as Mrs. Amanda King in the romantic adventure comedy series "Scarecrow and Mrs. King".
• She has had roles in close to 60 movies and TV series and retired in 2007.
• She has been married three times and has an adoptive son.
• Her net worth is estimated to be over $10 million.
Who is Kate Jackson?
American retired actress and producer Lucy Kate Jackson was born in Birmingham, Alabama USA, on 29 October 1948, meaning that her zodiac sign's Scorpio. She's had roles in close to 60 movies and TV series, and is perhaps still best known for playing the lead character Mrs Amanda King in the romantic adventure comedy series "Scarecrow and Mrs King", created by Brad Buckner and Eugenie Ross-Leming, and which also starred Bruce Boxleitner and Beverly Garland. It follows a housewife who's fallen in love with a spy, the series aired from 1983 to 1987, and won three of its 10 award nominations.
Kate retired from acting in 2007, and has since been staying away from the media's attention.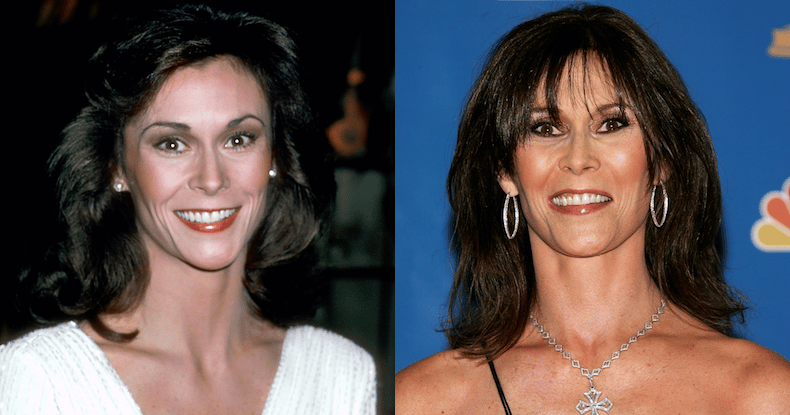 Education and early life
Kate was raised in Birmingham alongside her sister Jenny, by their father Hogan Jackson who was a business executive, and mother Ruth (nee Shepherd) who was a housewife; not a lot has been shared about Kate's family, because they prefer to maintain their privacy.
Kate studied at The Brooke Hill School for Girls, and although she was mostly interested in history, she began falling in love with acting at the age of 16, and had appeared in several school and theatre plays by the time she matriculated in 1966.
She then enrolled at the University of Mississippi wanting to study history, but transferred to Birmingham-Southern College during her second year, studying speech and theatre history. Kate graduated with a Bachelor's degree in 1970, and then moved to New York City where she honed her acting skills at the American Academy of Dramatic Arts.
Roles in TV series
Kate's debut TV series role was in 1970 and 1971, when she portrayed Daphne Harridge in 71 episodes of the critically acclaimed fantasy horror "Dark Shadows", which Dan Curtis created, and which starred Alexandra Isles, Grayson Hall and Jonathan Frid. It follows the lives of the strange and wealthy Collinsport family, the series aired from 1966 to 1971, and was nominated for two awards.
Kate could then have been seen appearing in an episode of the comedy "The Jimmy Stewart Show", and the western "Bonanza", then from 1972 through 1976, she starred as Jill Danko in the crime drama "The Rookies", created by William Blinn and Rita Lakin, and which also starred Georg Stanford Brown and Sam Melville; it follows the lives of three police officers.
The remainder of the decade saw Kate appear in an episode of the drama "James at 16" and the comedy "The San Pedro Beach Bums", and from 1976 through 1979, she starred in 69 episodes of  the action crime adventure "Charlie's Angels", which won six of its 27 award nominations.
Kate appeared in only one other TV series in the '80s besides "Scarecrow and Mrs King", playing the main character J. C. Wiatt in all 13 episodes of the 1988 comedy "Baby Boom", created by Nancy Meyers and Charles Shyer, and which also starred Daniel Bardol and Joy Behar. It follows the life of a lawyer who's just graduated from Harvard, and has found a baby on her doorstep; the series was nominated for two awards.
Kate appeared in an episode of three series in the '90s: the fantasy comedy "Ally McBeal", the western "Dead Man's Gun" and the historical fantasy "Twice in a Lifetime". She also had roles in an episode of seven other series prior to her retirement, with her three final roles having been in the  episode "Deep Throats" of the animated comedy "Family Guy" (voice role), the episode "Tears of a Clooney" of the animated comedy "American Dad!" (voice role) both in 2006, and the 2007 episode "Honor Among Thieves" of the crime mystery "Criminal Minds".
Roles in movies
Kate's debut film appearance was in the 1971 mystery horror "Night of Dark Shadows", and some of her following roles were in the dramas "Movin' On", "The New Healers" and "Limbo", all released in 1972.
What marked the '70s for her was perhaps her playing of the main character Nancy Sue Hunnicutt in the 1977 action adventure comedy "Thunder and Lightning", directed by Corey Allen, and which also starred David Carradine and Sterling Holloway; it follows a young man who's working as a deliverer for moonshiners.
In 1981, Kate played Jane Mount in the romantic drama "Inmates: A Love Story", as well as Linda Rivers in the drama "Thin Ice". She appeared in three other movies in the '80s, with the most popular amongst these having been the 1989 comedy "Loverboy", which Joan Micklin Silver directed, and in which Kate starred alongside Patrick Dempsey and Robert Ginty. It follows Randy whose father's stopped paying his college tuition, so he's now begun working as a pizza delivery guy.
A couple of Kate's notable performances in the '90s were in the 1992 science fiction thriller "Quiet Killer", the 1995 drama "The Silence of Adultery", and the 1999 thriller "Error in Judgment".
In 2000, she played The Dean in the horror "Satan's School for Girls", directed by Christopher Leitch, and which starred Shannen Doherty, Julie Benz and Daniel Cosgrove; it follows a girl who's enrolled at an all-girls college wanting to learn more about her sister's suicide.
Kate had only five more roles prior to her retirement, including in the 2004 comedy "Larceny", the 2004 romantic drama "No Regrets" and the 2006 drama "A Daughter's Conviction".
Other credits
Kate has four producing credits, including the 1979 fantasy comedy film "Topper", the 1986 thriller movie "Child's Cry", and the 1996 adventure thriller film "The Cold Heart of a Killer".
She received special thanks for both the 2009 documentary movie "Farrah's Story", and the 2010 documentary film "1 a Minute".
Some of the talk-shows in which Kate's made a guest appearance include "Entertainment Tonight", "Intimate Portrait" and "Larry King Live".
Awards and nominations
Kate's won five of her 18 award nominations: a 1974 Golden Apple Award for Female Discovery of the Year, a 1979 Photoplay Gold Medal for Favorite Female Sex Symbol and three Bravo Otto Germany Awards for Best Female TV Star in 1986, 1987 and 1988.
She was also nominated for two Primetime Emmys for Outstanding Lead Actress in a Drama Series in 1977 and 1978, both for her performance in "Charlie's Angels", as well as for a 1978 Primetime Emmy for Best Lead Actress for a Single Appearance in a Comedy Series, for "James at 15".
Love life and spouse
Kate's been married thrice. She was engaged to the late American actor Edward Laurence Albert in the mid-'70s, and they also lived together. Following their split, Kate dated stuntman Gary Quist, producer and actor Robert Evans and popular actors Warren Beatty, Nick Nolte and Dirk Benedict.
Her first husband was American actor and producer Herman Andrew Stevens, they exchanged vows after six months of dating in August 1978, but divorced three years later.
Kate was then in a relationship with American screenwriter Thomas Frank Mankiewicz, but her second husband was American businessman David Greenwald whom she married in 1982, divorcing him two years later.
She thirdly married ski lodge owner Tom Hart in 1991 – they divorced in 1993.
Kate adopted the boy Charles Taylor Jackson in 1995.
She seems to be single as of December 2022, has been married thrice and has an adoptive son.
Interesting facts and hobbies
She was 16 when her modelling career was launched.
Kate was the producers' first choice for the lead character in the 1979 drama movie "Kramer vs. Kramer", but turned down the offer because she had to shoot for "Charlie's Angels", so the role went to Meryl Streep who won an Oscar for Best Actress in a Supporting Role.
Kate's fought breast cancer twice; she beat it in 1987, and then again two years later, having undergone radiation and partial mastectomy.
In 1987, Kate insured her legs for $8 million.
She filed a lawsuit against her financial advisor Richard B. Francis in May 2010, claiming that she'd lost $3 million because of him; they reached a settlement in December 2010.
Kate's favorite actresses are Frances McDormand, Julianne Moore and Jessica Chastain, and some of her favorite movies include "Three Billboards Outside Ebbing, Missouri", "Promised Land" and "Nomadland".
Height, eyes and wealth
Kate's age is 74. Her eyes are brown and she has long black hair, she's 5ft 9ins (1.77m) tall and weighs around 150lbs (68kgs).
Kate's net worth's been estimated at more than $10 million, as of December 2022.