• Canadian actor Len Cariou was born in St. Boniface, Manitoba, Canada
• He has appeared in close to 90 movies and TV series, and is best known for playing in "About Schmidt" and "Blue Bloods"
• He's starred in various films and TV series since the 1960s
• He's won two awards for his performances, and has been inducted into the American Theatre Hall of Fame
• His net worth has been estimated at over $6 million
Who is Len Cariou?
Canadian actor Leonardo Joseph 'Len' Cariou was born in St. Boniface, Manitoba, Canada, on 30 September 1939, meaning that his zodiac sign's Libra. He's appeared in close to 90 movies and TV series, and is perhaps still best known for playing Ray Nichols in the 2002 drama movie "About Schmidt", written and directed by Alexander Payne, and which starred Jack Nicholson, Hope Davis and Dermot Mulroney. It follows a retired man as he's attending his estranged daughter's wedding, and the movie won 25 of its 98 award nominations, including two Oscar nominations for Best Actress in a Supporting Role (Kathy Bates) and Best Actor in a Leading Role (Jack Nicholson).
Len's currently shooting for the upcoming movie "Wake", and new episodes of the series "Blue Bloods", meaning that he's still quite active in the film industry.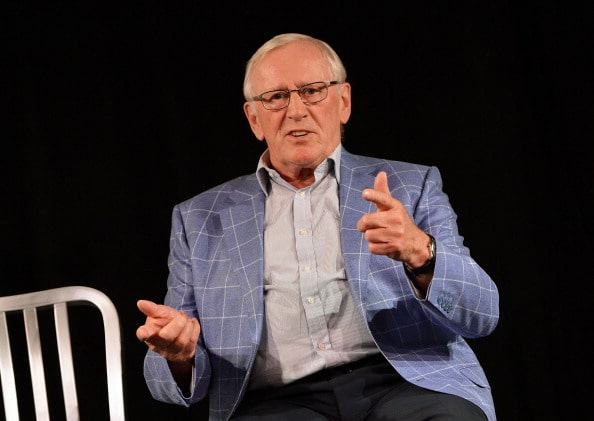 Education and early life
Len was raised an only child in St. Boniface, by his mother of Irish descent Molly Estelle Cariou, and Breton father George Marius Cariou; not a lot has been shared about Len's parents, as he's always respected their privacy.
Len studied at Miles Macdonell Collegiate, and it was during the two years he spent there in grades 10 and 11 that he became interested in acting and directing; he directed and played lead characters in a number of school plays. Lee matriculated in 1953 and then enrolled at St Paul's College, graduating with a Bachelor's degree in 1957.
He launched his career straight out of college, appearing in many plays performed at Winnipeg's Rainbow Stage, including the 1959 production of "Damn Yankees" – Len went on to found the Manitoba Theatre Center. The Montreal's National Theatre School of Canada offered him a scholarship, but he had to refuse because of family obligations, and instead spent two years studying acting at Ontario's Stratford Shakespeare Festival.
Roles in TV series
Len's debut TV series appearance was in the 1963 episode "Kim" of the drama "Quest", and the following year saw him appear in the episode "The Master Builder" of the drama "Festival".
He spent the following 15 years focused on appearing in theatre plays, and didn't have a single TV series role; he mostly appeared in plays performed by the Stratford Shakespeare Festival company, and made his Broadway debut in the 1968 production of "The House of Atreus", while he then appeared in "Applause", "All About Eve" and "Eine Kleine Nacht Muzik" ("A Little Night Music").
In 1979, Len portrayed Tanner in the episode "The Curious Death of a Maiden Lady" of the crime mystery "The Great Detective", and the '80s saw him guest star in an episode of several series, including the drama "American Playwrights Theatre: The One-Acts", and the thriller "Gabriel's Fire".
Jessica Fletcher = simply the best

*sips drink*#MurderSheWrote pic.twitter.com/kNzqgyRtv3

— Rob (@robwillb) January 18, 2019
From 1985 to 1992, he played Michael Hagarty in the popular crime mystery "Murder, She Wrote", which starred Ron Masak, Angela Lansbury and Willian Windom, and was created by Richard Levinson and Peter S. Fischer. It tells the story of author Jessica Fletcher who's become a detective, the series aired from 1984 to 1996 and won 38 of its 93 award nominations. The '90s then saw Len appear in an episode of the crime mystery "North of 60", the action science fiction "Star Trek: Voyager", and the crime action "F/X: The Series".
What marked the 2000s for Len was perhaps playing Judd Fitzgerald in 10 episodes of the crime drama "Brotherhood", which Blake Masters created, and which starred Annabeth Gish, Jason Clarke and Jason Isaacs. The series follows two brothers, one a state politician and the other a gangster, aired from 2006 to 2008 and won four of its nine award nominations.
Since 2010, Len's been focused on starring as Henry Reagan in the crime mystery "Blue Bloods", appearing in all its 264 episodes. It was created by Mitchell Burgess, also stars Bridget Moynahan and Donnie Wahlberg, and follows the lives of several New York City police officers; the series has won four of its 21 award nominations.
Roles in movies
Len's debut film role was playing Jason Brady in the 1977 thriller "One Man", while a couple of his following roles were in the 1977 romantic musical comedy "A Little Night Music", and in 1978 the drama "Drying Up the Streets" and the drama "Who'll Save Our Children?"
In 1981, he portrayed Nick Callan in the comedy "The Four Seasons", written and directed by Alan Alda, who also starred in it alongside Len and Carol Burnett. It follows three couples who vacation together every summer, while one has now divorced; the film won one of its six award nominations. Some of Len's other notable performances in the '80s were in the 1983 drama "The Tempest", the 1986 crime thriller "Killer in the Mirror", and the 1988 sports drama "My Dad the Babe".
The year 1995 saw him play Henry Taylor in the romantic crime drama "Never Talk to Strangers", directed by Peter Hall, and which starred Rebecca De Mornay, Antonio Banderas and Dennis Miller; it follows criminal psychologist Sarah Taylor who's begun dating a mysterious stranger. Len could then have been seen appearing in the 1996 action adventure thriller "Executive Decision", the 1999 drama "Border Line", and the 1999 action thriller "In the Company of Spies".
His most notable performance in the 2000s was probably playing Mr. Beech in the 2006 action adventure "Flags of Our Fathers", which Clint Eastwood directed, and which starred Joseph Cross, Barry Pepper and Ryan Phillippe. It covers the Battle of Iwo Jima, and the lives of six men who raised the American flag on the island; the movie won 15 of its 45 award nominations, including two Oscar nominations for Best Achievement in Sound Editing and Best Achievement in Sound Mixing.
Len's since had only a couple of film roles, with his three most recent having been in the 2016 short mystery "The Last Day of Charley E. Rays", the 2018 crime action "Death Wish", and in the same year the action science fiction adventure "Bumblebee".
Other credits
Len received special thanks for the 2005 drama movie "Desolation Sound", and the 2014 science fiction comedy movie "Space Station 76".
He produced the 2013 short musical comedy movie "Days Like This", and the 2015 short comedy film "Another Day Gone By".
Some of Len's recent talk-show appearances have been in "The Theatre Podcast with Alan Seales", "Show of Titles" and "Stars in the House".
Awards and nominations
Len's won two of his seven award nominations: a 1977 Canadian Film Etrog Award for Best Performance by a Lead Actor, for "One Man", and a 2016 Gold Derby Film Award for Ensemble Cast, for his and his colleagues' performance in "Spotlight".
He was also nominated for a 2009 Primetime Emmy Award for Outstanding Supporting Actor in a Miniseries or a Movie, for "Into the Storm".
Love life and wife
Len's married thrice. His first wife was non-celebrity Canadian Patricia Otter, but the dates of their wedding and divorce haven't been disclosed; they have a daughter Laurel together, but she's today staying away from media.
Len's second wife was American theatre actress Susan Barbara Kapilow, they married in 1975 but divorced three years later.
Since 25 October 1986, Len's been married to non-celebrity American woman Heather Summerhayes; neither has spoken about how and when they met, but it's believed that it was on the set of a theatre play in 1981.
It's also known that Len was in a relationship with American actress and producer Glenn Close in the first half of the '70s, and that they lived together.
He's married to his third wife Heather Summerhayes as of January 2023, and has a daughter with his first wife Patricia Otter.
Interesting facts and hobbies
For his performance in the 1979 production of "Sweeney Todd", Len won a Tony Award for Best Actor (Musical).
He was inducted into the American Theatre Hall of Fame in 2004.
For Len's acting achievements, he was made an Officer of the Order of Canada by Governor General of Canada Julie Payette in December 2018.
He's revealed that violence is common in entertainment media, because it's part of human nature, and because people find it fascinating.
Len dislikes social media networks, and doesn't use any.
He's a philanthropist, and has donated money to various charity organizations during his 63-year long career.
Len's favorite actors are Johnny Depp and Anthony Hopkins, and some of his favorite movies are "Charlie and the Chocolate Factory", "Edward Scissorhands" and "A Nightmare on Elm Street".
Height, eyes and wealth
Len's age is 83. He has blue eyes and grey hair, is 5ft 9ins (1.75m) tall and weighs about 160lbs (72kgs).
Len's net worth's been estimated at over $6 million, as of January 2023.