• Olivia Sanabia is an American actress known for her role in the TV series "Just Add Magic"
• She was born in 2003 in Southern California and currently studies songwriting and music business at Belmont University
• She has been featured in various commercials and movies such as "Tangled Up in Blue," "The Birthday Boys," "Extant," and "Sam & Cat"
• She enjoys playing piano and guitar, writing songs, and performing covers
• Her net worth is estimated to be around $500,000 as of 2021
Olivia Sanabia, probably best known for playing the role of Kelly in the TV series "Just Add Magic," is an American actress, who has also featured in various commercials.
Age, Early Life, and Education Background
Olivia Shae Sanabia was born in Southern California, US, under the Aries zodiac sign on 13 April 2003, which makes her 18 years old as of 2021. She hasn't disclosed the names of her parents, but was raised with her sister Savannah Sanabia, who is a guitarist, singer, and actress. The Californian actress became interested in music at the age of two, and would frequently sing on stage; her interest drove her to perform in "Fiddler on the Roof," "Anastasia," "Annie," and many more musicals.
Sanabia went to Santiago High School, located in Corona, California. She is currently studying at Belmont University in Nashville, Tennessee, where she's majoring in songwriting and music business.
Interests
Sanabia enjoys playing piano and guitar.
She loves writing songs and singing, and has made several cover songs, some of which she's posted on her Instagram page.
Her favourite food is seafood; she enjoys eating sashimi, sushi, and other seafoods frequently, and also likes pizzas and burgers.
The Californian actress likes traveling, and has toured many countries including Spain, France and Germany – she likes to shop whenever she visits a new place.
Olivia also likes reading, and her favourite book (also a play) is "Romeo and Juliet." She also likes watching films and TV series such as "The Punisher" and " The Handmaid's Tale" – her favourite actress and actors are Jenna  Dewan, Daniel Radcliffe and Johnny Depp.
Career and Awards
Before launching her career in the entertainment industry, Shae was a professional child model, who made appearances in several advertisements for Disney, Ford, and Nickelodeon. She's also been featured in several teenagers and family magazines, including "Bake It Up," "Parenting," "Girls' World Magazine," and many more. She was filmed together with Jennifer Garner in her first commercial that was made for "Frigidaire" when she was eight years old.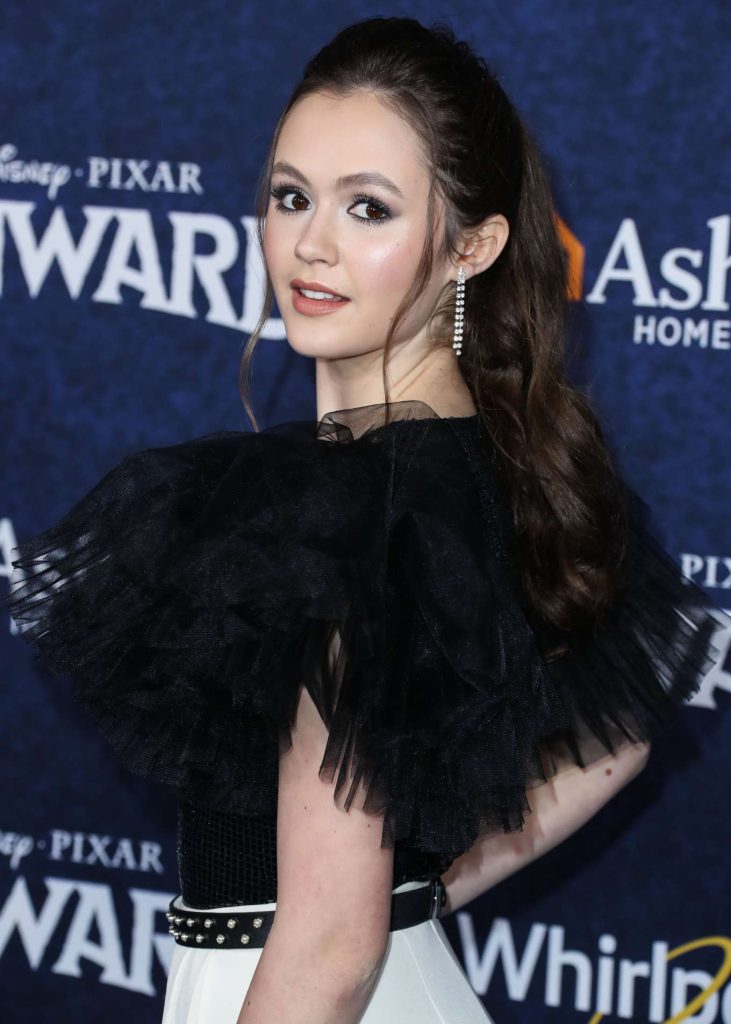 Shae landed her first acting role at the age of eight in "Tangled Up in Blue" (2009), an adventure comedy film written and directed by Sampson B. Vega, which received good reviews from audiences and reviewers alike. In 2012, Sanabia made appearances in three films – "How Jimmy Got Leverage," "Mood," and "Let Your Light Shine."  After this, she was selected to play a role in two episodes of "The Birthday Boys" TV show, and her next roles were in 2014, as Becca and Millie in the films "Extant" and "Sam & Cat" respectively.
Sanabia made an appearance in 2014's "Nicky, Ricky, Dicky & Dawn" American sitcom, in which she portrayed Jill Milbank before she was cast in ther recurring role of Kylie in Justin Adler's "Life in Pieces" TV series, that began airing in 2015.
Shae was selected to feature in two other films, entitled "Dennis" and "Broken Wings" before she took a break from the screens.
When she made a comeback, Sanabia landed an important role in the award-winning show "Just Add Magic"  (2016), which was a career breakthrough. The show is based on Cindy Callaghan's novel of the same title, and Olivia portrayed Kelly Quinn, appearing alongside Aubrey Miller, Abby Donnelly and Catia Ojeda among others. The show has been nominated for various awards including a Daytime Emmy for Outstanding Cinematography (2020) and Writers Guild of America (WGA) Award, and has won a Kidscreen Award for the Best Live-Action Kid's Series in 2020.
Recently, Olivia has made appearances in a few TV series, including the Jamie McLaughlin-developed "Coop & Cami Ask the World" show of 2018, together with Paxton Booth, Dakota Lotu, and Ruby Rose, and 2021's "Country Comfort." Her upcoming projects include "Colin in Black & White" TV mini-series, and "Day Six."
As a professional singer, Sanabia has shown off her lyrical mastery and great voice in her two original singles entitled "The Train" and "Stars Crossed." As she revealed during an interview, Sanabia intends to continue releasing good music that will encourage her avid fans; she also hopes to become a Broadway star.
Olivia has built a decent fan base over the years, and is very active on Instagram. She shares many posts with her fans, including details of her latest career endeavors, and personal life such as her 16th birthday celebrations. She's widely followed on Twitter, and uses the platform to promote her career as well as share her thoughts and opinions. She is also active on Facebook. The "Life in Pieces" star was nominated for the Leading Young Actress's Artist Award in Best Performance in TV Series category, for her contribution to "Just Add Magic." She was also nominated for a Young Actress Award in the Best Performance in TV Commercial category in 2016.
Personal Life
Olivia has kept her personal life away from the spotlight; she hasn't publicly introduced anyone as her boyfriend, or girlfriend. As of 2021, she is single and presumably focusing solely on her blossoming career. She is seemingly very close to her sister Savannah, and likes sharing photos of the two of them when they were children; during their early days, their parents liked taking their photos in the mountains, flower fields, and at home during Christmas.
Most of Sanabia's close friends consider her a kind hearted person; she's very social. and enjoys hanging out with her friends.
She's a frequent volunteer with the Cookies for Kids' Cancer non-profit organization. She also enjoys empowering her fans and encouraging positivity through her followed social media accounts.
 Height, Weight, and Physical Appearance
Sanabia has long dark brown hair, dark brown eyes and her skin tone is fair. As of 2021 she's 5ft 5ins (1.7m) tall, weighs around 110lbs (50kg), and is slim with vital statistics of 32-24-32, and wears shoe size 6 (US) and dress size 4 (US) and. She is a fashion fan who likes wearing designer dresses on casual occasions, or whenever she is attending an event. She likes taking photos of herself in Michael Kors and Kelly NG-designed dresses.
Net Worth
Since she began her career, Olivia has featured in close to 20 films and TV series which have significantly contributed to her net worth, which according to sources is close to $500,000 as of 2021.