• Paige Mackenzie Hyland is a dancer, actress, and reality TV star known for her appearance on "Dance Moms".
• She is currently studying at West Virginia University and is expected to graduate in 202•
• She has a YouTube channel, and is also active on Instagram, Twitter, Facebook, and TikTok.
• She is currently in a relationship with Jayvon Thrift.
• As of July 2021, her net worth is estimated to be over $50,000.
Who is Paige Hyland?
Paige Mackenzie Hyland was born in Murrysville, Pennsylvania USA, on 1 November 2000 – her zodiac sign is Scorpio, and she holds American nationality. She's a dancer, actress, and a reality TV star, who's probably known best for having taken part in the reality competition show "Dance Moms".
Early life and education
Paige was raised in Murrysville alongside her older sister Brooke and older brother Josh by their mother Kelly, a former dancer and a professional golfer, and their father Randy, who prefers to be left out of media.
Paige gained recognition in 2011, when she joined the show "Dance Moms", and by the time she enrolled at Franklin Regional High School in 2014, she was already somewhat popular.
She continued dancing at school, and appeared in various plays performed there. It's said that Paige also tried to become a cheerleader, wanting to follow in her mother's footsteps, but it didn't work out for her.
Upon matriculating in 2019, she enrolled at West Virginia University, from which she should be graduating in 2023.
"Dance Moms"
In 2011, Paige, her sister and their mother, entered the first season of the reality dancing competition show "Dance Moms", which continues airing to this day, currently starring Abby Lee Miller, Nia Sioux and Holly Frazier. It follows dance instructors who are teaching mothers and their children to dance, who then competing against other families, taught by other dance instructors. "Dance Moms" has won two of the eight awards for which it's been nominated.
While on the show, Paige was considered to be the least skilled dancer on the team, and was thus occasionally treated unfairly by her dance instructor Abby, and because of this, Paige's mother often got into a fight with Abby. Things escalated in 2014, when Kelly and Abby got into a physical altercation in the episode "Big Trouble in the Big Apple", and the Hyland family was thus removed from the show.
Appearances in other shows
In 2011, following her first appearance in "Dance Moms", Paige was invited to make a guest appearance in an episode of the talk-show "Good Morning America", and was also featured in the TV special "Dance Moms: Most Outrageous Moments"
In 2012, Paige, her sister and their mother, were invited to appear in the episode "Renegade Moms & Kristen Johnston", and in the same year, she could've been seen featured in three episodes of the talk-show "The View". In 2013, she appeared in the TV Special "Dance Moms Christmas Special".
Most recently, in 2019, Paige could've been seen appearing in the reality comedy series "Dance Moms Funniest Fights".
Acting credits
Paige has only two acting credits. In 2011, she appeared in the music video "Lux: It's Like Summer", which follows Lux as she's dreaming about being a little girl again. In 2012, Paige played Girlfriend's Sister in the music video "Brooke: Summer Love Song".
YouTube channel
Paige is also a YouTuber, having launched her eponymous channel on 16 April 2013. It's today subscribed to by over 720,000 people, and numbers more than 55 million views of all her videos combined, however, Paige hasn't uploaded a video in the past five years, although she's promised her fans that she will return!
Most of her videos follow Paige during her everyday life, especially during the time she spent competing in "Dance Moms". Her most popular video – "Paige Hyland's Nighttime Routine" – has been watched over 12 million times since 7 January 2015.
Paige is an Instagram star too, having amassed over 3.4 million followers, while she's uploaded close to 350 pictures, the majority of which have been taken during her everyday life.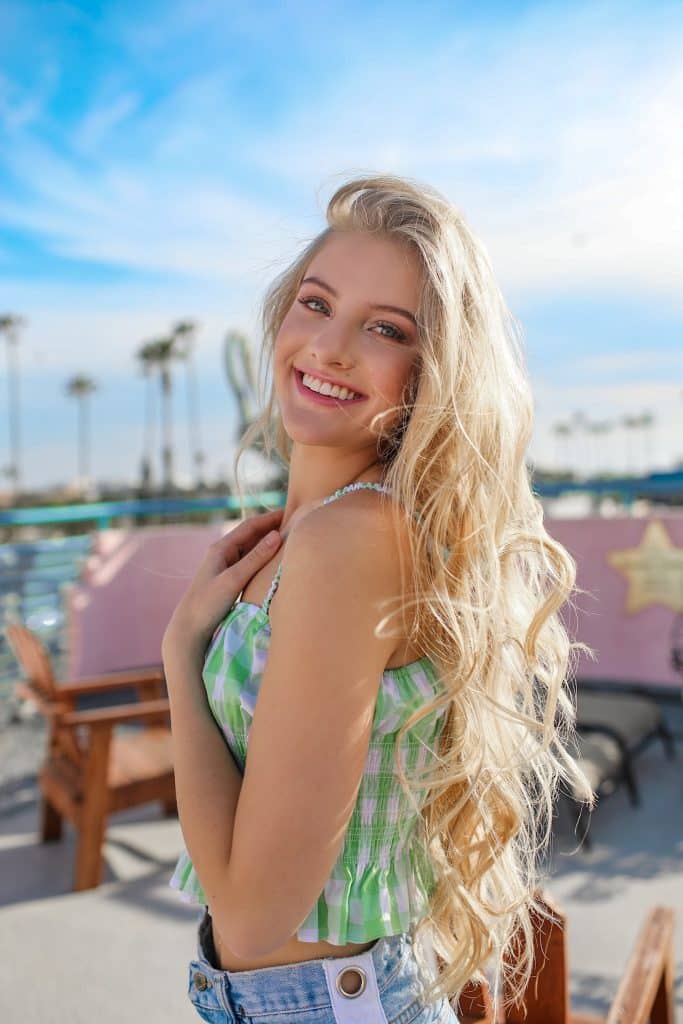 She launched her Twitter account in June 2011, which is today followed by more than 560,000 people, while she's tweeted close to 3,000 times. Paige's Facebook page is followed by over 220,000 people, and she's also a TikTok star, as she's followed by close to a million fans, and has amassed over 11 million likes of all her videos combined; these most often feature her dancing and lip syncing.
Love life and boyfriend
Paige's quite open when it comes to her love life, and has uploaded many pictures with her boyfriend Jayvon Thrift, onto her Instagram account.
Jayvon's quite popular at Youngstown State University, as he's playing football for the university's team. He has also uploaded pictures featuring himself and Paige together onto his Instagram account, which is today followed by more than 35,000 people. The two have been in a relationship for around a year now, and there are rumors circulating the internet claiming that they have begun thinking about marriage, but these haven't been confirmed.
There have also been other rumors, claiming that Paige was once in a relationship with Nick Kelly, a New Zealand cricketer whom she met while he was vacationing in the US, but Paige has denied these rumors.
As of July 2021, she's in a relationship with Jayvon Thrift, hasn't married and doesn't have children.
Hobbies and other interests
Paige is physically highly active, and has a couple of training sessions at the gym each week, while she's also following a very strict diet, thus her slim figure. She has given her fans some advice on working out and dieting.
Summer is her favorite season, as she loves to show off her body at the beach. Paige also enjoys sun tanning, and playing beach sports with her friends.
She's a shopaholic, as she goes shopping for clothes multiple times every week.
Paige likes to travel, and has been to a couple of US states, with her dream travel destination being Miami in Florida.
She's keen on watching movies late at night, and her favorite actor and actress are Leonardo DiCaprio and Anne Hathaway, while a couple of her favorite movies are "Titanic", "Les Miserables" and "One Day".
Age, height and net worth
Paige's age is 20. She has long blonde hair and blue eyes, her height is 5ft 5ins (1.65m) and she weighs around 120lbs (55kgs).
As of July 2021, her net worth has been estimated at over $50,000.