• Pamela 'Pam' Dawber is an American actress and producer born in Detroit, Michigan in 195•
• She is best known for her role as Mindy McConnell in the 1978 TV series "Mork & Mindy".
• Her most recent role was playing Marcie Warren in seven episodes of the 2021 action crime series "NCIS".
• She is married to American actor Thomas Mark Harmon and they have two sons.
• Her net worth is estimated at over $10 million.
Who is Pam Dawber?
American actress and producer Pamela 'Pam' Dawber was born in Detroit, Michigan USA, on 18 October 1951, meaning that her zodiac sign's Libra. She's had roles in more than 40 movies and TV series, but is perhaps still best known for playing the lead character Mindy McConnell in the popular family science fiction comedy series "Mork & Mindy", created by Garry Marshall and Joe Glauberg, and which also starred Ralph James and Robin Williams. It follows an alien who's come to Earth to study humans, the series aired from 1978 to 1982 and won five of its 19 award nominations.
Pam's still active in the film industry, and her most recent role has been playing Marcie Warren in seven episodes of the 2021 action crime series "NCIS".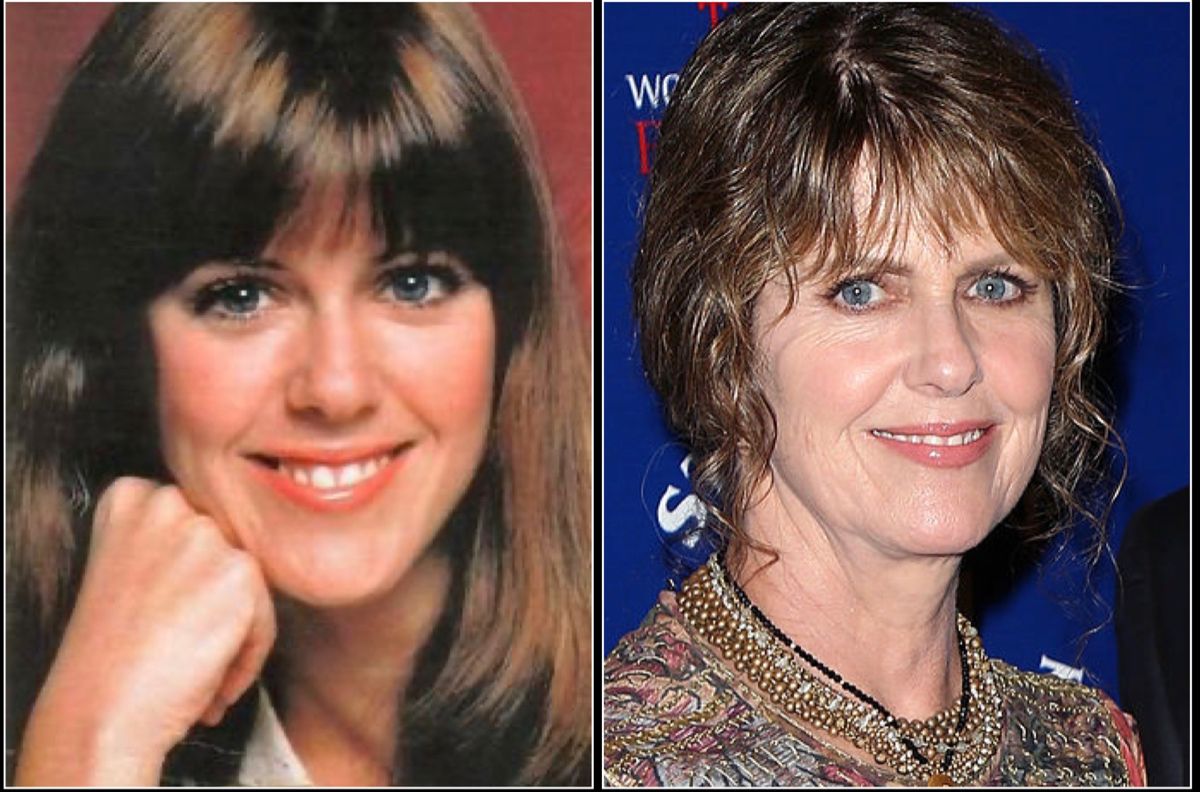 Education and early life
Pam and her younger sister were raised in Detroit by their father Eugene E. Dawber who was an artist, and mother Thelma M. (nee Fisher) who was the owner of a stock photo agency.
Pam studied at Reid Elementary School, and while growing up dreamed of becoming a famous model. She continued her studies at North Farmington High School, and upon matriculating in 1970 enrolled at Oakland Community College (OCC); Pam's plan was to eventually transfer to a four-year university, however, she launched her career as a model and then dropped out of college.
Prior to launching her acting career, Pam lived in New York City where she was signed to Wilhelmina Models as a fashion model, and she also featured in many commercials, for companies such as Underalls, Neet and Fotomat.
Roles in movies
Pam's debut film appearance was in the 1978 comedy "Sister Terri", and she could then have been seen appearing in the 1978 comedy "A Wedding", the 1979 comedy "The Chevy Chase National Humor Test", and the 1980 science fiction comedy "The Girl, the Gold Watch & Everything".
The year 1981 heard Pam voice Princess Odette in the animated family adventure "Swan Lake", directed by Kimio Yabuki, and which starred Keiko Takeshita, Taro Shigaki and Asao Koike; it follows a prince who's fallen in love with a princess who turns to a swan every day. The year 1982 then saw Pam appear in the comedy "Twilight Theater" and the romantic drama "Remembrance of Love", then in 1983, she starred alongside David Soul and Fionnula Flanagan in the thriller "Through Naked Eyes".
In 1986, Pam starred as Gillian Burke in the romantic drama "American Geisha", directed by Lee Philips, and which also starred Richard Narita and Stephanie Faracy; it follows an American student who's travelled to Japan, and is interested to learn about the lives of Geishas.
A couple of Pam's following roles were in the 1990 thriller "The Face of Fear", the 1991 mystery comedy "Rewrite for Murder" and the 1992 adventure fantasy comedy "Stay Tuned". What marked the '90s for her was perhaps her playing of Monica Shaw in the 1994 drama "A Child's Cry for Help", written and directed by Sandor Stern, and in which Pam starred alongside Veronica Hamel and Daniel Hugh Kelly. It follows a widowed doctor who's started working at a new hospital, and is now suspecting that a boy whom she's treating is being made sick deliberately by his mother.
Some of Pam's roles in the remainder of the '90s were in the 1995 drama "Kevin's Kitchen", the 1996 romantic drama "A Stranger to Love" and the 1999 action thriller "Don't Look Behind You".
In 2000, Pam played Barbara Cooper in the family war drama "I'll Remember April", and it remains her most recent film role.
Roles in TV series
Pam's role in "Mork & Mindy" was also her TV series debut, and in 1982, she voiced Mindy McConnell in 14 episodes of the animated family comedy "Mork & Mindy/Laverne & Shirley/Fonz Hour".
The year 1985 saw her play Karen Billings in the episode "But Can She Type" of the fantasy horror "The Twilight Zone", and in 1987, she played Pearl in the episode "The Little Mermaid" of the family adventure comedy "Faerie Tale Theatre". From 1986 through 1988, Pam starred as Samantha 'Sam' Russell in the comedy "My Sister Sam", created by Susan Beavers and Stephen Fischer, and which also starred Jenny O'Hara and Joel Brooks. It follows a photographer whose teenage sister has just moved in with her, and the series won one of its three award nominations.
Some of Pam's following roles were in the 1994 episode "From Here to Paternity" of the comedy "Dream On", the 1995 episode "Ship Off the Old Beast/The War's Over" of the animated family comedy "Aaahh!!! Real Monsters" (voice role), and the 1996 episode "Self-Discipline" of the animated family fantasy "Adventures from the Book of Virtues" (voice role).
In 1997 and 1998, Pam voiced Perdy in the short animated adventure "101 Dalmatians: The Series", which starred Kath Soucie, Tara Strong and Jeff Bennett, and follows four Dalmatians and their adventures at the Dearly Farm.
Pam's since had only three TV series roles, including in the above mentioned "NCIS": she played Lily in the 2014 episode "Love Sucks" of the comedy "The Crazy Ones", and Arnette in the 2016 episode "Taffy Days" of the comedy "The Odd Couple".
Other credits
Pam produced two episodes of the 1997 comedy series "Life… and Stuff".
She's been featured in various documentaries, such as the 1989 movie "Your New Baby", the 1993 video "The First Annual Comedy Hall of Fame" and the 2018 movie "Robin Williams: Come Inside My Mind".
Some of the talk-shows in which Pam's recently made a guest appearance include "The Happy Days of Garry Marshall", "History of the Sitcom" and "Entertainment Tonight".
Awards and nominations
Pam's won three awards: a Gold Medal for Favorite Female Newcomer at the 1979 Photoplay Awards, and two People's Choice Awards for Favorite Female Performer in a New TV Program in both 1979 and 1987.
She was also nominated for a 2007 TV Land Award for 'Who Knew They Could Sing?'
Love life and husband
Pam and her husband prefer to maintain a private family life, and they rarely speak about their marriage or their children in public.
She married American actor Thomas Mark Harmon in a private ceremony on 21 March 1987, attended by only their closest family members and a couple of friends. Thomas is a famous actor with more than 70 credits to his name, while he's probably known best for his lead role in the crime action series "NCIS", appearing in 435 of its 446 episodes.
Pam gave birth to their son Sean Thomas on 25 April 1988, and their second son Ty Christian followed on 25 June 1992; Sean's today a successful actor and stuntman, known best for his portrayal of Young Leroy Jethro Gibbs in seven episodes of the series "NCIS".
Pam hasn't spoken of the men whom she had dated prior to meeting Thomas; she's married to Thomas Mark Harmon as of December 2022, and they have two sons together.
Happy wedding anniversary to Pam Dawber and Mark Harmon.

Their love, complicity, chemistry is pleasant to see and that this one lasts still of beautiful years.#MarkHarmon #AgentGibbs #LeroyJethroGibbs #JethroGibbs #Gibbs #NCIS #PamDawber #PamDawberHarmon #MorkandMindy pic.twitter.com/AnzYdNER1w

— Just_M.Harmon (@Titine_HDF) March 21, 2022
Interesting facts and hobbies
In 1996, Pam and her husband rescued a teenager from a burning car.
She was once the co-owner of the production company Pony Productions, together with her former manager Mimi Weber.
Pam's a philanthropist, and today a national spokesperson for Big Brothers and Big Sisters of America.
She was one of the closest friends of Robin Williams, an American actor and comedian who was famous worldwide, and who committed suicide on 11 August 2014, aged 63; Robin had suffered from depression and anxiety, and it's believed that his undiagnosed Lewy body dementia led him to take his own life.
Pam was paid $15,000 for each episode of "Mork & Mindy".
Her favorite actresses are Kate Winslet and Angelina Jolie, and some of her favorite films include "Titanic", "Buttons, A New Musical Film" and "The Reader".
Height, eyes and wealth
Pam's age is 71. Her hair and eyes are brown, she's 5ft 6ins (1.69m) tall and weighs around 130lbs (60kgs).
Pam's net worth's been estimated at more than $10 million as of November 2022.