• Robin Mcleavy is an actress born in Sidney, Australia in 198•
• She is known for her roles in "The Loved Ones" and "Hell on Wheels".
• She founded her own company called Birth Temple, which provides support during the birthing process.
• Robin's estimated net worth is around $1 million.
• She is active on social media platforms such as Instagram and Twitter.
Who is Robin Mcleavy?
Robin Mcleavy is an actress, born in Sidney, New South Wales, Australia, on 19 June 1981 under the star sign Gemini, and she holds Australian nationality. The beautiful actress is possibly best known for her roles in the acclaimed horror film "The Loved Ones" and the popular TV show "Hell on Wheels".
Early life and family
Robin graduated from the National Institute of Dramatic Art in 2004. Regarding her family background, not much information is known, as she's never disclosed any information about her parents' names or their professions, but she posted a photo of herself and her sister on 6 February 2020 on her Instagram account, thanking her friends, husband, and family for being the well-needed support in times of hardship, as her mother closed the final chapter of her life.
In the same post, she mentions her little half-sister with whom she shares a father; judging from the photos they post on Instagram, they seem to have a close and supportive relationship. Even so, information about her sister's whereabouts, profession, or personal life isn't available. If you are interested in her sister's Instagram profile, click here.
Career
During her career, Robin has starred in various TV shows, plays, and movies. She made her debut with the role of Jacq in the Australian comedy entitled "48 Shades" based on Nick Earls' novel "48 Shades of Brown". In 2009 she landed the role of Lola "Princess" Stone in the horror film "The Loved Ones", written and directed by Sean Byrne, and praised by many critics, the suspenseful horror was nominated for various awards such as AACTA Award for Best Original Screenplay, Fright Meter Award for Best Horror Movie, Best Director, Best Screenplay, etc.
In 2012, Robin was nominated for the Fangoria Chainsaw Award for the Best Leading Actress for her role in "The Loved Ones", but the award was scooped by Elizabeth Olsen for "Silent House". In the same year, Robyn played the role of Stella Kowalski alongside Kate Blanchet and Joel Edgerton in a production of the well-known play "A Streetcar Named Desire", for which Robin garnered The Hellen Heyes Award for Outstanding Supporting Performer.
She went on to star in not so successful short productions such as "After the Credits", "Roman's Ark" and "The Super Awesome Featurette: A Runner's Perspective of the Loved Ones".
Her second major role was in the super popular western TV series "Hell on Wheels"; the American/Canadian show won the hearts of many with its interesting plot placed in the frame of the reconstruction era, and aired from 2011 to 2016. Robin was praised for her exceptional performance and unique portrayal of the character of Eva.
In 2012 she landed the role of Nancy Lincoln in the dark fantasy action horror "Abraham Lincoln: Vampire Hunter", which gained popularity and grossed over $116 million at the box office. One of her latest popular roles was in the American TV Show "Wu Assassins", a supernatural action series. Having many major roles, Robin has now definitely created a name for herself, and it's expected that she will continue this successful path in the future.
Personal Life
Despite being in the field which necessarily puts one in the limelight, Robin has been quite elusive about her personal life. During the Sydney Theatre Company production of  "A Streetcar Named Desire, " it was rumored that Robin and co-star Joel Edgerton were dating, after being spotted holding hands at the show's final performance, leading many to think that they were romantically involved. After being asked about her on-stage chemistry with the actor, she said:  'Its good! On the second day of rehersals we were, you know, kissing and fighting. You find the violence one day and the passion the next, and then the tenderness.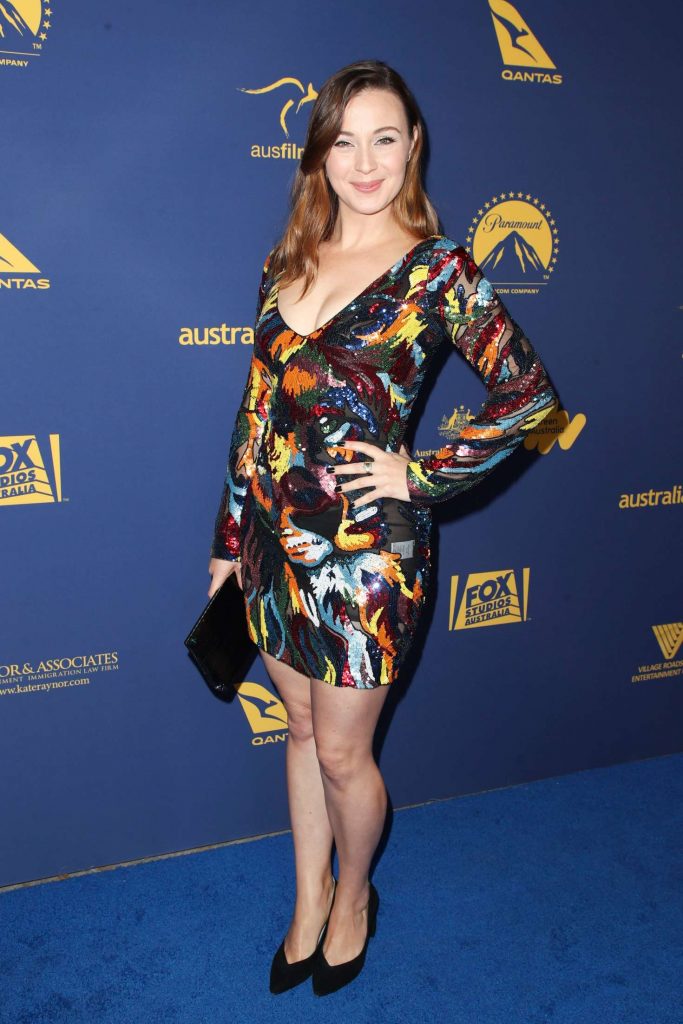 The sex is really important with these characters. It's really primal." Many tabloids linked her with the famous Australian actor, but the relationship was never confirmed, and their bond remained confined to the boundaries of their roles.
Regarding her current status, many sources on the internet suggest that Robin is currently single, but a careful look at her Instagram account revealed something else. Even though it has not been confirmed or even disclosed, it's believed that Robin has been married to Ivan Bear since 2016. Except for Instagram captions, which read Crystal Connesuer and Optimal body, mind, and spirit, we can only guess his profession.
In September 2016, Robin shocked the fans with a photo on her Instagram happily showing the little baby bump saying that she and her husband were expecting a child. The photo reads "Many people have been asking what my latest project is…Well folks, Suprise! I've been working on creating a little human in the sweet quietude of nature." She gave birth to their sweet baby on 14 December 2016, and they named him Rumi. If we are to judge from her the photos she and her husband post online, both of them are super thrilled to be parents, and it seems that these new roles of parents fit perfectly into their life.
Physical stats: Height/Weight and Hobbies
Robin is 5ft 5ins (165cm) tall, weighs around 125 lbs (57kgs), and her vital statistics are 35-24-36. She is further adorned with a pair of dark brown eyes and brown hair.
Robin is a very versatile woman, not only in the field of acting but also in the terms of other interests and hobbies. She enjoys reading, photography, traveling, cooking, poetry, etc.. Judging by her Instagram feed, Robin is a bookworm as she often posts photos of the book, one of her favorites is  Jill Soloway's "Desire, Power, and Toppling the Patriarchy".
In the last few years, she has been active in terms of environmental activism and calls her self a climate actor
Her entrepreneurial endeavor?
Having a baby definitely changed Robin, and prompted her to found her own company called Birth Temple, which is an online space for pregnant ladies in search of inspiration, confidence, security, and reassurance in the impending process of giving birth. On her website, Robin describes herself as  'Certified HypnoBirthing Childbirth Educator, Mediation Guide, Birth Doula, Ka Huna Massage Therapist, and Intuitive Guide'.
She says on her website that she founded the Birth Temple with the goal of providing support in the whole process of birthing with a special implementation of the HypnoBirthing method. This method helps women deal with fear and anxiety, and includes various relaxing and self-hypnosis techniques.
Having been through the birthing process herself, Robin knows first-hand what a pregnant woman needs, so it's not surprising that she decided to become a certified practitioner of the HypnoBirthing Program.
Would you like to know her net worth?
Given that Robin has been able to establish herself successfully as an actress, her estimated net worth is around $1 million as of early 2021, accumulated through her hard work. If we add the revenue from her company, it's expected that her wealth will grow in the future.
Both Robin and her husband are very active on social media. Robin has over 8,000 followers on Instagram , on which she often posts family photos and expresses her opinions on the ubiquitous subjects of the social and political sphere. On Twitter she has 12,900 fans, with whom she happily shares ideas, inspirational quotes and book suggestions.