• Mark Labbett is an English TV personality and quizzer, professionally known as The Beast.
• He has been on the show "The Chase" since 2009 and is known by the nickname 'The Beast.'
• Mark has a net worth of approximately $2 million and has won various quiz show prizes.
• He is a philanthropist and a big soccer fan, and owns a Golden Retriever named Baloo.
• Mark has a height of 6ft 6ins (1.98m) and has lost 140lbs (64kg) by changing his diet and exercising regularly.
Mark Labbett, professionally known as The Beast, is an English TV personality and quizzer, who has been on the game show "The Chase" since 2009.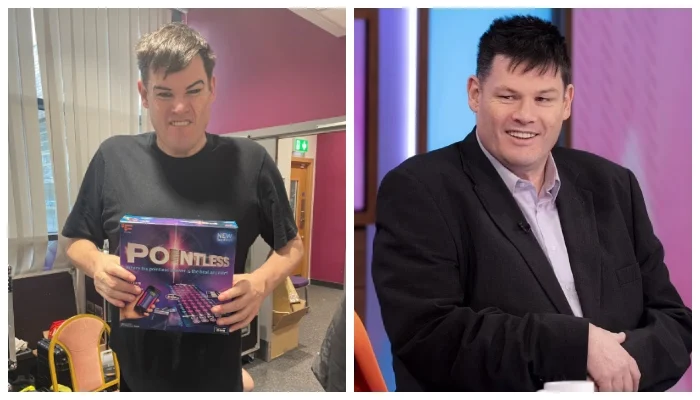 Age, Early Life, and Education Background
Mark Andrew Labbett was born in Tiverton, Devon England, under the Leo zodiac sign on 15 August 1965, which makes him 58 years old as of 2023. He's the son of Jon and his wife Carolyn Labbett, and the oldest brother of Paul and Phillip Labbettt.
Mark attended Bishop Wordsworth's Boys' Grammar School, which is situated in Salisbury. He later joined Exeter College, Oxford, where he obtained a Master of Arts in Mathematics. He also graduated with a Postgraduate Certificate in Education from the public research university, the University of Exeter, and later qualified with legal LPC and CPE from the University of Glamorgan, now the University of South Wales.
Hobbies and Facts
Mark is a philanthropist, who has been involved with various charity organizations such as Velindre Cancer Hospital and The Lord Mayor of Cardiff's Charity.
He's a big soccer fan, supports Sheffield United F.C., and often goes to watch their games.
Mark acknowledged during a previous interview that he used to have mental health issues, when he was apologizing after walking off the set of the gameshow "The Chase."
He is a big animal fan, especially dogs, and owns a Golden Retriever named Baloo.
Terrible at Panto makeup 🙂 #hesbehindyou #rhyl pic.twitter.com/F2HuGD7tnV

— Mark Labbett (@MarkLabbett) December 5, 2020
Career Beginnings
Labbett began his career as a Mathematics and Physical Education secondary tutor in various schools, including Cove School in Farnborough, Hampshire, and Caldicot School in Monmouthshire, South Wales. He was working at Butlin's seaside resort holiday camp when he developed an interest in quizzing. He used to supplement his income with quiz machine winnings, and in April 2001, he teamed up with his friends to compete in the Jumbo Quiz, and they ended up winning a weekend in Paris.
TV Appearances and Rise to Stardom
Mark made his TV debut in 1999 in the British TV quiz show "Mastermind," with the Olympic Games as his specialist subject. He later reappeared in the same show in 2000 with the American animated series "The Simpsons" as his specialist subject, and in the same year, he competed in another game show, "Countdown" in which he narrowly lost his first game. In 2001, Mark contested the Challenge game show "Stake Out", but was eliminated during the Face Off round. Two years later, he contested the quiz show, "Grand Slam", but unfortunately lost against the British game show contestant, Clive Spate.
2004 saw Labbett winning £500 (approximately $620) in the show "Brain Teaser" on Channel 5, and in 2005, he won £1500 ($1,857) in SUDO-Q, which aired on BBC One. He emerged victorious when he appeared in "Who Wants to be a Millionaire?" in 2006, and in the same year, he led the Welsh quiz squad to fifth position in the European Quizzing Championships (EQC). In 2009, his team the Rugby Boys was crowned the winner of the British TV quiz show, "Only Connect," which aired on BBC Four. He has also appeared in the shows "The National Lottery People's Quiz," "University Challenge," and "Are You an Egghead?" Moreover, Mark came in at position 86 in International Quizzing Association's World Quizzing Championships in 2012.
"The Chase" and Further Work
Mark is famously known for being a 'chaser' in the ITV TV quiz show "The Chase," which premiered in 2009 and was initially hosted by Bradley John Walsh. He goes by the nickname 'The Beast' in the show, referencing his stature and surname, which sounds like the French phrase la bête meaning 'the beast.' 2013 saw him appearing in the American version of the quiz show on Game Show Network, and he later appeared among six other 'chasers' including Shaun Wallace and Anne Hegerty in its Australian version, which aired on the Seven Network. Mark has also participated in several TV programs such as "Let's Sing and Dance for Comic Relief," "Celebrity Juice," and "Loose Women" all in 2017.
Social Media Presence
Mark joined Twitter in February 2011 and is now followed by almost 160,000 fans. His handle is @MarkLabbett, and he uses his account to promote his career. He also has around 40,000 followers on Instagram – (@markthebeastlabbett).
Personal Life
Mark was previously married to the artist and illustrator, Katie. The duo walked the aisle in October 2014 at Arundel Cathedral, West Sussex. Surprisingly, Katie, who is 27 years younger than him is his distant cousin, but he's admitted that he was unaware of this when he began dating her. The couple welcomed a son named Lawrence shortly after their wedding, but the couple ended their open relationship in August 2020, and according to Katie, 'Mark and I had been talking about separating for some time – we have been drifting for a while. He works away a lot and that's been hard. Many think that it's the age difference, but we don't see that as the factor.' Katie went on to date a man named Scott Bale. The Beast seems to be single as of 2023.
Height, Weight, and Physical Appearance
Labbett is of White ethnicity and has brown eyes and black hair. He stands at an impressive height of 6ft 6ins (1.98m) and weighs around 260lbs (121kgs). Previously, he attended the Dirty Dancing press night in Dominion Theater, London, where he showed off his immense 140lbs (64kg) weight loss. Mark, who has type 2 diabetes, achieved this by changing his diet, eating a lot less, and drinking a lot of fluids. He credits the success to his estranged wife, Katie, who helped him eliminate sugar from his diet. He also revealed that his dog significantly contributed to his weight loss because he used to wake up very early in the morning to walk him, which helped him develop a consistent habit of working out.
Net Worth
Mark has a net worth of approximately $2 million as of 2023, accumulated through his TV work, supplemented by winnings in various quiz shows – in 2005, he won £32,000 ($39,619) on "Who Wants to Be a Millionaire?" version called Millionaire Live.