Alison Lohman Wiki Bio
Alison Marion Lohman was born in Palm Springs, California USA, on 18 September 1979 – her zodiac sign is Virgo, and she holds American nationality. She's a former actress, perhaps known best for her roles in critically acclaimed movies such as "Matchstick Men", "Big Fish", and "Drag Me to Hell".
Early life and education
Alison grew up in Palm Springs, alongside her younger brother Robert. Their mother, Diane, is a patisserie owner, while their father, Gary, worked as an architect.
Alison showed talent for acting and singing very early on, making her stage debut at the age of nine, when she played the role of Gretl in a local production of the musical "The Sound of Music".
Two years later she won her first award, for her performance in "Annie". She also performed as a child singer, and even sang alongside Frank Sinatra at a local charity event.
In 1997, Alison matriculated as one of the best students at her high school. She had A grades in all the subjects except for drama, as she was apparently too shy to perform. She earned a full scholarship at the prestigious New York University, which she declined, and instead moved to Los Angeles, California, to pursue an acting career, apparently despite her shyness.
Roles in movies
Alison made her film debut in the 1998 sci-fi film "Kraa! The Sea Monster", directed by Aaron Obsorne and Dave Parker.
In the following years, she had roles in several low-budget movies, such as "The Thirteenth Floor" (1999), "The Million Dollar Kid" (2000) and "Alex in Wonder" (2001).
The role many consider to be her breakthrough was in the 2002 drama "White Oleander", directed by Peter Kosminky, and which starred Michelle Pfeiffer, Renée Zellweger and Robin Wright. The film is based on the novel by Janet Fitch, centered on a teenager's journey through a series of foster homes. Despite not being commercially successful, it received critical acclaim, and Alison's performance was widely praised.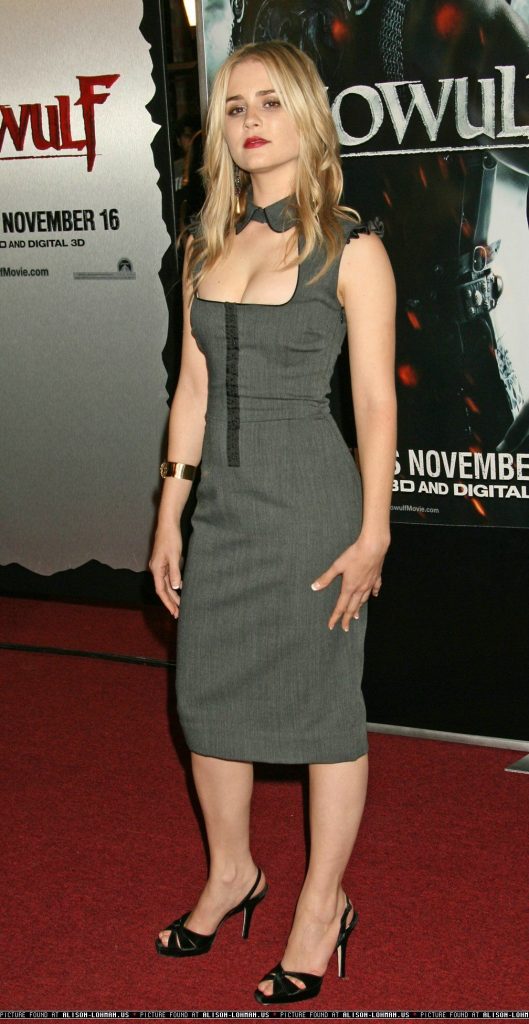 In the following year, she starred alongside Nicholas Cage in the crime comedy drama "Matchstick Men", directed by Ridley Scott. In the same year, she played the role of young Sandra Bloom, in Tim Burton's "Big Fish", continuing her trend of appearing in critically acclaimed movies.
In 2005, Alison starred in the crime mystery drama "Where the Truth Lies", in which she played a journalist determined to unravel a murder mystery involving two Hollywood celebrities. The film failed at the box office, possibly due to its NC-17 rating, indicating more suitable for the adult audience. In the same year, she voiced the title character in the English dubbed of the Japanese animated drama "Nausicaä of the Valley of the Wind".
In 2006, she played a 16 years old girl in the family drama "Flicka", based on the novel by Mary O'Hara. To prepare for the role, Alison had to learn to ride horses, training rigorously for a month. She later admitted that this was one of the most challenging experiences she had as an actor. In the following year, she appeared alongside Halle Berry and Benicio del Toro in the drama "Things We Lost in the Fire", in which she portrayed a recovering heroin addict.
Two years later, she had a role in the cult classic horror comedy "Drag Me to Hell", written and directed by Sam Raimi. Following the film's release, Alison announced that she would be retiring from acting, wanting to focus on her motherhood. She now primarily works as an online acting coach, only making occasional appearances in movies produced by her husband.
Roles in TV series
Alison made her TV series debut in 1998, when she appeared in an episode of the crime action drama "Pacific Blue". She also made appearances in the family comedy "7th Heaven" in 1998, and in the action drama "Crusade" in 1999. Her first recurring role, was in the short-lived 1999 drama "Safe Harbor", created by Brenda Hampton.
In the following year, Alison starred in the 13 episodes-long NBC sitcom "Tucker", centered on a teenage boy and his disjointed family. Through 2001 and 2002, she starred alongside Dana Delany and Martin Donovan in the crime mystery drama "Pasadena", which was her last TV series role, as she then auditioned exclusively for movies, following her success in "White Oleander".
Love life and husband
Alison is married to the director and producer Mark Neveldine. They tied the knot on 19 August 2009, at St. Anthony's Catholic Church in Watertown, New York. In 2010, Alison gave birth to their first child, Billy – interestingly, Billy was born in Romania, as his father was working on "Ghost Rider: Spirit of Vengeance", which was being filmed there at the time; his birth wasn't revealed until August 2011. Alison and Mark have two more children, but their names and gender haven't been disclosed to the public.
Interesting facts
Alison was diagnosed with combined type attention deficit hyperactivity disorder (ADHD) at the age of seven, and still has to use medication for it.
In 2007, the magazine "Esquire" featured her in their "Women We Love" series.
Alison is a vocal environmentalist, and has financially supported several charities which help preserve the environment.
She has recently been expressing criticism of COVID-19 restrictions and mask mandates on her Twitter account.
She loves listening to rock music, with some of her favorite bands being Nirvana and Paramore.
Appearance, age and net worth
Alison is 41 years old. She has long blonde hair and brown eyes, is 5ft 2in (1.58m) tall, weighs around 104lbs (47kgs), while her vital statistics are 32-25-33. As of August 2021, her net worth is estimated at more than $5 million.
Who is Alison's husband, Mark Neveldine?
Mark was born in Watertown, New York State USA, on 11 May 1973 – his zodiac sign is Taurus, and he holds American nationality. He's a director, producer, screenwriter and a camera operator, perhaps known best for his collaborations with the director Brian Taylor.
Mark attended Hobart and William Smith College, from which he graduated in 1995, with a degree in drama and psychology. He then moved to Manhattan, New York City, where he began working as a film director. Some of his most notable works include blockbuster movies such as "Crank" (2006), "Gamer" (2009), and "Ghost Rider: Spirit of Vengeance" (2011). His upcoming project, the action thriller "Panama", starring Cole Hauser and Mel Gibson, is set to be released in early 2022.
Mark is 48 years old. He has short black hair and brown eyes, is 5ft 11ins (1.8m) tall, and weighs around 175lbs (79kgs).
As of August 2021, his net worth is estimated at more than $9 million.