Who is Brittney Powell?
Brittney Rache Powell was born on 4 March 1972 under the zodiac sign of Pisces, in Würzburg, Bavaria, Germany. She is a 49-year-old German-American actress, writer and producer, who's probably still best recognized for landing the role of Kaja Wilson in the NBC adventure series "High Sierra Search And Rescue" (1995), playing Summer Holloway in the ABC soap opera "General Hospital" (2002-2003), and featuring as Dr. Randy Minki in the comedy web series "Safety Geeks: SVI" (2009).
How rich is she, as of now? Brittney Powell Net Worth
As of mid-2021, Brittney Powell's net worth is estimated at over $2 million, acquired through her successful multi-faceted involvement in the world of entertainment, who has worked on 60 television and film acting credits, since she launched her career back in the early 1990s.
Early Life, Parents, Siblings, Nationality, Ethnicity, Educational Background
There is no information about Brittney Powell's childhood since she remains silent about it.
She was probably raised by her parents, however, their names and professions haven't been revealed, and it's also unknown whether she has siblings or is an only child. She holds German nationality and belongs to White Caucasian ethnic group. Brittney hasn't shared any details regarding her education either.
Career Beginnings
Brittney Powell started pursuing her professional career back in the early 1990s when she posed for Playboy: Girl of Spring Break in 1991. In the following year, she made her debut appearance as a contestant in the comedy TV series "Round Trip To Heaven", and took the supporting role of Randi Jo in the NBC teen sitcom "California Dreams".
Her debut feature film appearance came in 1993, with the role of Cheryl in Joseph Merhi's action film "To Be The Best", next to Martin Kove. The same year, she was cast as Nikki in the comedy-drama film "Airborne", directed by Rob Bowman. It was followed by her portrayals of Sally Anne Philips in Rick Jacobson's horror film "The Unborn 2", which is a sequel to the 1991 film "The Unborn", and Beth Armstrong in the direct-to-video family fantasy film "Dragonworld", both released in 1994. At the time, she also had guest parts in such TV series as "Saved By The Bell: The College Years", "The Commish", and "Weird Science", among others.
Rise to Fame
Brittney Powell landed her big break role in 1995 when she was chosen to portray the main role of Kaja Wilson in the short-lived NBC adventure series "High Sierra Search And Rescue", co-starring alongside Robert Conrad, Dee Wallace and LaVelda Fann. During the same year, she made a guest appearance as Jade in the episode "The One With Five Steaks And An Eggplant" of the highly-popular NBC sitcom "Friends", after which she guest-starred in other TV series, such as "Silk Stalkings", "High Tide", and "The Client", to name a few.
In 1996, Brittney played Faith and Cindy in the buddy action comedy film "Fled", directed by Kevin Hooks, and featured as Shades Fan in the comedy film "That Thing You Do!", alongside Tom Everett Scott, Liv Tyler, and Charlize Theron.
It was followed by her next major role, as Beth Hooper in the Fox primetime soap opera "Pacific Palisades" (1997); however, it was canceled after a single season due to low ratings. During the same year, she shared the screen with Thomas Calabro, John Terry and Curtis Armstrong in the made-for-TV drama film "L.A. Johns", in which she starred as Liz Shelby. She then guest-starred in such TV series as "Beverly Hills, 90210", "Pensacola; Wings Of Gold", and "Xena: Warrior Princess".
Continued Success
Between 2000 and 2001, Brittney Powell had the recurring role of Maureen Keller in several episodes of the NBC primetime soap opera "Titans", created by Charles Pratt Jr.
Afterwards, she joined the cast of the critically acclaimed ABC soap opera "General Hospital", in which she starred in the role of Summer Holloway from 2002 to 2003. It holds the Guinness World Record as the longest-running American soap opera in production, with more than 14,000 episodes aired. The series also set the record for most Daytime Emmy Awards, winning 14 in the category of Outstanding Drama Series.
It was followed by her guest-starring parts in numerous TV series, including "Bram & Alice", "NCIS", and "Two And A Half Man", among many others. In 2007, she was cast as Sara Parson in the short comedy film "Misty & Sara", after which she featured as Bonnie in the comedy film "Midgets Vs. Mascots", and portrayed a warrioress in the short fantasy film "Rose Marine", both in 2009.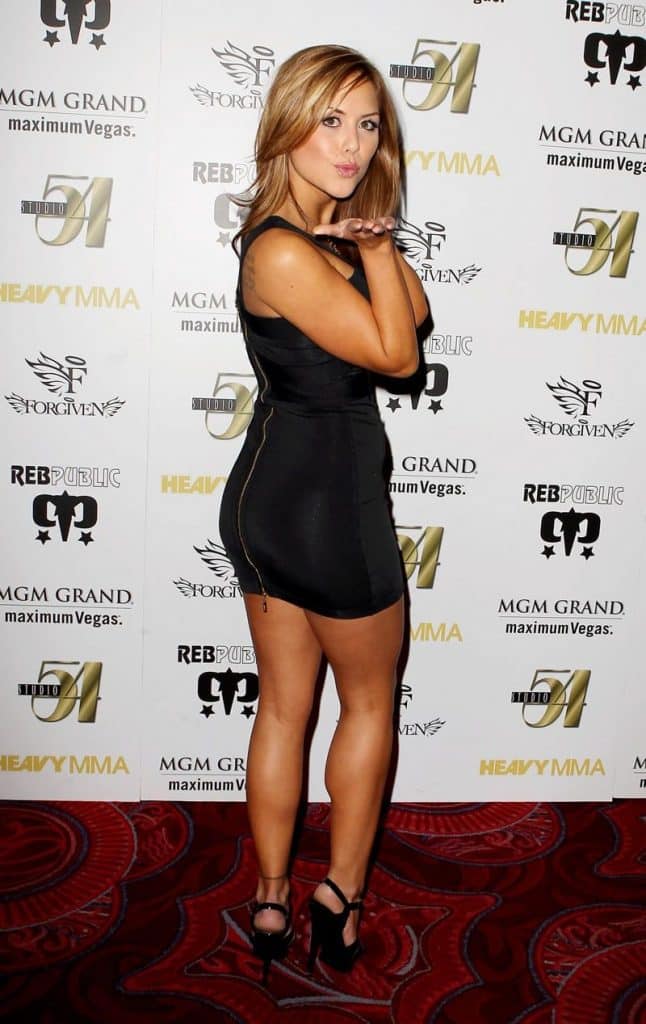 Her next significant appearance came later that year, when she played Dr. Randy Minki in the comedy web series "Safety Geeks: SVI".
Recent and Upcoming Projects
Brittany even modeled for the Safety Geeks' Pin-Up Calendars in 2010, 2011, and 2012. In 2010, she took the title role in the comedy film "Stacy's Mom", after which she made guest appearances in such TV series as "The Adventures Of Señor Toro" and "Solo: The Series". She then played Det. Charlie Gordon in the 2012 short romantic comedy film "The Pattern". During the same year, she also portrayed Dr. Cox's girlfriend in the comedy film "The Polterguys" and featured as Elizabeth in the drama film "Devils Inside", both directed by Thomas Whelan.
In 2015, she shared the screen with Julianne Arrieta in the short comedy film "Red Soles", directed by David Winkler. It was followed by her appearances as Jenna in the thriller film "I May Regret" and Jennifer Montemar in the action-adventure crime film "Trouble Is My Business", for which she was also a writer and the producer, both in 2018. The latter earned her a Stella Adler Award for Acting as well as an L.A. Neo-Noir Erotic Film Fest for Best Actress.
Regarding her upcoming projects, it is announced that she's playing Reba Johnson in the sci-fi film "Aaah! Roach!", which is currently under post-production.
@tomkonkle and @abrittneypowell together pic.twitter.com/2V9aXxcdDJ

— Trouble Is My Biz (@NewFilmNoir) December 5, 2013
Appearance and Vital Statistics
Brittney Powell has long blonde-dyed hair and blue eyes. She stands at a height of 5ft 6ins (1.68m), her weight is around 119lbs (54kgs), while her vital statistics are 36-27-36, bra size 34C. Information about her dress and shoe size isn't available.
Personal Life
Brittney Powell was married to a man named Kevin O'Bannon, but there is no information about when and how long they were married. Nonetheless, it's known that they welcomed a son named Tyson O'Bannon. Following their divorce, in 2007 Brittney dated actor Verne Troyer, known for portraying Mini-Me in the "Austin Powers" franchise,. They remained together for more than a decade until his death in 2018, living together with her son. It's believed that she hasn't been involved in a relationship since then.