• Tiffany Lane, better known by her stage name Charli Baltimore, is an American rapper, reality TV star, and actress.
• She was in a relationship with the rapper Biggie Smalls (The Notorious B.I.G.).
• Charli has appeared in various films, talk-shows, and TV specials.
• Biggie (Christopher George Latore Wallace) was an American rapper and songwriter.
• He was shot and killed in 1997, and his second album was released posthumously.
Who is Charli Baltimore?
Tiffany Lane, better known by her stage name Charli Baltimore, was born in Philadelphia, Pennsylvania USA, on 16 August 1974 – her zodiac sign is Leo and she holds American nationality. She's a rapper, reality TV star and an actress, perhaps known best for having been in a relationship with the rapper Biggie Smalls, also known as The Notorious B. I. G.
Her stage name of 'Charli Baltimore' has been taken from the character played by Geena Davis in the 1996 spy action thriller movie "The Long Kiss Goodnight".
Early life and education
Charli was raised in Philadelphia alongside her half-sister Yolanda, by her African-American mother and a German father – as their parents spent most of their time working, the two girls had to look after each other.
Charli attended a Catholic school at which she became interested in music, especially rap, and eventually began writing her own songs but which she only showed to a couple of her closest friends. She became pregnant aged 16, but still continued in school, and matriculated in 1992. Charli took care of her child and also gave birth to her second daughter, however, she still wanted to work on her education, and thus enrolled at Pierce College from which she graduated with a Bachelor's degree in 1995.
Charli's career as a rapper
In 1995, Charli met Biggie and they started dating. After a couple of months of being together, she sent the popular rapper part of a rap song she wrote, and he encouraged her to pursue a career as a rapper.
Biggie also wanted to launch a hip hop trio The Commission, which was to include him, Charli and the rapper Jay Z, however, this never happened because Biggie was murdered in March 1997.
Following his death, Charli began working as a model, and posed nude for the magazine "Trace", but released several rap songs too, such as "Leon Huff", "Kenneth Gamble" and "Money". Her single "Stand Up" was her first to appear on the Billboard Hot Rap Singles Chart, and although Charli worked on her debut album "Cold as Ice", it was never released. The year 2002 saw her sign a contract with the record label Murder Inc. owned by the brothers Irv and Chris Gotti, and she went on to be featured in Irv's songs including "No One Does It Better", "We Still Don't Give a Fuck" and "Down 4 U".
The following year saw Charli collaborate with various rappers, such as Ja Rule on his song "The Last Temptation", Christina Milian on her song "Spending Time", and Ashanti on his single "Rain on Me". In 2003 also, she released her single "Diary", which won her a nomination for a Grammy Award for Best Female Rap Solo Performance.
In 2004, Charli left Murder Inc., and has since been working as a solo rapper, actress and model. Three of her most recent singles have been "B. M. B." and "Hunnids" both in 2013, and the 2015 "Bed Full of Money".
Acting roles
Charli made her debut film appearance in the 2000 musical comedy drama "Bamboozled", written and directed by Spike Lee, and which starred Damon Wayans, Savion Glover and Jada Pinkett Smith.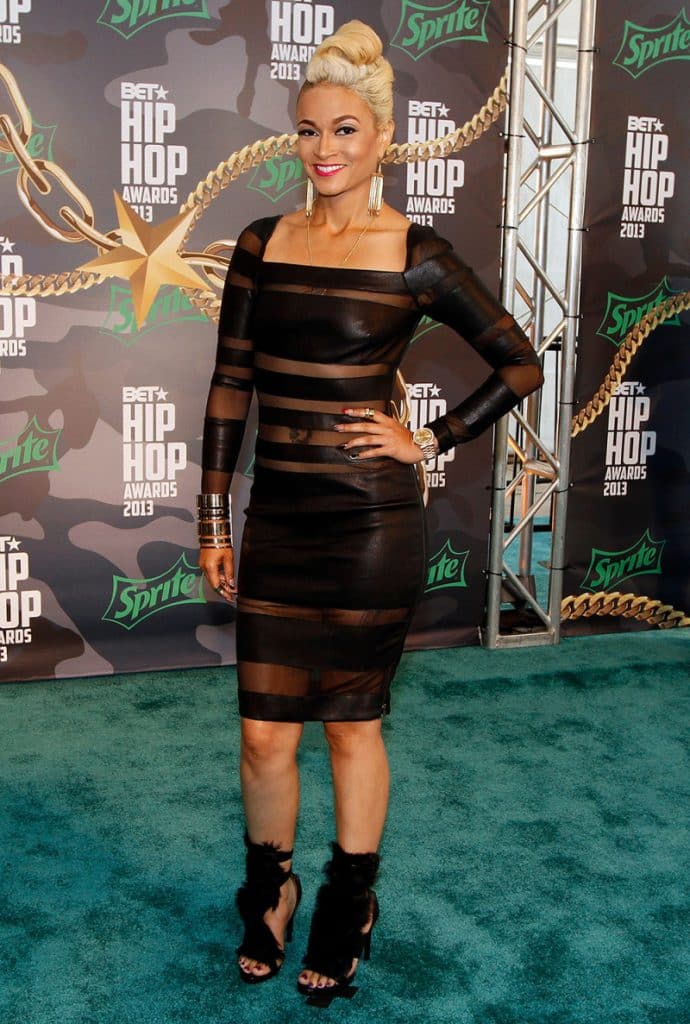 It follows an African-American writer, who creates a blackface minstrel show out of frustration, and then gets mad after it becomes a hit. The movie won one of the 11 awards it was nominated for.
In 2001, Charli was cast to portray the supporting character Trix in the musical action drama "Snipes", and in 2003 she played Hitwoman in the crime drama "Crime Partners", which received poor reviews and attracted little attention. Her following role came in 2012, when she played Cassie in the western "Gang of Roses II: Next Generation" while she also portrayed the supporting character News Reporter in the action crime drama "Changing the Game" written and directed by Rel Dowdell, and which starred Jakobi Alvin, Suzzanne Douglas and Thomas States. It follows a highly intelligent African-American man as he starts working at a prestigious Wall Street company.
Charli's following roles came in 2018, when invited to appear in the drama "Fatally Flawless", and to play Diane in the action comedy movie "The Stuff".
Charli's most recent role has been her portrayal of one of the lead characters in the 2019 short musical movie "If I Die Tonight", written and directed by Luis Castro de Leon, who also starred in it alongside Charli and Smokey Suarez. The film follows the ups and downs of musical stardom.
Other credits
Charli received special thanks for the 2002 documentary movie "Biggie and Tupac".
She has appeared in various talk-shows, such as "Charli Knows Best", "Growing Up Hip Hop: New York" and "SHFT TV Presents".
Charli could also have been seen featured in various TV specials, such as "The 8th Annual Soul Train Lady of Soul Awards" in 2002, "2013 Soul Train Awards", "BET Awards 2014".
Affair with Biggie and daughter
It is widely believed that Charli became popular only thanks to her relationship with Biggie, who was married while going out with her. They began dating in the late 1995, and the relationship ended in 1997 when Biggie was killed.
She went on to date Lance Un Rivera, who is an American record producer, film director and producer, perhaps known best for his 2004 comedy movie "The Cookout", and the 2007 comedy film "The Perfect Holiday". The two dated for several months before splitting ways for unknown reasons.
In 1999, Charli dated Jay-Z who is a famous rapper, songwriter and businessman, rated one of the best rappers of all time, and amongst the richest, as his net worth has been estimated at over $1.4 billion.
BTS…Bed full of money pic.twitter.com/RfnkYsoNiq

— charli baltimore (@CharliBaltimore) November 8, 2014
Charli and Jay-Z were together for around half a year before splitting ways.
She hasn't spoken about any other men she has perhaps been with, so as of March 2021 she's single, hasn't married and has two daughters.
Hobbies and other interests
Charli has been interested in law from a very early age, and is today a certified paralegal.
She is a dog-lover, and has a Shar-Pei pet dog called Suki, which can be seen featured in many of her Instagram pictures, while Charli's has also created a separate Instagram account just for Suki, today followed by more than 1,500 people and numbers around 75 pictures. Suki is around seven and a half years old.
She is a huge fan of tattoos, and has numerous including a big one on her left leg which stretches over her hip, and another big one on her left arm.
Charli likes to watch movies in her spare time, and her favorite actors and actresses are O'Shea Jackson Jr., Jason Mitchell and Angelina Jolie, while a couple of her favorite films are "Straight Outta Compton", "8 Mile" and "All Eyez on Me".
Age, height and net worth
Charli's age is 46. She has brown hair which she has dyed various colors including blonde and red, her eyes are brown and her height is around 5ft 5ins (1.65m), while she weighs around 120lbs (55kgs). As of March 2021, Charli's net worth has been estimated at over $500,000, while Biggie's net worth at the time of his death was estimated at over $20 million.
Who was Biggie?
Christopher George Latore Wallace was born in Brooklyn, New York City USA, on 21 May 1972 – his zodiac sign was Gemini and he held American nationality. He was a rapper and songwriter, who gained recognition with his first album "Ready to Die" released in 1994, while the following year saw him win the Billboard Music Award for Rapper of the Year.
He was raised in the Brooklyn borough as an only child by his mother, as his father abandoned the family when Biggie was two years old. His dad Selwyn George Latore was a politician and a welder, while his mother Voletta Wallace was a teacher.
Voletta worked two jobs to financially support herself and Biggie, and as a way to say 'thank you', Biggie was amongst the best students at Queen of All Saints Middle School winning various awards there. It was at Queen of All Saints that he got his nickname 'Big' as he was overweight. At the age of 12, Biggie started dealing drugs, but managed to keep this hidden from his mother until he was in his early 20s.
He started rapping while still attending elementary school, mostly to entertain his friends as well as random people in the streets. Biggie went on to attend Bishop Loughlin Memorial High School, before moving to George Westinghouse Career and Technical Education High School, but from which he dropped out a year before he was to matriculate. In 1989, Biggie was put on a five-year probation on weapon charges, but was arrested a year later for violating the probation. In 1991 he was caught selling crack cocaine, and spent nine months in jail before posting bail.
He then signed a contract with Uptown, but staying with them for only around half a year before moving on to Bad Boy Records, founded by Sean 'Puff Daddy' Combs. In 1993, Biggie's ex-girlfriend gave birth to their daughter T'yanna and he promised to take good care of her even though he was no longer dating her mother. On 4 August 1994, he exchanged vows with Faith Evans, an American singer-songwriter and actress, and five days later released his single "Juicy / Unbelievable", which peaked at #27 on the Billboard Singles Chart marking his first charting song.
Biggie's debut album "Ready to Die" peaked at #13 on the Billboard 200 Chart, and ended up being certified Platinum four times, while its single "Big Poppa" topped the US Rap Chart.
Biggie went on to befriend the late rapper Tupac Amaru Shakur, and because of his success as an East Coast rapper, Biggie became involved in the rivalry between the East Coast and West Coast rap scene; Tupac turned against him, claiming that Biggie and his friend Sean Combs were responsible for a robbery during which Tupac was shot five times and lost over $200,000 in jewelry. In June 1996, Tupac released a diss track "Hit 'Em Up" in which he claimed to had slept with Biggie's wife Faith, but Biggie didn't respond to the song, claiming it wasn't his style. On 7 September 1996, Tupac was shot in Las Vegas and died six days later in hospital – it was widely believed that Biggie paid the killers, however, this has never been proven.
On 29 October 1996, his wife Faith gave birth to their son Christopher 'C. J.' Wallace Jr.
Not long after the birth of his son, Biggie Charli and the rapper Lil' Cease rented a car with brake problems, hit a rail with it and Biggie ended up with a shattered left leg and Lil' Cease with a broken jaw. Biggie spent several months in hospital, was put into a wheelchair and then had to use a cane, while he also had to pay $41,000 for the damage he caused.
On 9 March 1997, Biggie was shot five times while waiting at a red light in a car – the killer hasn't been caught to this day. It was revealed around 15 years later that only the fifth shot was fatal, as it struck his lungs, heart and liver.
Biggie's second album "Life After Death" was released on 25 March, 16 days after his death.
In 2009, the biographical movie "Notorious" was released, directed by George Tillman Jr. and starring Jamal Woolard.