• Gabrielle Anwar is a British-American actress, best known for roles in "Burn Notice" and "Once Upon a Time"
• She is married to Shareef Malnik and lives in Palm Island, Florida
• She has Indian, English and Austrian Jewish ancestry and was educated at the Italia Conti Academy of Theatre Arts in London
• Her career began in 1986 and she has since starred in numerous films and shows, including "Scent of a Woman" in 1992 and "Burn Notice" from 2007-2013
• She has a net worth of around $6 million
Who is Gabrielle Anwar?
Gabrielle is a British-American actress, perhaps best known as Fiona Glenanne in the TV series "Burn Notice" (2007-2013) and as Lady Tremaine in the TV series "Once Upon a Time", in addition to numerous other roles she's had during her career.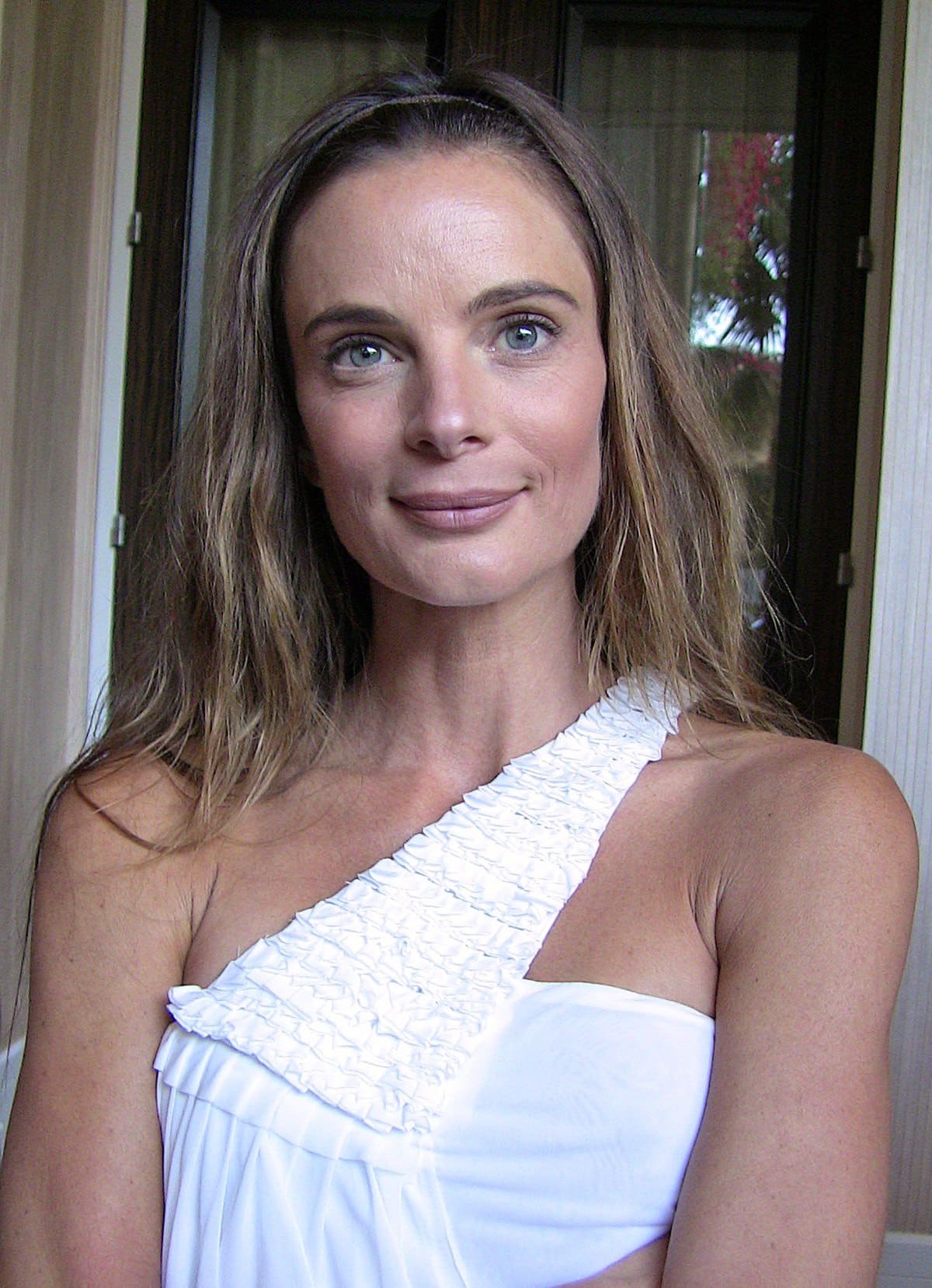 Where is Gabrielle Anwar Now?
If you look at her social media posts, Gabrielle looks like a happily married woman, living with her husband, Shareef Malnik, in Palm Island, Florida. The two are traveling the world, with their most recent destination being France; Gabrielle hasn't done much acting since 2019, but is expected to star in the thriller film "Awaken", which is scheduled for release before 2022 ends.
Gabrielle Anwar Wiki: Age, Childhood, and Education
Gabrielle Anwar was born on 4 February 1970 in Laleham, Middlesex, England, the daughter of Tariq Anwar, an Indian-born English film producer and editor, and his wife Sheeran Anwar. Of Indian, English and Austrian Jewish ancestry, Gabrielle has an older brother, Dominic Anwar.
Gabrielle attended Laleham Church of England Primary and Middle School from 1975 until 1982, but was eventually kicked out of school for fighting. She then studied drama and dance at the Italia Conti Academy of Theatre Arts in London.
Career Beginnings
Gabrielle started her career in 1986, as Tracy Wright in the TV mini-series "Hideaway", which starred Ken Hutchinson, Clare Higgins and Tony Selby, and follows a former criminal who tries to live a straight life. However, past associates are still looking for his services.
She made a one-time appearance in the Primetime Emmy Award-winning adventure family-drama series "The Storyteller" in 1987, then in 1988, she made her film debut with the role of Tina in Dusan Makavejev's romantic comedy-drama film "Manifesto", based on the novel by Emile Zola, starring Camilla Soeberg, Alfred Molina and Simon Callow.
Before the '80s ended, Gabrielle starred in the television sci-fi fantasy comedy-drama movie "Jake's Journey" (1988), about a teenager who is transported to a Monty-Pythonesque medieval fantasyland, before in 1989 appearing in three episodes of the TV series "Princess Caspian and the Voyage of the Dawn Treader".
Rise to Prominence
Gabrielle started the '90s rather successfully. She moved to Los Angeles, and her first role was as Sam Black in the TV series "Press Gang".
The following year, she played Mariska in the film "If Looks Could Kill", and starred in the romantic family-drama film "Wild Hearts Can't Be Broken", co-starring Michael Schoeffling and Cliff Robertson.
In 1992 she was Donna in the Academy Award-winning drama film "Scent of a Woman" with Al Pacino; their 'dance scene' in the film became rather popular, and she received wide praise for her performance.
Next, she starred in the sci-fi horror film "Body Snatchers", alongside Meg Tilly and Terry Kinney, based on the novel by Jack Finney about a teenage girl and her father who discover alien clones in a remote US military base in Alabama.
In 1995, she featured in the award-winning thriller crime-drama film "Things to Do in Denver When You're Dead", which starred Andy Garcia, Christopher Walken and Christopher Lloyd.
She continued her career with the lead role in the crime-thriller film "The Grave", co-starring Craig Sheffer and Josh Charles, while in 1999, she starred in several films, including the romantic comedy film "Kimberly", about four young men who fall in love with the same woman.
The 2000s and Further Success
She began the new millennium with the role of Sophie Lennon in the thriller crime-drama film "The Guilty", co-starring Bill Pullman and Devon Sawa, while in 2003 she was Catherine in the film "Water Under the Bridge".
In 2004, she was Lisa Monroe in the television movie "Try to Remember", and in 2006 she starred in the romantic thriller-drama film "9/Tenths", co-starring Henry Ian Cusick and Dave Baez. Moreover, the same year she starred in the award-winning horror-mystery film "The Marsh", alongside Louis Ferreira and Forest Whitaker.
In 2007, she was chosen for the female lead in the action crime-drama series "Burn Notice", the love interest and later wife of the series' main protagonist Michael Westen, played by Jeffrey Donovan. The series follows a former US Government agent who one day gets disavowed, and starts using his special ops training to help others in trouble, but also to find out why the government decided to burn him. She starred in all 111 episodes of the Primetime Emmy Award-nominated series, which only increased her popularity.
During her time on the set of "Burn Notice", Gabrielle worked on several other projects, including the horror crime-drama film "iMurders" (2008), co-starring William Forsythe and Tony Todd, and the television mystery movie "Carnal Innocence".
Moreover, she appeared in the action-drama film "A Warrior's Heart", with Kellan Lutz, Adam Beach and Ridge Canipe in the lead roles.
To speak further of her accomplishments, from 2017 to 2018, she portrayed Lady Termaine in the TV fantasy drama series "Once Upon a Time", and her latest on-screen appearance was in the romantic comedy film "The Last Summer", which tells the story of a group of friends who are on the brink of adulthood, as they navigate relationships and life during the last summer before college, starring K.J. Apa, Maia Mitchell and Norman Johnson Jr.
OUAT: Meet the new and returning faces
Gabrielle Anwar (Lady Tremaine)
Adelaide Kane (Drizella)

source: EW https://t.co/svEOeNXf7H pic.twitter.com/7lqJ7PcXfo

— once upon a time♡ (@weareouat) September 15, 2017
Net Worth
According to sources, Gabrielle Anwar's net worth has been estimated at close to $6 million, as of late 2022, earned through her acting career.
Personal Life, Marriage, Husband, Children
Gabrielle was in a relationship with actor Craig Sheffer from 1988 until 1995, having moved to Los Angeles with him when she was just 19 years old. The two had a daughter Willow in 1993, but after they broke-up, she married actor John Verea but remained on good terms. Moreover, Sheffer is the godfather of her two children with Verea – the couple had a daughter and a son before they divorced.
In 2010, she began dating Mark 'Shareef' Malnik, the son of Alvin Malnik, businessman and attorney. Five years later, the couple married in Montana. They don't have children.
Appearance and Vital Statistics
Gabrielle Anwar has light brown hair and gray eyes. She stands at a height of 5ft 3ins (1.6m), weighs approximately 125lbs (57 kgs), with vital statistics of 33-24-33, bra size 38B.