• Grace Phipps is a 29-year old Caucasian actress and vocal performer of South American descent
• She has had a successful acting career since 2011, with 21 acting credits
• She has three vocal performance credits, with her most successful song being "Falling for Ya" from the "Teen Beach Movie" soundtrack
• She legally changed her name to Gracie Gillam in 2017
• She has a net worth of approximately $4 million
Who is Grace Phipps?
Born Grace Victoria Phipps Padilla under the sign of Taurus on the 4th of May 1992, in Austin, Texas USA, and currently known as Gracie Gillam, Grace Phipps is a 29-year old Caucasian actress and vocal performer of South American descent. She is most famous around the globe thanks to being featured in multiple successful titles, such as "Teen Beach Movie" and "Teen Beach 2." Those aside, she has also had a multitude of other successes over the course of her often lucrative acting career since 2011.
Early life: The making of an actress
Phipps was raised in Boerne, Texas alongside a younger brother named Gilliam, by her mother Kate and her father Gilliam, whose professions remain unknown.
She was inclined to perform in multiple ways from a very early age, of which her family was quite supportive. She took acting and singing classes as a young child, mostly at The Magik Theatre, which was a children's theater in San Antonio. This drive continued after elementary school, and so she attended North East School of the Arts as part of Robert E. Lee High School, where she excelled in various activities tied to acting and singing. Phipps majored in musical theater and matriculated summa cum laude from there in 2010. She then won the Las Casas Performing Arts Scholarship Competition, and eventually attended Columbia University, where she is still studying.
Career: Jumping right into the saddle
Grace decided to move to California and pursue her dream right after high school.
Upon being scouted by an agent in Los Angeles when starring as Rizzo in a theater production of the musical entitled "Grease", she was immediately thrust into the world of film. One year after production began, she debuted on the grand screen as Bee in the 2011 comedy horror by Craig Gillespie entitled "Friday Night."
She was also cast as Amy in 10 episodes of "The Nine Lives of Chloe King" in the same year, which made for a very promising start. Phipps continued the TV show success streak in 2012, by landing another 10-episode role, this time as April Young in the highly popular drama fantasy horror TV series – "The Vampire Diaries." As her role there ended in 2013, she had another three screen appearances that year, notably as Lela in "Teen Beach Movie" – her second most popular role.
2014 continued with the same tempo for her, as she landed another two roles, before in 2015 a significant increase in Phipps' popularity, as she bagged an impressive seven roles, most prominently another appearance as Lela in the sequel of the previous film, entitled "Teen Beach 2", which is her most significant character to date.
The last six years in the business
The young actress seemingly decided to slow down after 2015, with only a single role in 2016 – Emma in the TV comedy miniseries entitled "#This Is College." Besides portraying Adrienne in an episode of "Catching a Break" in 2017, she also starred as Sgt. Lilly in 16 episodes of "Z Nation", from 2017 to 2018. Phipps starred in a short film in 2019, and her role as Melissa in "Stolen in Plain Sight" from 2020 is her latest, as of mid-2021.
This makes for a total of 21 acting credits, sure to increase eventually, as acting is her main source of income.
An honorably mentioned unexpected singing career
Grace's three vocal performance credits haven't gone by unnoticed. Her first time singing on the screen was in 2013, at which point she performed various songs in "Teen Beach Movie", while she also sang in an episode of "Austin & Ally" in 2014, and 2015's "Some Kind of Hate" and "Teen Beach 2." This also gave a significant boost to the actress' fame, as the soundtrack from "Teen Beach Movie" landed at #8 of the Billboard 200 chart of July 2013, containing "Falling for Ya", in which Grace was credited as the main artist, plus three other songs which featured her voice.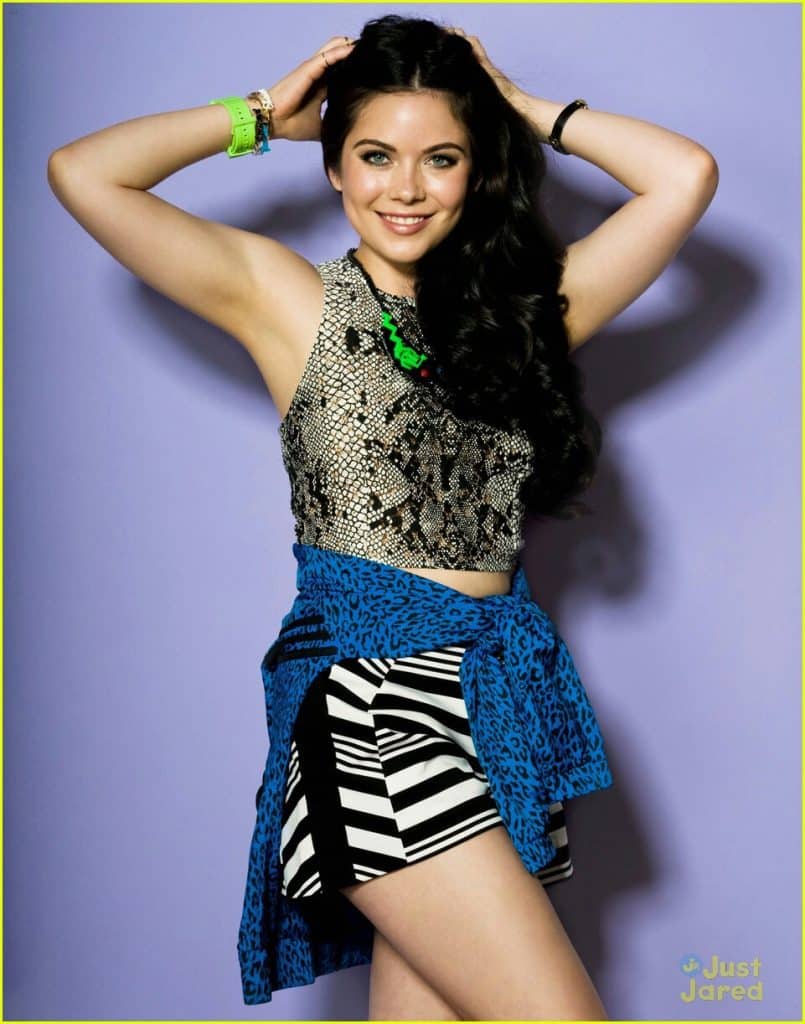 "Falling for Ya" appeared at the top of Billboard's Kid Digital charts for several weeks, and also reached the top 25 on the Heatseekers Song chart, as well as #66 on the Hot Digital Songs chart. Ultimately, "Gotta Be Me" from "Teen Beach 2" was nominated for a Teen Choice Award in the Choice Song from a Movie or TV Show category in 2015, which was a collaborative effort between Grace and her fellow actresses.
What is she doing now?
Even though Grace has gone a year without appearing on the TV screen, it's almost certain that she's just taking a well-deserved break from Hollywood for the time being. She hasn't said anything specific to the media, but it's expected that Phipps will be returning to the big screen in a near future, considering the fact that she's been aiming for stardom since she was a toddler.
It's very likely that college studies are taking a significant portion of her time, which would explain the hiatus.
Love life: Does she have a boyfriend?
As for her romantic involvements, Grace chooses not to share almost anything with the public. The only known information pertaining to her partners is a 2016 Instagram post from her own profile, which holds a confession detailing an abusive relationship in the summer of 2015. According to her words, it was a significantly older man, who had texted her only a day before the post was made, which caused the actress sufficient disgust to make her vomit violently, bursting an eye vessel in the process. She posed a selfie containing the injury and took the opportunity to speak out against hiding the violence, stating that she would 'like to think that he couldn't have that power over me.
That no one does. I didn't want to put this online at first, but then I realized that that would mean hiding for maybe three weeks 'til it heals.'
Who is Gracie Gillam? Isn't that Grace Phipps?
Grace Phipps did indeed legally change her name to Gracie Gillam in October 2017, and the reason why has been publicized by JustJaredJr.com. In a brief interview, she stated that all of her acquaintances started calling her Gracie after a few hangouts anyway, and that Gilliam is both her brother's and father's first name, as well as an old last name from her family. She decided to remove the 'i' from the name as it was already silent in pronunciation. According to her words, 'I always wanted a stage name, but somewhere between booking a gig on my sixth day in Los Angeles and begging my way into a studio apartment with a high school report card but no credit, it didn't really happen.'
What is Grace Phipps' net worth?
Most sources value Grace Phipps' accumulated wealth at around $4 million in mid-2021, garnered thanks to almost two dozen appearances across Hollywood titles, most prominently as Lela in "Teen Beach Movie" and "Teen Beach 2."
Body measurements
Grace Phipps' physical specifications are the following:
Height: 5ft 2ins (157cm)
Weight: 126lbs (57kg)
Vital statistics: 33-25-35
Cup size: B
Shoe size: 8
Dress size: 6
Hair color: Dark brown
Eye color: Blue
Complexion: Pale