• Kirsten Vangsness is an American actress and writer, best known for her portrayal of FBI technical analyst Penelope Garcia in "Criminal Minds" (2005-2020).
• She has been nominated for two Indie Series Awards, and has over 30 movie and TV series credits.
• She is openly bisexual and is currently engaged to actor and writer Keith Hanson.
• In her spare time, Kirsten enjoys travelling, working with children, and watching movies starring Julia Roberts and Meryl Streep.
• Kirsten has lost 50lbs and has an estimated net worth of over $3 million.
Who is Kirsten Vangsness?
Kirsten Simone Vangsness was born in Pasadena, California USA, on 7 July 1972 – her zodiac sign is Cancer and she holds American nationality. She's an actress and a writer who's probably known best for her portrayal of the FBI technical analyst Penelope Garcia in the mystery crime series "Criminal Minds", created by Jeff Davis, and in which she starred alongside Matthew Gray Gubler and A. J. Cook. It follows the FBI Behavioral Analysis Unit and their efforts to analyze and help catch the most dangerous serial killers in the US. It aired from 2005 to 2020 and won 23 of the 58 awards for which it was nominated, including three Primetime Emmy nominations.
Kirsten reprised her role in the series' spin-off "Criminal Minds: Suspect Behavior" in 2011, and its many short videos such as "The Profiler", "Inside the Red Cell" and "Alternate Reality: The New Criminal Minds".
Early life and education
Kirsten was raised in Porterville, California alongside her sisters Marilynn Ina and Karla Justine, by their father Errol Leroy Vangsness and mother Barbara Mary (nee Marconi).
The family eventually moved to Cerritos in California, where Kirsten enrolled at Cerritos High School from which she matriculated in June 1990. She became interested in acting while attending the school, and then continued appearing in plays after enrolling at Cypress College. Kirsten eventually switched to California State University, Fullerton's Theatre & Dance Department, from which she obtained her Bachelor's degree in 1996.
Roles in movies
Kirsten has appeared in over 30 movies and TV series, and we're about to mention more of her notable performances.
She made her debut movie appearance in the 1998 short comedy "Sometime Santa's Gotta Get Whacked", while a couple of her following roles were in the 2003 short comedy "Don't Make Me Laugh", the 2004 comedy "Annie Unleashed", and the 2006 comedy drama "A-List". She gained recognition in 2010 with her portrayal of the supporting character Madge in the mystery thriller drama "In My Sleep", written and directed by Allen Wolf, and which starred Philip Winchester, Tim Draxl and Lacey Chabert. It follows a nymphomaniac masseur who has just woken up bloody next to a knife, while police officers are ringing his doorbell; the movie won six awards.
The year 2011 saw Kirsten appear in the drama "The Chicago 8", and in the following years she starred in several short movies, including "Acquainted", "Remember to Breathe" and "Baby X".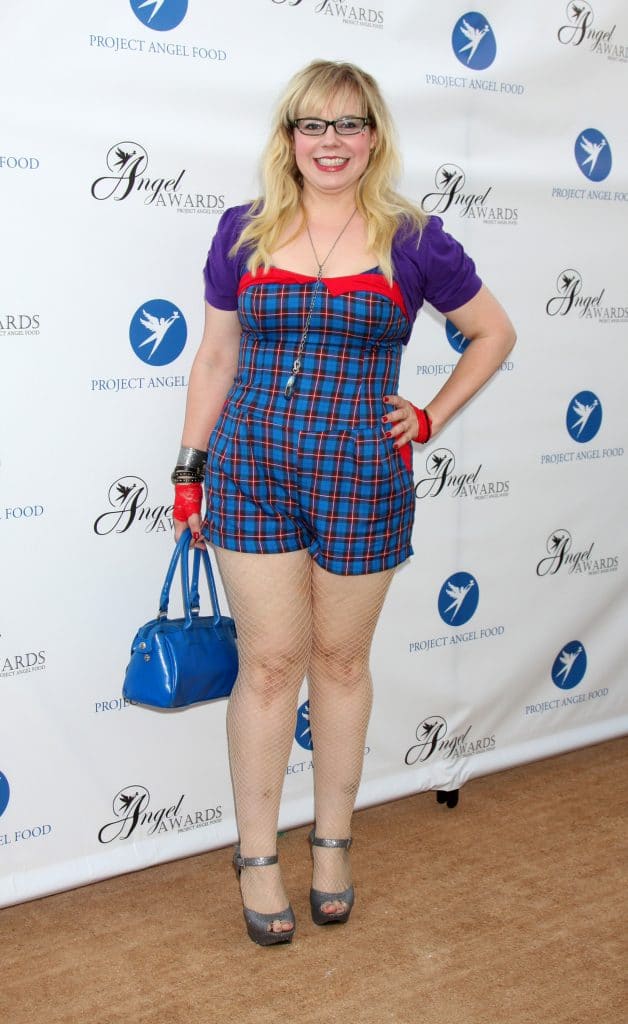 In 2017, she was cast to play Jane in the adventure fantasy comedy "Dave Made a Maze", written and directed by Bill Watterson, and which starred Meera Rohit Kumbhani, Nick Thune and Adam Busch. It follows the artist Dave, who's created a fort in his living room, which has magically turned into a maze filled with booby traps and pitfalls. The film won 16 of the 22 awards for which it was nominated.
Kirsten's three most recent roles in movies have been in the 2018 comedy "Stuck", the 2019 short animated comedy "Baby S" (voice role), and the 2020 short animated drama "Curtains" (voice role).
Roles in TV series
Kirsten made her debut TV series appearance in 2004, with her portrayal of Veronica in the episode "Age Before Beauty" of the adventure family comedy "Phil of the Future".
The following years saw her appear in an episode or two of many series, including the drama "LAX" and the comedy "Vampire Mob".
From 2010 to 2012, she played Meredith Champagne in the comedy "Pretty the Series", which starred Dee Freeman, Stace McQueen and Sam Pancake, and follows the lives of the Champagne family; the series won five of the 23 awards for which it was nominated. The year 2013 saw Kirsten play The Therapist in the episode "Dream Big" of the comedy "Good Job, Thanks!", and later that year she starred as Freaky Squeaky in the science fiction comedy "Shelf Life".
Her most recent TV series role besides "Criminal Minds" and its spin-offs has been in the 2015 episode "Now Is Not the End" of the action science fiction adventure "Agent Carter", created by Christopher Markus and Stephen McFeely, and which starred Hayley Atwell, James D'Arcy and Enver Gjokaj.
It follows Peggy Carter who has been hired by Howard Stark, a politician who has been accused of treason, to help clear his name. The series was nominated for 14 awards.
Other credits
Kirsten has one directing, two writing and three producing credits. In 2011, she produced three episodes of the comedy "Pretty the Series", and in 2015 the historical mystery comedy movie "Kill Me, Deadly". In 2018, she produced six episodes of the comedy series "Honestly Charlotte: The Series", and concurrently between 2015 and 2020 wrote five episodes of the series "Criminal Minds". In 2020, she both wrote and produced the short film "Curtains".
Kirsten sang the song "Old MacDonald Had a Farm" in the 2013 episode "The Gathering" of the series "Criminal Minds".
Kirsten has been featured in numerous documentaries, including the 2008 short film "Shemar Moore: Criminal Minds' Wild Ride", the 2010 short video "Criminal Minds Season 5: Case Files – Break", and the 2016 series "From the Mouths of Babes".
She has made a guest appearance in many talk-shows, such as "Second City This Week", "Extra with Billy Bush" and "Megyn Kelly Today".
Awards and nominations
Kirsten has been nominated for two Indie Series Awards: in 2011 for Outstanding Supporting Actress, and in 2013 for Best Supporting Actress (Comedy), both for her performance in "Pretty the Series".
Love life and husband
Kirsten's openly bisexual, and doesn't have a problem with sharing the details of her love life with the public.
In 2009 she met Melanie Goldstein who's an editor, and the two began dating not long after that.
They became engaged in either late 2012 or early 2013, while Kirsten has stated that she never dreamed about having a fiancée or being someone's fiancée. the two split in mid-2013 for unknown reasons.
In 2015, she fell in love with the American actor and writer Keith Hanson, and they became engaged not long after that, however, it's been over four years and the two haven't exchanged vows. When asked in an interview about her relationship with Keith, Kirsten responded by saying 'Love is messy'. The two are still together but as Kirsten has explained, she's the worst at planning, so it's not known whether they might exchange vows.
As of April 2021, Kirsten's engaged to Keith Hanson, hasn't married and doesn't have children.
Hobbies and other interests
Kirsten's interested in numerous activities and jobs, instead of focusing solely on acting. She likes working with children, and is a child counselor and a substitute teacher. She's also a grant writer, personal assistant and a restaurant hostess.
Kirsten's passionate about travelling, and her acting career has taken her all around the US, while she's also been to several European countries. Her father's from Norway and her mother's from Italy, which is why she chose to visit these countries first.
She's a cat-lover, and her three pet cats can be seen featured in many of her Instagram pictures. Kirsten's fond of her Instagram account, as she's followed by more than 1.2 million people.
In her spare time which is usually late at night, Kirsten enjoys watching movies starring her favorite actresses Julia Roberts and Meryl Streep, such as "Notting Hill", "The Runaway Bride" and "Kramer vs. Kramer".
Weight loss
At the launch of her acting career, Kirsten was a bit overweight, and because of some of the negative comments regarding her weight, she decided she would start exercising and follow a strict diet. She has since lost 50lbs (22kgs) and has on various occasions talked about her journey, trying to encourage other women who might want to lose weight.
Age, height and net worth
Kirsten's age is 48. She has long blonde hair and brown eyes, her height is 5ft 7ins (1.7m) and she weighs around 150lbs (68kgs).
As of April 2021, her net worth has been estimated at over $3 million.