Who is Melody Anderson?
Melody Anderson was born on 3 December 1995 under the sign of Sagittarius, in Edmonton, Alberta, Canada, and is a 65-year-old social worker and public speaker. She is also known for being a retired actress, who gained popularity for landing the role of Dale Ardent in the cult space opera film "Flash Gordon" (1980), and featuring as Patricia Goodwin in the action-adventure comedy film "Firewalker" (1986).
How rich is she, as of now? Melody Anderson Net Worth
As of late 2020, Melody Anderson's net worth is over $3 million, acquired largely through her successful involvement in the film industry as a professional actress, who appeared in 36 television and film titles during her acting career which lasted from 1977 to 1995.
She has also increased her wealth working as a public speaker and social worker.
Early Life, Parents, Nationality, Ethnicity
Melody Anderson spent her early years in her hometown of Edmonton, where she was raised by her parents; however, their names and professions haven't been disclosed to the public. It is also unknown whether she has siblings or not. Melody holds Canadian nationality and belongs to White Caucasian ethnic group.
Pre-Acting Career
After completing her high school education, Melody enrolled in Carleton University in Ottawa, Ontario, from where she obtained her Bachelor's degree in Journalism. Prior to becoming an actress, Melody spent a brief time working as an on-air reporter for the Canadian Broadcasting Corporation.
Thereafter, she travelled to South-east Asia and Australia to pursue her reporting career there, becoming the first non-Australian female reporter to work for a Sydney newspaper.
Career Beginnings on TV and Film
After returning to North America, Melody started pursuing her acting career. According to her IMDB profile, Melody Anderson made her debut appearance as Blonde Sweathog in the episode "Sweathog Back-to-School Special" of the ABC sitcom "Welcome Back, Kotter" (1977), after which she landed the small role of Shelia in the episode "Carousel" of the CBS sci-fi series "Logan's Run" (1978).
Her Breakthrough
In 1979, Melody featured as Julie in the ABC comedy-drama film "Pleasure Cove" alongside famous singer Tom Jones, and played Bonnie in the ABC biographical film "Elvis", starring Kurt Russell as Elvis Presley.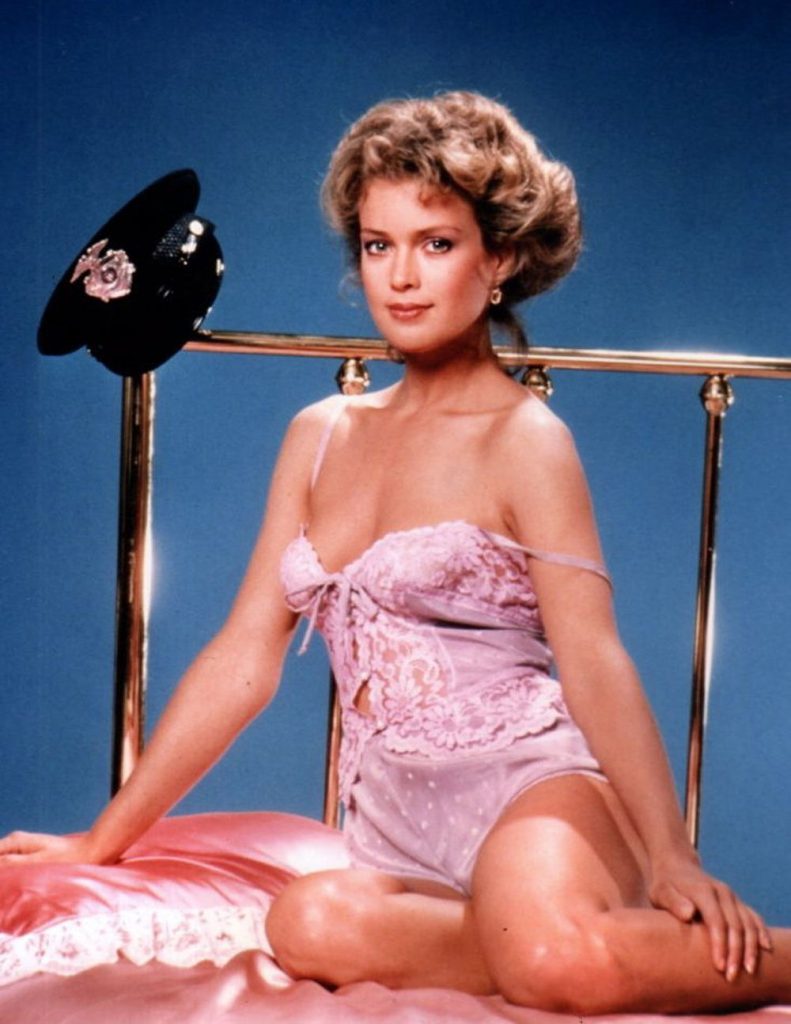 During the same year, she guest-starred as Brenda Maxwell in an episode of the ABC sci-fi series "Battlestar Galactica", created by Glen A. Larson, and Toni in an episode of the NBC comedy series "B. J. And The Bear".
She gained enormous popularity after landing the lead role of Dale Arden in the 1980 space opera cult film "Flash Gordon", directed by Mike Hodges, followed by her portrayal of Janet Gillis in Gary Sherman's 1981 slasher film "Dead And Buried". In 1982, she landed the small roles of Mary in two episodes of the ABC action-adventure series "The Fall Guy", and Linda Farlow in an episode of the CBS prime time soap opera "Dallas". She also guest-starred as Kate Nichols in an episode of the ABC/CBS police drama series "T. J. Hooker", and Cheryl in an episode of the CBS sitcom "Archie Bunker's Place", also in 1982.
Rise to Fame
After guest-starring as Emily in an episode of the NBC crime drama series "CHiPs" and Avon in an episode of the NBC action-adventure series "The A-Team", Melody was chosen to feature in the recurring role of Nurse Jill Roberts in the NBC medical drama series "St. Elsewhere", all in 1983. Later that year, she played Jennifer Oaks in the NBC drama film "Policewoman Centerfold", and then joined the main cast of the NBC action-adventure series "Manimal", starring in the lead role of Brooke McKenzie. It was followed by her portrayals of Edie Adams in the made-for-TV biographical drama film "Ernie Kovacs: Between The Laughter" and Cindy Franklin in the made-for-TV comedy film "High School U.S.A.", both in 1984.
Continued Success
In 1986, Melody was quite busy, landing the role as Dulcie in the drama film "The Boy In Blue" alongside Nicolas Cage, portrayed Patricia Goodwin in J. Lee Thompson's action-adventure comedy film "Firewalker" with Chuck Norris, and featured as Claudia Winston in the NBC drama film "Beverly Hills Madam", directed by Harvey Hart. During the same year, she also guest-starred as Lauren Moffat in the episode "Triangles" of the ABC prime time soap opera "Hotel", and Rhonda Farr in the episode "Blackmailers Don't Shoot" of the HBO mystery series "Philip Marlowe, Private Eye".
Roles in the Late 1980s
Thereafter, Melody played Julianne Wakefield in the made-for-TV drama romantic film "Deep Dark Secrets" in 1987.
Two years later, she guest-starred as Katherine Aaron in the episode "Prediction: Murder" of the CBS crime drama series "Murder, She Wrote", and Sterling in the episode "The Cruelest Cut" of the HBO mystery horror anthology series "The Hitchhiker", and then portrayed Lea Roberts in the action comedy film "Speed Zone", directed by Jim Drake.
By the end of the decade, Melody had also landed the roles of Kate Davis in the 1989 made-for-TV crime drama film "Final Notice", along with Gil Gerard, and Sharon Franklin / Mary Lipscomb in the 1990 made-for-TV sci-fi thriller film "Hitler's Daughter".
The 1990s and Retirement
Melody's first role in the new decade came when she portrayed Cathy Meadows in the 1991 action comedy film "Under Surveillance", after which she was cast as Neely Capshaw in the crime drama series "Jake And The Fatman" (1991-1992), aired on CBS. It was followed by her starring in the role of Clair Trinavant in the 1992 drama thriller film "Landslide", directed by Jean-Claude Lord. She then joined the cast of the ABC soap opera "All My Children", portraying Natalie Marlowe Dillon and her twin sister Janet Dillon from 1992 to 1993, appearing in more than 60 episodes. She then played Marilyn Monroe in the made-for-TV drama film "Marilyn & Bobby: Her Final Affair" (1993), and guest-starred as Alexandra Kohl in an episode of the CBS crime drama series "Burke's Law" (1995), after which she retired from acting.
Post-Acting Career
Following her retirement, Melody pursued a career as a social worker, and public speaker. She is licensed as a Certified EMDR Clinician/EMDR Therapist in California as well as a Licensed Clinical Social Worker (LCSW) in California and New York, owning private practices in West Los Angeles and Manhattan respectively. Melody is also an international media spokesperson on the impact of addiction on families.
Appearance and Vital Statistics
Melody Anderson has long blonde hair and blue eyes. She stands at a height of 5ft 7ins (1.70m), while her weight is 120lbs (55kgs), and her vital statistics are 34-27-34, bra size 32B, and dress size 6 (US). Her shoe size isn't available.
Personal Life
Melody Anderson tends to keep her private life far away from the eye of the public. Nonetheless, it is known that she has never been married, and doesn't have children. Melody is currently single, and her residence is in New York City.