• Rachel Boston is an American actress
• She is best known for her role as Beth Mason in the TV series "American Dreams" and Ingrid Beauchamp in "Witches of East End"
• Rachel has had exclusive contracts with Hallmark in recent years and is currently in her early 40s
• She is in a romantic relationship with celebrity chef Toyla Ashe, and they have a daughter named Grace
• Rachel has red hair, green eyes, and stands at a height of 5ft 9ins (1.75m)
Who is Rachel Boston?
Rachel Boston is an American actress, perhaps best known to the world as Beth Mason in the TV series "American Dreams" (2002-2005), and as Ingrid Beauchamp in the TV series "Witches of East End" (2013-2014), among several other roles that she has had in her career.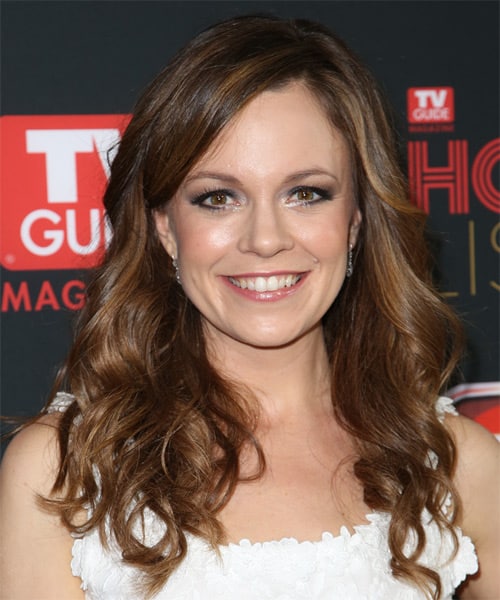 Where is Rachel Boston Now?
Rachel is now in her early 40s, and enjoying some of the best years in her career. She has an exclusive Hallmark contract, and in recent years, has appeared chiefly in Hallmark TV movies, her latest role being as Annie Cooper in the romantic comedy movie "A Christmas Cookie Catastrophe" in 2022.
Rachel Boston Wiki: Age, Childhood, and Education
Rachel Elizabeth Boston was born on 9 May 1982, in Chattanooga, Tennessee, USA. She's the daughter of William Terry Boston, executive vice president of power system operations for the Tennessee Valley Authority, and his wife Brenda Billingsley Boston. She has two brothers, Brian and Andrew.
She spent her childhood in Signal Mountain, Tennessee but after attending Girls Preparatory School in her hometown, moved to New York at 17 years old, to attend New York University. Later, she took classes at The Actor's Center to hone her acting skills.
Before launching her acting career, Rachel was named Miss Tennessee Teen USA in 1999, and participated in the national pageant in which she made it into the top 10.
Career Beginnings and Instant Fame
Rachel launched her career in 2001, as Tina in the TV series "The Andy Dick Show". The following year, Rachel secured the role of Beth Mason in the TV family drama series "American Dreams", which follows a family and their life and struggles of the '60s era. Rachel's character is the girlfriend of the oldest son in the family, known as JJ, who is sent to the Vietnam War; the two eventually marry when JJ is returns. She starred in 57 episodes of the Primetime Emmy Award-winning series, launching her to stardom quite early in her career.
American Dreams!!! Ahhh!!! Just found this photo, and it made me so happy ❤️ #flashbackfriday #1963 @nbc https://t.co/AiPKpccyhm pic.twitter.com/Dmscu3tJ1m

— Rachel Boston (@rachelboston) March 4, 2017
When "American Dreams" ended, Rachel continued her career with a string of one-time appearances in such TV series as "The Closer", "Love, Inc.", "NCIS", "Rules of Engagement", and "Curb Your Enthusiasm", among others.
In 2007 she was April Tarnoff in the television movie "The News", co-starring Jay Harrington and Tim Conlon, while in 2008, she portrayed Alison in the award-winning romantic comedy-drama film "500 Days of Summer", starring Zooey Deschanel, Joseph Gordon-Levitt, and Geoffrey Arend. From 2008 to 2009, she portrayed Daphne Bloom in the short-lived romantic comedy-drama series "The Ex List".
Next, Rachel appeared in the award-winning romantic fantasy-comedy film "Ghosts of Girlfriends Past", which starred Matthew McConaughey, Jennifer Garner and Emma Stone, then in 2010, Rachel starred in Aaron Michael Metchik's comedy-drama film "10 Years Later", while in 2011, she secured another high-profile role, as free-spirited Mindy in the award-winning romantic comedy-drama film "The Pill", which follows Mindy and Fred as they fear that Mindy became pregnant after their one-night stand. As a result, Fred remains with her for the next 12 hours, acting like he is in love with her, only to make sure she takes both doses of the morning-after pill. Rachel won San Diego Film Festival Award in the category for Best Actress, and the Stargazer Award at the Gen Art Film Festival.
The same year she started playing Detective Abigail Chaffee in the long-running TV mystery crime-drama series "In Plain Sight", which co-starred Mary McCormack, Frederick Weller and Paul Ben-Victor. Furthermore, she starred in the award-winning Todd Berger's comedy-drama film "It's a Disaster", alongside Laura Adkin and Kevin M. Brennan, and was the female lead in the mystery thriller-drama film "Blind Turn", about a woman who's kidnapped by a man she knows from her dark secret past, co-starring Jay Dee Walters and John Gabriel Rodriguez.
Continued Success
She was pretty busy in 2013, portraying Ingrid Beauchamp in the award-winning fantasy horror-drama series "Witches of East End", co-starring Julia Ormond and Jenna Dewan, about two sisters who learn that they're witches as well as their ancestors, and have to fight a mortal enemy.
Next, she starred in the comedy film "Who the F Is Buddy Applebaum", and starred in the romantic drama film "Black Marigolds", written and directed by Lance Malbon and co-starring Noah Bean and Paul Ben-Victor, which follows married couple Ryan Cole, a writer and Kate, who go on a vacation to an isolated house where he plans to finish his novel. However, a devastating mental illness changes their plans.
From 2014 onwards, Rachel appeared in a number of Hallmark movies; some of the titles include "A Gift of Miracles" (2015), "Stop the Wedding" (2016), "Christmas in Angel Fails" (2017), and "Dating the Delaneys" (2022), among several other titles.
In addition, Rachel featured in several other projects in the second half of the 2010s. She was Sydney Bartlett in the comedy-adventure film "I Hate Kids", about a man and his lost son, who is now a teenager and looking for his father. The man doesn't know who the child's mother is, and starts visiting all his past girlfriends from 14 years ago; it starred Tom Everett Scott, Tituss Burgess and Julian Feder.
Moreover, from 2020 to 2021, Rachel portrayed Hannah Oliver in the Primetime Emmy Award-nominated action war-drama series "SEAL Team", which follows the lives of the elite Navy SEALs, their training, and mission executions.
Net Worth
According to authoritative sources, Rachel Boston's net worth is estimated at $4 million, as of early 2023.
Personal Life, Dating, Married, Husband, Single?
Rachel is rather secretive about her love life, however, according to sources, she's in a romantic relationship with celebrity chef Toyla Ashe. The two became engaged in June 2021, and have a daughter named Grace together.
Appearance and Body Measurements
Rachel Boston has red hair and green eyes. She stands at a height of 5ft 9ins (1.75m), weighs around 125lbs (56kgs), and her vital statistics are 32-23-33, her bra size 32A.
Hobbies, Interests, and Trivia
Growing up, Rachel was interested in music and participated in school and church plays. She's also skilled at several musical instruments, including guitar, piano and glockenspiel.