• Peyton Kennedy is a young Canadian actress
• She studied in an unnamed high school in June 2021 and is passionate about robotics
• She made her debut in 2012, playing Gwen Pelway in "An Officer and a Murderer"
• She has over 360,000 followers on Instagram and has won several awards
• She is an ally of the LGBTQ community and enjoys traveling, swimming, reading, and writing
Peyton Kennedy is a young Canadian actress, who has made a name for herself in the acting profession with her portrayal of Betty Nelson in the popular TV series "Grey's Anatomy", and as Dr. O in "Odd Squad". The young actress loves to portray strong female characters, while advocating for the representation of the minority on TV. Find out all you need to know about the star actress in this detailed biography.
Early Life, Family, Educational Background
Peyton Kennedy was born on 4 January 2004 under the zodiac sign of Capricorn, in Toronto, Ontario Canada, where she was raised by her parents. Ms. Kennedy is of the White Caucasian ethnicity, and holds Canadian nationality.
The names of Peyton's parents remain a mystery, as do her siblings', if any. For Peyton Kennedy, the love for acting was ignited at age six, when she read the Harry Potter novel series, and watched its screen adaptation at the same time. Peyton attended her first Canadian Model and Talent Convention (CMTC) audition at age seven, and her performance in the audition helped land her first movie role the following year.
Not much is known about her early life and educational background. However, unlike many child actors, Peyton Kennedy earnestly pursued her education, and matriculated from an unnamed high school in June 2021.
However, it's unknown whether she has decided to go to college or not, but this seems unlikely, as she lived in Canada with her family until her acting career took off, and then moved to the US.
Peyton Kennedy made her acting debut at age eight, playing a minor role in "An Officer and A Murderer" (2012),
Peyton once mentioned that if she wasn't an actress, she'd probably study robotics, as she's fascinated by the art of building robots, and has several play kits for this purpose.
Let's get into Peyton's career in the next section.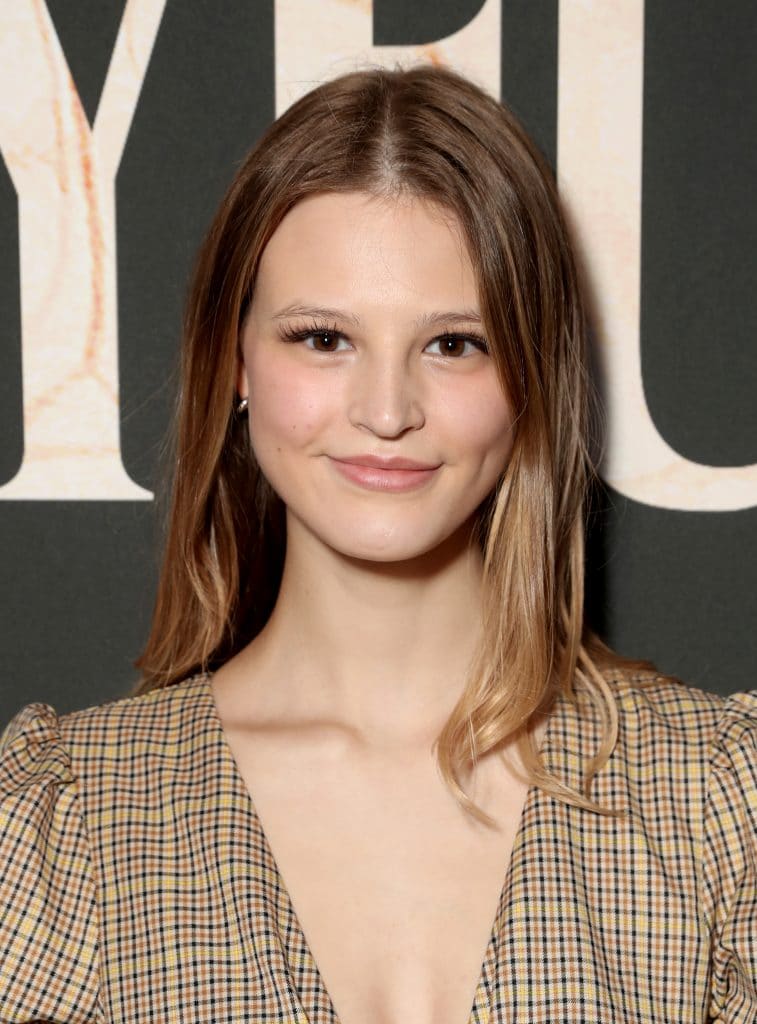 Career
Acting Career
Peyton Kennedy made her on-screen debut in 2012, playing Gwen Pelway in "An Officer and a Murderer", opposite Zoe De Grand Maison, Gary Cole, and Laura Harris, and hasn't looked back since then. Subsequently, she played minor roles in other movies such as "To Look Away" (2013), "Dorsal" (2014), and "The Captive" (2014). In 2016, she landed the major role as Gitty, an 11-year old farm girl with divided loyalties in "American Fable". Anne Hamilton wrote and directed the film, starring actors such as Kip Pardue and Marci Miller.
She has since starred in other movies, including in 2017 "XX", "Sunny Side Up" and "What the Night Can Do" a coming-of-age film in which she portrayed the character of Luana Cole, a 12-year old struggling to understand the world collapsing around her.
Peyton Kennedy made her television debut in 2013, playing Clara Purvis in a single episode of BBC America's period drama, "Copper". Subsequently, she appeared in other TV series such as "Hannibal" (2014), "Between" and "Murdoch Mysteries" both in 2015, and "Taken" in 2017.
From 2014 through 2017, Peyton Kennedy had a recurring role in "Odd Squad", a PBS kid show, in which she played Dr. O for 28 episodes. She reprised her role in its 2016 sequel, "Odd Squad: The Movie".
Over the next few years, she landed a lead role in the teen drama "Everything Sucks!" (2018), portraying Kate Messner, the teenage daughter of the principal of Boring High School, who comes to terms with her sexuality, starring in the drama alongside Jahi Di'Allo, Patch Darragh, and Sydney Sweeney.
It was initially aired on Netflix, but was canceled after two months because the audience rating wasn't promising.
She briefly appeared in "Grey's Anatomy" (2018-19), and in 2020, portrayed Whitney Walker in the narrative podcast, "Borrasca".
Peyton Kennedy has won several awards, her first at age 10 at the Young Artist Awards for her performance in "To Look Away" (2013), then several Joey Awards for her role in "Odd Squad" and Best Breakout Performance at the Canadian Film Festival (2017).
In summary of her acting career, Ms. Kennedy says, 'when your work affects someone's life and makes them feel better about themselves, that's the most rewarding thing that could happen for an actor'.
Social Media Personality
Peyton got into the entertainment scene as a child, so her fame has only increased over the years, as most of her fans witnessed her growth. She is verified on Instagram, where she has over 360,000 followers – like so many other teenagers of Gen Z, Peyton has leveraged her popularity on social media to amass even more wealth. She now collaborates with various brands to promote their products and services.
Personal Life, Relationship
After Peyton's portrayal of Kate in "Everything Sucks", rumors started circulating that she's a lesbian, however, she has yet to deny nor confirm the rumors. However, Peyton is passionate about many projects, of which the LGBTQ community is one.
For her Sweet Sixteen birthday party, she teamed up with the Trevor Project, which aims to provide mental health support to queer youth under 25.
Although a die-hard lover of pasta and frozen yogurt, Peyton maintains a slender figure and probably works out often.
Ms. Kennedy seems single, as she is yet to hint at a love interest. She lives in Los Angeles, with her family and her cat, Tiki.
Appearance, Clothing Style
Peyton Kennedy stands at the height of 5ft 9ins (1.75m) and weighs about 120lbs (55kgs). She has long blonde hair and a pair of brown eyes.
Ms. Kennedy loves long flowery dresses, tank tops, and the occasional bikini. She also mentioned that she's obsessed with high-rise bootcut jeans.
Hobbies, Favorite Things, Interesting Facts
Peyton is a huge fan of the rock band Wallows.
She loves frozen yogurt.
Her favorite movie is "The Sixth Sense".
Peyton's best colors are pale pink and green.
Her favorite sports are soccer and baseball.
She enjoys being outdoors, especially in the woods, but also loves spending time at the beach
Peyton's hobbies are traveling, swimming, reading, and writing.
She's an ally of the LGBTQ community.
Net Worth and Salary
As of late 2021, Peyton Kennedy has a net worth estimated at well over $1 million, amassed from her years in the entertainment scene, which is impressive given that she is still only 17 years old. There are currently no details of property owned by Peyton Kennedy and her family.