Who is Scarlett Pomers?
Scarlett Pomers was born in Riverside, California USA, on 28 November 1988 – her zodiac sign's Sagittarius and she holds American nationality. She's an actress and a singer, who's probably known best for her portrayal of Naomi Wildman in the action adventure science fiction series "Star Trek: Voyager", created by Jeri Taylor, Michael Piller and Rick Berman, and which starred Kate Mulgrew, Robert Beltran and Roxann Dawson. It follows a Starfleet ship which has been teleported to the far side of the galaxy, and now has to find its way back home. The series aired from 1995 to 2001 – Scarlett joined the cast in 1998 – and won 33 awards including seven Primetime Emmys, while it was nominated for 84 other awards.
Scarlett quit acting in 2010, and turned to focusing on work as a photographer and a jewelry designer.
Early life and education
She was raised in Riverside alongside her brother Shane by their mother Michelle, and their father about whom nothing is known, as Scarlett hasn't spoken of him; some of her fans believe that he abandoned the family when Scarlett was still very young.
She was just three years old when a talent agent told her mother that Scarlett should venture into acting. She signed a contract with the agent's company, but did only small jobs because her mother wasn't happy with the agent, however, she still appeared in the Michael Jackson's music video "Heal the World".
After they found an agency they both liked, Scarlett re-launched her acting career in 1995 aged six, when she portrayed Claire Weber in the episode "Adventures in Babysitting" of the romantic family comedy "Step by Step".
The same year saw her appear in the episode "Suspect" of the family comedy "The Secret World of Alex Mack", and also in two movies: the family comedy "The Baby-Sitters Club", and the thriller drama "Indictment: The McMartin Trial".
Scarlett went on to act throughout her entire education. She attended a local elementary school, and then progressed to a high school at which she became addicted to working out. Upon matriculating in 2006, she chose not pursue a college degree but to find work and earn money.
Roles in TV series
In 1996, Scarlett guest starred as Penny in the episode "The Sky Is Falling" of the family fantasy drama "Touched by an Angel", and the following years saw her appear in an episode of various series, such as the family comedy "The Jeff Foxworthy Show", the action crime comedy "Martial Law" and the science fiction action drama "Seven Days".
In 1999, she was cast to portray Angie in the episode "The Heart of Christmas" of the family drama "Chicken Soup for the Soul", and the same year saw her appear in the episode "Santa Claude" of the mystery crime drama "Diagnosis Murder", created by Joyce Burditt and which starred Dick Van Dyke, Barry Van Dyke and Victoria Rowell. It follows the homicide detective Steve and his father Dr. Mark Sloan as they're solving crimes; the series aired from 1993 to 2001, and was nominated for five awards including a Primetime Emmy. Scarlett's following roles were in the romantic drama "Providence", the sports comedy "Hang Time", and the drama "Judging Amy". In 2001, she was cast to play the supporting character Abigail Leski in the comedy drama "That's Life", which follows a New Jersey bartender who dumps her fiancé to enroll at college.
Scarlett's final role in a TV series before retiring from acting was her portrayal of Kyra Hart, one of the lead characters in the comedy drama "Reba", created by Allison M. Gibson and which also starred Reba McEntire, Steve Howey and JoAnna Garcia Swisher. It follows a single mother who's raising her three children in Houston; the series aired from 2001 to 2007 and won three of the 17 awards it was nominated for, including a Golden Globe.
Roles in movies
In 1998, Scarlett played Lucy in the family comedy "Slappy and the Stinkers", while the same year saw her portray Charlotte in the hit action family adventure "Mighty Joe Young" which starred Bill Paxton, Charlize Theron and Rade Serbedzija, and follows the mountain gorilla Joe who's taken to an animal sanctuary, while poacher Strasser wants to have his revenge on Joe. The film won one of the five awards it was nominated for, which included an Oscar.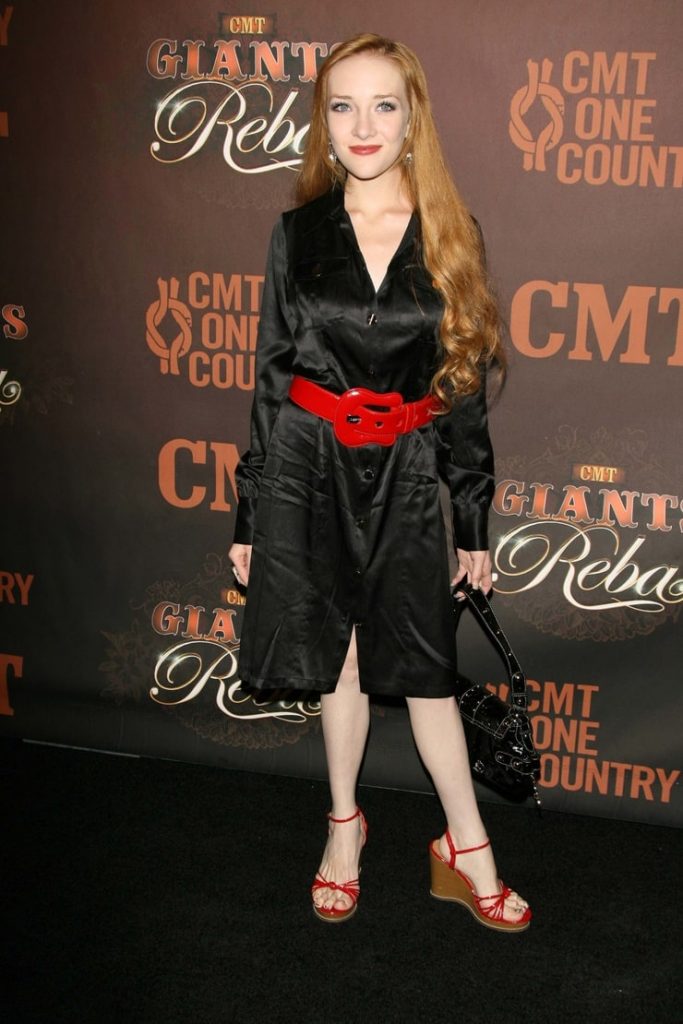 The year 1999 saw her appear in the critically acclaimed romantic crime drama "Happy, Texas", which starred Jeremy Northam and Steve Zahn and won six of the 12 awards it was nominated for. Scarlett then made her voicing debut in the same year, when she voiced Carrie in the family crime comedy "Baby Geniuses", but which received poor reviews. She went on to star in the short drama "Children of a Laughing God", and Scarlett then played Shanna Jensen in the hit 2000 biographical drama "Erin Brockovich" written by Susannah Grant, directed by Steven Soderbergh, and which starred Julia Roberts, Albert Finney and David Brisbin. The movie follows a single mother as she manages to take down a power company in California which has been accused of polluting the city's water. It won 33 awards including an Oscar for Best Actress in a Leading Role for Julia Roberts, and was nominated for 59 other awards.
Scarlett's final film role before retiring from acting was her portrayal of Suzy Austin in the 2002 romantic family drama "A Ring of Endless Light", which attracted little attention and received mixed reviews.
Other credits
Scarlett sang the song "Oh So Quiet" in the film "Happy, Texas", and wrote and sang "Sweet Lunacy" in the episode "Spies, Lies and Alibis" of the series "Laguna Beach: The Real Orange County", as well as in two episodes of the series "House of Jazmin".
Scarlett appeared in three theatre plays: "Ruthless!" performed at Anne Geddes/Morgan-Wixson Theater, "I'll Be Home for Christmas" at X-Mas Productions, and "Someone to Count On" played at St. Paul's Theatre.
She made a guest appearance in various talk-shows, including "The Reichen Show", "Today" and "The Tyra Banks Show".
Awards and nominations
Scarlett was nominated for nine Young Artist Awards winning five. She won a 1996 award for Best Performance by an Actress Under Ten – Feature Film for "The Baby-Sitters Club", a 1997 award for Best Performance in a Drama Series – Guest Starring Young Actress for "Touched by an Angel" and a 1999 award for Best Performance in a Feature Film – Young Ensemble for "Slappy and the Stinkers" (shared with four colleagues).
The other two Young Artist Awards she won were for Best Performance in a TV Drama Series – Supporting Young Actress in 1999 for "Star Trek: Voyager", and for Best Performance in a Feature Film – Young Actress Age Ten or Under in 2000 for "Happy, Texas".
In 2002, Scarlett was nominated for a Best Performance in a TV Comedy Series – Supporting Young Actress Award and in 2003, '04 and '05 for a Best Performance in a TV Series (Comedy or Drama) – Leading Young Actress Award, all for "Reba".
Love life and relationships
Scarlett has been keeping the details of her love life to herself, however, it's known that she was in a relationship with Jonathan Taylor Thomas. The two met back in 2009, and could've been seen eating together at fancy restaurants, holding hands and kissing in the streets. Jonathan's a popular actor and a film director, perhaps still known best for his portrayal of Randy Taylor in the critically acclaimed sitcom "Home Improvement", while's he's also known for having voiced young Simba in the 1994 animated musical movie "The Lion King", and Pinocchio in the 1996 animated fantasy movie "The Adventures of Pinocchio".
Scarlett and Jonathan were together for five years before splitting in 2014 for unknown reasons. She hasn't mentioned anyone else she has perhaps been with, and as of March 2021, she's single, hasn't married and doesn't have children.
Health issues
In the second half of 2015, Scarlett was diagnosed with anorexia nervosa, weighing just 73lbs (33kgs) – at that time she was exercising nearly every day for around six hours. She checked into a treatment facility and stayed there for around two months, during which she was absent from the series "Reba". Scarlett then became an ambassador for the National Eating Disorder Association, and has since helped gather money for those who are suffering from anorexia nervosa, but are unable to pay for treatment.
Hobbies and other interests
Since June 2006, Scarlett has been a practitioner of Kundalini Yoga, which she became interested in after reading a book about Gurmukh Kaur Khalsa who's a teacher of Kundalini Yoga. She eventually became a teacher herself, and has stated in an interview: "Yoga always made me feel really good about myself. It was the final step of letting go of the demon."
Scarlett released her one and only extended play (EP) on 7 January 2010 entitled "Insane".
Her favorite season is winter, as she's an avid skier and snowboarder. Scarlett likes summer as well, as she's a surfer and enjoys sun-tanning at the beach and swimming in the ocean.
She's keen on travelling, and her acting career took her to many US states, various European countries as well as several cities in Australia, where she learned to surf.
Scarlett has her own favorite actors and actresses, some of whom are Will Smith, Robert De Niro and Julia Roberts, and a couple of her favorite movies are "I, Robot", "Independence Day" and "Taxi Driver".
Age, measurements and net worth
Scarlett's age is 32. She has long ginger hair and blue eyes, her height is 5ft 3ins (1.6m) and she weighs around 110lbs (50kgs).
As of March 2021, her net worth has been estimated at over $2 million.