• American actress and singer Shawnee Rebecca Smith born in Orangeburg, South Carolina
• Starred as Meg Penny in the 1988 horror science fiction thriller movie "The Blob"
• Played roles in various movies and TV series, including "Becker", "Anger Management", "Saw", and "The Stand"
• Former member of the country duo Smith & Pyle; produced and released one album
• Married twice, with one daughter and two sons; estimated net worth of over $3 million
Who is Shawnee Smith?
American actress and singer Shawnee Rebecca Smith was born in Orangeburg, South Carolina USA, on 3 July 1969, making her zodiac sign Cancer. She's appeared in over 70 movies and TV series, but is perhaps still known best for starring as Meg Penny in the 1988 horror science fiction thriller movie "The Blob", directed by Chuck Russell, and which also starred Kevin Dillon and Donovan Leitch Jr. It follows a mysterious space creature which has crashed close to a small town, and is now killing its residents; the film won one of its seven award nominations.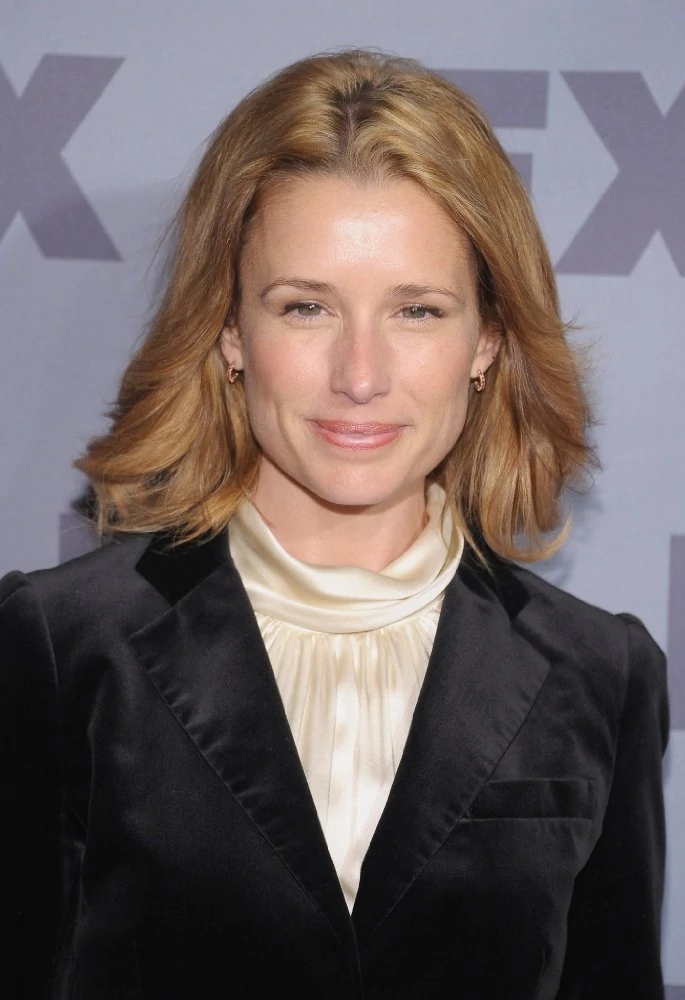 Education and early life
Shawnee was raised alongside her older sibling in Van Nuys, California by their father James H. Smith who was a US Air Force pilot and financial planner, and mother Patricia Ann (nee Smoak) who was a nurse. James and Patricia divorced when Shawnee was two, and Patricia married her second husband when Shawnee was eight.
She enrolled at Ranchito Avenue Elementary School in 1975, and began appearing in school plays at the age of eight; Shawnee was 13 when she appeared in her first movie, portraying Dancer in the 1982 comedy "Annie", which won two of its 17 award nominations, including Oscar nominations for Best Art Direction – Set Decoration and Best Music, Original Song Score.
Shawnee then studied at Madison Jr. High and Grant High School, prior to transferring to North Hollywood High School from where she matriculated in 1987 – she didn't attend college.
Roles in TV series
Shawnee's debut TV series role was playing Tawny in the 1984 episode "Growing Pains: Part 1" of the family comedy "Silver Spoons", and the remainder of the decade saw her appear in an episode or two of the comedy "It's Your Move", the crime mystery "Cagney & Lacey", and the comedy "A Brand New Life".
The year 1994 saw her play Julie Lawry in the popular adventure fantasy mini-series "The Stand", which starred Gary Sinise, Molly Ringwald and Jamey Sheridan, and follows a deadly plague which has killed most humans, while the survivors have split into two groups, one good and the other evil; the mini-series won five of its 12 award nominations. Shawnee appeared in an episode of various series in the following couple of years, including the sports comedy "Arsenio", the fantasy horror mini-series "The Shinning" and the crime action "Players".
From 1998 through 2004, she starred as Linda in the popular comedy "Becker", created by Dave Hackel, and which also starred Hattie Winston and Ted Danson. It follows the life of Dr. John Becker, and the series won four of its 15 award nominations. Shawnee had only one other TV series role in the 2000s: she played Detective Gina Harcourt in the 2007 episode "Part 1" of the horror "30 Days of Night: Dust to Dust".
From 2012 through 2014, she starred as Jennifer Goodson in the comedy "Anger Management", created by Bruce Helford and which also starred Noureen DeWulf and Charlie Sheen. It tells the story of a retired baseball player Charlie who's become an anger management therapist; the series was nominated for two awards.
Shawnee's since appeared in only one TV series: she portrayed Ramona in six episodes of the 2022 mystery "City on Fire".
Roles in movies
Shawnee played Carol in the 1985 drama "Not My Kid", and could then have been seen appearing in the 1985 thriller "Crime of Innocence", the action "Iron Eagle" and the biographical action "Easy Prey" both in 1986.
The year 1990 saw her star as May Cornell in the crime action "Desperate Hours", directed by Michael Cimino, and which also starred Mickey Rourke and Anthony Hopkins. It follows a man who's escaped from jail, and has moved into a married couple's home; the film was nominated for a Razzie Award for Worst Actor – Mickey Rourke. However, the '90s saw Shawnee appear in several award-winning movies, including the 1995 romantic drama "Leaving Las Vegas", which won an Oscar for Best Actor in a Leading Role (Nicolas Cage), the 1996 thriller "Face of Evil" and the 1999 comedy "Breakfast of Champions".
She attracted a lot of attention by playing Amanda in the 2004 horror mystery thriller "Saw", which James Wan wrote and directed, and which starred Danny Glover, Leigh Whannell and Cary Elwes. It follows two people who've awoken in a strange room, and have learned that they're about to play a deadly game with a serial killer; the film won eight of its 18 award nominations.
The lovely Shawnee Smith (The Saw Franchise, The Blob and much more) gave us a really great drinking suggestion if we were to ever watch the 1980's The Blob and the show and it sure sounds interesting! Fun times at The Scraefest!……#ShawneeSmith #TheScarefest #Scarefest #Saw #SawMovies #Jigsaw #SummerSchoolMovie #HorrorConvention #Horror #HorrorCon #Convention #Celebrities #CelebrityInterviews #DrunkenMovieNight #DMN #Lexington #Kentucky #WouldYouLikeToPlayAGame #Bmovies #CultMovies #CultFilms #HorrorFilms #TheBlob #Drinks #Drunk #Cocktail #Podcast #YouTube #TheBlob #MST3K

Posted by Drunken Movie Night on Sunday, September 16, 2018
Shawnee was then cast to play supporting characters in the 2005 action science fiction thriller "The Island", the 2007 crime mystery "Secrets of an Undercover Wife", and the 2009 horror mystery thriller "The Grudge 3".
She's since appeared in only a couple of films, with her three most recent roles having been in 2016 in comedy "Savannah Sunrise" and the romantic drama "Believe", and the 2021 comedy "Christmas vs. The Walters".
Other credits
Shawnee produced the 2007 horror movie "30 Days of Night: Dust to Dust", and the 2021 film "Christmas vs. The Walters".
Some of her recent talk-show appearances have been in "Marie", "Celebrity Page" and "Made in Hollywood".
Awards and nominations
Shawnee won a 2007 Eyegore Award.
She was nominated for two Young Artist Awards in 1987 and 1989, for her performance in "Crime of Innocence" and "The Blob", respectively, and was also nominated for a 2007 Scream Award for Most Ville Villain, for "Saw III".
Career as a singer
Shawnee and the American actress and singer Missi Pyle were once members of the country duo Smith & Pyle; they met while shooting together for the 2007 movie "Traveling in Packs".
They released their debut album "It's OK to Be Happy" in July 2008; it was produced by Chris Goss, and recorded in Joshua Tree, California. Following the album's release, Shawnee and Missi founded Urban Prairie Records.
They began working on their second album in 2010, but disbanded in the following year, thus not releasing the album.
happy new year here's shawnee smith playing a hello kitty guitar pic.twitter.com/NN6LvqwMma

— anya (@saintsilverhand) January 1, 2022
Husband and children
Shawnee's been married twice. She and her first husband, American photographer Jason Reposar exchanged vows in 1998, and Shawnee gave birth to their daughter Verve in the following year, but she and Jason divorced in 2003.
Her second husband was American musician Kai Mattoon; they married in 2005, and Shawnee gave birth to their son Jackson on 12 December 2005, however, she and Kai divorced in 2006.
In March 2010, Shawnee gave birth to her second son, but the boy's father's name hasn't been disclosed.
She seems to be single as of January 2023, has a daughter with her first husband Jason Reposar, and a son with her second husband Kai Mattoon; Shawnee also has another son, but his father's name has been kept away from media.
Interesting facts and hobbies
Shawnee's converted from Lutheranism to Eastern Orthodoxy, and in 2014 revealed her plans for making the documentary movie "Orthodoxy: A Love Story".
She posed for the magazine "Maxim" in June 2001, but in 2013 revealed that she regretted it.
Shawnee was once physically highly active, and completed multiple triathlons.
She hates horror movies, and although she's starred in many, she avoids watching them.
Shawnee's home-schooling her children.
Close to 20,000 people are following Shawnee on Instagram today, and she's posted nearly 200 pictures and videos.
Her favorite actresses are Kate Winslet and Rosario Dawson, and some of her favorite movies include "Swift", "Ammonite" and "Black Beauty".
Height, eyes and wealth
Shawnee's age is 53. Her eyes and hair are brown, she's 5ft 3ins (1.6m) tall and weighs about 110lbs (51kgs).
Shawnee's net worth's been estimated at over $3 million, as of January 2023.