• Sissy Sheridan is an American actress and YouTuber, best known for her performance in the Netflix series 'Maniac'
• She has one sibling, a brother named Julian, and is educated through Laurel Online School
• She has acted in various TV shows, short films and web series, and has recently released her debut single entitled 'Who Me?'
• She is dating Miles Despair, a TikTok star, and is a huge star on Instagram and TikTok with over a million followers
• Her estimated net worth is around $500,000 and she has reportedly been paid between $2,000-$10,000 per episode on Netflix.
Who is Sissy Sheridan?
Sissy Sheridan is an American actress and YouTuber, perhaps best known for her performance as Asia in the Netflix series "Maniac". She was born on 15 June 2004, in Washington DC, USA, under the Zodiac sign Gemini. As of 2021, she is 16 years old, and holds American nationality. At the moment, she is living in Los Angeles, California.
Family and Education
Not much information is known about her parents and her early life; she has one sibling, a brother named Julian. In an interview, she said: "When I was 6 my mom signed me up for summer drama camp… It was a 3-week camp with singing, dancing, and acting lessons over a 7 hr. day. I was hooked from day 1." At the moment she is being educated through Laurel Online School, due to her busy schedule and the global pandemic.
insta pic.twitter.com/2ia7JCkRRL

— sissy sheridan (@sissysheridan) February 19, 2021
Acting Career
Sissy began her acting career at a very young age, landing minor parts in popular TV shows and miniseries. In 2016 she appeared in a short film called "Paper Airplanes", then in 2017 she had her own web series called "The Pepper Diaries: Backstage with Sissy Sheridan", in which she shows what it's like to be in an equity musical. The series provides the "behind the scenes" scoop of the cast, makeup, and hair.
In 2018 she launched another web series called "DIY with me", in which she shares some DIY (Do-it-yourself) ideas such as making a Unicorn phone case, fluffy slime, SpongeBob pineapple pillow, etc. In the same year, she landed various minor roles in TV shows such as "Copycat Killers", "Mozart in the Jungle", "For My Man", etc.
She rose to fame with the role of Asia in the Netflix-produced miniseries "Maniac" along with Jonah Hill and Emma Stone.
Another of her most notable recurring roles was that of Angie in the teen drama series "Chicken Girls", landing this part while she was on vacation in the Cayman Islands with her family. The character of Angie is a self-centered, mean girl which led many to believe that this is the real character of Sissy. In a video posted on her channel, she explained that it was only the part she had to play and that she is far from it in real life. In 2019 she starred in more short movies, followed by her role in the popular comedy 2020 TV series "Raven's Home", in which she portrayed Layla.
Singing Career?
In 2019 Sissy posted a cover of Hailee Steinfeld's "Most Girls" on her YouTube channel, in which she displayed her singing abilities.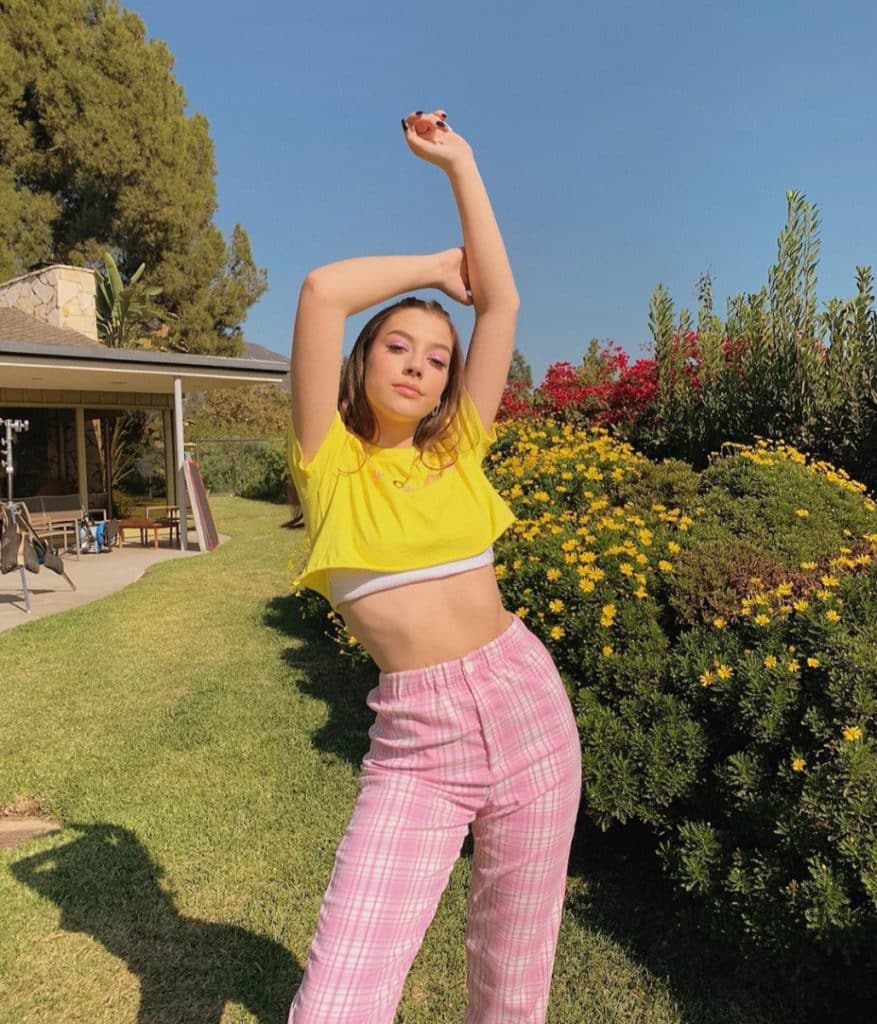 The video features her and her friends in the video about empowerment and girl's confidence. In February 2020, she released her debut single entitled "Who me?" the original song, which might signal the beginning of her potential singing career. She also posted a cover of Madison Beer's "Selfish" on Music by Brat TV channel. Without a doubt, Sissy enjoys singing, and with her decent vocal abilities coupled with her rising popularity and online presence, it's quite possible that she'll launch a successful singing career.
Does Sissy have a boyfriend?
At the moment, Sissy is dating Miles Despair, a social media star, who gained popularity on the TikTok app, making lip-sync, POV (Point of View), and dance videos. Currently, he has 1.6 million followers on TikTok, on which he creates and posts content daily.
Miles has a very unique style in terms of fashion and music taste – his mode is best characterized as the style of an E-Boy, which includes a lot of accessories, piercings, tattoos, and messy hair. As a fan of rock and metal music, he often posts lip syncs such as "Bring me to Horizon and "Panic At The Disco". He has made many TikTok posts with Sissy, as girlfriend and boyfriend.
Controversy regarding her relationship with Miles
In the middle of 2020, the couple sparked some rumors and controversy regarding their relationship. Allegedly people started speculating that Miles cheated on Sissy after she posted a live video on her Instagram, crying and saying: "She will be doing something she might regret". This left many fans confused and free to wonder what had happened that made Sissy so annoyed.
Later she posted a couple of tweets which she deleted afterwards, saying she has a "thing for cheaters", which was probably aimed at Miles. Sissy also posted on Instagram about adultery, and this only reinforced the idea that Miles cheated on her.
They unfollowed each other, and Sissy deleted the TikToks she had made with Miles. Unfortunately, neither of them confirmed anything via their profiles. However, it seems that they have managed to work things out after this ordeal, considering that Sissy posted a photo with Miles one month after. According to their recent TikToks and Instagram posts, the relationship is stronger than ever.
Social Media Presence
Sissy is a huge star on Instagram and TikTok. Her Instagram account has amassed over a million followers, while on TikTok, she has five million followers.
She usually posts selfies and photos with Miles. though her TikTok account is flooded with lip syncs and dance videos. At the moment, it doesn't seem that she's affiliated with any brand, but given her following, this might change very soon.
She launched her YouTube channel on 8 July 2017, with a video entitled "Making my TV debut + Off-bway Rehearsals". She has been quite active in the last couple of years, posting her web series and other interesting videos. Following the examples of other successful YouTube channels, she began posting items endorsed by different brands such as Romwe, Zaful, Brandy Melville, etc.  One of her recent videos is entitled "My Skin Care Routine", in which she shows her favorite skincare products, and tricks on how to get the 'perfect' skin. As of early 2020, her channel has 45,000 subscribers.
Dealing with Hate
Considering that Sissy entered public life at a very young age, this type of exposure usually comes at a price. During the years, she's been targeted by many trolls who eagerly express their hate, mixed with profanity on account of her looks, singing, and acting abilities. She initially thought it was very difficult to deal with haters, especially given her goal- to make a positive impact on the world and bring empowerment to women. She figured it was hard to be positive when people are bombarding you with insults and curses.
However, as she became more popular, she attracted a huge influx of positive comments too, but also negative, which according to her words, would really affect her thinking and self-esteem. Now she claims to have grown a thicker skin, and deals much better with the toxic social media environment.
In a recent video she said: "I'm a lot, lot better at it. I've finally started listening to my mom, and my team, and my friends about not replying to it. Of course, it still gets to me. The hardest part probably for me is when it's other influencers… It's been hard, especially being so young." Sissy also said that she is very selective about the content she posts.
Physical Stats and Hobbies
Sissy is 5feet 5ins (165cm) tall and weighs around 125lbs (57kgs). Her natural hair is brown and so are her eyes. Like many teenagers, she likes to experiment with fashion and make-up.
Most of her free time she spends making TikToks and YouTube videos, watching TV, spending time with friends, etc.
What is her net worth?
As of 2021, Sissy's estimated net worth is around $500,000, which she's acquired through her acting career and income from her YouTube channel. Reportedly, she's been paid between $2,000 and $10,000 per episode on Netflix.