• Adam DiMarco was born in Oakville, Ontario, Canada in 1990.
• He is an actor and singer, known for his roles in Disney's "Radio Rebel" and Netflix's "The Order" and "The Magicians".
• Adam has recently begun his music career and released a debut single, "Come Around", in 2020.
• He is a fan of hip hop music, video games, and art galleries.
• As of May 2021, his net worth is estimated at over $1 million.
Adam DiMarco Wiki Bio
Adam DiMarco was born in Oakville, Ontario, Canada on 14 April 1990 – his zodiac sign is Aries, he holds Canadian nationality, and is of Spanish ethnicity. He's an actor and a singer, probably known best for his performances in popular TV series "The Order" and "The Magicians".
Early life and education
He has a brother named Michael, and a sister named Tausha.
Adam spent his childhood in Oakville, but later moved to Vancouver, British Colombia, Canada to pursue post-secondary education.
He graduated from Vancouver Film School, in the same class as his co-stars from "Radio Rebel" and "Arctic Air", Tanaya Beatty and Iain Belcher. During his time there, he was a member of the Vancouver Theatre Sports League.
Roles in movies
Adam made his film debut in 2010, in the short comedy "Fourth Date", and in the following year he appeared in another short comedy "Lotus Eaters". Also in 2011, he starred in his first feature-length film, the Canadian comedy drama "Do Something with Your Life", written by Andre Menzies, directed by Darren Borrowman, and which starred Tom Belding, Stephen LeBail and Lauren Martin McCraw.
One of the breakthrough roles for Adam was in the Disney Channel comedy "Radio Rebel", released in 2012, directed by Peter Howitt, and which also starred Debbie Ryan and Sarena Parmar. The movie was based on the novel by Danielle Joseph entitled "Shrinking Violet", and follows a shy girl named Tara, who goes undercover as a popular radio host; Adam played the character Gavin, Tara's main love interest.
The film was released on Disney Channel, and gathered more than 4.3 million viewers on its premiere night. In May 2020, "Radio Rebel" came back under the spotlight, after a clip from the movie featuring Debbie Ryan doing overemphasized facial expressions went viral on TikTok. Numerous TikTok users then attempted to recreate scenes from the film in a humorous manner, which earned it a meme status.
In 2012, Adam played the supporting character Tommy in the romantic drama "Kiss at Pine Lake", written by David Golden, directed by Michael M. Scott, and which starred Barry Watson, Mia Kirshner and Matty Finochio. In the same year, he had a minor role in the crime thriller "A Killer Among Us", written by Katherine Fugate and directed by Bradely Walsh.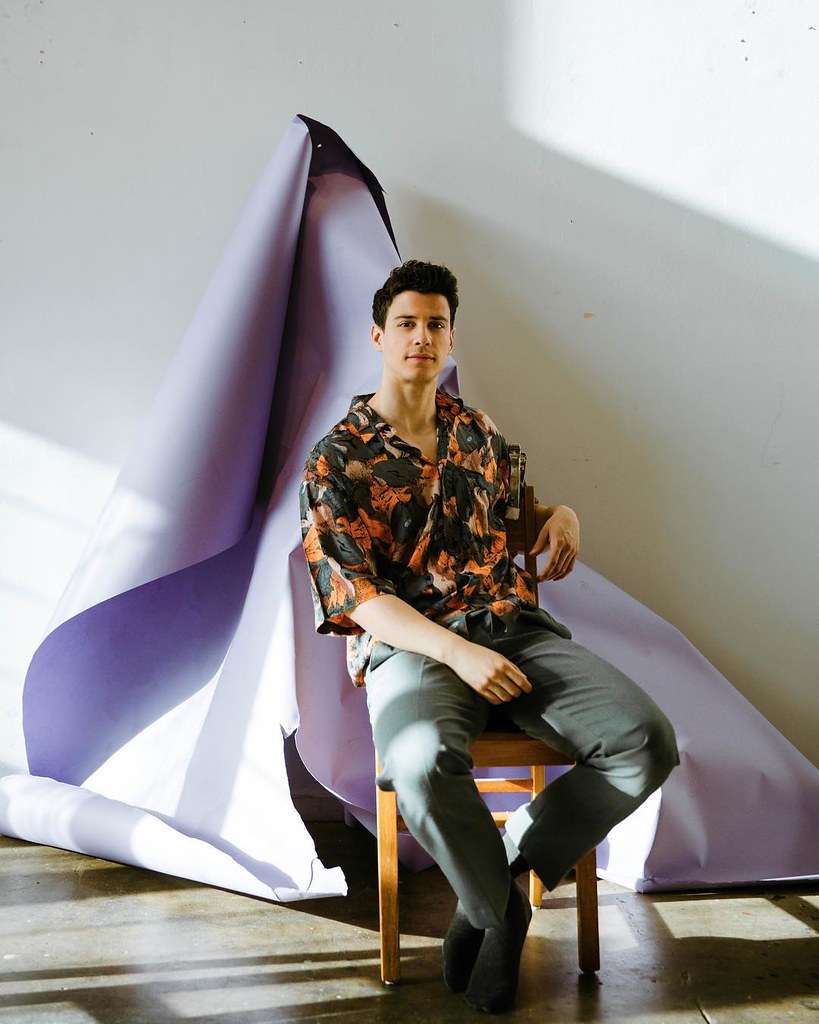 The following year saw him star in another thriller, "After All These Years", based on the eponymous novel by Susan Isaacs, and directed by Scott Smith.
In 2014, he appeared alongside Dakota Johnson and Gary Cole in the romantic comedy "Date and Switch", written by Alan Yang and directed by Chris Nelson. In the same year, Adam appeared alongside Zendaya in another Disney Channel comedy, "Zapped". The film follows Zoey, played by Zendaya, who finds it hard to adjust to not being the only child, after her mom remarries.
In the same year, he played one of the leads in the horror thriller "Girl House", directed by Jon Knautz and Trevor Matthews, and written by Nick Gordon. In 2016, he appeared in the Oscar-nominated sci-fi movie "Star Trek Beyond", directed by Justin Lin, and which starred Chris Pine, Zoe Saldana and Zachary Quinto.
It's the 13th film in the "Star Trek" franchise, and the third installment in the reboot series; the film was an inevitable box-office success, earning more than $340 million worldwide.
Adam's most recent movie appearance has been in the family drama "Secret Millionaire", released in 2018, and directed by Michael M. Scott.
Roles in TV series
Adam made his TV series debut in 2011, when he starred in two episodes of the anthology horror series "R.L. Stine's The Haunting Hour". In 2013, he played the recurring character Kirby Nystourk in 14 episodes of the Canadian drama series "Arctic Air", and in the same year he guest-starred in an episode of the popular fantasy drama "Supernatural".
Adam next appeared in a 2014 episode of the comedy mini-series "Signed, Sealed, Delivered", and he also had a role in an episode of the USA Network's action drama "Rush".
In the following years, we saw him star in an episode or two of numerous critically acclaimed series, such as "Cedar Cove", "Charmed", and "Chilling Adventures of Sabrina".
More significantly, from 2016 to 2020 he played the recurring character Todd, in the fantasy drama "The Magicians", created by Sera Gamble, based on the eponymous novel by Lev Grossman, and which starred Stella Maeve, Hale Appleman and Arjun Gupta. The series follows a group of students studying magic at Brakebills University, who discover that the magic they read about as children is as real as it's dangerous. It was well received by the public and critics alike, and won a 2017 Joey Award, and was nominated for 11 other awards.
In 2019 and 2020, Adam played one of the leads in the popular Netflix fantasy drama "The Order", created by Dennis Heaton and Shelley Eriksen, and which also starred Jake Manley and Sarah Grey.
The series follows a college freshman who joins a secret society called 'The Order', and becomes involved into the world of magic and occultism, with Adam playing the character Randall Carpio, a member of the Knights of Saint Christopher. The series received good reviews from the critics, and on the review aggregator website Rotten Tomatoes has a 100% approval rating. "The Order" was nominated for seven Leo Awards in 2019.
Sexuality, love life and relationships
Adam isn't very open when it comes to talking about his relationships, thus not a lot is known about whom he is dating. He's been posting a lot of pictures on Instagram, which feature his co-star from "The Order", Sarah Grey, which has made some of their fans wonder whether there is a love spark between the two.
They have also apparently been spotted together numerous times off-set, even after the filming was concluded. However, neither of them have commented on the rumors.
Conversely, in 2019 he was a guest at the Met Gala, where he wore a red scarf, and carried a purse with a flower print, which sparked rumors about him being gay or bisexual, but trying to hide it. In response, he has stated that he's straight, and just wanted to dress according to that years' Met Gala theme – camp – but he also said that he supports the LGBT community.
Adam hasn't been married or engaged, and doesn't have children.
Hobbies and interesting facts
He is a big fan of hip hop music, with some of his favorite artists being Kanye West, MF DOOM and Tyler, The Creator.
In 2016, he uploaded a photo from a Kanye West concert onto his Instagram account, and a few months later, he boasted about listening to Chance the Rapper live in New York City. In 2019, he was spotted at a Brockhampton concert in Hollywood Palladium in Los Angeles, California.
Adam loves playing video games in his spare time, especially online multi-player games such as "Apex Legends", "Dota" and "Among Us".
He is an art enthusiast, and visits art galleries and museums everywhere he travels. He has also started an art collection of his own.
Adam has recently begun working on his music career, and in July 2020, he released his debut single "Come Around" under the alias 'Good One'.
Appearance, age and net worth
Adam is 31 years old. He has short black hair and brown eyes, is 5ft 11ins (1.8m) tall, and weighs around 164lbs (75kgs).
As of May 2021, his net worth is estimated at over $1 million.