• Anjelica Bette Fellini is an American actress and trained ballet dancer best known for her role as Blair Wesley in "Teenage Bounty Hunters".
• She was born in Manhattan, New York City and is of Italian and Jewish descent.
• She was trained at the School of American Ballet, San Francisco Ballet, The Joffrey Ballet and The Kirov Academy.
• Anjelica started her career as a ballet dancer on Broadway, before transitioning into an acting career with roles in "The Gifted" and "Teenage Bounty Hunters".
• She is an advocate for mental health and a humanitarian, who is active on social media with over 11,000 Twitter followers and 136,000 Instagram followers.
Anjelica Bette Fellini is an American actress and trained ballet dancer. She is probably best known for her role as Blair Wesley in "Teenage Bounty Hunters". If you are curious about the 27-year old Anjelica, read on to find out more about her in this biography.
Early Life, Family, Educational Background
Anjelica Bette Fellini was born under the Sagittarius Zodiac sign on 26 November 1994, in Manhattan, New York City USA, into a family of Italian and Jewish descent; she holds American nationality and is of mixed ethnicity. She and her sister Julia, were raised by their parents in the same neighborhood where they were born – living in New York exposed Anjelica to a world of opportunities that helped her advance her career at a young age.
There are no details about Anjelica's father, however her mother was a performer, thus acting as a great influence in Anjelica's choice of careers. She also worked as a teacher when Anjelica and her sister were growing up.
Anjelica Fellini developed an interest in dancing at a tender age. Her parents were fully in support of her passions, and her mother enrolled her in step-dancing lessons when she was seven years old. After she saw a performance of "The Nutcracker", Anjelica was convinced that she wanted to be a big time performer. Her Irish step-dancing teacher told Anjelica that learning ballet dance was the only way she could get better as a dancer, and helped Anjelica convince her parents to enrol her in The School of American Ballet, New York.
After her first unsuccessful audition in 2002, Anjelica returned the following year, hoping to land her dream role in "The Nutcracker" performance. She did, and so her training in ballet dancing begin.
There's little information on her educational background, but she mentioned that she matriculated from a high school in New York City. She didn't go to college, as she started touring full time at age 18. Apart from her stint at the School of American Ballet, Anjelia was also trained at San Francisco Ballet. Later on, she earned a scholarship to study at The Joffrey Ballet in Chicago, and at The Kirov Academy, Washington D.C.
Career
Dancing Career
In an old interview, Anjelica chose "The Nutcracker" as one of her favorite performances ever. It inspired her to be a performer, saying, 'when I'm dancing, I feel really good'. Everyone now knows that dancing is her first love.
Anjelica started her career as a ballet dancer on Broadway, with her debut performance in "The Phantom of The Opera" Touring Revival in 2013. The following year, she was featured on the "Dirty Dancing" (2014) U.S National Tour. While on tour, she took voice lessons and jazz dancing classes, and would also watch the stage actors during rehearsals.
By the time Anjelica was done touring, she was well grounded in all aspects of the performing arts. Anjelica's most recent Broadway appearance was on "The Phantom of the Opera", an Original Broadway production of 2021.
Acting Career
Anjelica's dance instructor once suggested that she take up acting as a profession, because of her lively and expressive personality. At some point, she followed her instructor's advice and took a year off from touring, which she dedicated to intensive acting classes.
Due to Anjelica Fellini's background as a performer on Broadway, it was really quite easy to transition into an acting career. She started off acting in short films, before she moved on to television series. Her debut appearance was in "Margot", a short film about finding oneself, named after the main character Margot, which she played in 2017. Other short films she appeared in are "Best Web Series Ever" (2017) as Stephanie Roemer, and 'Too Close To The Sun" (2018), in which she took the role of Isabella.
Stream 'TEENAGE BOUNTY HUNTERS'. Also, WE WANT SEASON 2! WE WANT SEASON 2! WE WANT SEASON 2! #TeenageBountyHunters @netflix #MaddiePhillips #AnjelicaBetteFellini 💜💚#Netflix pic.twitter.com/GKyCfJbEIq

— The Troublemaker (@the_zoned_out) September 2, 2020
Later that year, Anjelica landed her first television role in the second season of "The Gifted" –  – for five episodes of the television show, she played Rebecca Hoover, also known as Twist, the former mental patient who became a mutant.
In 2020, Anjelica landed a major role in Netflix's teen comedy series, "Teenage Bounty Hunters" playoing Blair Wesley, the assertive twin sister of Sterling Wesley, whose real name is Maddie Phillips.
Later in 2020, Anjelica played a minor role in comedy-drama "The French Dispatch", written and directed by Wes Anderson, appearing alongside prominent actors such as Bill Murray, Tilda Swinton, Elisabeth Moss and Christoph Waltz.
Anjelica has had a short career in the acting industry. It is evident, however, that she has made her mark and will land more lead roles, going forward. In an interview with ContentMode, Anjelica reveals that as an actress, 'versatility is the one of the big things that I strive toward'.
Personal Life, Relationship
From all indications, Anjelica is only involved with her career at this point in her life, or at least so far she's successfully kept any romantic relationships away from the public eye. We will update this information accordingly, if there is any change in the status quo.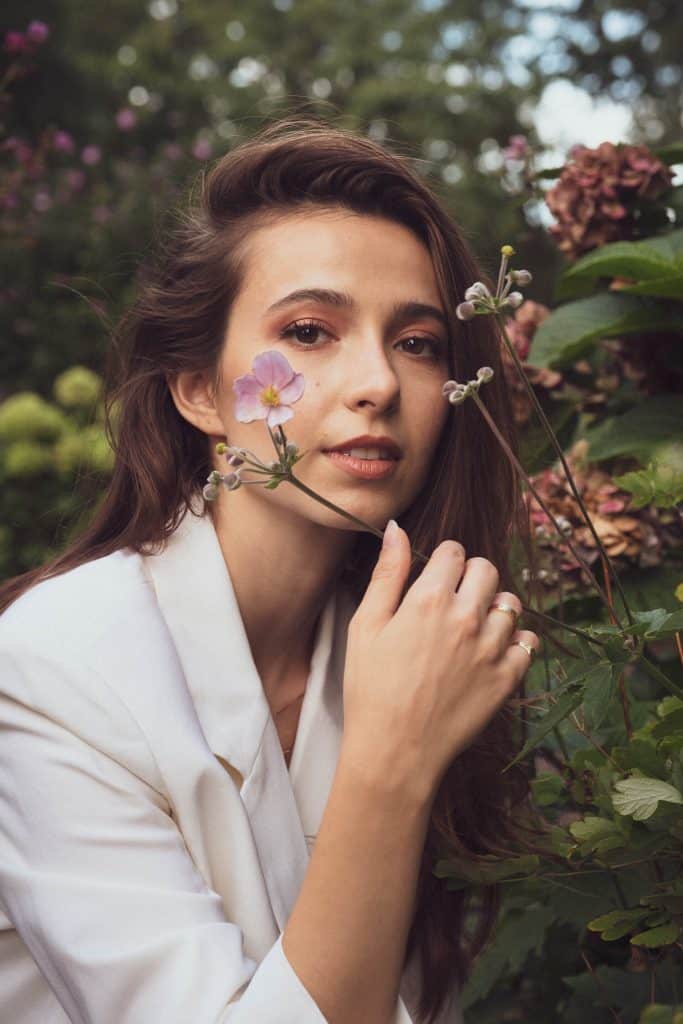 Anjelica Fellini is a mental health advocate. She's always encouraging her fans to care about their mental health as much as they do the physical. More importantly, she is humanitarian by nature, once organizing a GoFundMe Campaign for her friend Lisa Burns, who was diagnosed with Stage IV skin cancer. Since the campaign was launched, it has raised over $38,000 for her friend's treatment.
The pandemic and subsequent lockdown of 2020 was one of Anjelica's major challenges. It was a struggle to remain calm during those hard days, so she started writing poetry to stay sane. She also engaged in exercise, took walks around the gardens of New York City, and explored the restaurants in her neighborhood.
Anjelica Fellini is active on social media. On her Twitter account she has over 11,000 followers, while on Instagram, she has 136,000 fans. However, none of her social media pages contain personal information, only using social media to interact with her fans.
Appearance, Clothing Style
Anjelica has long brown hair and brown eyes. She is 5ft 8ins (1.72m) tall, weighs about 120lbs (54kgs) and her vital statistics are 34-28-38. When it comes to clothing, Anjelica is minimalist – she loves to dress clean and simple in monochromatic clothes, but she also wears fancy designer outfits.
Hobbies, Favorite Things and Interesting Facts
Anjelica's favorite colors are yellow and black.
She loves to spend holidays in London.
She is a pet lover.
She has a phobia of flying bugs.
Anjelica is an avid reader.
She is inspired by actors Francis McDormand and Sam Rockwell.
She is an environmentalist.
Anjelica Fellini is a feminist.
Net Worth and Salary
Anjelica's net worth is reported to be around $1 million, earning a generous income through her acting, dancing, collaborations with brands and other personal projects.
Anjelica still lives in New York City, however, she hasn't disclosed details of her property to the public.