• Brock Vincent Phill Hurn was born in Sacramento, California USA on 19 August 1991
• He holds American nationality and is an actor, model and fitness coach
• He is known for his portrayal of Brody Allen in the drama series "Too Close to Home"
• Brock is currently shooting for the upcoming horror "The Resort" and the adventure fantasy drama "Zodiac"
• His net worth is estimated at over $300,000
Brock O'Hurn Wiki Bio
Brock Vincent Phill Hurn was born in Sacramento, California USA, on 19 August 1991 – his zodiac sign is Leo and he holds American nationality. He's an actor, model and a fitness coach, who's probably known best for his portrayal of Brody Allen in the drama series "Too Close to Home" created by Tyler Perry, and which starred Danielle Savre, Kelly Sullivan and Brooke Anne Smith. It follows a former politician who, after losing her job over a sex scandal, has to return to living in a trailer. The series aired in 2016 and 2017, and received mixed reviews.
Early life and education
Brock was raised in Sacramento alongside his brothers Drake and Dagan and his sisters Carly and Aspyn, by their father Adam and their mother Paige who was a maid.
Adam and Paige divorced when Brock was nine, and he then lived with both his mother and father, moving many times and attending nine schools around California.
This lifestyle affected Brock greatly and he began losing weight; during his final year at high school when he was 18, Brock weighed around 135lbs (61kgs). He then started going to the gym wanting to build-up on muscle. Upon matriculating in 2009, Brock decided he would find work to financially support himself, but before launching his acting career, he worked in his uncle's heating and cooling systems company, while he then joined the American clothing company True Religion Brand Jeans, and the American retailer Abercrombie & Fitch as their model.
Roles in movies
Brock launched his acting career in 2015, with his portrayal of Fighter in the short musical video "Blitz Kids: Keep Swinging", and in 2016, he played The Horse in his first feature film, the horror comedy drama "Boo! A Madea Halloween" written and directed by Tyler Perry, who also starred in it alongside Cassi Davis and Patrice Lovely. It follows Madea who's fighting killers, ghosts and various other supernatural creatures, while having to look after her great-niece at the same time – the movie was nominated for six awards.
In 2017, Brock reprised his role in "Boo 2! A Madea Halloween", while the following year saw him play his first lead character Ragnar Stormbringer, in the fantasy "Rayden Valkyrie", written and directed by Stephen Zimmer, and which also starred Lyon Beckwith and Dale Miller.
In the same year, Brock starred as Thor in the short comedy "Superhero Therapy", and then as Zeus in the 2019 short comedy "Body Swap". Brock then played the lead character Bartender Jupiter Rourke in the short drama "My Name is Josy", written and directed by Mayk Azzato, and which also starred Josefine Koenig and Michael Bowen. It follows the life of a young woman trying to succeed in Hollywood – the movie won seven of the 11 awards for which it was nominated.
Brock's currently shooting for the upcoming horror "The Resort", set to be released on 30 April 2021. The film is written and directed by Taylor Chien, and will also star Michelle Randolph and Bianca Haase, and is about four friends who have traveled to Hawaii to investigate a haunted resort, hoping they'll find the Half-Faced Girl. Brock is also currently shooting as Zeus for the upcoming adventure fantasy drama "Zodiac".
Roles in TV series
Brock has appeared in only three TV series including "Too Close to Home". In 2019, he played Super Hot Warrior Man in the episode "Made You Look" of the drama "Euphoria", created by Sam Levinson and which stars Zendaya, Hunter Schafer and Jacob Elordi. The series follows the lives of several high school students who are dealing with violence, drugs and sex; it's been airing since 2019 and has won 10 awards including three Primetime Emmys, and been nominated for 34 other awards.
In 2020, Brock played Keto in three episodes of the comedy "The Real Bros of Simi Valley" which stars Nick Colletti, Cody Ko and Tanner Petulla, and follows four friends who are still leading carefree lives even though they finished high school around a decade ago. The series has been airing since 2017 and has been nominated for two awards.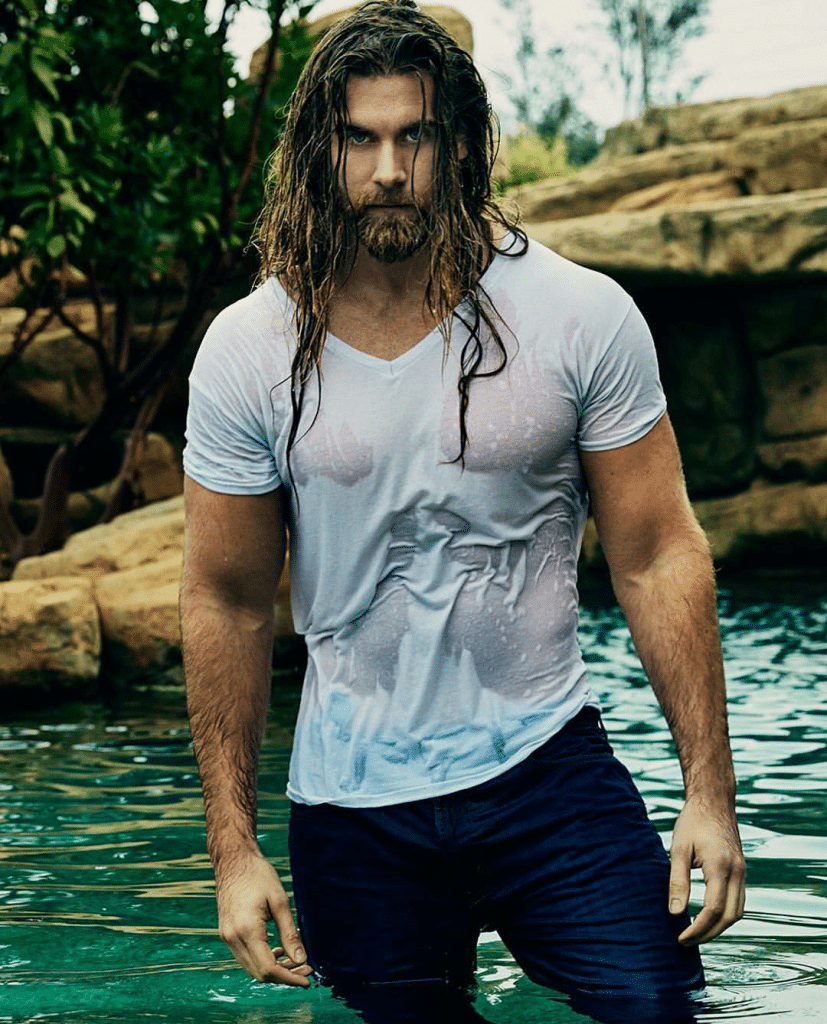 Other credits
In 2015, Brock was invited to appear in the talk-shows "On the Fly" and "ABC News Nightline", while he also appeared as a model in the mini-series "Single AF". He made a guest appearance in the dancing competition show "Dancing with the Stars: All Access" in 2016, and the same year saw him make a guest appearance in several talk-shows, including "Good Morning America" and "Steve Harvey".
In the last a couple of years, Brock could've been seen making an appearance in an episode of various other talk-shows, such as "Celebrity Sweat", "Young Hollywood" and "The Real", while he's appeared in five episodes of the news comedy show "TMZ on TV".
He has a single producing credit: in 2021, Brock served as the executive producer of the short mystery movie "Waterfall".
Love life and wife
Brock hasn't spoken about having dated any women or men, and hasn't been seen spending time with any girls who could be his girlfriends.
Because he avoids sharing these details with his fans, there are rumors circulating the internet that the popular actor is gay. Some of his fans have claimed to have seen him spending time with his friends from the gym on various occasions, while one has even claimed to have seen him being rather too close to a male friend, however, no evidence has been provided to support these claims, nor has Brock commented on this.
There are also those who believe him to be dating a mysterious girl, but that he's keeping her away from the media's attention.
It's also said that he was once in a short-term relationship with his colleague actress Molly, who appeared alongside him in the movie "Boo! A Madea Halloween", and who can be seen featured in one of his Instagram pictures, but this hasn't been confirmed either.
As of April 2021, Brock appears to be single, hasn't married and doesn't have children.
Hobbies and other interests
Brock's physically highly active, and has five to six training sessions at the gym each week, thus his muscular body. He's also following a very strict diet, and often advertises healthy candy bars and various food brands on his Instagram account. He's very active on the social media network because of the attention he receives, as he's followed by around 2.4 million people while he's uploaded close to 900 pictures. It's widely believed that Brock's to be credited with making the 'man bun' popular.
He's passionate about motorbikes, and has his own small collection.
Brock's a lover of animals with horses being his favorites, and he rides them.
He's a family man who loves spending time with his niece, who can be seen featured in many of his Instagram picture,s which has made some people believe that she's his daughter.
In his spare time, Brock's keen on watching movies – his favorite actors and actresses are Vin Diesel, Arnold Schwarzenegger and Angelina Jolie, while a couple of his favorite films include the franchise "Fast and Furious", "Terminator" and "Lara Croft: Tomb Raider – The Cradle of Life".
Age, height and net worth
Brock's age is 29. He has long brown hair and blue eyes, his height is 6ft 7ins (2.01m) and he weighs around 250lbs (115kgs).
As of April 2021, his net worth has been estimated at over $300,000.