• Charles Melton is an Asian-American actor best known for his role as Reggie Mantle in Netflix's "Riverdale" and the lead character in "The Sun Is Also a Star"
• Early life, family, and educational background include American-European and Cherokee ancestry, moving frequently with his military family, and dropping out of Kansas State University to pursue acting
• Career highlights include modeling, small roles in TV and film, and a breakthrough role in Netflix's "Riverdale"
• Personal life includes a romantic nature, relationships with Camila Mendes and dog Neya, and advocacy for animal adoption
• Net worth is estimated at $200,000, primarily from his modeling and acting career
Who is Charles Melton?
Charles Melton is an Asian-American actor, perhaps best- known for his role as Reggie Mantle in Netflix's "Riverdale". He also played the lead character in the movie adaptation of the novel "The Sun Is Also a Star".
Early life, family, educational background
Charles Melton was born on 1 January 1991, in Juneau, Alaska, USA, to Sukyong and Phil Melton. His father is of American-European ancestry with a little Cherokee roots. His mother is a native South Korean, who immigrated to the US in 1990 with his father. He has two sisters named Patricia and Tammie.
He holds American citizenship, and his ethnic background is Asian-American. Their family lived for five years in Pyeongtaek, Gyeonggi, South Korea, but are now permanently based in Manhattan, Kansas.
Charles' father is employed in the military, and re-assigned to various bases from time to time, so the family moved frequently, living in Texas, Germany, Georgia, Tennessee, Korea, and Kentucky by the time Charles was 18.
He completed his education at the Manhattan High School in 2009, and then attended Kansas State University. He played in the university's football team as a defensive back, However, he didn't finish his degree, as he dropped out of school to pursue acting.
Career
Modeling Career
Before his name rose to fame in the world of acting, his success came first as a model. After he dropping out of college, he moved to Los Angeles, California, and there booked gigs for the likes of Dolce & Gabbana, Armani, Old Navy, and Azalea. He also became Mac Cosmetics' face of their make-up line for men.
Acting, Small Roles, Riverdale
Charles's huge break into television came in 2014, when he became part of the musical show 'Glee', playing a model in the episode entitled 'New York, New York. It was followed in 2015 by an appearance in the popular "American Horror Story" series in an episode entitled "Room 333", in which he played the character Mr. Wu. He reprised his role the following year in the episode "Be Our Guest".
While he already had a considerable amount of exposure, it was in 2017 when his breakthrough happened, playing the career-defining role of Reggie Mantle in Netflix's 'Riverdale'.  The well-liked teen series was a mystery and drama spin-off from the famously known 'Archie Comics'.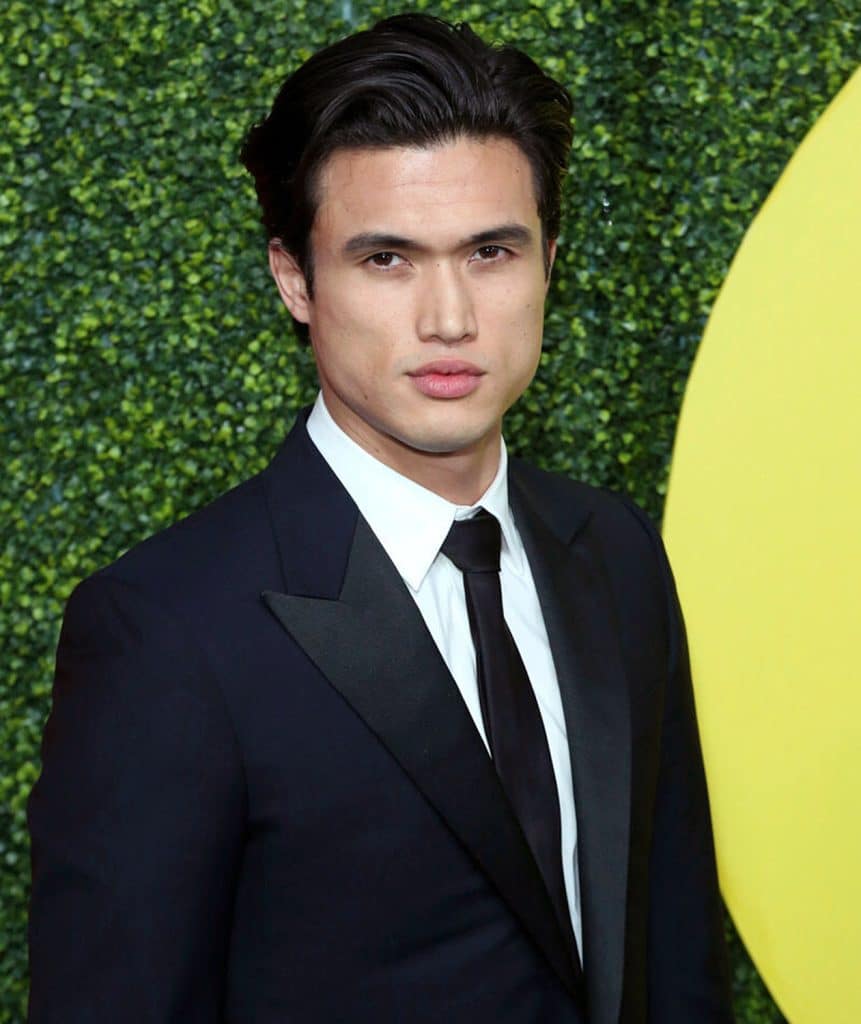 Ross Butler previously played the character. He left the show to focus on "13 Reasons Why", another well-received series on Netflix.
He was initially part of the second season of the show. Eventually, he became a regular cast member through the recently finished fourth season, and will return in the serie's fifth season.
Other appearances
Charles has also appeared in several short films, such as 'Faces Without Eyes' (2015) as 'Doc', 'Bad Friend' (2015) as 'Colin', and 'The Channel' (2016). He was also in the social-thriller entitled "The Thinning" (2018), in which he played alongside lead actor Logan Paul.
In 2019 he was 'Daniel Bae', the lead character in the movie "The Sun Is Also A Star", an adaption of the same-titled novel written by the Jamaican –American author, Nicola Yoon.
Personal Life
Hopeless Romantic
In an interview with WWD, he confessed that he has a romantic nature. When the announcement came that Warner Bros. and MGM would be filming "The Sun Is Also a Star", he immediately bought the book and read it in two days. He thought he was perfect for the role because he is a big believer in love, as is the main character.
Even his ex-girlfriend, Camila Mendes, shared that he wrote her love letters in occasional instances, proof that he is for sure a hopeless romantic.
Love Life
Charles dated Brazilian actress Camila Mendes for a little over a year. They are co-stars in the 'Riverdale' in which Camila plays the character Victoria. Around August 2018, news broke that Camila broke-up from her boyfriend and childhood friend Victor Houston.
Two months later, she and Charles were seen going out together on several occasions. The relationship went public when Camila posted a photo on Instagram of Charles kissing her on the forehead, with the confirming "Mine" as the only caption.
They celebrated their first anniversary in August 2019, but in December news broke that the pair had separated, actually some previously; the reason is unknown. According to the two, they were taking this time to focus on their separate careers. However, Camila is now reportedly dating fashion photographer Grayson Vaughn, while on the other hand, Charles isn't known to be dating anybody at the moment.
Dog Baby
Right at the beginning of the quarantine, Charles took home a shelter dog and opened his house to the fur baby's forever home. He and his husky, Neya, went on a road trip together along the West Coast for three months, and documented their journey in the actor's Instagram posts.
"I met Neya, and this sounds so cliché, but honestly, it felt like a match made in heaven. We've been inseparable since.", he gushed in an interview. The actor shared that he is looking forward to bringing Neya to the movies once the pandemic is over.
Now, he is a big advocate for adoption and even partnered with Purina One in helping rescue dogs and cats on their second chance of finding them permanent loving homes.
Hobbies, favorite things, interesting facts
Canine Walker
When Charles moved from Kansas to Los Angeles, he was a dog walker via a dog-walking app, sharing that he came across this job because he couldn't find an available position as a waiter. In addition, he also worked as a take-out guy for a Chinese restaurant.
In a Buzzfeed interview, he said that he experienced walking 300 dogs in two months; in a day, he would walk around 8 to 10 dogs from six in the morning to eight at night.
The actor liked sharing this experience and even claimed that he still gets notifications on his phone from people asking him to walk their dogs.
Love of Film
Charles always had an appreciation for a good film, even before he wanted to become an actor. He shares that he would make it a point to go to the movies every week, even multiple times. He sometimes went with his dad to watch what was showing, whether it's the action-packed Marvel movies or the soppy and romantic "How To Lose a Guy in 10 Days". His favorite is Heath Ledger's "The Knight Tale", which he watched with his dad.
Controversial tweets
Around 2018, Charles was in a negative spotlight for his seemingly sexist tweets and body-shaming in nature. It was a tweet that he posted in 2012, six years before the controversy broke. He was quick to apologize about this, and even called fellow-star Camila Mendes, who was known to be a bulimia survivor.
Asian-American Voice
In light of the recent hate attacks on Asians and Asian-Americans, Charles broke his silence. In his statement, he shares that he will be using his wide platform to support the AAPI (Asian Americans and Pacific Islanders) Community. He also shared how he had spent years trying to fit in as an American by suppressing his Asian roots, and regrets those years now.
Appearance, clothing style
Charles is a tall man at 6ft (185 cm), and weighs around 143lbs (65kgs). His shoe size is 10 US. He has dark curly hair and matching dark brown eyes.
Net worth and salary
Charles net worth is estimated to be around $200,000, a nice sum considering that he is still in the early stages of his career. His source of income is mostly from his modeling and acting career.