• Jakob Kasimir Hellrigl is a rapper, social media star, and model known as Candy Ken
• He was born in Bregenz, Austria and attended Wenatchee High School and Lette-Verein College in Berlin
• His career as a rapper launched with the release of his debut extended play entitled "Welcome to Candy Land" in 2015
• He has also modelled for Diesel, VMAN, Paper and Vogue Taiwan and has a single acting credit
• As of April 2021, Candy is married to Laura McDermott and they are expecting their first child, and his net worth is estimated at over $2 million.
Candy Ken Wiki Bio
Jakob Kasimir Hellrigl – aka Candy Ken – was born in Bregenz, Austria, on 27 July 1992 – his zodiac sign is Leo and he holds Austrian nationality. He's a rapper, social media star and a model, who's probably known best for his TikTok account which he launched sometime in 2018. Today Candy's followed by more than 13.1 million people, and has gathered close to 450 million likes of all his videos combined. Nowadays, he mostly uploads videos which feature his pregnant wife; the family calls themselves 'The Unicorn Family'.
Early life and education
Candy was raised in Bregenz, but hasn't spoken about his parents who prefer to be left out of media. As he hasn't spoken of having any siblings, his fans believe him to be an only child.
Candy became interested in photography at an early age, and used his father's camera to capture pictures of his surroundings. He was highly sporting, and after he moved to Wenatchee in Washington USA with his family, he enrolled at Wenatchee High School, and began playing football for the school's team. It was during his four years there that he met his two best friends Payton and Isabella, who encouraged and motivated him to pursue a career as a rapper. Upon matriculating in 2010, Candy enrolled at the college Lette-Verein in Berlin to study photography and film design, however, he dropped out a year before obtaining his degree, as he wanted to focus on his career as a rapper.
It was while at college that he came up with his persona – Candy Ken – motivated by Japanese Kawaii culture, Hello Kitty, Barbie dolls, and pink clothes.
Career as a rapper
Candy released his debut extended play (EP) in 2015 entitled "Welcome to Candy Land", comprising five songs including "Barbie Doll" and "Candy Crush", both of which became quite popular and helped Candy gain recognition. His second EP, "Basic Bitches" followed later that year, also comprising five songs including "Riff Raff Is Ma Daddy" (feat. Bainshe), "Pump Iron" and "Basic Bitches" (feat. Bainshe). Also in 2015, Candy released another EP – "Candy Ken Paradise" – numbering five songs such as "Say Ma Name", "Snapchat" and "Crocodile Ken".
He released his debut full-length album "Real Talk" in 2016 made up of 16 songs (originally 12 with four having been added later), such as "What I Like (Na Na Na)", "Netflix and Chill" and "Terry Richardson".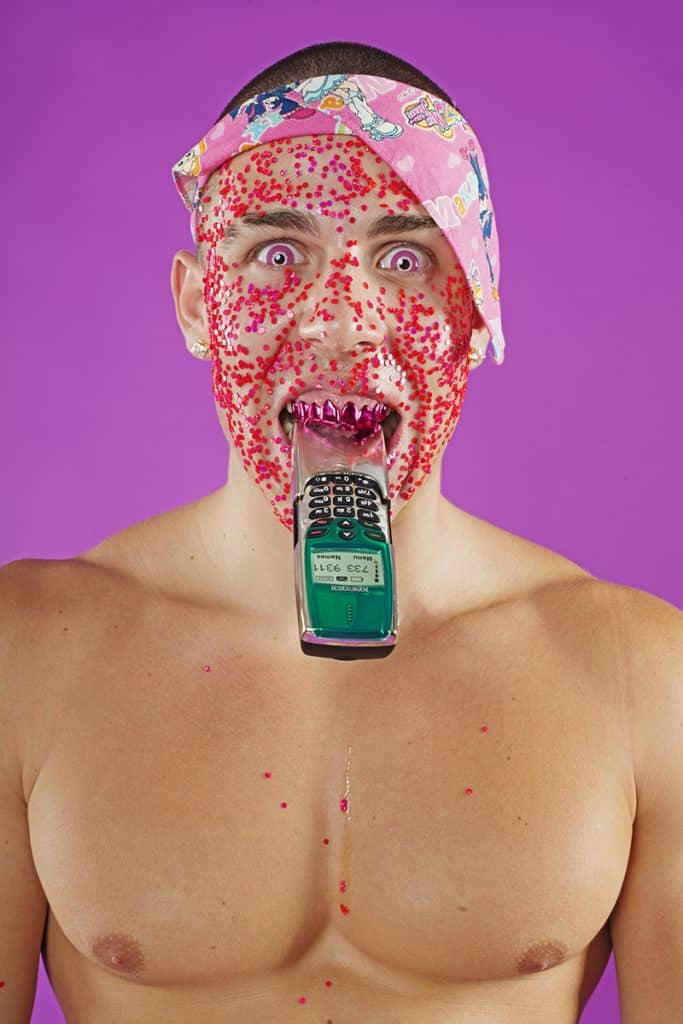 The year 2017 saw the release of two EPs: "Candy Trap" comprising six songs including "Funeral", "Can't Relate" and "We All Refugees", and "Send Nudes" also comprising six songs, such as "Bitches Are Annoying", "Instalove" (feat. Trassh) and "Santa Ken".
Most recently in 2018, Candy released his second full-length album, "Flamingo" made up of 11 songs, including "About Me", "Rep Lil Peep" and "Gucci Glasses".
Career as a model
His modelling career was launched in 2015, when the Italian-Japanese fashion director and editor Nicola Formichetti noticed Candy's Instagram pictures.
Nicola's working for the Italian fashion brand Diesel as their brand creative designer, and invited Candy to attend a photoshoot, while the pictures were then published in the Japanese magazine "FREE".
Candy was next introduced to the American fashion and portrait photographer Terrence 'Terry' Richardson, who took nude pictures of him which were then featured in the now-defunct British men's magazine "Man About Town". During the New York City's Pride Week, Candy signed with Diesel as their fashion model, and soon walked the catwalk for Roberto Piqueras at the Berlin's Alternative Fashion Week. He also worked with the Japanese fashion designer Michiko Koshino, and has been featured in numerous magazines, such as "VMAN", "Paper" and "Vogue Taiwan".
Appearances in TV shows and acting career
Candy has only a single acting credit, while he's expressed his wish to become a popular Hollywood actor. In 2015, he played Chantal's Companion in the romantic comedy movie "Desire Will Set You Free", written and directed by Tony Leyser who also starred in it alongside Chloe Griffin and Tim-Fabian Hoffmann. It's based on a true story of a relationship between an American writer and a Russian artist.
In 2015 as well, Candy was featured in the short biographical documentary film "How", written and directed by Natali Gutierrez Garcia, and which starred Candy, Johannes J. Jaruraak and Ingo Edeltraut.
Love life and relationships
Candy's quite secretive when it comes to his love life, and hasn't spoken of any other women whom he has perhaps dated besides his wife Laura McDermott.
Neither Laura nor Candy have talked about how and when they met, but it's believed by many that they met at college and married around a year into the relationship. She's also a photographer and a social media star, and the two have uploaded numerous pictures featuring themselves together onto their social media accounts. They have recently announced that they're expecting their first child – Candy regularly uploads pictures of Laura's belly onto his Instagram account.
There are rumors circulating the internet claiming that Candy is gay because of the way he dresses, and his support for the LGBT community, however, these rumors haven't been confirmed.
As of April 2021, he's married to Laura McDermott and they're expecting their first child together.
Hobbies and other interests
Candy's physically highly active, and has five to six training sessions at the gym each week, while he sometimes works out all seven days. His Instagram account is filled with pictures taken during his workout sessions, and Candy has given his fans advice related to exercising and dieting.
He loves to travel, and has been all around Europe for both work and pleasure, while he's also been to several US states, including California, Nevada and Texas.
Summer's his favorite season, as he's keen on swimming in the ocean, attending boat parties and going scuba diving.
He's a cat-lover, and has two pet cats which can be seen featured in some of his Instagram pictures.
In his spare time, Candy likes to watch movies starring his favorite actor and actress Robin Williams and Kate Blanchett, such as "Patch Adams", the trilogy "Lord of the Rings" and "Ocean's 8".
Age, height and net worth
Candy's age is 28. He has short brown hair and brown eyes, his height is 5ft 8ins (1.73m) and he weighs around 165lbs (75kgs).
As of April 2021, his net worth has been estimated at over $2 million.