• Danna Maria Garcia Osuna is a Colombian actress born in 1978.
• She began her acting career at the age of nine and is best known for her role in the 1998 romantic drama series "Perro Amor".
• Her other notable performances include Victoria in the eponymous drama, Julia in the romantic drama "Hablame de Amor", and Soledad Santander in the romantic drama "The Revenge".
• She is currently partnered with Ivan Gonzalez and they have a daughter.
• As of June 2021, her net worth is estimated at over $1 million.
Danna Garcia Wiki Bio
Danna Maria Garcia Osuna was born in Medellin, Colombia, on 4 February 1978 – her zodiac sign is Aquarius, and she holds Colombian nationality. She's an actress with 30 credits to her name, while she's probably still known best for her portrayal of Sofia Santana, in the 1998 romantic drama series "Perro Amor". It also starred Julian Arango and Isabella Santodomingo, and follows the lives of cousins Antonio and Camila, who have become lovers.
Early life, family and education
Danna was raised in Medellin alongside her sister Claudia Garcia, by their parents Jaime Garcia and Claudia Osuna, who prefer to be left out of the spotlight, thus not a lot about them is known.
Los 💕 https://t.co/gxcXWIRx95

— Danna Garcia (@DannaGarcia) February 4, 2021
Danna was five years old when she became interested in acting, and at age seven she began practicing her skills with her elementary school's drama club. Her parents then took her to an audition, and she got to launch her acting career in 1987 aged nine, with her appearance in the pilot episode of the comedy mini-series "Imaginate". Her following role came two years later, when she also became popular in the film industry playing Caridad Solaz – Niña, one of the main characters in all 83 episodes of the drama "Azucar". It also starred Alejandra Borrero and Gerardo De Francisco, and follows the Solaz family, who have been cursed for three generations by the slave Sixta Lucumi, after she was stripped of her newborn child.
Danna continued acting throughout her entire education. She matriculated from a local high school in 1996, and then chose to focus on acting, rather than to pursue a college degree.
Roles in TV series
The early '90s saw Danna appear in single episodes of various series, such as the romantic drama "La Casa de las Dos Palmas", the historical drama "La Otra Raya del Tigre", and the romantic drama "Café con Aroma de Mujer".
In 1995, Danna starred in the title role as Victoria in the eponymous drama, and in 1999, she played another lead character, Julia, in the romantic drama "Hablame de Amor". Both series were quite popular in Columbia, but didn't become very popular elsewhere.
In 2000, she starred as Soledad Santander, in all 151 episodes of the romantic drama "The Revenge", which also starred Jorge Reyes and Marcela Pezet, and follows the lives of sisters Mariana and Isabela, who want to avenge their father's death. A couple of Danna's following notable performances were in the 2003 romantic drama "Pasion de Gavilanes", the 2004 romantic drama "Learning to Love" and the 2005 drama "Corazon Partido".
In 2008 and 2009, she played the main character Valentina Lopez 'La Monita', in all 219 episodes of the romantic comedy drama "Un Gancho al Corazon", and in 2010, Danna played Dolores 'Lola' Carrero, in all 139 episodes of the romantic comedy "Beautiful But Unlucky".
The 2010s saw her play lead characters in several popular TV series, such as the romantic musical drama "Que Bonito Amor", the drama "Lo Imperdonable" and the family fantasy drama "Amazonas".
Danna's most recent TV series role has been her portrayal of Violeta, in the action crime drama "El Senior de los Cielos". It was created by Mariano Calasso and Luis Zelkowicz, has been airing since 2013, and today stars Rafael Amaya, Carmen Aub and Fernanda Castillo. It follows the life of Amado Carrillo Fuentes, who was the most powerful drug lord of his time.
Roles in movies
Danna has appeared in only four movies, as she's mostly focused on winning main roles in TV series.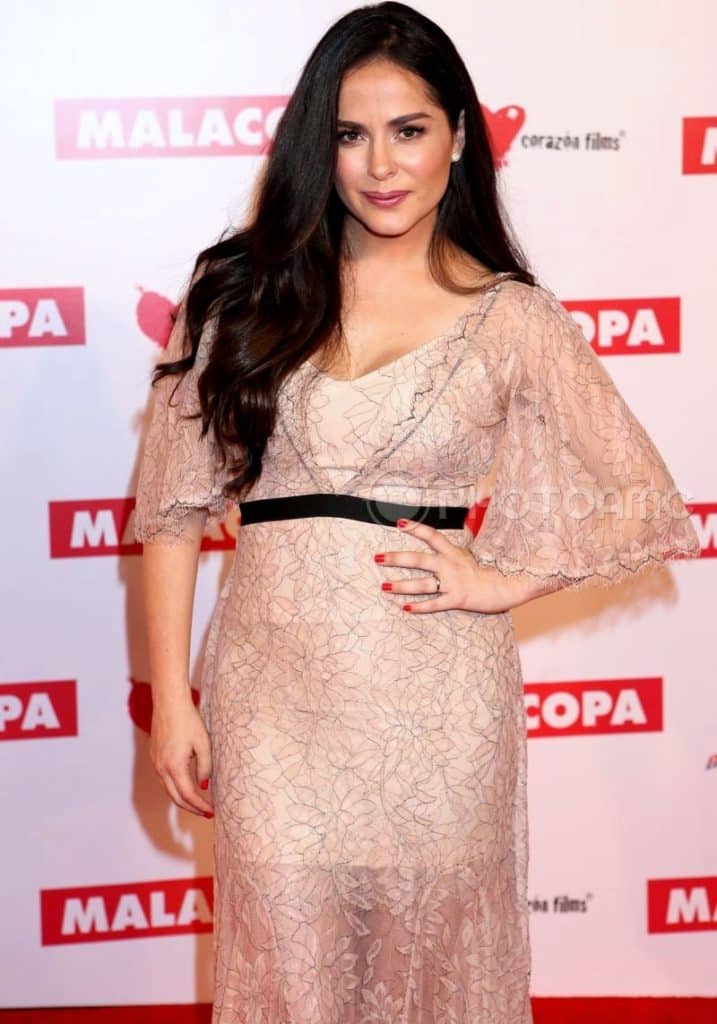 She made her debut film appearance in the 1996 drama "El Dia es Hoy", and in 2012, she was cast to play Angelica Maria, one of the lead characters in the romantic drama "El Cielo en tu Mirada". It was written by Enrique Chmelnik, directed by Pitipol Ybarra, and starred Aislinn Derbez, Mane De La Parra and Jaime Camil, and follows a man who's in search of true love; the movie was nominated for a single award. The same year also saw Danna play Maria Christina Echeverry, in the comedy "Carrusel", and her only other movie role has been in 2018, when she played Paulina Santamaria in the comedy "Malacopa". It follows the life of an architect, who has decided to solve his problems with drinking, and creating an alter ego.
Other credits
Danna has been credited with composing and singing the song "Perro Ammor", in the eponymous series.
She could have been seen featured in two TV specials, "Billboard Latin Music Awards", in both 2005 and 2006.
Danna has made a guest appearance in a couple of talk-shows, including "Pa'lante con Cristina", "El Autentico Rodrigo Leal" and "We Love Soaps TV".
Awards and nominations
Danna has been nominated for only a single award: a 2004 INTE Award for Actress of the Year (Talento: Actriz del Ano).
Husband and children
Danna's quite open when it comes to talking about her love life, and there are four men whom she's dated, that the public knows about. She met Mauricio Ochmann in 1999, on the set of a TV series. He's a Mexican actor, who's most likely known best for his roles in telenovelas, as well as for his performance in the 1999 romantic drama movie "Message in a Bottle", based on the eponymous novel by Nicholas Sparks.
Mauricio and Danna were together for around a year, before splitting for unknown reasons.
In 2010, she began dating Jonathan Islas, a Mexican actor who's also known for his roles in telenovelas; they were also together for close to a year. In 2012, Danna started seeing Julian Gil, a Puerto Rican actor, and the relationship lasted for around seven months. In 2016, she began dating Ivan Gonzalez, a Spanish journalist, and she gave birth to their child in July 2017. They have been together to this day, but it doesn't appear as they're planning to marry.
As of June 2021, Danna's partnered with Ivan Gonzalez, hasn't married, and has a daughter with Ivan.
Hobbies and other interests
Danna enjoys being active on Instagram, because of the attention she's receiving from her three million followers. She has uploaded more than 1,500 pictures, most of which have been taken during her everyday life, as well as on the sets of her TV series.
She's a dog-lover, and her pet dog Luna can be seen featured in some of her Instagram pictures.
Danna's physically quite active, and has a couple of training sessions at the gym each week, thus her slim figure. She's also following a strict diet, and has given her fans advice on Instagram regarding her exercising and dieting plan.
She likes to watch Hollywood movies in her spare time, and her favorite actor and actress are Leonardo DiCaprio and Scarlett Johansson. A couple of Danna's favorite movies are "Titanic", "Catch Me If You Can" and "Lost in Translation".
Age, height and net worth
Danna's age is 43. She has long brown hair and brown eyes, her height is 5ft 3ins (1.6m) and she weighs around 112lbs (51kgs).
As of June 2021, her net worth has been estimated at over $1 million.