• Jacinda Barrett is an Australian-American actress best known for her roles in "The Human Stain" and "Poseidon"
• She was a model and appeared on the reality TV show "The Real World: London"
• Her career breakthrough came with her role in "The Human Stain"
• She is married to actor Gabriel Macht and has two children
• She became a US citizen in 2009 and is an animal lover with a pet dog
Who is Jacinda Barrett?
Jacinda Barrett is an Australian-American actress, who is possibly still best known to the world as Steena Paulsson in the film "The Human Stain" (2003), and also as Maggie James in the film "Poseidon" (2004), in addition to a number of other popular roles that she has secured so far in her career.
Jacinda Barrett Wiki: Age, Childhood, and Education
Born Giacinta Juanita Cordelia Arabella Luciana Rosalina Barrett on 2 August 1972 under the Leo zodiac sign, in Brisbane, Queensland, Australia, to Jerry Barrett, an airport firefighter, and his wife Lynn Barrett. She went to Kenmore State High School in Brisbane, and would later attend a midsummer program at the British American Drama Academy in Oxford, England.
Modeling Career
Before her acting career started, Jacinda was a model; when 17 years old she won the annual Dolly Covergirl contest in her native Australia, which gained her contracts with several agencies based in Europe and as a result, Jacinda went on a fashion trip through Europe working for several brands and walking numerous fashion shows.
While living in London, in 1992 she auditioned for the reality TV show "The Real World: London" and was chosen as one of the contestants. She became infamous for introducing a dog to a house in which all the contestants were living, and refused to house-train it, which caused other contestants considerable anger.
Acting Career Beginnings
After a few more years of traveling and exploring the world, 1997she finally secured her first on-screen role as Heather in the horror film "Campfire Tales", which starred James Marsden, Amy Smart and Frederick Lawrence. Jacinda was quite busy in the following year, as she first played Medea in the award-winning TV action-adventure series "Hercules", with Kevin Sorbo in the titular role, and then Kate Poole in the TV adventure series "Wind on Water". The same year, Jacinda starred in the thriller film "Immaculate Springs", with Udo Kier and Mike Campbell.
Rise to Prominence
 She finished the decade with the recurring role of Lisa in the TV series "Zoe, Duncan, Jack & Jane" (1999), and continued into the new millennium with the part of Finley Scott in the short-lived TV drama series "D.C.".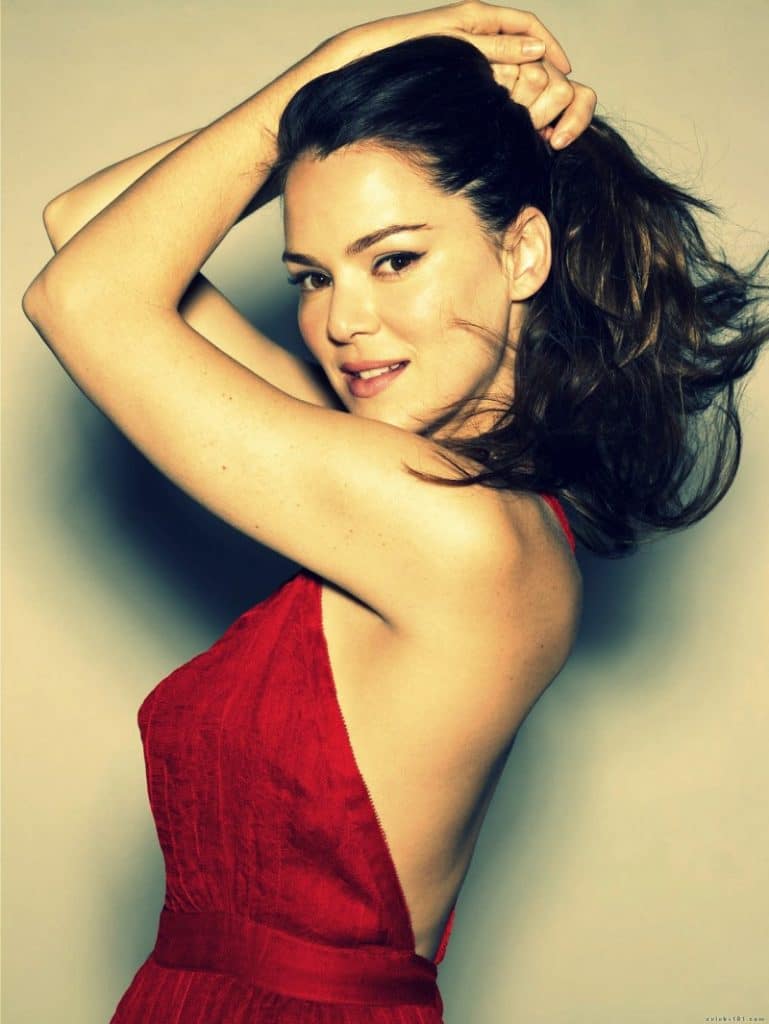 The same year, she was Lisa in the horror-thriller film "Urban Legends: Final Cut", with Jennifer Morrison, Matthew Davis, and Hart Bochner in the lead roles, while in 2001 she was selected as Dori Baines for the TV series "Citizen Baines", co-starring next to Embeth Davidtz and James Cromwell.
Two years later, Jacinda made a big breakthrough with the role of Steena Paulsson in the award-winning romantic thriller-drama film "The Human Stain", with Anthony Hopkins, Nicole Kidman and Ed Harris in the lead roles. She continued on quite successfully, first as a co-star to Joaquin Phoenix and John Travolta in the action thriller film "Ladder 49", about a firefighter trapped in a burning building. The film became a complete success ,and Jacinda's performance was rather praised by both critics and fans.
Next, she was Rebecca, Bridget Jones's opponent in the film "Bridget Jones: The Edge of Reason" (2004), and in 2005 Jacinda starred in the thriller crime-drama film "Ripley Under Ground", based on the novel of the same title by Patricia Highsmith.
Jacinda carried on with lead roles in films throughout the second half of the decade – in 2006 she featured in the Oscar award-nominated action-adventure film "Poseidon", starring Richard Dreyfuss, Kurt Russell and Emmy Rossum, and worked on several other films in the same year, including the romantic comedy film "The Last Kiss", co-starring Zach Braff and Rachel Bilson, then the comedy film "School for Scoundrels", and completed the year with the role of Maxine in the critically acclaimed drama film "The Namesake", in which she co-starred with Kal Penn, Irrfan Khan and Tabu.
Two years later, Jacinda appeared in the romantic comedy-drama film "New York, I Love You", with Shia LaBeouf, Natalie Portman and Bradley Cooper in the lead roles, and in 2009 she co-starred with her husband Gabriel Macht in the comedy crime-drama film "Middle Men".
Career Decline
Since 2010, Jacinda has become focused on other interests, including her children, and has only occasionally worked as an actress. Nevertheless, she has still featured in some prominent projects; she was Zoe Lawford, one of many love interests of Harvey Specter, played by her husband in the TV drama series "Suits" (2012-2013). Then in 2013, she played Laila Galliston in the TV series "Zero Hour", and in 2015 she joined the cast of the Primetime Emmy Award-winning thriller-drama series "Bloodline" (2015-2017), starring in all 33 episodes alongside Kyle Chandler, Ben Mendelsohn and Linda Cardellini, among other stars of the popular series.
To speak further of her accomplishments, in 2016 Jacinda played Ruby Franklin in the award-winning drama film "So B. It", and in 2018 she worked on the horror mystery-drama film "Seven Heaven", which starred Travis Tope, Haley Ramm, and Dylan Everett, while she is currently filming the action horror "Hide and Seek", which is currently in post-production and scheduled for release late in 2021, starring Jacinda alongside Jonathan Rhys Meyers and Joe Pantoliano.
Personal Life, Married, Children
Jacinda was in a four-year-long relationship with comedian and actor Chris Hardwick from 1995 until 1999; they were introduced to each other by Claire McCabe, an MTV talent coordinator at the time. The two were engaged and expected to marry, however, they eventually broke-off the engagement and ended their romance.
In 2004 she married actor Gabriel Macht, gave birth to their first child Satine Anais Geraldine in 2007, and the couple welcomed their second child, son Luca in 2014.
Net Worth
As of mid- 2021, Jacinda Barrett's net worth has been estimated to be around $4 million, earned through her successful career as an actress, during which she has appeared in more than 30 film and TV titles, all of which have added to her wealth.
Appearance and Vital Statistics
This prominent actress has brown eyes and light brown hair. She stands at a height of 5ft 10ins (1.78m), weighs approximately 134lbs (61kgs), with vital statistics of 33-25-35, bra size 38B.
Hobbies and Interests
Jacinda is a certified scuba diver, while her father's legacy has inspired her to obtain a pilot's license.
Jacinda and her husband are close friends with Meghan Markle, and attended the royal wedding between Prince Harry and Meghan, held at Windsor Castle on 19 May 2018.
Jacinda became a naturalized US citizen at the Los Angeles Convention Center on 28 August 2009.
Jacinda is an animal lover, and has a pet dog which she treats as a family member, and often uploads pictures of her favorite pet on her official Instagram page.
She has an adventurous spirit and often travels to various parts of the world with her family.
Jacinda Barrett's Husband, Gabriel Macht Short Bio
Gabriel Swann Macht was born on 22 January 1972 in The Bronx, New York City USA, the son of Stephen Macht, an actor, and Suzanne Victoria Pulier, a museum curator and archivist.
One of four children of his Jewish parents, Gabriel and the family moved to California by the age of five, and went to Beverly Hills High School. Following his matriculation, Gabriel enrolled at Carnegie Mellon College of Fine Arts, from which he obtained his degree in 1994.
Gabriel's career started when he was just eight years old, with the role of Jeorge in the film "Why Would I Lie?". He was nominated for the Best Young Motion Picture Actor Award for his work on the film, however, he didn't return to acting until the early '90s, when he portrayed Tal Weaver in an episode of the eponymous TV series "Beverly Hills, 90210".
It wasn't until the early 2000s that he made his breakthrough, with the role of Stackhouse in the action thriller drama film "Behind Enemy Lines" (2001), in which he starred with Owen Wilson and Gene Hackman.
Three years later he starred alongside Scarlett Johansson and John Travolta in the drama film "A Love Song for Bobby Long", while in 2006 he was John Russell, Jr. in the Oscar Award-nominated historical thriller drama film "The Good Shepherd", starring Matt Damon, Angelina Jolie and Robert De Niro, for which performance Gabriel won the Silver Berlin Bear award at the Berlin International Film Festival.
In 2008 he worked closely with Scarlett Johanson once again, this time on the fantasy action-crime film "The Spirit". From 2011 to 2019, Gabriel portrayed Harvey Specter in the critically acclaimed TV drama series "The Suits", starring alongside Patrick J. Adams, Sarah Rafferty, Rick Hoffman and Gina Torres, among others.
Gabriel Macht's net worth has been estimated at over $8 million, as of mid- 2021, earned through his career as an actor, with so far has more than 30 film and TV credits to his name.