• Monroe Jackson Rathbone V (Jackson Rathbone) was born in Singapore on 14 December 1984 and holds American nationality.
• He is an actor and singer known for his portrayal of Sokka in the 2010 movie "The Last Airbender".
• He has appeared in 36 movies and 13 TV series.
• He is married to Sheila Hafsadi and they have three children.
• He has an estimated net worth of over $7 million.
Jackson Rathbone Wiki Bio
Monroe Jackson Rathbone V was born in Singapore to American parents, on 14 December 1984 – his zodiac sign is Sagittarius, and he holds American nationality. He's an actor and a singer, who's perhaps still known best for his portrayal of Sokka, one of the main characters in the 2010 action family adventure movie "The Last Airbender". It was written and directed by M. Night Shyamalan, also starred Noah Ringer and Nicola Peltz, and follows Aang who has to learn to control the power of all four masters, and thus prevent the Fire Nation from ruling the world. The movie won eight of the 20 awards for which it was nominated.
Early life and education
Jackson was raised all around the world, including in the US, Norway and Indonesia, because his father Monroe Jackson Rathbone IV worked for Mobil Oil (his great-grandfather was the chairman of Standard Oil). Jackson's mother Randee Lynn (nee Brauner) is a housewife, and he has three sisters; he is distantly related to a couple of late famous people, including the Civil War General Stonewall Jackson, and the British actor Basil Rathbone.
Jackson became interested in acting while attending Trinity School of Midland, and some of his first appearances were in plays performed at local theatres.
For his two final years of high school, Jackson studied at the Interlochen Arts Academy in Michigan, and upon matriculating in 2003, he tried to enroll at the Royal Coservatoire of Scotland in Glasgow, however, as he was unsuccessful, Jackson moved to Los Angeles, California, and began working on his acting career.
Roles in TV series
Jackson has been credited with appearing in 36 movies and 13 TV series, and we're about to mention more of his notable performances.
He made his debut TV series appearance in 2005, with his portrayal of Scott Fields in the episode "Romeo and Juliet Murders" of the mystery crime drama "Close to Home", and the following year saw him portray Justin, in two episodes of the romantic comedy drama "The O. C."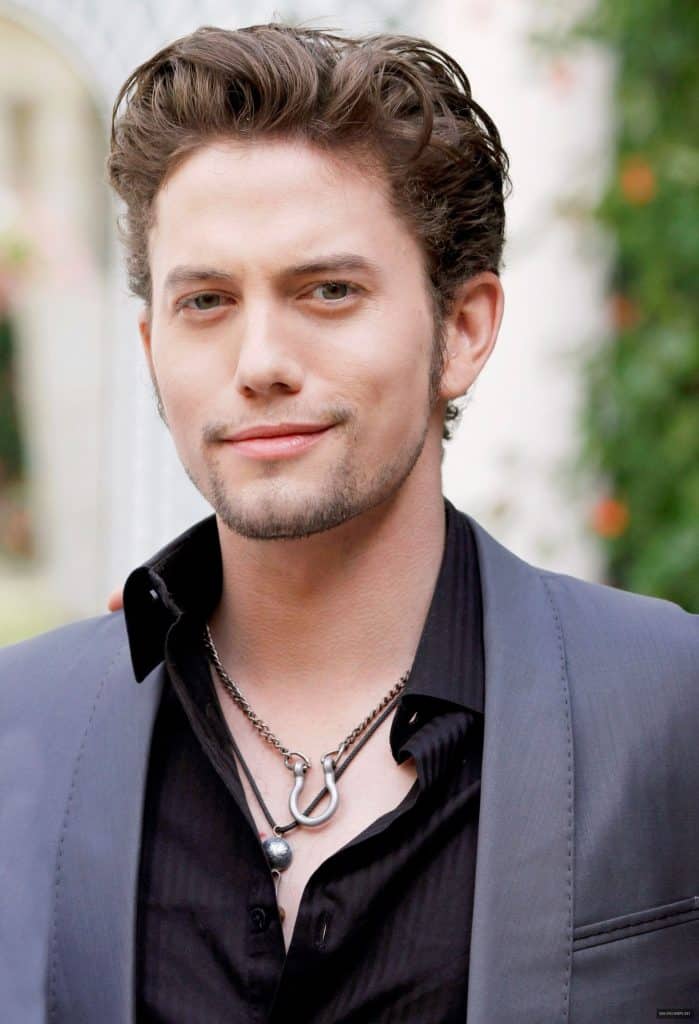 He gained recognition in 2006, when he portrayed Nicholas Fiske in the romantic drama "Beautiful People", created by Michael Rauch, and which starred Daphne Zuniga, Sarah Tareen and Torrey DeVitto. It follows two sisters and their mother, who have just moved from New Mexico to New York City.
The following years saw Jackson appear in an episode or two of various series, such as the romantic comedy "The War at Home", the drama "The Cleaner", and the mystery crime drama "Criminal Minds". In 2011, he was cast to star as Nick Green, in the thriller "Aim High", which also starred Aimee Teegarden and Chris Wylde, and follows the life of a teenager who's also a spy. The series won two of the four awards for which it was nominated.
Two of Jackson's most recent TV series roles have been in 12 episodes of the drama "Finding Carter" in 2015, and eight episodes of the action science fiction drama "The Last Ship" in 2017.
Roles in movies
Jackson made his debut film appearance in 2005, with his portrayal of Jimmy in the family drama "River's End". He gained recognition in 2008, with his portrayal of Jasper in the romantic fantasy drama "Twilight", written by Melissa Rosenberg, based on the eponymous novel by Stephenie Meyer, and directed by Catherine Hardwicke. The film starred Kristen Stewart and Robert Pattinson, and follows Bella Swan who has just moved to a small city, and has fallen in love with Edward Cullen, a vampire who's 108 years old.
Jackson also reprised the role in the 2009 and 2010 sequels "The Twilight Saga: New Moon" and "The Twilight Saga: Eclipse", respectively.
The following years saw him appear in a couple of mediocre movies, such as the comedy "Zombie Hamlet", and the family adventure drama "Cowgirls 'n Angels" both in 2012, and the 2013 drama "Live at the Foxes Den". In 2015, he was cast to star as Neil Lang in the fantasy mystery drama "Pali Road", directed by Jonathan Lim, and which also starred Sung Kang and Michelle Chen. The movie follows a young doctor who's been involved in a car accident, and after waking up, has learned that she's married to another man. It won seven of the 12 awards for which it was nominated.
Three of Jackson's most recent movie roles have been in the 2019 horror thriller "Do Not Reply", the  drama "Dreaming Grand Avenue" and the  romantic drama "Until We Meet Again", both in 2020.
Other credits
Jackson has a single writing and directing credit: the 2015 comedy movie "Couch Surfing USA". He also has eight producing credits, making his debut with the 2009 documentary film "Anyone Can Play Guitar", while a couple of his other works include the 2016 short movie "Hala", the 2018 action film "Samson", and the 2020 short science fiction movie "Scars".
He has been featured in many documentary videos, including the 2009 short "The Making of 's. Darko" and the 2010 "100 Monkeys: Live and Kickin' Part Too", while he's currently shooting for the upcoming "The Idiot".
Jackson has made a guest appearance in a number of talk-shows, such as "The Screen Junkies Show", "Made in Hollywood", and "Big Morning Buzz Live".
Awards and nominations
Jackson has won five awards, and been nominated for four others.
His wins include a 2011 Razzie Award for Worst Supporting Actor, for his performance in the movies "The Last Airbender" and "The Twilight Saga: Eclipse", a 2019 New York City Horror Film Festival Award for Best Actor for "Do Not Reply", and a 2020 Method Fest Best Actor Award for Feature Film, for his performance in "The Wall of Mexico".
He has also been nominated for a 2013 Streamy Award, a 2017 Brightside Tavern Film Festival Prize for Best Actor, and a 2019 Orlando Film Festival Best Actor Award.
Love life and relationships
Jackson prefers to keep the details of his personal life to himself, but it's widely known that he's today a married man. He exchanged vows with his long-term girlfriend Sheila Hafsadi on 20 September 2013, in a private ceremony attended by many of their friends and family members.
Sheila holds both Iraqi and American nationality, and is a housewife, focused on raising their three children. She gave birth to their son Monroe Jackson Rathbone VI on 5 July 2012, and their daughter Presley Bowie Rathbone followed on 31 May 2016. Most recently, on 31 December 2019, she gave birth to their second son Felix Valleau Rathbone.
Neither Sheila nor Jackson have spoken of any other people whom they have perhaps been with, so as of July 2021, Jackson's married to Sheila Hafsadi, and they have three children.
Hobbies and other interests
Jackson's main hobby is music, and between 2008 and 2012, he was a member of the funk rock band 100 Monkeys. He was their vocalist, keyboardist, bassist, drummer, and sometimes guitarist – they released five albums and seven singles before disbanding in April 2012.
He's a philanthropist, and has been a board member of the charity organization Little Kids Rock for several years now; it aims to bring music to children attending disadvantaged public schools, and Jackson has donated many instruments to schools, and has visited various classrooms.
He's physically quite active, and has a couple of training sessions at the gym each week.
Jackson has his own favorite actors and actresses, some of whom are Anthony Hopkins, Will Smith and Julia Roberts, and a couple of his favorite movies are "The Shinning", "I Am Robot" and "The Runaway Bride".
Age, height and net worth
Jackson's age is 36. He has short brown hair and green eyes, his height is 5ft 10ins (1.78m) and he weighs around 165lbs (75kgs).
As of July 2021, his net worth has been estimated at over $7 million.