James Callis Wiki Bio
James Nicholas Callis was born in Hampstead, London, England, on 4 June 1971 – his zodiac sign is Gemini and he holds British nationality. He's an actor, who is perhaps still known best for his portrayal of Dr. Gaius Baltar in the action adventure series "Battlestar Galactica", created by Glen A. Larson and Ronald D. Moore, and which starred Edward James Olmos, Mary McDonnell and Jamie Bamber. It follows the Cylons who have destroyed the 12 colonies and are now targeting the last group of civilians protected by the aged Galactica. It aired from 2004 to 2009 and was a huge hit, winning 42 awards including three Primetime Emmys while it was nominated for 101 other awards.
James reprised his role in the 2007 action science fiction movie "Battlestar Galactica: Razor".
Childhood and education
James was raised in London an only child, by his parents who prefer to stay away from the media's attention, and it's only known that they owned a bed-and-breakfast lodging establishment.
He became interested in acting while attending a local high school, and James was also interested in football and at one point wanted to go professional and move to the US. Upon matriculating in 1989, he enrolled at the University of York from which he obtained his Bachelor of Arts degree in English and related literature in 1993. While at the university, James was mostly focused on acting – he was a member of the Gilbert and Sullivan society and appeared in most of the plays performed at York as well as a couple performed at Cambridge University.
He continued his education at the London Academy of Music and Dramatic Art (LAMDA) from which he obtained his Master's degree in 1996. For his performance in the play "Old Wicked Songs", James received a Jack Tinker Award for Most Promising Newcomer.
Roles in TV series
James made his debut TV series appearance in the 1996 episode "Confess" of the mystery crime comedy "Murder Most Horrid", and gained recognition in the same year with his portrayal of the supporting character Major Tim Forrester in the drama "Soldier, Soldier".
In 1998, he was cast to appear as Guy Curran in the mystery crime drama "Ruth Rendell Mysteries", and in the following year portrayed The Wolf in the musical drama "Sex, Chips & Rock 'n' Roll".
Subsequent years saw him appear in an episode or two of numerous series until 2010, when James was cast to play the supporting character Gabriel McDow in the mystery science fiction drama "Flashforward", created by Brannon Braga and David S. Goyer, and which starred Courtney B. Vance, Joseph Fiennes and Jack Davenport. It follows FBI agents investigating why all the people on Earth blacked out and then awoke with visions of the future. The series won a Primetime Emmy and was nominated for 13 other awards. In the same year, James played Dr. Trevor Grant in the hit adventure comedy "Eureka", and a couple of his following roles were in the mystery crime drama series "DCI Banks", the action crime adventure "Arrow", and the mystery crime drama "CSI: Crime Scene Investigation".
In 2014, James was cast to play Lucien Sayer, one of the lead characters in the action crime science fiction "Matador", while the following year saw him play the supporting character Ellis Ashmead-Bartlett in the war drama "Gallipoli", and later that year he appeared in six episodes of the drama "A. D. The Bible Continues", and was then invited to voice two characters in the episode "The Wedding Squanchers" of the hit animated adventure comedy "Rick and Morty", which has won 17 awards including two Primetime Emmys, while it's been nominated for 21 other awards. In 2017, James played Athan and The Witness in the mystery adventure "12 Monkeys", and in 2019, he was invited to play the supporting character Simon Hardwick in the action adventure "Blood & Treasure".
Two of James' most recent roles in TV series have been in 22 episodes of the animated action adventure "Castlevania", voicing one of the lead characters Alucard, and in the action adventure drama "MacGyver", in which he made a guest appearance in two episodes.
Roles in movies
James made his debut film appearance with his portrayal of Mike in the 1997 short drama "Weekend Bird", then in 2001 he played Tom in the romantic comedy "Bridget Jones's Diary" written by Helen Fielding, directed by Sharon Maguire, and which starred Renee Zellweger, Colin Firth and Hugh Grant. The movie follows Bridget who is writing about everything that happens to her in her diary, and is also looking for love. It won eight awards and was nominated for 32 others, including an Oscar.
The same year saw him play Mark Feinman in the comedy drama "Beginner's Luck", and in 2004, James played Tom in the romantic comedy "Bridget Jones: The Edge of Reason", and Josh in the fantasy comedy "Dead Cool". In 2006, he portrayed the supporting character Haman, the Agagite in the biographical historical drama "One Night with the King", while his following notable role came three years later in the fantasy thriller "Merlin and the Book of Beasts".
James went on to appear in several mediocre moves, such as the 2010 family comedy "Reuniting the Rubins", the 2011 crime fantasy "17th Precinct", and the 2013 romantic comedy "Austenland". The year 2015 saw him portray the lead character Todd Ambro in the mystery science fiction thriller "Narcopolis", written and directed by Justin Trefgarne, and which follows the police officer Frank Grieves who is living in a futuristic world where drugs have been legalised.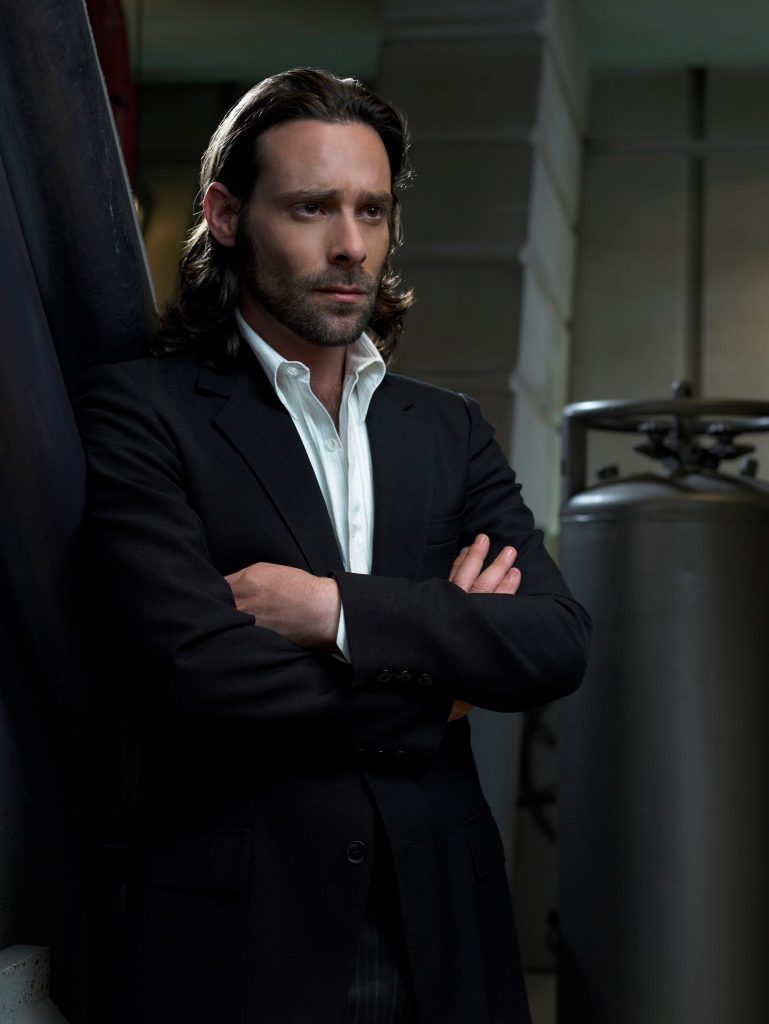 In 2016, James appeared in several movies including the mystery crime drama "The Hollow" and the romantic comedy "Bridget Jones's Baby", then in 2017, he was cast to star as Scott in the horror thriller "House by the Lake", which attracted little attention and received poor reviews. Three of his most recent roles in movies have been in the comedy "Kevin Hart's Guide to Black History", the  drama "The Bay House" both in 2019, and the 2020 action "Break Even".
Other credits
James has three writing, two producing and two directing credits. He wrote the 1999 short film "Surety", and in 2001 wrote and directed the movie "Beginner's Luck". 2016 saw him write, direct and produce the short movie "All Cock and No Bull!", and in 2017 he produced the film "House by the Lake".
James received special thanks for the 2006 documentary movie "Battlestar Galactica: The Story So Far".
He sang the song "Car Wash" in the 2010 episode "Crossing Over" of the series "Eureka".
He has appeared in many documentary movies related to "Battlestar Galactica", such as "Battlestar Galactica: The Lowdown", "The Music of 'Battlestar Galactica'", and "Battlestar Galactica: The Journey".
James has appeared in several TV specials, including the 2005 "05 Spaceys" and the "Scream Awards 2009".
Awards and nominations
He has won two awards and has been nominated for three others. In 2006, James won an Academy of Science Fiction, Fantasy & Horror Films Saturn Award for Best Supporting Actor on Television, and in 2009 a Jules Verne Achievement Award, both for his performance in "Battlestar Galactica".
He has also been nominated for a 2007 Saturn Award for Best Supporting Actor on Television and a 2007 SFX Award for Best TV Actor, again both for "Battlestar Galactica", and a 2018 Behind the Voice Actors Television Voice Acting for Best Vocal Ensemble in a New Television Series for "Castlevania" (shared with colleagues).
Wife and children
James is quite secretive when it comes to his love life, and has been keeping the details of his marriage with Neha Callis to himself. She is doing her best to stay away from the media's attention, and it is only known that Neha is from India.
The two married in a private ceremony attended by their closest friends and family members on 30 December 1998, and while they haven't commented on how and where they met, it's believed that James and Neha dated for around a year prior to exchanging vows. In 2003, Neha gave birth to their son Joshua Amaan, and in 2005 they welcomed their second son Sacha. In 2009, James and Neha daughter's Anika Jahan arrived.
James hasn't spoken about any other women he has perhaps been with, and as of March 2021, he's married to Neha and they have three children together.
Hobbies and other interests
James has been interested in music since a very early age, and can today play the guitar and the piano so well that he has been thinking about joining a band.
He is keen on travelling, and his career has taken him to many European countries, with some of his favorite cities to visit being Paris in France, Munich in Germany and Venice in Italy. He has also been to various US states for both work and pleasure, while spending most of his time in Los Angeles, California.
James is a dog-lover and has a pet dog.
He has his own favorite actors and actresses, some of whom are Eddie Redmayne, Colin Farrell and Katherine Waterston, and a couple of his favorite movies are "Les Miserables", "The Amazing Beasts and Where to Find Them", and "The Lobster".
Age, height and net worth
James' age is 49. He has short brown hair and brown eyes, his height is 5ft 8ins (1.73m) and he weighs around 150lbs (68kgs).
As of March 2021, his net worth has been estimated at over $750,000.