• Anna Marie Tendler is an American artist, author, hairstylist and business woman.
• She is married to comedian John Mulaney, and they adopted a French Bulldog together.
• Tendler has written two books about make-up and hairstyles, and runs her own business, Silk Parlor.
• She is a make-up artist and hairstylist and has worked on Broadway, TV, and film.
• Tendler has an estimated net worth of $800,000.
Anna Marie Tendler is an American artist, author, hairstylist and business woman, perhaps best known in the entertainment industry for her work as make-up artist and hairstylist. She is also a successful business woman and owner of Silk Parlor. Besides having a career of her own, Anna Marie Tendler is also known for her six-year marriage to comedian John Mulaney.
Who is John Mulaney?
John Mulaney is an American actor, producer and stand-up comedian, most famous for his work on "Saturday Night Live" (SNL) as both a writer and stand-up act. Mulaney has also worked on numerous projects that have been hits, such as "The Top Part" (2009), "Kid Gorgeous" (2018) and his hit Broadway show with long-time partner Nick Kroll, "Oh Hello on Broadway".
Born into a family of lawmakers, Mulaney changed the narrative when he found and pursued his passion for comedy.
By the time he was five, Mulaney knew he wanted to work in showbiz, and by seven he had joined the Chicago-based children's sketch group "The Rugrats." In junior high, Mulaney and his best friend negotiated skit performances to demonstrate what they had learnt in place of hand-in assignments.
Building a base for his ambition, Mulaney spent a lot of time at the Museum of Broadcast Communication watching archived episodes of "I Love Lucy" and "The Tonight Show starring Johnny Carson."
In 2000, Mulaney joined Georgetown University in Washington DC, where he majored in English and minored in theology. While at university, Mulaney joined the school's improv group where he met his future partner Nick Kroll, and Mike Birbiglia, whom he later joined on his stand-up tour to develop his stage presence.
After graduation, Mulaney headed to New York to pursue comedy, but first landed a job as an office assistant at Comedy Central. A year in, he pitched a parody of the show "I Love the 80's" called 'I Love the 30's", developing the acts with Nick Kroll, but left soon after Dave Chapelle's departure to work as a freelancer. In 2008, Mulaney was asked to audition for "SNL", but having low expectations, he didn't prepare any impressions and settled for stand-up with character. Fortunately he got the job, and the launch to his now successful career.
Since being on the show, Mulaney has worked on numerous other successful projects, and was even declared the future of comedy by David Letterman. Mulaney has received 18 Primetime Emmy nominations and won two. He's has also worked as a voice over actor for Netflix's animated series "Big Mouth", and award winning "Spider Man: Into the Spider Verse."
Early Life and Education
Anna Marie Tendler was born on 9th June 1985, in Conneticut USA. Immediately on completing high school, Anna Marie attended Vidal Sassoon and Make-up Designory, and soon afterwards, enrolled at Parsons School of Design to pursue photography. She soon realized that it wasn't for her, and dropped out in her freshman year. In her mid-20s, Tendler resumed her studies, and joined The New School to obtain a Bachelor's degree in writing and psychology. She later felt the need to further her education, and in 2018 enrolled at NYU Steinhardt for an MA in costume studies.
Relationship with John Mulaney
Anna and Mulaney met over ten years ago on a group trip to Martha's Vineyard in Massachusetts – the pair had been invited by different friends, and seemed to hit it off instantly.
In an interview, Tendler said that Mulaney had been riding shot gun while she dropped a couple of people home, and he made her laugh the whole way home. She further said that she knew in that moment they were going to end-up dating.
A few years into their relationship, Mulaney made his first reference to his then girlfriend in his comedy, saying "My girlfriend is a make-up artist and hairstylist, and cuts my hair for free. I would promote her here but I totally forgot her name." This act confirmed that the pair had begun seeing each other.
By 2013, the couple was ready to expand their family, and adopted a French Bulldog Petunia – in one of his acts, Mulaney joked about having a daughter and grandmother at the same time. The two finally tied the knot in a private wedding on 5th July 2014, in Boiceville, New York State with a view of the Catskill Mountains, officiated by friend, the comedian Dan Levy, and featuring a 1920s woodland deco theme.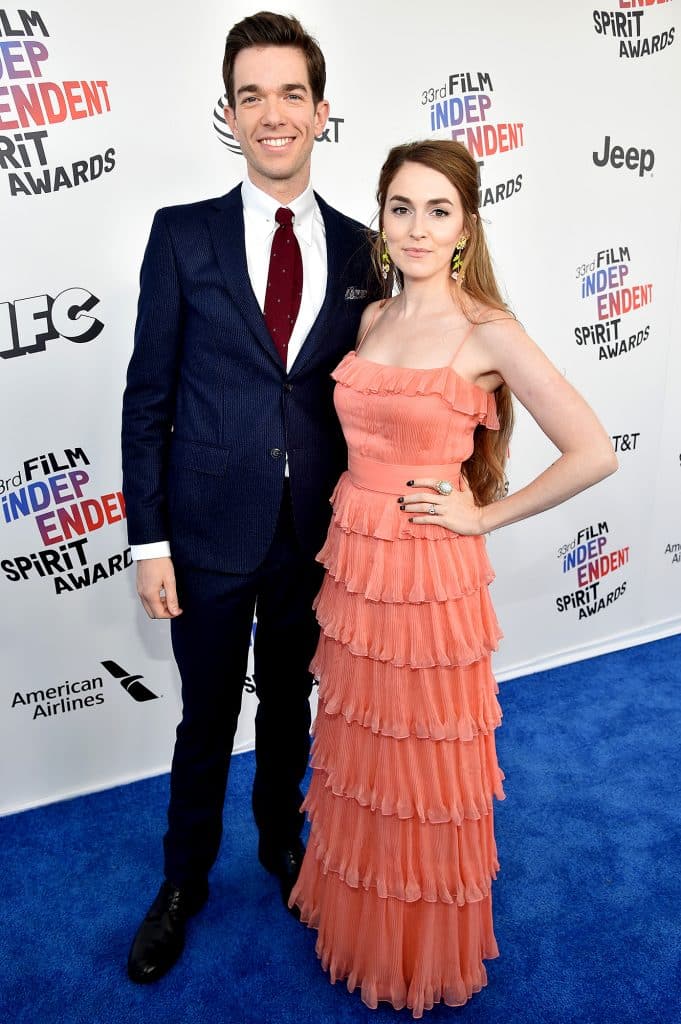 In a later act, Mulaney joked that the perks of having a friend officiate a wedding is it is neutral of religion, and always leaves the older folks confused.
In an Instagram post to wish his wife a great 4th anniversary, Mulaney shared a sign dated 16th February 2010 on which Tendler had written the words "John is the man I am going to marry" and signed it. Fans were overjoyed by this insight into the couple's relationship. The pair continued to make numerous appearances together over the years, and plaster pictures of themselves all over social media with cute captions.
The first sign of trouble in paradise appeared when fans noticed that both Mulaney and Tendler had unfollowed each other on Instagram, and Tendler had removed the name Mulaney from her profile before completely deactivating her account.
Shortly afterwards, Mulaney checked himself into a 60-day rehab program at a Pennsylvania centre for cocaine and alcohol abuse. Mulaney had been open about his struggle with substance abuse in the past, and People Magazine reported that his family was supportive of his decision to seek help. A source at the centre also told the magazine that the comedian was on board with his recovery, and wasn't fighting the process.
According to the gossip columnist AJ Benza, around the same time Tendler checked into Silver Hill Connecticut for emotional and eating disorders. Sources at the facility said Tendler didn't open up much about her struggles, but it was evident that she'd suffered. In May of 2021, Page Six broke the news that Mulaney had filed for divorce from his wife of six years; in a statement to the publication, Mulaney declined to issue any further comments on the matter, as he is focused on his recovery and getting back to work.
After 6 years of marriage, comedian #JohnMulaney has filed for divorce from #AnnaMarieTendler pic.twitter.com/cWdjW1mIpp

— ELF Bazaar (@BazaarElf) July 24, 2021
In a statement through her spokesperson, Tendler said "I am heartbroken that John has decided to end our marriage. I wish him support and success as he continues his recovery."
Since the news went public, Mulaney has apparently been in a relationship with Olivia Munn, whom he met at a church in Los Angeles.
Career
On dropping out of Parsons School of Design, Tendler began working as make-up artist and hair stylist in New York. Besides building her portfolio in the industry, she pioneered the now popular online beauty gurus community. In December of 2007, Tendler created a Tumbler blog on which she created daily make-up looks. She amassed a huge following and secured a writing job with MTV Style, and the opportunity to attend the New York Fashion Week 2011.
Tendler's tutorials were frequently featured in Glamour, Hello Giggles and Daily Candy. Right around the time her career began skyrocketing and she was the buzz around town, Tendler created the book "The Daily Face: 25 Make-up Looks for Day, Night and Everything in Between." In 2016, she collaborated with Amy Poelher's Smart Girls on a YouTube series combining beauty with the paranormal,l called "The Other Side."
As a make-up artist, Tendler has worked on numerous TV series and comedy specials, such as "CollegeHumor Originals", "The Old Man and the Seymour" and "John Mulaney: New in Town."
Tendler has also worked on Broadway, in "Natasha, Pierre and the Great Comet of 1812." In 2016, Tendler worked as a make-up artist for John Mulaney and Nick Kroll on their hit show "Oh Hello on Broadway."
In an interview, she stated that it was the most rewarding thing she had done as a make-up artist. The trio did 140 shows together on Broadway, and went on tour. She appreciated the transition it offered from the solitary work of writing a book, then in 2017, Tendler came up with her second book "Pin It!: 20 Fabulous Bobby Pin Hairstyles."
As an artist, Tendler found her way into crafting, and created Silk Parlor. In an interview with Arch Digest, Tendler said that she wasn't looking to create a business, but somewhat stumbled onto it. After failing to find the lampshade she had envisioned to add the final touches to her home design, Tendler resorted to creating her own piece. She had bought a DVD tutorial of a VHS woman, and learnt the craft. After her practice piece, she created her Victorian-style lampshade, and posted her creation to her Instagram, after which she was bombarded with numerous requests, and so decided to go into business.
Silk Parlor offers custom-made and ready to sell hand-crafted Victorian-style lampshades, with the cheapest item being $1000. In the interview Tendler mentioned that creating the lampshades can take anywhere between 10 to100 hours depending on the design.
In 2018, Tendler made an appearance on "Comedians in Cars Getting Coffee", on which she humorously rejected a rug from John Mulaney and Jerry Seinfield; critics described her appearance as the highlight of the episode. A year later, she again appeared in Mulaney's comedy special "John Mulaney & the Sack Lunch", on which she opened up on her greatest fear, and played a cameo role in a sketch.
Net worth
Tendler has had a long-running career and a tag to show for her work. As of August 2021, her net worth is estimated at over $800,000 with foreseeable growth.
Physical Characteristics
At 36, Tendler stands at 5ft 6ins (1.68m) and weighs about 117lbs (55kgs). Tendler's hair is naturally dark brown, however, she is currently a ginger. She has a set of brown eyes.