Who is Kristin Lehman?
Kristin Lehman is a Canadian actress, who is perhaps still best known to the world as Kristin Adams in the TV series "Poltergeist: The Legacy" (1998-1999), and more recently as Miriam Bancroft in the TV series "Altered Carbon" (2018), among numerous other roles that she's secured so far in her career.
Kristin Lehman Biography: Age, Childhood, and Education
Kristin Lehman was born on 3 May 1972 under the Taurus zodiac sign, in New Westminster, British Columbia, Canada.
She spent her childhood in Vancouver, British Columbia, and joined Canada's Royal Academy of Dance when she was just nine years old. For the next eight years, Kristin studied classical ballet, however, after a bad ankle injury, Kristin switched to acting, as she felt that she couldn't dance as well as she did prior to the injury.
Career Beginnings
Kristin's career started in the mid- '90s, making her debut in the TV series "The Commish" as Cynthia, and the same year she played Urs in the TV horror crime-drama series "Forever Knight", starring Geraint Wyn Davies, Catherine Disher, and Nigel Bennett.
In 1996 she was Det. Jordan McGuire in the TV series "Kung Fu: The Legend Continues", appearing in six episodes of the popular series.
Rise to Prominence
Kristin made a huge step forward in her career when she was chosen for the part of Kristin Adams in the TV fantasy horror drama series "Poltergeist: Legacy", featuring in 36 episodes of the critically acclaimed series, which launched her to stardom. She continued her career with a television role in the TV series "Strange World" (1999-2002), and then at the start of the new millennium, she had a role in the action crime-drama film "The Way of the Gun" (2000).
Kristin focused on a career in television, and in 2001 featured in the TV series "Felicity", while from 2002 to 2003 she portrayed Dr. Lily Reddicker in the Primetime Emmy Award-winning TV drama series "Judging Amy".
Two years later, Kristin co-starred in the short-lived drama series "Tilt", alongside Michael Madsen and Chris Bauer, and also started portraying Detective Danielle Carter in the TV series "Killer Instinct", which lasted for a year and a total of 12 episodes. Her next prominent role was as Corinna Wiles in the TV series "Drive" in 2007, but then waited until 2011 and the part of Gwen Eaton in the TV series "The Killing" to restart her career.
Continued Success and Recent Projects
She was Mary Alice Wells in the  2012 drama film "Arthur Newman", starring Colin Firth, Emily Blunt and Anne Heche, while in 2013 she was selected for one of her most popular roles, as Detective/Agent Angie Flynn in the TV crime-drama series "Motive" in which she starred alongside Louis Ferreira and Brendan Penny.
She remained in the show until its end in 2016, and during this time, she wasn't very active in pursuing other credits, though she portrayed Detective Huggins in the film "The Loft" in 2014.
She went on to play Theresa Archer in the TV series "Rogue" (2017), and also appeared in two episodes of the popular fantasy drama series "Saving Hope" as Rachel Carter, while the same year she also started playing Marilyn McGrath-Dufresne in the TV fantasy horror-drama series "Ghost Wars" (2017-2018).
Kristin secured her next big role in 2018, as one of the main characters Miriam Bancroft in the sci-fi action crime series "Altered Carbon", and shared the screen with other stars of the series, in all 10 episodes of the first season.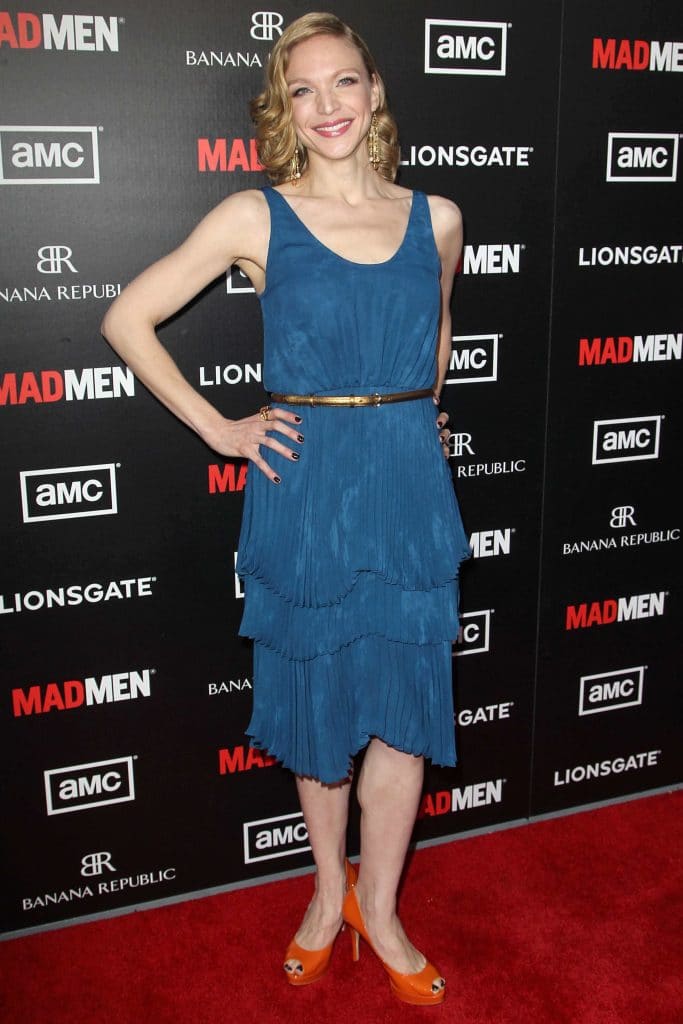 After this, Kristin featured in the drama film "Lie Exposed" in 2019, starring Benjamin Ayres, Megan Follows and Bruce Greenwood, and the same year, she played Lisa in the TV mini-series "Hospital Show".
To speak further of her accomplishments, Kristin appeared in a episode of the fantasy horror drama series "The Twilight Zone", an updated version of the classic anthology series, starring Jordan Peele, David Epstein and Kelly Ann Woods, and is now working on the TV horror mystery-drama series "Midnight Mass", which is currently in post-production and scheduled for release in late 2021.
Personal Life, Dating, Husband, Single?
When it comes to her personal life, Kristin is rather open about it. She's been married to actor Adam Greydon Reid since 2007, and the two are parents of a son, Sam Reid, who was born in 2010. Kristin and Adam worked together on several projects, including the TV series "Hospital Show".
Net Worth
As of mid- 2021, Kristin Lehman's net worth has been estimated to be around $2.5 million, earned through her successful career as an actress, during which she has already appeared in more than 65 films and TV series.
Appearance and Vital Statistics
This popular actress has blonde hair and blue eyes. She stands at a height of 5ft 6ins (1.68m), weighs approximately 132lbs (60kgs) while her vital statistics are 35-26-35, bra size 34B.
Hobbies and Interests
Kristin has a musical background, and in addition to dancing, she also learned to play the violin in her early years. Kristin was a vegetarian for 14 years, and started eating meat when she was 33 years old.
Kristin Lehman's Husband, Adam Reid Short Bio
Adam Greydon Reid was born on 8 January 1973, in Nepean, Ontario Canada, and started his career when he was just 12 years old.
Adam is a voice and on-screen actor, who made his debut in the comedy series "You Can't Do That On Television". Since then, Kristin's husband has worked on more than 60 projects, slowly building his successful career.
Some of his voice credits include the voicing of Wayne in the animated series "6Teen" (2004-2010), then the voice of Justin in the animated series "Total Drama" (2007-2011), among many others. He has also worked on television, and made a name for himself by appearing in such roles as Hobbs in the TV series "iZombie" (2018-2019), Peter Beckert in the TV series "Lost in Space" (2018), and as Will in the TV mini-series "Hospital Show", among numerous other appearances.