Who is Lily Newmark?
Lily Inge Newmark was born under the zodiac sign of Gemini on 24 May 1994, in London, England, and is a 26-year-old British-American actress, probably best recognized for landing the role of Iona in the drama film "Pin Cushion" (2017), playing Eve Milton in the British medical crime drama series "Temple" (2019), and featuring as Pym in the American fantasy drama series "Cursed" (2020).
How rich is she, as of now? Lily Newmark Net Worth
As of early 2021, Lily Newmark's net worth is estimated at close to $1 million, acquired through her successful involvement not only in movies but also in the fashion industry. Since she launched her acting career back in the early 2010s, Lily has garnered 29 television and film roles.
Early Life, Parents, Nationality, Ethnicity, Educational Background
Lily Newmark spent her early years in London, where she was raised by her father, Brooks Phillip Victor Newmark, whose professions is unknown, and her mother, Lucy Keegan, a musician.
She also has four brothers, named Sam, Max, Benjamin and Zachary. Lily holds British nationality, and belongs to White Caucasian ethnic group.
Lily developed her love for acting around the age of 14, when she was involved in making costumes for the National Youth Theatre. She eventually enrolled into East 15 Acting School in Loughton, Essex, where she would obtain her degree in Acting and Contemporary Theater in 2016.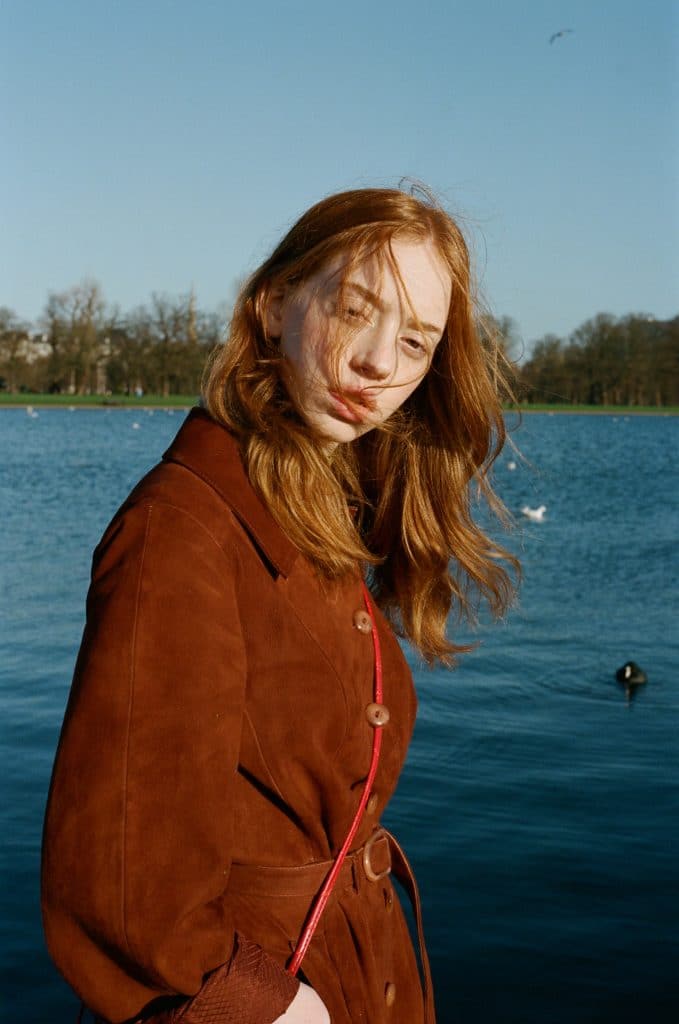 Career Beginnings as an Actress and Model
Side by side with studying, Lily started performing on stage with the Albany Theatre Company in Deptford, spending two years there, and then joining the National Youth Theatre. In 2012, she made her debut appearance in the role of Cara in the short drama film "Morning After", written and directed by Nick Shaw. In the following year, she featured in the music video for the single "Lowlands" by Father Sculptor, and thanks to which appearance, Lily was noticed by model scouts. So, she started her modeling career, appearing in various fashion editorials and campaigns.
She then landed a small role in the 2013 short comedy-drama film "Desire", which was followed by her portrayal of Skye in the 2014 thriller film "Return Of The Ghost".
Roles in Music Videos
In 2015, Lily featured in the music video for Disciples' song "They Don't Know", directed by Luke Jacobs, after which she appeared in the music video for the song "Lonely People", iLL BLU featuring James Morrison. During the same year, Lily landed the small role of a girl in the short film "In Time. A Reflection On The End Of Our Youth", and then featured in two more music videos – Brian Deady's "A Darkness" and Rejjie Snow's "Blakkst Skn". In the following year, Lily continued to appear in music videos, such as for the song "One Club Town" by Real Lies, and for Blossoms' song "Getaway".
Rise to Fame as an Actress
Lily's next major acting project came in 2017, when she was chosen to portray Ryenne in the American fantasy drama series "Emerald City", based on the "Oz" book series by L. Frank Baum, and broadcast on the NBC network. Later that year, she starred in the role of Iona in the drama film "Pin Cushion", written and directed by Deborah Haywood, for which performance she earned a British Independent Film Award nomination in the category of Most Promising Newcomer. After guest-starring as Coby in the episode "Nosebleed" of the TV drama mini-series "Shortflix", Lily played Carly in Jesse Peretz's romantic comedy "Juliet, Naked", and featured as Lexi in the space Western film "Solo: A Star Wars Story", directed by Ron Howard, all in 2018.
It was followed by her portrayals of Robyn in the thriller film "Dagenham", and August in the horror film "Welcome To Mercy", also in 2018.
Continued Success
In 2019, Lily guest-starred as Sophie in an episode of the British six-part mini-series "Les Misérables", based on Victor Hugo's novel of the same title, and aired on the BBC. Later that year, she played Sarah in the historical coming-of-age drama film "Born A King", portrayed Peggy in the comedy film "How To Fake A War", and featured as Stacey in the drama film "Balance, Not Symmetry". Still in the same year, Lily was cast as Eve Milton in the British medical crime drama series "Temple", broadcast on Sky One.
Recent and Upcoming Projects
Between 2019 and 2020, Lily made appearances as Ruthie in three episodes of the British teen comedy-drama series "Sex Education", released on Netflix, and which became a critical and commercial success, leading her to gain worldwide fame. She then landed the role of Jane in the 2020 historical comedy-drama film "Misbehaviour", next to Keira Knightley, Gugu Mbatha-Raw, and Jessie Buckley. Most recently, Lily was selected to play Pym in the American fantasy drama series "Cursed", which premiered on Netflix in July 2020. It's now been announced that she will be featured as Leah in the upcoming drama film "A Brixton Tale", which is currently under post-production.
Appearance and Vital Statistics
The rising actress has long ginger hair and hazel eyes. She stands at a hight of 5ft 5ins (1.65m), while her weight is around 120lbs (55kgs), and her vital statistics are 30-26-32, bra size 33C. Information about her dress and shoe size isn't available.
Personal Life and Philanthropy
Lily Newmark tends to keep her private life away from the eyes of the public, so it's unknown if she has a boyfriend or not. In her spare time, Lily is focused on her philanthropic work, known for advocating for animal rights, domestic-abuse prevention, and anti-bullying groups. She also runs her family's charity, called A Partner in Education.
Favorites and Hobbies
Lily enjoys traveling around the globe, spending time with her family and friends, and shopping.
Her favorite actor is Marlon Brando, her favorite actress is Meryl Streep, while her favorite film is the 1976 supernatural horror "Carrie", directed by Brian De Palma.
Her favorite fashion designers are Alexander McQueen, Vivienne Westwood, and Miu Miu.
Her favorite cuisine is Italian, and her favorite color red.
She is also an avid animal lover, and has a pet dog named Mutter.