• Maribel Del Rocio Fernandez Garcia was born in San Jose, Costa Rica, on 29 May 1959
• She is a model, actress, singer and TV hostess, who is best known for being Miss Costa Rica in 1978 and competing in the Miss Universe beauty pageant
• She is married to lawyer Marco Chacon and has a son with her first husband, Mexican singer-songwriter Joan Sebastian
• Maribel is an Instagram star with close to seven million followers and has undergone plastic surgery
• Her net worth is estimated to be over $10 million.
Maribel Guardia Wiki Bio
Maribel Del Rocio Fernandez Garcia was born in San Jose, Costa Rica, on 29 May 1959 – her zodiac sign is Gemini, and she holds both Costa Rican and Mexican nationality. She's an actress, model, TV hostess and a singer, who's perhaps known best for having been Miss Costa Rica in 1978, and for having competed in the Miss Universe beauty pageant in 1978.
Early life and education
Maribel was raised in San Jose alongside her sister Vilma Chacon, by their Spanish parents who prefer to be left out of media, thus nothing about them is known.
Maribel grew up being interested in modelling, and was also into sports, as she occasionally played volleyball and soccer with her peers.
Sé gentil !Nunca dejes q el mundo te haga intolerante, nunca dejes que el dolor te haga odiar,nunca dejes que la amargura te robe la dulzura. #look @variedades_onlinegt 💃🏿Los amo pic.twitter.com/rNfo3kzOza

— Maribel Guardia (@MaribelGuardia) June 18, 2021
She was attending a local high school when she was noticed by a modelling scout, who helped her launch her modelling career. Maribel matriculated in 1977, and although she initially wanted to pursue a college degree, the launch of her career as a model made her change her mind.
She was noticed by Televisa producers when she entered the beauty pageant Miss Universe 1978, and was invited to move to Mexico to launch her acting career. Maribel accepted, leaving her mother and boyfriend in Costa Rica, and it marked the beginning of her career as an actress.
Roles in movies
Maribel has been credited with appearing in more than 60 movies and TV series, and we're going to mention her most notable performances.
She made her debut film appearance in 1973, with her portrayal of the supporting character La Zarca, in the romantic comedy "El Diablo en Persona". Maribel didn't appear in another movie until she moved to Mexico, and some of her first roles there were in the drama "Como Mexico no Hay Dos", the adventure war drama "Juan Charrasqueado y Gabino Barrera, Su Verdadera Historia" and the action drama "El Bronco". Maribel gained recognition in 1986, with her portrayal of the lead character Isabel Martinez in the horror thriller "Terror and Black Lace". It was written and directed by Luis Alcoriza, also starred Gonzalo Vega and Claudio Obregon, and followed the lives of Isabel who's a housewife, and her husband who is abusive. The movie won one of the three awards for which it was nominated.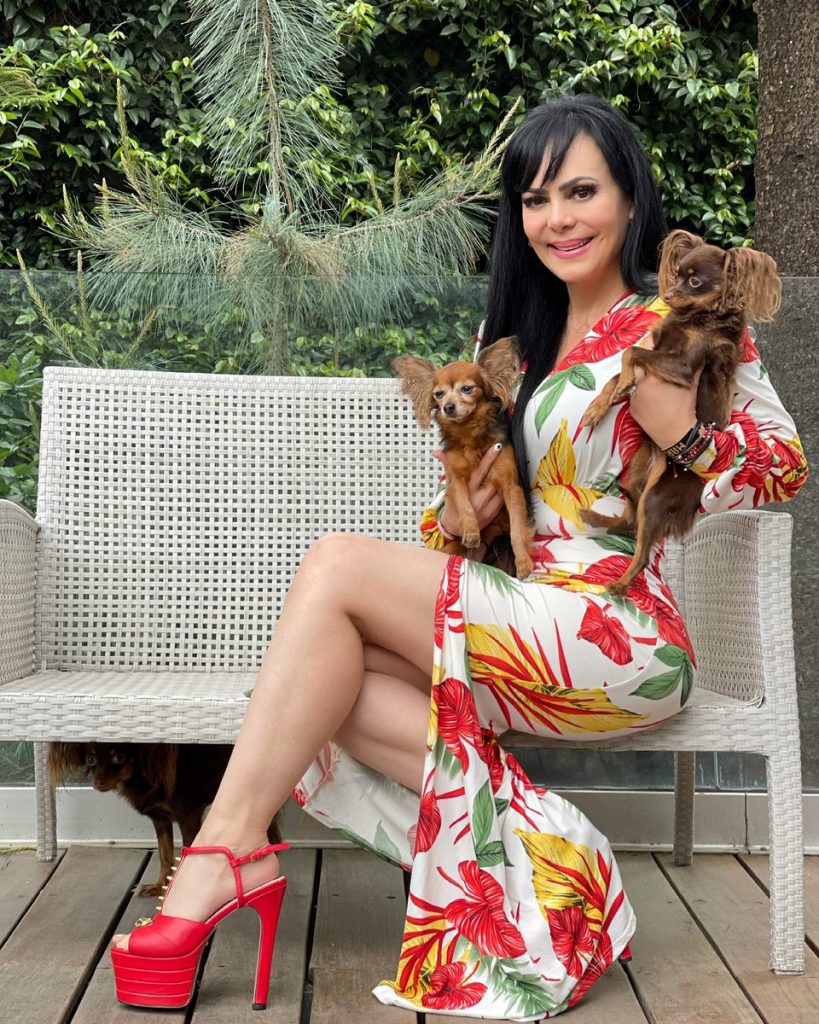 The early '90s saw Maribel appear in a couple of movies which became popular in Mexico, but failed to gain attention in other countries. Some of these include the 1991 action crime drama "Mujer de Cabaret", the 1991 fantasy comedy "¿Dónde Quedó el Colorado?" and the 1993 action crime horror "El Asesino del Zodiaco".
The year 1999 saw her star in the crime drama "Reclusorio III", written and directed by Ismael Rodriguez, and which also starred Alfredo Adame and Hilda Aguirre. It follows the lives of three Mexican criminals.
Since the late '90s, Maribel has mostly been focused on appearing in TV series, and could've been seen in only a couple of movies, while she's currently shooting for the upcoming comedy "La Novia de America", set to be released by the end of 2021.
Roles in TV series
Maribel made her debut TV series appearance in 1986, when she played Marina, in the pilot of the drama "Seduccion", but which wasn't picked up by any networks. Her following role came in 1994, when she was cast to star as both Cristina Carvajal and Florencia Rondan in the romantic drama "Prisionera de Amor".
By the late '90s, Maribel was invited to play and voice lead characters in several series which were hits in Mexico, such as the romantic drama "Tu y Yo", the comedy drama "¿Qué Nos Pasa?" and the animated family drama "Serafin" (voice role). In 2001, she starred as Flor del Huetro, in the family adventure drama "Aventuras en el Tiempo", which also starred Ricardo Chavez and Gerardo Murguia.
The 2000s also saw her play main characters in various popular series, including the action adventure drama "Misión S.O.S. Aventura y Amor", and the family comedy "¡Qué Madre, Tan Padre!"
A couple of Maribel's most recent roles in TV series have been in a 2019 episode of the family comedy "Vecinos", a in 2020 an episode of the comedy "+Noche", and six episodes of the drama "Te Doy la Vida".
Other credits
Maribel has been featured in various documentary movies, such as the 2005 "Lo Que No Vio de Premios TV y Novelas", the 2006 "Ricardo Montaner: La Trayectoria", and "Diosas Gruperas" in 2007.
She has made a guest appearance in numerous talk-shows, including "Muevete", "El Privilegio de Amar" and "Festival de la Cancion OTI".
Maribel has also hosted a couple of shows, with the most notable among these being "Estudio 2", and she also served as a judge in the reality competition show "La Mas Draga".
Awards and nominations
Maribel has been nominated for only a single award: a 1987 Silver Ariel Award for Best Actress (Mejor Actuacion Femenina), for her performance in the horror thriller movie "Terror and Black Lace".
Love life and husband
Maribel's more or less open when it comes to talking about her love life, and it's known that she has been married twice. In 1992 she exchanged vows with Joan Sebastian, the late Mexican singer-songwriter, who had composed more than 1,000 songs. Maribel gave birth to their son Julian Figueroa Fernandez not long after they married, but in 1996, the two divorced for unknown reasons. Joan died on 13 July 2015, aged 64.
In 2010, Maribel married Marco Chacon, a Mexican lawyer, and the two have been together to this day.
She hasn't mentioned any other men whom she has perhaps been with, so as of June 2021, she's married to her second husband Marco Chacon, and has a son with her first husband Joan Sebastian.
Hobbies and interesting facts
Maribel's an Instagram star, as she's followed by close to seven million people, while she's uploaded over 3,200 pictures, most of which feature her slim figure and big breasts. Even though in her early 60s, Maribel's still physically active, and has a couple of training sessions at the gym each week.
She has apparently undergone numerous plastic surgery procedures, which have made her look a lot younger than she actually is, however, many of her fans on the internet have claimed that these have only made her look more plastic.
Maribel likes to travel, and has been all around the world for both work and pleasure, while her dream travel destination is Los Angeles, California USA.
Age, measurements and net worth
Maribel's age is 62. She has long black hair and brown eyes, her height is 5ft 7ins (1.7m) and she weighs around 128lbs (58kgs).
As of June 2021, her net worth has been estimated at over $10 million.