• Melinda Clarke is a 54 year old American actress and native of Upland, California
• She is a soprano singer, and enjoys listening to Michael Jackson and Frank Sinatra
• Her most famous roles are in "Days of Our Lives", "The O.C.", "Mulholland Falls" and "Spawn"
• She is married to actor Adam Farmer, and has a daughter from former marriage
• She is estimated to have a net worth of $4 million
The American actress, Melinda Clarke, is famously known for her performances in the long-running soap opera "Days of Our Lives", and the teen drama TV series "The O.C."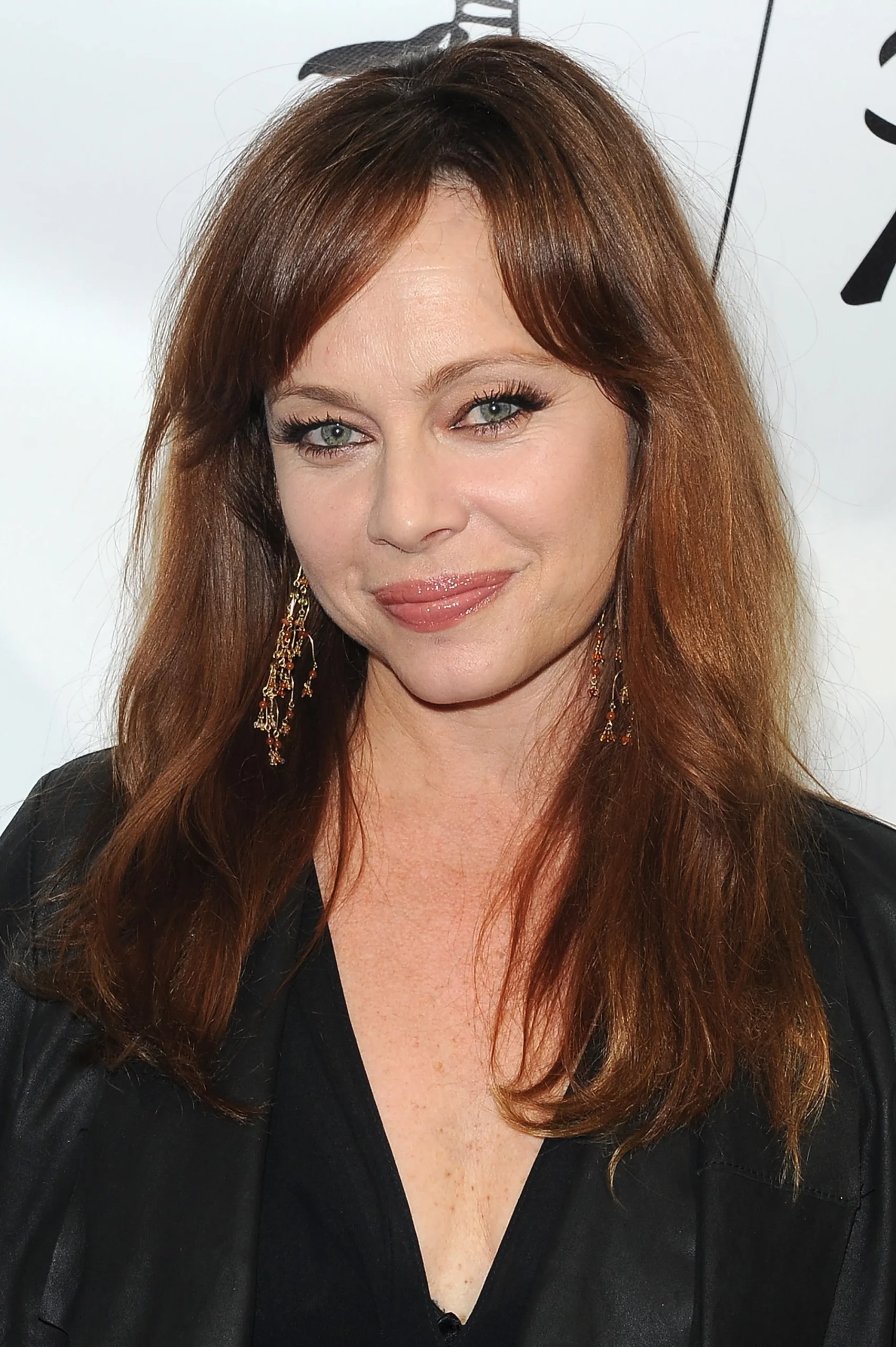 Age, Early Life, and Education Background
Melinda Patrice Clarke is a native of Upland, California, who was born under the Taurus zodiac sign on 24 April 1969, making her 54 years old as of 2023. She was born to the late Daytime Emmy Lifetime Achievement Award-nominated American actor John Clarke, who was one of the original cast members of "Days of Our Lives" and his wife, the ballet dancer, Patricia Lewis. She was raised alongside her brother, Joshua Clarke, who is also an actor famous for his roles in "Buses" in 2016 and "The Impact" in 2022, and sister, Heidi Clarke, who sadly succumbed to a malignant heart tumor in 1994. Clarke's parents sparked her interest in performing when she was a child.
Melinda went to Dana Hills High School where she appeared in various plays as a member of the drama club. She matriculated in 1987, but hasn't revealed whether she joined college.
Hobbies and Facts
Clarke loves Cuban cigars, admitting that she spends a lot of money buying them because she cannot restrain herself from smoking.
She is a talented soprano singer, and often practices her singing. She also enjoys listening to songs by Michael Jackson and Frank Sinatra.
The actress is a devoted philanthropist, who has volunteered with various organizations such as the Young Storytellers Foundation.
She likes spending her spare time watching films starring Natalie Portman and Robert De Niro – her favorites are "Goodfellas" and "The Sleepers."
Action figures have been crafted for her roles as Jessica in "Spawn" and Velasca in "Xena: Warrior Princess."
TV Appearances
Melinda often plays villains, and tough and manipulative characters. She made her TV debut as Faith Taylor in the NBC soap opera "Days of Our Lives", appearing in 130 episodes in 1989 and 1990. Her next main role was in the fantasy comedy-drama "Heaven Help Us" (1994), followed by the another main role as Margo Vincent in the action-adventure "Soldiers of Fortune", from 1997 to 1999. She also portrayed Alex in "Seinfeld", and Velasca in two episodes of the American fantasy "Xena: Warrior Princess," which was filmed in New Zealand. 2001 saw her land the recurring role of Lady Heather in the police procedural drama "CSI: Crime Scene Investigation."
After playing the recurring role of Olivia in the second and third seasons of the crime drama "The District," Clarke appeared in single episodes of four other series, before she was cast to star as Julie Cooper in the teen drama "The O.C.", sharing the screen with Adam Brody and Mischa Barton. From 2005-2011, she appeared in six episodes of the HBO comedy-drama "Entourage", and from 2010 to 2013, she portrayed Helen 'Amanda' Collins in The CW action thriller "Nikita" – she disclosed that her fans wanted her character to be 'malicious' and 'as bad as possible' in this thriller. Clarke's next notable appearances were in the supernatural teen drama "The Vampire Diaries" in 2010 and 2017, the period drama "Vegas" in 2013, two episodes of the popular series "Dallas" in 2014, and three episodes of  the superhero crime drama "Gotham" in 2016.
Film Appearances
Clarke made her film debut as Monica in the 1992 comedy "Hot Under the Collar." In 1993, she appeared in two horror films – "Return of the Living Dead" and "Young Goodman Brown." Her role as Cigarette Girl in the 1996 Lee Tamahori-directed crime drama "Mulholland Falls" saw her fame skyrocket, sharing the screen with Jennifer Connelly, Nick Nolte and Melanie Griffith. Her rising fame saw her cast as Jessica Priest in the superhero film "Spawn" in 1997, and thereafter, Clarke voiced Alexa in the American-Japanese animated sci-fi "The Animatrix" in 2003, followed by minor roles in "Dynamite" in 2004, "She Drives Me Crazy" in 2007, and "How Divine!" in 2014, her latest film appearance to date.
Other Works
Melinda lent her voice to two characters in the video games "Mission: Impossible – Operation
Surma" and "Nikita: Codebreaker" in 2003 and 2012 respectively.
She received special thanks for her praised performance in the documentary film, "GasHole" (2010), which revolves around the oil price history, and how alternative fuels are shaping the future.
She's also appeared as a guest in several talk shows, such as "On-Air with Ryan Seacrest," "The Ellen DeGeneres Show," "Late Night with Conan O'Brien" and many more.
Moreover, Clarke has been featured on the covers of various magazines, including "Fangoria" and "In Touch Weekly."
Awards and Nominations
Clarke's performance in "Days of Our Lives" saw her nominated for a Young Artists Award for Best Young Actress in a Daytime Drama in 1990. In 1993, she won a Fangoria Chainsaw Award for Best Actress for her performance in "Return of the Living Dead III", and three years later, Clarke scooped a Sitges – Catalonian International Film Festival Award for her performance in "La Lengua Asesina" ("Killer Tongue").
Social Media Presence
Melinda gives her supporters and fans a glimpse of her personal life through her Instagram (@themelindaclarke), on which she's followed by almost 90,000 fans. She joined Twitter in 2010, and her verified account (@TheRealMsClarke) has over 60,000 followers.
Personal Life
Clarke is a married woman – she exchanged vows with the actor Adam Farmer in 2015, who's known for his roles in "This Is England" and "Frankie's Jewels" Their wedding took place on the shore of Dana Point, California; the couple doesn't have children.
Clarke was previously married to the American actor Ernie Mirich, perhaps best known for his appearances in "Star Trek: The Next Generation" in 1987, "Soldier of Fortune, Inc." in 1997, and "Bel Air" in 2000. Clarke and Mirich walked the aisle on 28 June 1997 in the presence of family, friends and colleagues – the actress Charlotte Ross served as one of the bridesmaids. They welcomed a daughter named Catherine Grace Mirich in 2000, who often accompanied her mother to red-carpet events when she was a child – they were seen together at the premiere of the animated film "Enchanted" in 2007, and "WALL-E" in 2008 in Hollywood. Sadly, Clarke's marriage could not stand the test of time, perhaps because of her hectic work schedule, and they filed for a divorce in 2005. She went on to live in Los Angeles with her young daughter, after they finalized the divorce.
Height, Weight, and Physical Appearance
Melinda is of Caucasian ethnicity and has a set of brown eyes and long dark brown hair. She has an hourglass figure, weighs approximately 130lbs (59kgs), and is 5ft 7ins (1.70m) tall, with vital statistics of 34-25-34.
Net Worth
Melinda's established career in the showbiz industry has seen her make a name for herself, and accumulate a good sum. She is worth approximately $4 million as of 2023.